This article was originally published on March 21st, 2013. We've refreshed some of the details and screenshots to give you the most up-to-date information possible. We kept some old screenshots so you can see how Meta Descriptions have evolved over the past two years.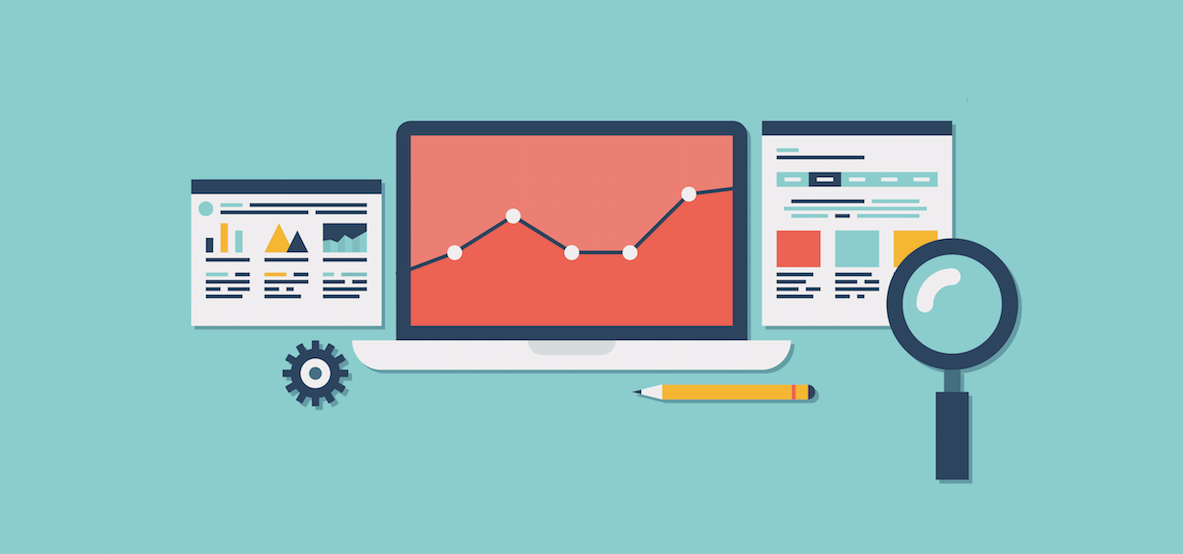 A well-crafted Meta Description can be as important to your brand as your tagline. Companies spend thousands of dollars developing phrases that help customers understand the essence of their brand. Nike's "Just Do It" or General Electric's "Imagination at Work" are excellent examples. For consumers using a search engine, your Meta Description helps them quickly grasp what you have to offer and invites them to enter your virtual front door.
Here's a great example from Exact Target:
ExactTarget is the preferred targeted email marketing provider for Fortune 500 enterprises and Small Businesses alike. Find out why.
And results in a SERP display like this:
Google has pulled Exact Target's Meta Description to display along with their search result. Although it no longer has any influence on SEO rankings, the thoughtfully-written Meta Description is still playing a valuable role in driving traffic to Exact Target's website.
Today we're going to delve deeper into Meta Descriptions – exploring what makes a good one, looking at usage, and discovering what competitive intelligence you can glean from a side-by-side comparison. Read on!
Is your Meta Description a friendly doorman or an angry bouncer?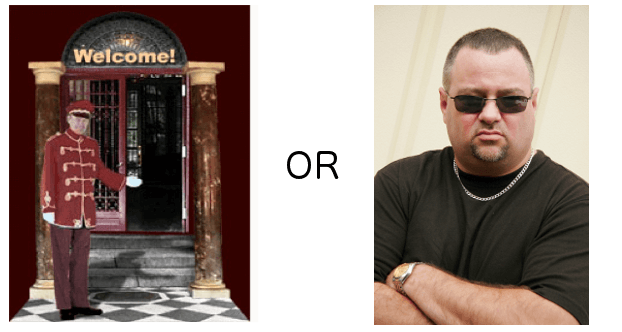 A thoughtfully-written Meta Description will crisply articulate what sets you apart from your competitors in a warm tone that welcomes visitors to come explore your website. Just like the doorman who offers a friendly greeting and holds open the door – your Meta Description can create a great first impression.
With that said, if you aren't proactive, search engines will create a first impression for you, displaying seemingly random and definitely generic text to explain what their users might expect to find on your site. Like being greeted by an unfriendly bouncer, many visitors are moved along – clicking through to a competitor's site instead.
Here's a real-world example:
Unbounce, a leading landing page optimization company, has spent time perfecting a Meta Description that delivers results.
Rival IQ identified that Unbounce had released a beautiful new home page but had inadvertently wiped out their Meta Description.
The impact on their SERP was immediate. Gone was any mention of who uses Unbounce and what makes their offer different from the competition. Instead, Google had put a bland face on their welcome.
It didn't take the on-the-ball marketers at Unbounce long to get their proven Meta Description restored.
Writing Meta Descriptions that deliver clicks.
I find distilling a company's value proposition down to 155'ish characters of goodness (the length SEOmoz recommends) a real challenge. Thankfully, there are some great resources to out there to help. Here are a few I found helpful:
You can't win if you don't play.
"80 percent of success is
just showing up"
— Woody Allen
At Rival IQ, we track thousands of websites for our customers. Can you believe when this article was originally published, 28% of homepages didn't have a Meta Description? Another 30% had Meta Descriptions that are too long, abruptly cutting off after 155 characters. This means that a mere 41% of companies had a Meta Description that is the right length. 
In 2015, Moz ran a similar experiment of 92,600 Meta Descriptions. And boy did those two years make a statistical difference! I recommend reading the full analysis! According to Dr. Peter J. Meyers of Moz,
"Most of the snippets (62.1%) cut off as expected, right in the 141-160 character bucket. Of course, some snippets were shorter than that, and didn't need to be cut off, and some broke the rules. About 1% (1,010) of the snippets in our data set measured 200 or more characters. That's not a huge number, but it's enough to take seriously."
Meta Descriptions Are All About Positioning
You can gain valuable insight into how your competitors are positioning themselves by doing a side-by-side comparison of their Meta Descriptions. (Assuming, of course, that they have them!)
This might sound daunting, but we've made it easy! Rival IQ allows you to easily collect and compare the Meta Descriptions of companies in your competitive landscape and analyze for positioning changes. If you are looking to quickly analyze Meta Descriptions for a set of companies, try our free Competitive Meta Description micro-app.
What You Can Learn From Meta Description Comparisons
To demonstrate what we can learn from a side-by-side comparison of Meta Descriptions, I'm going to explore examples from two different industries. First, I'll examine the dynamic, technology-oriented landing page optimization market, and then follow it with a look at the much more mature auto insurance market. In both cases, it is amazing to see the insights you gain from studying how companies describe themselves in less than 160 characters.
Landing Page Companies' Meta Descriptions (circa May 2013)

3 Key Learning:
Missing Descriptions. Two companies have blank Meta Descriptions, including Visual Website Optimizer (another leader in this space).  Just to drive home my earlier point about random text getting displayed, here's a look at their search result – it's definitely in the "bouncer" camp:
Minimal Differentiation. Most of the landing optimization companies tout the same benefits – making more money, increasing conversions, and being easy to use. Only Unbounce gets specific about what they do and why it's easy. Perhaps that's enough to let them stand out.
Social Proof Stands Out. Ion Interactive is the only competitor to leverage social proof in their Meta Description, calling out Dell, DHL, and Western Union as customers.
As a marketer, I'd walk away from this analysis determined to get more specific about what I'm offering prospects (like Unbounce) and possibly incorporate recognizable customer names (like Ion) into my Meta Description.
Landing Page Companies' Meta Descriptions (2 Years Later)
A little over two years later, we are happy to report that all the companies in this landscape now have Meta Descriptions! All except for Optimizely are a "good" length. See how their Meta Descriptions have evolved — kind of like our product interface!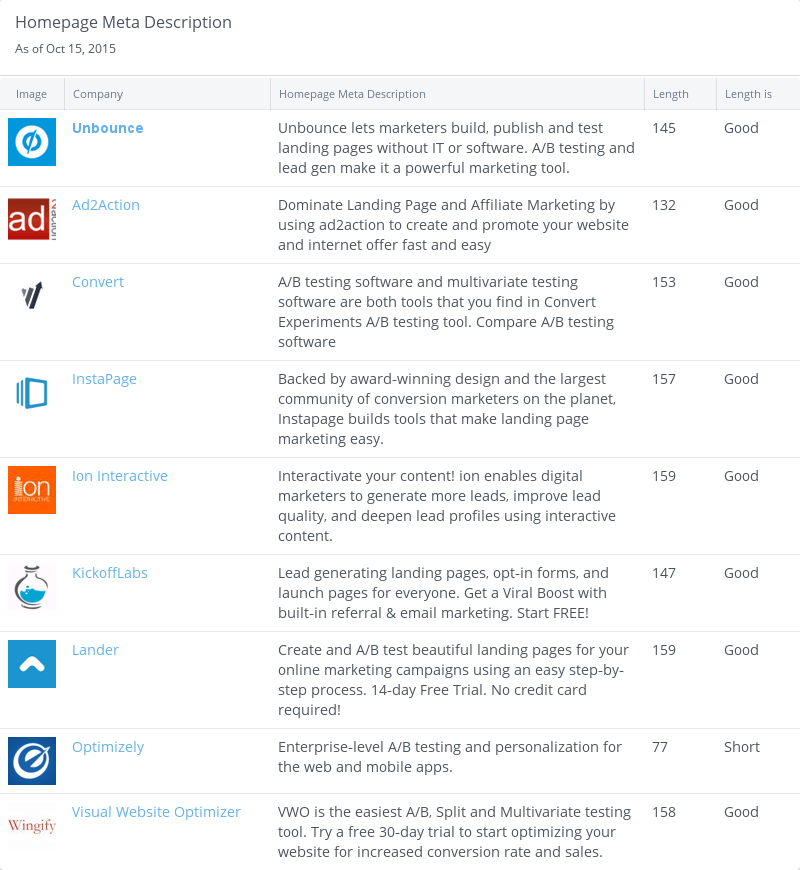 Auto Insurance Companies' Meta Descriptions (circa May 2013)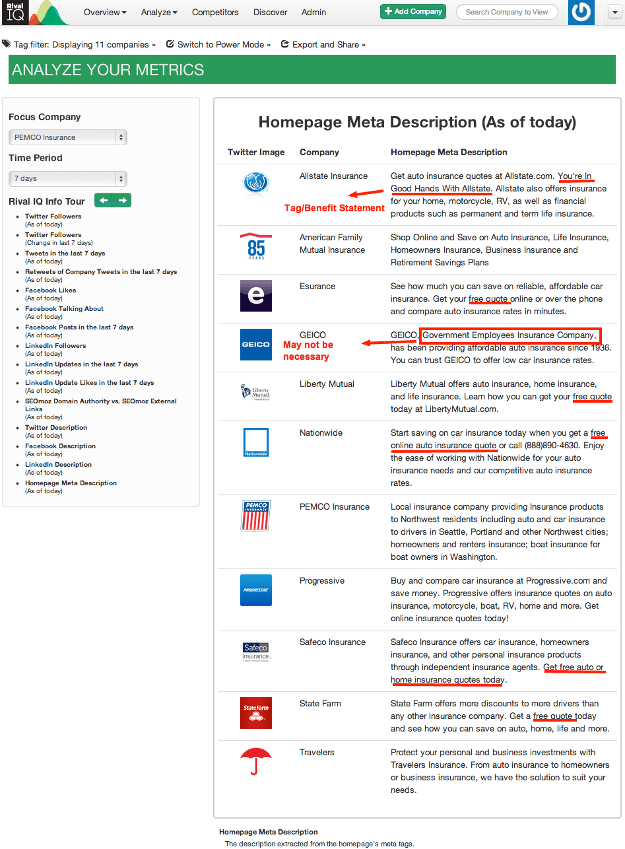 3 Key Learning:
It's a mature market. There are no missing Meta Descriptions, and most of them are tightly honed.
Key messages. Some companies are building credibility and differentiation by emphasizing their longevity in the market. Others are specifying the type of insurance they offer. Very few of them tout benefits beyond price. (This might be a positioning opportunity.)
Free offer. Six of the eleven companies promote the offer of a free quote to discover how prospects can save. This is a great example of leveraging a Meta Description to perform advertising in organic search results. Clever.
As a marketer in this industry, I would see if emphasizing benefits other than price resulted in a better outcome. Allstate's tag line, "You're in Good Hands…" comes closest to doing this. And if I were GEICO, I'd be weighing whether the 35 characters I'm using spell out the acronym that is my known name (Government Employees Insurance Company) is worth the real estate.
Auto Insurance Companies' Meta Descriptions (2 Years Later)
Unlike companies within the digital marketing world, these auto insurance companies don't seem to evolve as quickly. 2 years later, GEICO still believes spelling out their acronym is worth the used online real estate and length doesn't seem to be a concern for most of the companies in this landscape.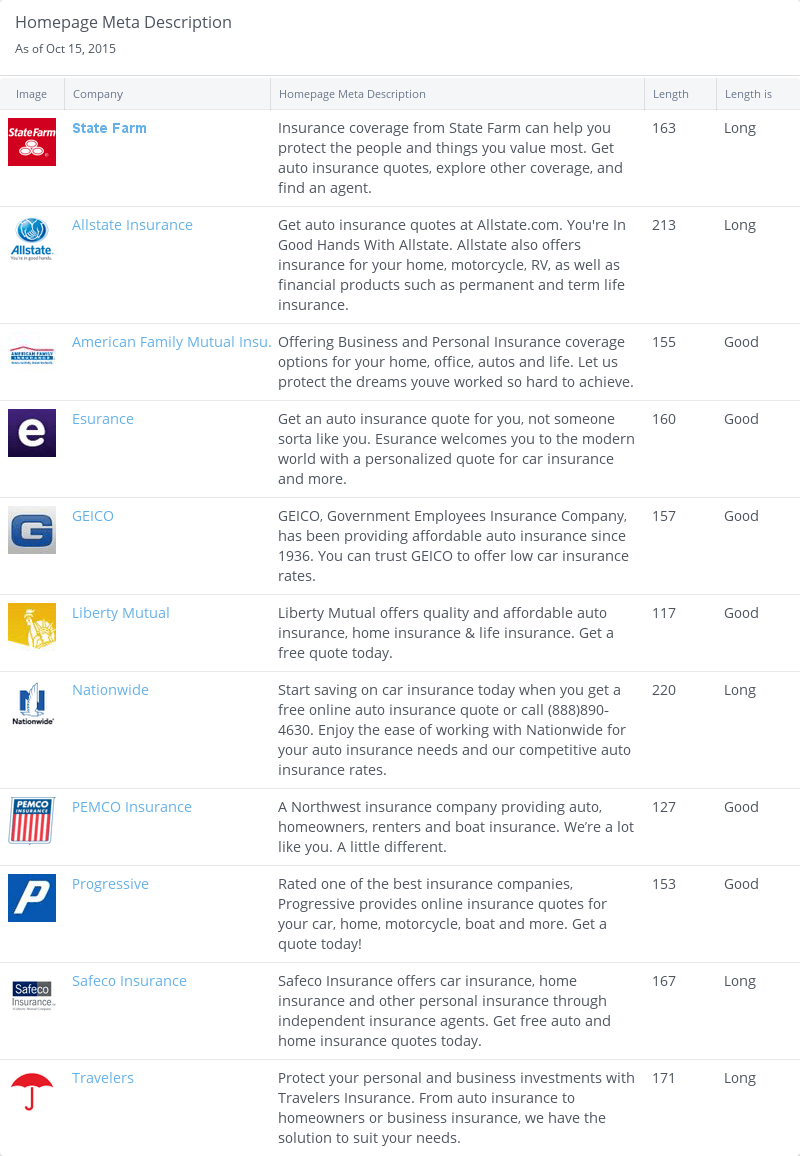 3 Easy Steps to Winning Meta Descriptions
Spend the time to craft a Meta Description that welcomes customers with a concise articulation of your value proposition.
More than 50% of businesses either don't have a Meta Description or have one that is too long. Your first step to winning is to get in the game and follow the basic rules.
You can gain key market-positioning insights by doing a side-by-side comparison with your competitors' Meta Descriptions.
What is the best Meta Description that you've seen? Share your thoughts in the comments section.