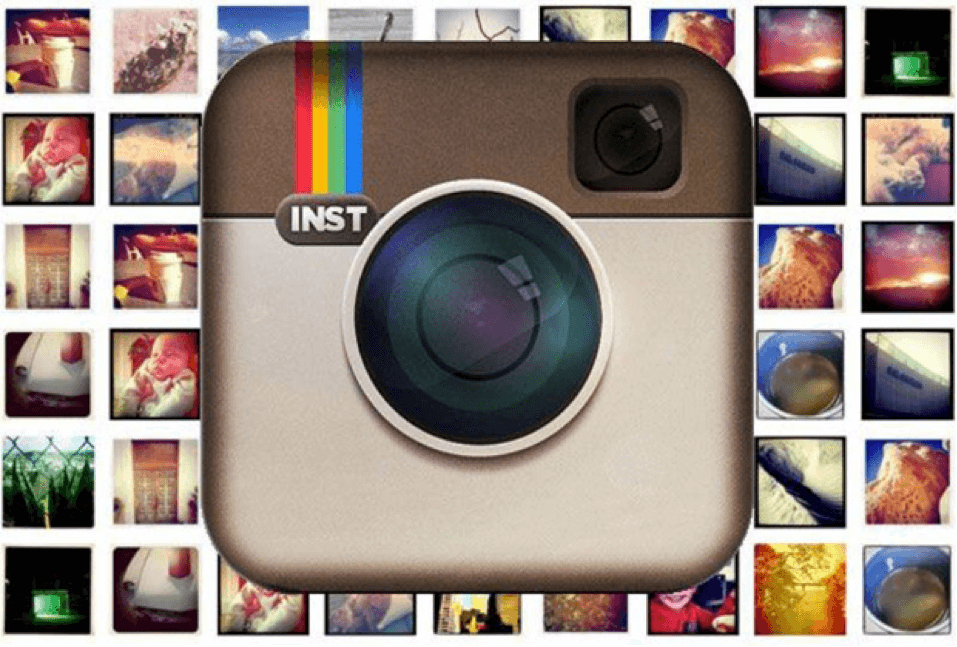 With a distinct absence of Candy Crush Saga invites and political posts from your Great Aunt June, Instagram is definitely one of the hottest social spots for the young, hip and trendy. Whether you're an Earlybird or Lo-Fi filter fan (like I am), or even a Kelvin hater, Instagram photo contests or campaigns are a great way to reach and engage with Instagram's more than 200 million users.
Tip #1: Giveaway Awesome Prizes
Many marketers have implemented Facebook contests, but with recent changes to contesting rules, Facebook is becoming a tougher place for giveaways. It is currently much easier to hold an Instagram photo contest, because fans can enter the contest by just using a particular hashtag.
If you are going to host a contest on Instagram, one of the best ways to get a lot of fan engagement is by having awesome prizes. Give your fans an incentive to actually enter the contest.
For example, Starbucks this holiday season ran a fun Instagram photo contest around its annual holiday red cups. The company asked Instagrammers to sent Starbucks their most amazing and artful red cups photos on Instagram. Over 11,000 people participated, and Starbucks chose five winners, who all received exclusive Sterling Silver Starbucks Cards. Starbucks announced the winners on Instagram. However, this is also a good learning of how to improve your communication about winners, as there was a lot of confusion on the Starbucks' blog about the hashtag, winners and rules.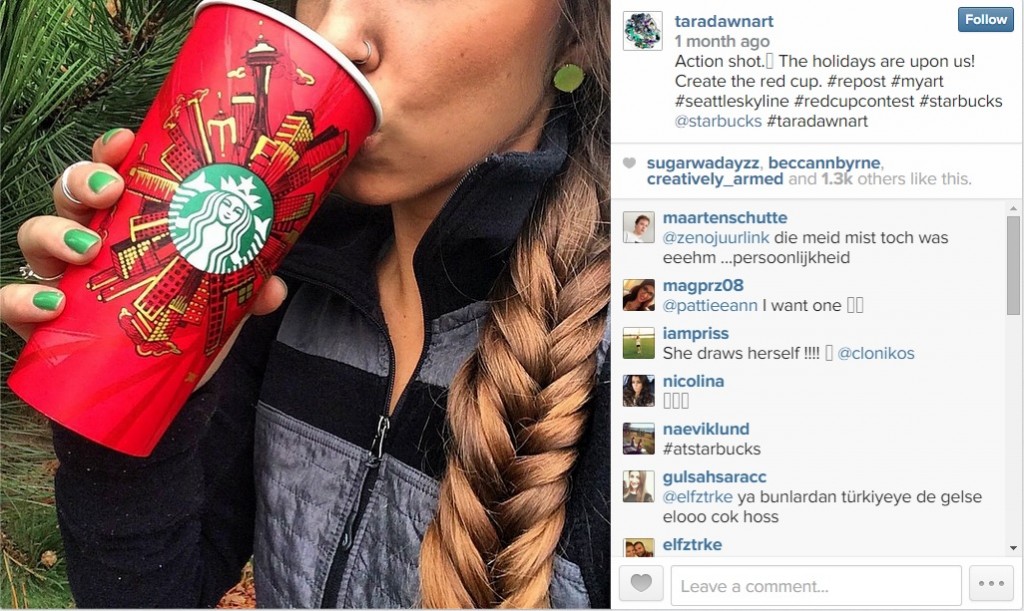 Tip #2: Embrace the Power of Emotional Photos
Users love Instagram because of the absence of (often annoying) words present on other social media sites, and the abundance of emotional photos. So, if you're going to host an Instagram photo contest, be sure to take advantage of all of warm and fuzzy feelings. 
For example, singer Jason Mraz asked users to post photos that represent what his song "I Won't Give Up" meant to them and to tag the photos with #IWONTGIVEUP. Jason selected 25 winners, whose photos were printed on 20" by 20" canvases and displayed at an art gallery event in New York City. The winners were also invited to the event, and Jason signed their canvases. Classy, emotional, personal and engaging!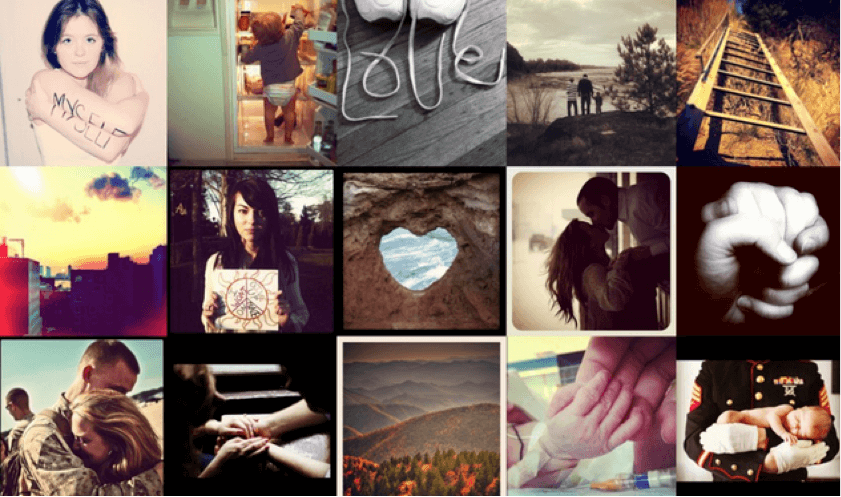 High-tech giant Microsoft is not known for its warm fuzzies; however, it does a great job on Instagram of bringing emotion to its business.  While not a photo contest, they did obtain awesome engagement with this story about Mario Bonfante and his love of racing that felt genuine.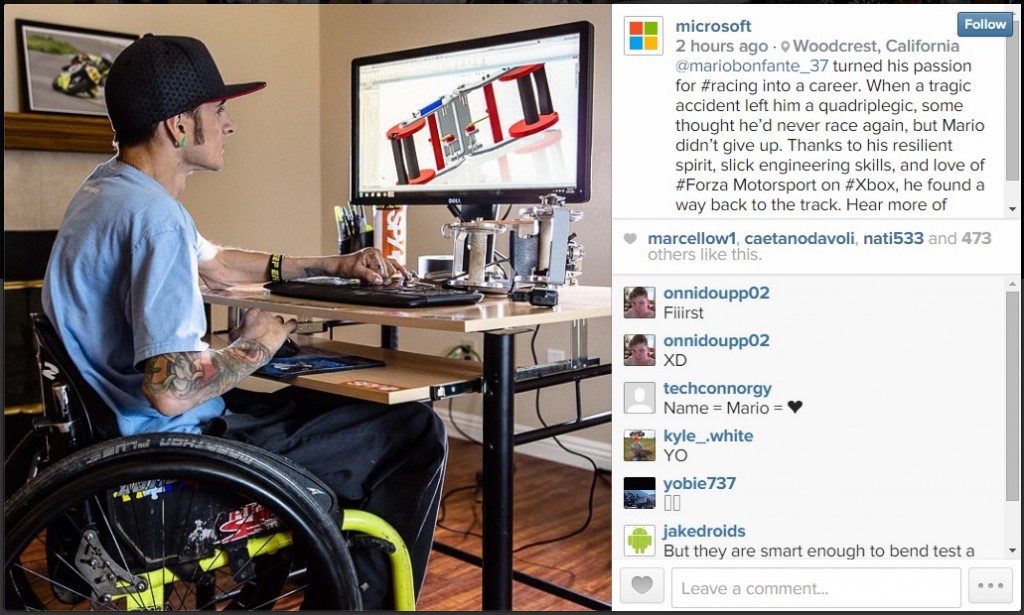 Tip #3: Stay True to Your Brand Positioning
In your brand marketing, the challenge is how to communicate your message, while still fitting in with user photos of a romantic anniversary dinner, fun at the beach or cats snuggling by a fireplace. It can be easy to go overboard with cute dogs and cats that have nothing to do with your product, company or brand.
One brand that is great at this is Tiffany & Co. In its Instagram photo contests, Tiffany maintains its key brand positioning of elegance, sophistication and personal touch. For example, this holiday season, the company held a simple contest encouraging people to comment on a post, and gave the first 20 commenters a hand-calligraphed postcard to the receiver of their choice.  They received comments far beyond twenty, with followers asking where they could buy the postcards and other engagement.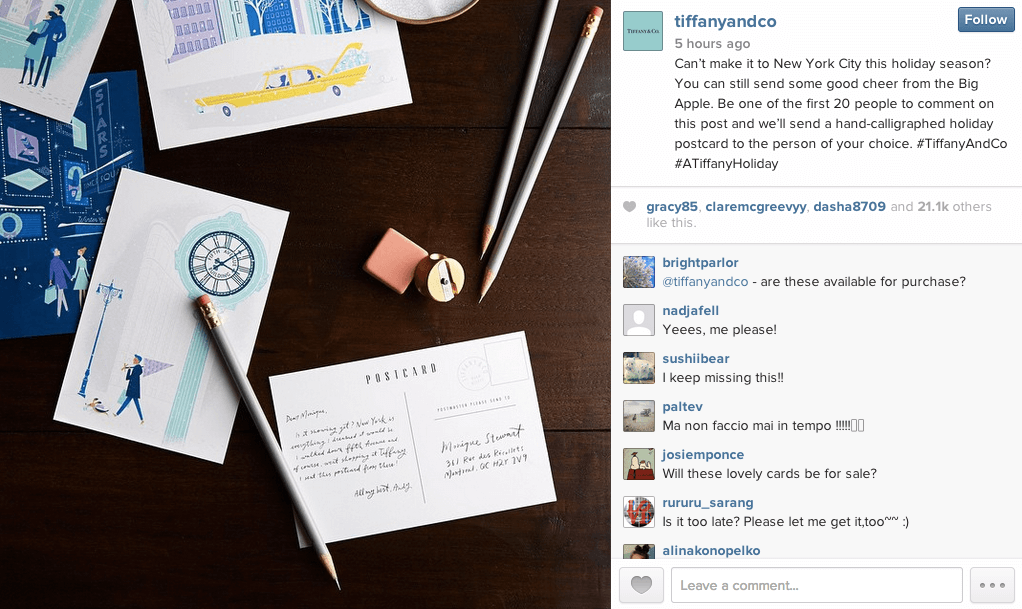 Tip #4: Don't Forget About Videos
While Instagram is a go-to place for photos, more and more users are posting 15-second videos. We are seeing this same trend on Facebook. If you are running an Instagram photo contest, you can either do a completely separate video-only contest, or allow users to submit either photos or videos.
The non-profit organization High Fives used Instagram for a contest that encouraged winter action sports enthusiasts to share their personal photos and videos demonstrating safety in ski and snowboard parks. They used #KnowYourPark, and winners received snow gear like helmets and goggles. Some of the Instagram videos were also included in the foundation's "Know Your Park" documentary.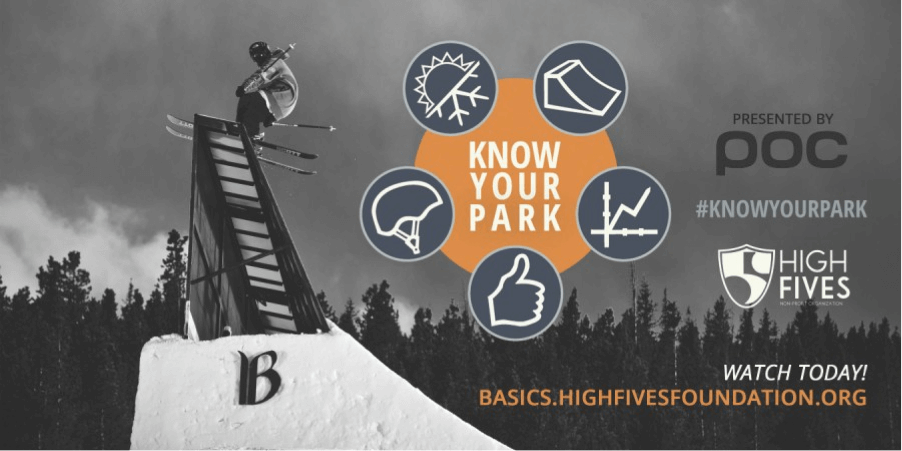 Tip #5: Step Up Your #Hashtag Game
While the character limit on Instagram is more forgiving than Twitter, there are is a 30 hashtag limit per post. But just because you CAN, doesn't mean you SHOULD. Usually under 10 hashtags is best.
When promoting a contest or campaign, use your custom hashtag and a few others that may be relevant to get your post in front of more eyeballs. This is important because people on Instagram often search for specific hashtags. For example, if you're doing a Christmas contest, you may want to include #giveaway, #Christmas and #HolidaySpirit in your post.
Hyatt hotels did a great job of this during the Thanksgiving Day Parade in New York, hashtagging #NYC #NewYork and #Thanksgiving.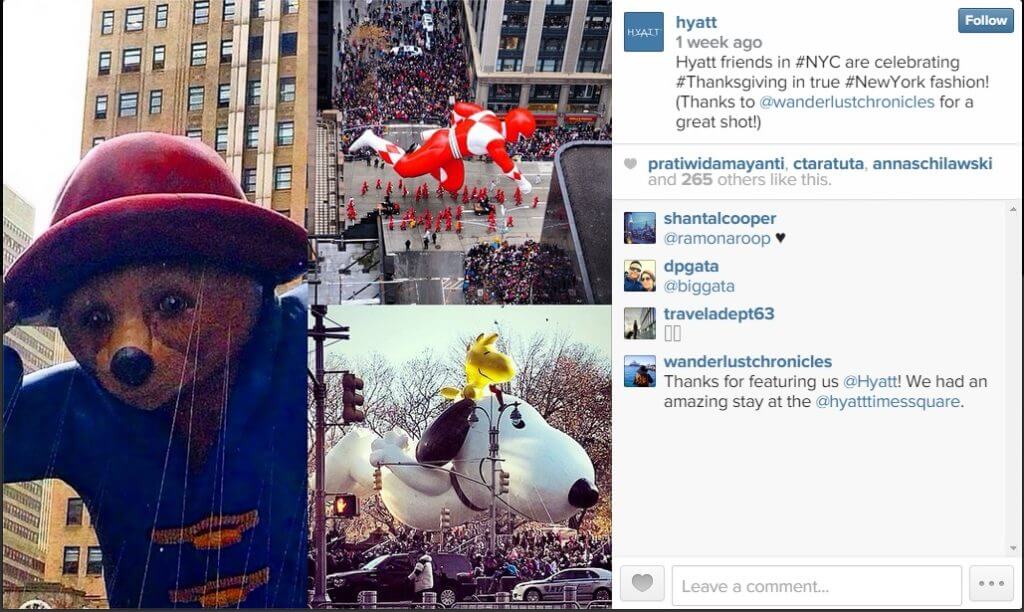 You should also use this tactic for daily postings to increase your Instagram searchability. For more hashtag tips, check out this post on Instagram Hashtag Best Practices. 
Tip #6: Integrate your Instagram Photo Contest with Other Channels
Too often companies run campaigns on a single social channel and don't think about it in an integrated marketing fashion. Utilize all of the platforms where you have fans and followers. You can promote your Instagram contest on Facebook and Twitter by sharing photos from contest entrants. This is especially useful if you've managed to get a big audience on Facebook, but no longer want to use it as a contest platform. Just make sure to use the same hashtag across all social accounts.
Giving Microsoft kudos here again, as they specifically promote their Instagram #DoMore campaign on Twitter.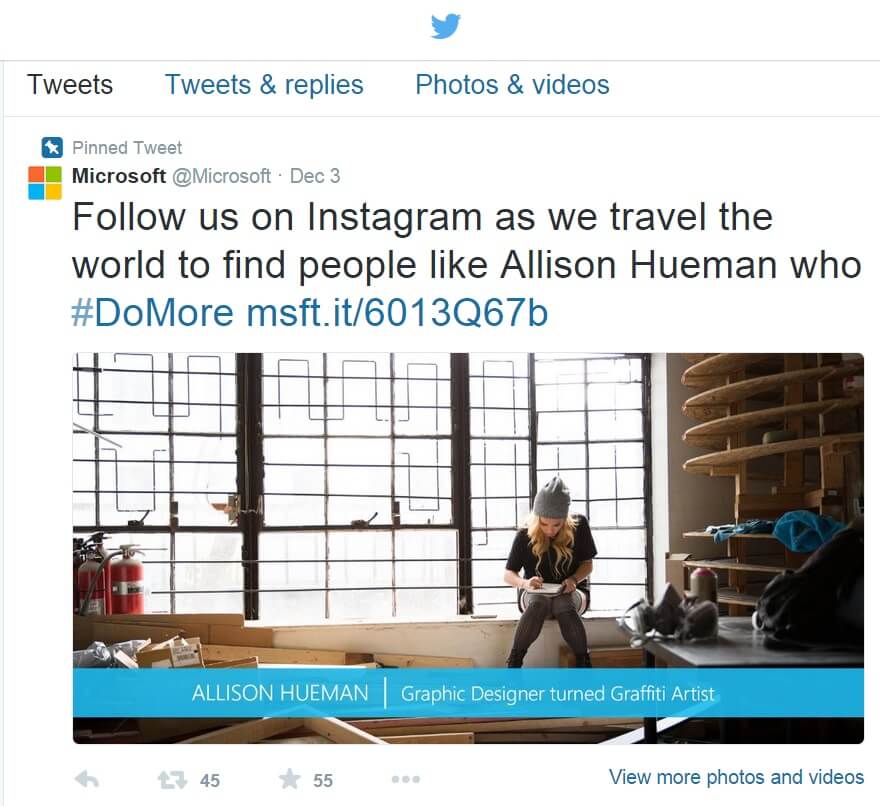 Instagram also gives you the ability to embed Instagram photos on your website — just follow these steps:
Go to

http://instagarm.com/[username

] and then click the post to expand it

Click the three dotes in the bottom-right corner and select Embed
Copy the embed code that appears and paste it into your web page's HTML