In the fast-paced world of social media, understanding public sentiment has never been more crucial. Whether you're a small business owner or part of a big brand's marketing team, keeping your finger on the pulse of social conversations is vital for success. This is where sentiment analysis comes in, helping you tap into the pulse of public opinion.
In this blog, we'll explore the ins and outs of sentiment analysis, delve into popular sentiment metrics, and unveil helpful tools to help you measure sentiment effectively. We'll also dive into real-life examples of brands that have used social listening to optimize their marketing efforts. So, if you're ready to take your digital marketing game to the next level, keep on reading!
What Is Sentiment Analysis?
In a nutshell, sentiment analysis is the process of gauging and categorizing people's opinions, emotions, and attitudes expressed in social media posts, comments, and other online interactions.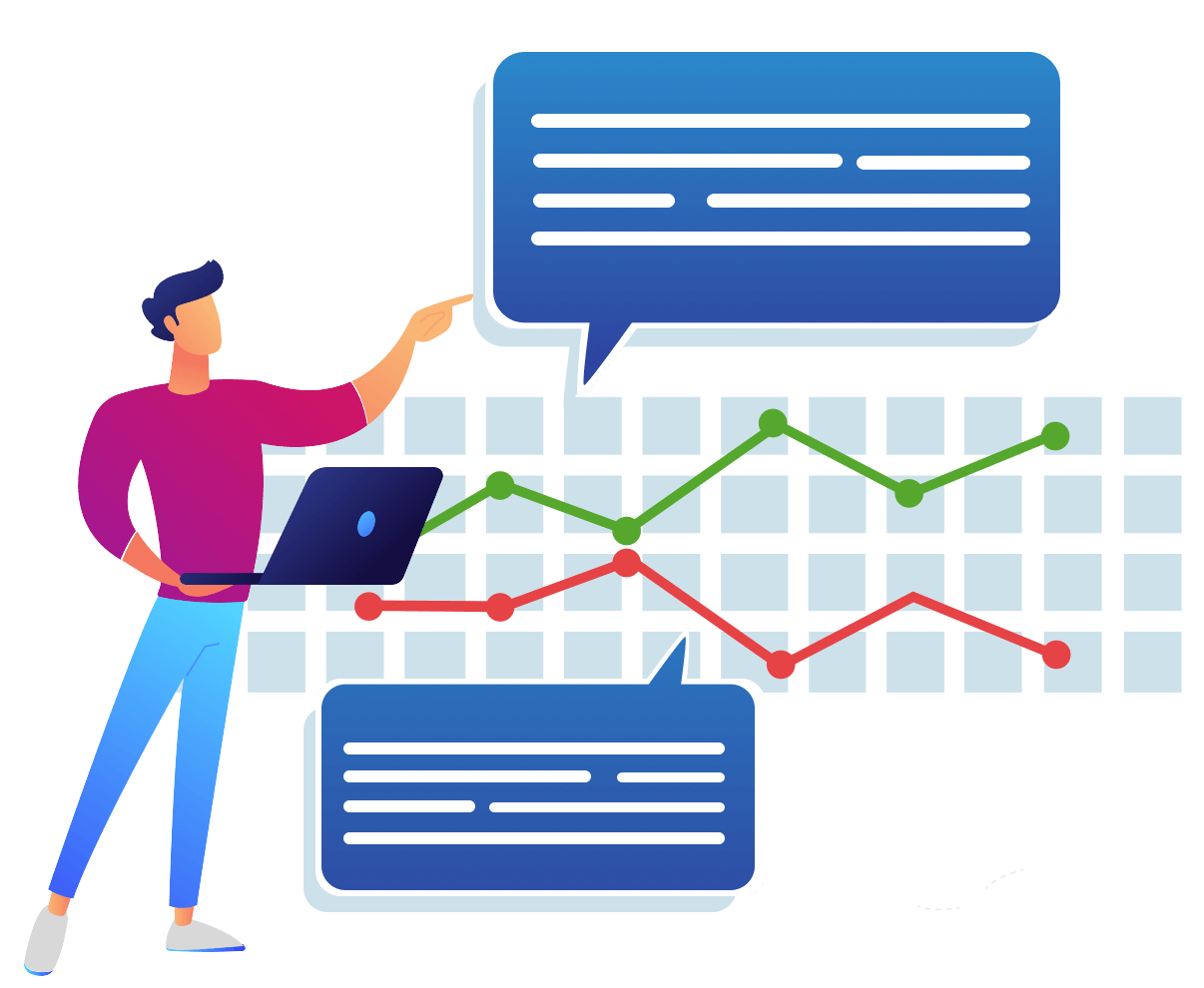 By analyzing sentiment, you can gain valuable insights into what people love, loathe, or simply find "meh" about your brand. Armed with this knowledge, you can make data-driven decisions to improve customer experiences, fine-tune your messaging, and tailor your marketing strategies to align with the ever-changing sentiments of your audience.
The importance of sentiment analysis for brands in digital marketing continues to reach new heights as the number of users online grows. According to Statista, a whopping 4.8 billion people are active social media users worldwide. That's a massive pool of voices, opinions, and emotions waiting to be harnessed.
Understanding Sentiment Metrics
When it comes to social media sentiment analysis, it's crucial to grasp the key metrics that help us decode the emotional vibes swirling around online. To start, brand mentions are typically assessed and categorized into three types: positive, negative, or neutral.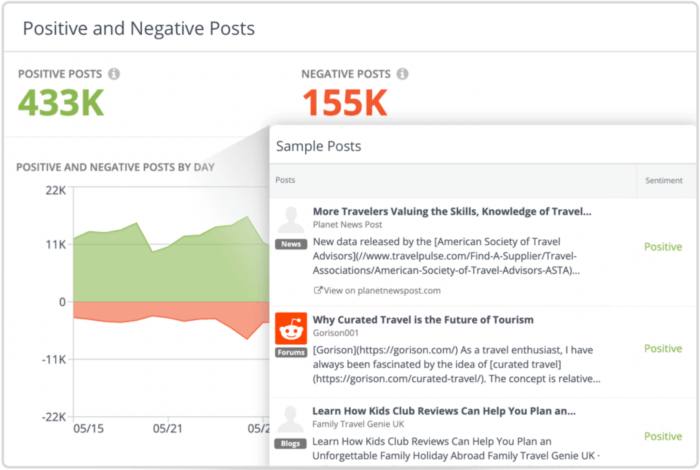 Positive sentiment represents the hearts, the thumbs-ups, and the general love and appreciation your brand receives from users. When people share their positive experiences, it's a signal that you're doing something right.
On the flip side, negative sentiment helps you identify pain points, customer frustrations, or areas where your brand might be falling short. Embrace it as an opportunity for growth and improvement.
But what about the in-between? Neutral sentiment fills that space, representing those times when people aren't overly thrilled or disappointed.

It's essential to acknowledge neutral sentiment too, as it gives you a baseline to measure against and provides context for the overall sentiment landscape.
You also want to go beyond just categorizing sentiments into buckets. Sentiment intensity looks at the strength or magnitude of the sentiment expressed. Volume and frequency shed light on how often people are talking about your brand and how the sentiment is distributed over time.
Finally, an overall social sentiment score gives you a big-picture look at how people online feel about your brand. This is usually calculated as a percentage of positive mentions out of your total mentions (or total mentions excluding neutral mentions). How you calculate it is up to you. Just be consistent with it so you can accurately track changes over time.
Tools for Measuring Sentiment
When it comes to analyzing sentiment on social media, having the right tools in your digital marketing arsenal can make all the difference. Let's take a look at some of the top sentiment analysis tools available.
Rival IQ
Our comprehensive social media analytics platform includes social listening features in addition to other powerful social analytics functions. With a user-friendly interface, you can easily monitor mentions, sentiment, and conversations about your brand and your competitors. Some notable features include:
Sentiment Analysis: Advanced algorithms analyze sentiment in social media mentions, providing you with a clear understanding of the positive, negative, and neutral sentiments surrounding your brand.
AI-Powered Search: Use ChatGPT-powered search to skip the boolean and create custom queries without the data scientist.
Trend Insights: Monitor sentiment changes, spot emerging patterns, and identify online advocates and top sources for conversations about your brand. Plus, spot conversation spikes with always-on alerting.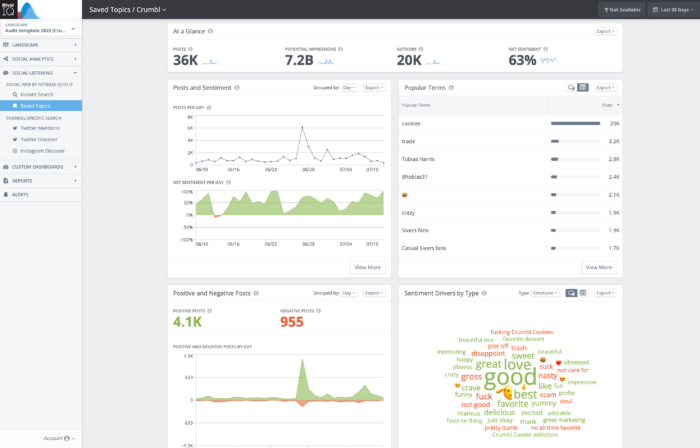 NetBase Quid
Our parent company NetBase Quid has tons of additional social listening and sentiment analysis features to offer, including analysis from channels like Facebook and Instagram. There are too many features to summarize quickly, but here are a few of our favorites:
Real-time brand monitoring: NetBase Quid's brand perception features enable real-time monitoring of your brand's online presence, providing immediate insights into conversations, mentions, and sentiment across platforms to understand how consumers are perceiving and interacting with your brand.
Sentiment analysis and trend identification: NetBase Quid helps you identify positive, negative, and neutral sentiments from consumers across the web, helping you understand overall brand perception and stay informed about emerging trends relevant to your brand.
Brand passion measurement: Easily measure brand passion to quantify consumer enthusiasm, loyalty, and emotional attachment. Use these tools to identify passionate customers, cultivate brand advocates, and strengthen brand loyalty strategies.
Talkwalker
Talkwalker is a social listening and analytics platform that allows you to monitor sentiment across online, social, print, and TV/radio content. It provides real-time insights to help brands measure sentiment and make informed decisions based on public opinion. Its key features are:
Sentiment Tagging: Talkwalker employs machine learning algorithms to tag social media mentions with sentiment labels, enabling you to identify sentiment patterns quickly.
Multilingual Analysis: Analyze sentiment in 180+ languages to gain a global perspective on your brand's reputation.
Crisis Detection: Receive real-time alerts when there is a significant change in sentiment, allowing you to respond promptly to potential crises.
Image Recognition: Talkwalker's proprietary Image Recognition technology can analyze sentiment associated with images and visual content shared on social media.
Brandwatch
Brandwatch is a social media management tool that helps brands monitor and analyze social media sentiment. It offers an array of features designed to provide comprehensive insights into customer opinions and preferences. Some notable features include:
Sentiment Scoring: Brandwatch provides sentiment scoring that assigns positive, negative, or neutral sentiment to social media mentions.
AI Smart Alerts: Its AI assistant automatically detects spikes and drops in mentions.
Social Inbox Integration: Its social listening tool ("Listen") integrates smoothly with the Brandwatch's Engage tool, making it easy to analyze, monitor, and act swiftly according to online conversations.
Boolean operators: Specify your searches by leveraging 48 different Boolean operators.
Mention
Mention is a social media monitoring tool that includes sentiment analysis features. It allows you to monitor brand mentions, analyze sentiment, and publish posts to connect with audiences through online conversations about your brand. Some key features are:
Sentiment Analysis: Grasp the sentiment of an audience and compare data with robust filtering options.
Real-Time Monitoring: Never miss a conversation with Mention monitoring over one billion sources across the web daily.
Competitive Analysis: Monitor what is said about your competitors online and measure your performance against them.
Sentiment Reports: View key metrics, get qualitative insights, and build your social listening strategy accordingly with a comprehensive social listening report.
3 Brands Leveraging Social Listening
By actively listening to conversations online and analyzing social media sentiment, savvy brands can gain valuable insights into their audience's preferences, opinions, and needs. Let's explore three real-life examples of brands that have successfully utilized social listening and sentiment analysis to impact their strategies and actions.
1. Topicals: Listening To Customer Ideas
Topicals is a skincare brand that specializes in treating flare ups with science-backed formulas for hyperpigmentation, eczema, KP, and ingrowns. In monitoring social media conversations, the brand keeps a finger on the pulse of conversations surrounding its products and proactively engages with users that mention its brand.
In particular, Topicals is highly responsive to customer feedback, regularly quote-tweeting product suggestions from customers and seeking validation from other users. In doing so, the brand gains ideas for future products directly from its audience while also showing its customers how much they value their opinions.
In addition to being a great use case of social listening, the brand's open-minded quote-tweet also had the advantage of getting customers engaged with its social posts. As of writing, this tweet was Topical's fourth-most-engaging tweet of 2023.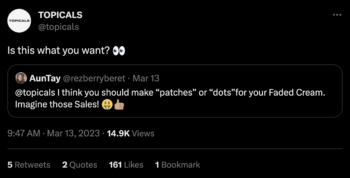 2. Starbucks: Finding Viral Content To Engage With
By closely monitoring platforms like TikTok, where trends and viral content thrive, Starbucks identifies posts that mention its brand and seizes the opportunity to join the conversation.
One notable example is a TikTok video where the user not-so-subtly expressed their distaste for having to make their own coffee at home to save money and tagged Starbucks for help. Recognizing the video gaining traction, the coffee giant responded with an empathetic "We're always here for you," further fueling the engagement and generating positive brand associations.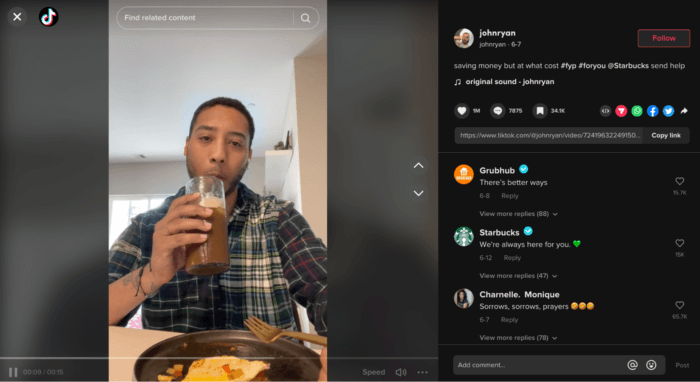 Even more, Starbucks also leveraged this piece of user-generated content (UGC) in its content strategy. The brand's account stitched the above TikTok with a cheeky response, as seen below.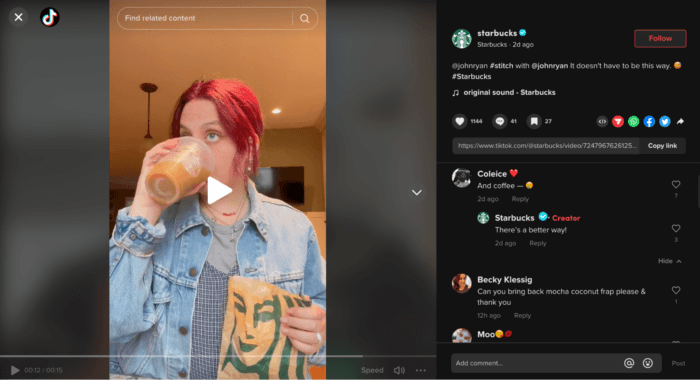 These examples highlight how Starbucks effectively uses social listening to identify viral content and actively engage with it. By responding to or repurposing such posts, Starbucks demonstrates its genuine interest in customer experiences, generating buzz and strengthening its brand presence across social media platforms.
3. Delta: Delivering Timely Customer Support
Delta is another brand that's effectively utilized social listening. By keeping a close eye on its mentions online, the airline brand consistently demonstrates its commitment to customer satisfaction by using social media platforms to troubleshoot and resolve customer problems.
One example of this is a recent tweet from Delta. In response to a customer asking about lost items, Delta quickly replied with a friendly message, offering their assistance and asking for additional details. This demonstrates Delta's commitment to actively listening and engaging with its customers in real-time.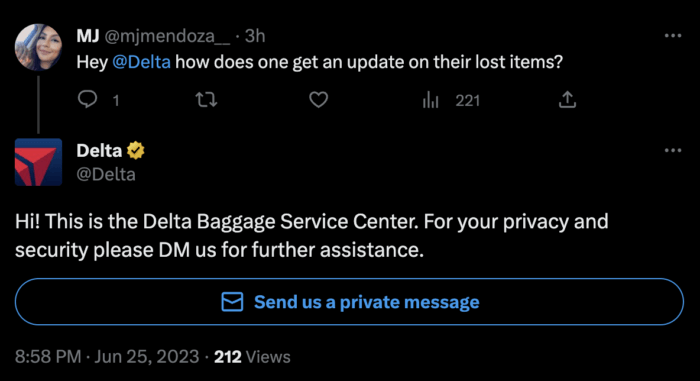 Delta's focus on delivering timely customer support through social listening sets a positive example for other brands. By actively monitoring social media conversations and promptly addressing customer concerns, Delta fosters a stronger bond with its customers, earning their trust and loyalty.
Tips for Effective Social Media Sentiment Analysis
When it comes to social media sentiment analysis, having the right strategies and tools in place can make a world of difference for your brand. Here are some essential tips to ensure your sentiment analysis efforts are effective and yield valuable insights.
Establish clear objectives and goals.
Before diving into sentiment analysis, it's crucial to define your objectives and goals. What do you hope to achieve? Are you looking to measure customer satisfaction, identify brand advocates, or gauge public opinion about a specific campaign? Clearly outlining your objectives will help you focus your efforts and pull actionable insights from the data.
Choose the right social media platforms to monitor.
Not all social media platforms are created equal. Each platform has its own unique user demographics and communication styles, so it's important to choose the platforms that align with your target audience and industry.
Whether it's Facebook, Twitter, Instagram, or industry-specific forums, make sure you're monitoring the platforms where your audience is most active. This will ensure that your sentiment analysis efforts are concentrated where they have the most impact.
Select relevant keywords and hashtags for sentiment analysis.
To effectively gauge sentiment, you need to identify the right keywords and hashtags that reflect the topics you want to monitor and analyze. Consider industry-specific terms, product names, brand mentions, and relevant hashtags that are frequently used in conversations related to your business.
Be mindful of industry jargon, slang, and variations in language usage, and include both positive and negative keywords to get a comprehensive view of sentiment. You'll also want to regularly review and update your keyword list to keep up with evolving trends and discussions.
Apply human judgment for accurate interpretations.
While sentiment analysis tools can be a huge help in providing automated analysis, it's still crucial to apply human judgment for an accurate understanding.
Automated tools may not always capture sarcasm, irony, slang, or context-specific nuances accurately. By having skilled human analysts review and validate the sentiment analysis results, you can ensure more precise insights and avoid misinterpretations.
Remember to adapt your approach based on your specific brand, industry, and target audience. Sentiment analysis is a dynamic process that requires continuous refinement and adjustment. By following these tips, you'll be equipped to unlock valuable insights that can transform the way you engage with your audience and drive your brand forward.
Wrapping It Up
Understanding the sentiment behind conversations online is now essential for digital marketers. Brands that embrace sentiment analysis in their digital marketing strategies will have a competitive edge, enabling them to connect with their audience on a deeper level and adapt swiftly to changing sentiments.
So, add social listening and sentiment analysis to your digital marketing toolkit. Use it to stay ahead of the curve, pivot strategies when needed, and truly connect with your target audience. By doing so, you'll forge stronger connections, drive meaningful engagement, and ultimately propel your brand to new heights.