We're asked this question a lot: how often should I post on social media?
As with so many things, there's no one-size-fits-all answer, but with a little experimentation and a lot of measurement, you'll be able to find the right posting frequency for your brand or organization.
Before we jump in, there are a few key things to keep in mind besides the critical fact that what works well for your neighbor might not work well for you.
First of all, what's in a post? Of course, sharing branded or external content with your followers that you think they'll find valuable is important. But don't forget about every marketer's secret weapon: replies! This posting powerhouse lets your followers know you're listening and definitely counts towards your weekly post count.
It's also important to remember that posting frequency best practices vary widely from channel to channel, so don't expect to find that what works for your brand on Twitter is the golden rule on Instagram too. Let's break down how often to post on social media channel by channel.
How Often to Post on Instagram
Nailing your posting frequency on Instagram is a great place to spend your time and energy, since it's by far the most engaging social media channel according to our latest Social Media Industry Benchmark Report.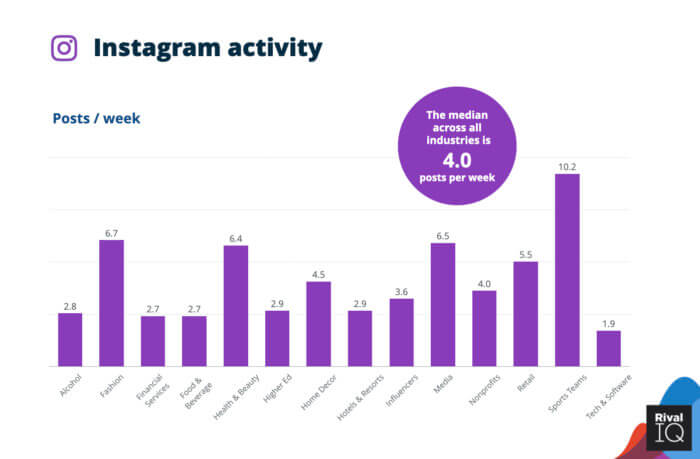 The median brand posts about 4 times per week on Instagram, but the top 25% of brands post closer to 7 times per week, or about once a day. Sports 🏈 and fashion 👗 were the most active industries we surveyed, with 10.2 and 6.5 median posts per week respectively.
What does posting frequency look like for brands garnering high total engagement on Instagram? The top 10% of brands when measuring total engagement per post are posting about 7.15 times per week on Instagram. Does that mean you have to post really frequently to see a lot of engagement? No, but it means if you're not posting very often on Instagram, it might not hurt to try to up your posting frequency to see if you observe an uptick in total engagement.
Rival IQ recommends: Try to post at least twice per week on Instagram. If you can, shoot for at least four times per week, and posting daily wouldn't be too often. But remember, quality matters much more than quantity on any social channel, so it's fine to post a little less frequently if it means keeping your quality high.
How Often to Post on Facebook
Spoiler alert–the median brand posts 5.5 times per week on Facebook, or just about 1.5 times the Instagram median, showing how much variation there can be from channel to channel. We can see that variance even more when looking at the top 25% on Facebook who post 11.4 times per week, or more than once per day. Sports 🏈 and media 🎤 really went for it on Facebook with 19 and 53.5 (!) median posts per week respectively.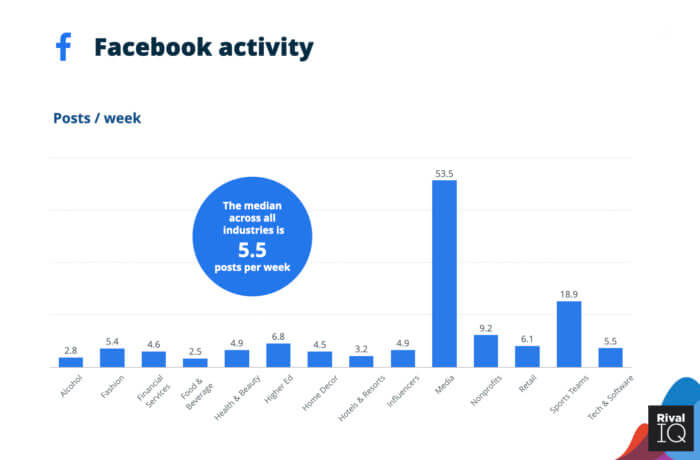 Brands performing in the top 10% for total engagement per post communicated with their followers about 6.4x per week, or just a little above the median. Did we mention that researching what works for your brand and followers is really the only way to figure out the right posting frequency to maximize engagement while not annoying your audience?
Rival IQ recommends: Shoot for at least three posts per week on Facebook, but brands who post about once a day here deserve extra credit. Just like on Instagram, post quality really matters!
How Often to Post on Twitter
The median posting frequency on Twitter was pretty close to Facebook at 4.4 posts per week. The top 25% of posters post about 12.6 times per week, or almost twice per day. This channel's most active industries were downright prolific, with media 🎤 averaging 53 tweets per week and sports 🏈 averaging 36 tweets per week. All of this activity isn't too surprising for a channel that's so devoted to keeping followers up to date.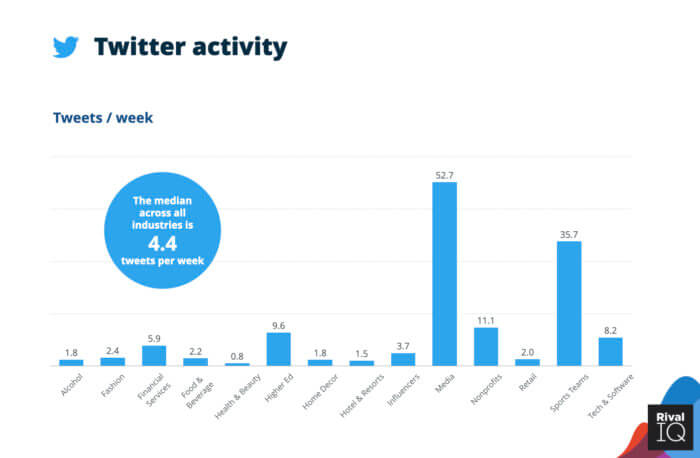 Top performers on Twitter leaned towards tweeting more regularly: the top 10% of companies for total engagement per tweet saw a median posting frequency of 12.7 tweets per week, coming down on the "more is more" side of things.
Rival IQ recommends: Your baseline on Twitter could be as low as three times per week, but as you can see above, top performers are doing a lot more. It's pretty easy to augment that count when you remember how conversational Twitter is as a channel: reply to a tweet or two, retweet a few of your favorite mentions, and hop into a couple Twitter conversations and you'll have your handle's tweets per week count ticking up in no time.
Wrapping It Up
We hope this primer has provided you with some general guidelines and aspirations for your brand as you figure out how often to post on social media. As data geeks, we can't say enough about how important it is to set up some experiments and then use native analytics or any one of our favorite social media analytics tools to measure, measure, measure until you find the right balance between optimizing engagement and not overwhelming your audience.
(Looking for even more social media best practices? Check out our primer on the best times to post on social to optimize your posting.)
This post was originally published on September 9, 2020 and has since been updated.