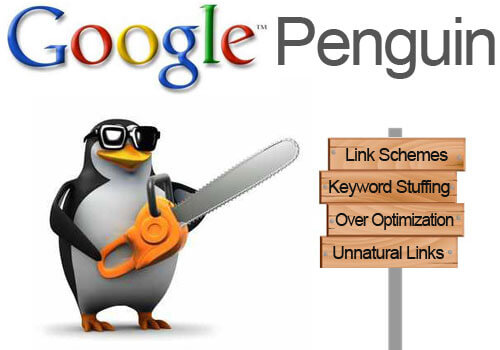 By now, you've probably seen the buzz about the latest Penguin 3 update from Google, and possibly seen its effect on your website. If you gained position in the search engine pages, good for you! That means you're doing something right or maybe your competitors did something completely wrong. But if you're like many marketers, you just don't know, and you are constantly trying to both figure Google out and find simple Google tips to help you do better. We feel your pain!
Google Tips #1:  Understand the Penguin's Goal
With every update, Google works toward the same goal: delivering quality information relevant to user searches. The algorithms it uses to determine page rank are drawn from over 200 factors. Since more than 90% of all web traffic originates on the first page of Google search and 60% goes to the top three results alone, your website's Google result position is literally money.
Google Tips #2:  Don't fight Google on Keyword Stuffing!
In the early days of SEO, the focus was on single keywords and content was more about squeezing the SERP juice than about the customers. Overuse of keywords was pretty common, and the result was useless: unreadable text.
Matt Cutts had plenty to say about keyword stuffing back in 2007 with these Google tips. Sure, it looks funny now, but back then, a large chunk of the web looked just like that. And that's exactly why Google fights so hard against it.

Google Tips #3:  Focus on Quality Links not Quantity
Another bad policy that has thankfully fallen by the SEO wayside is inappropriate link building. While quality links to your website aren't bad, the questionable practice of building dozens of low-quality sites around keywords, with the sole purpose of providing links to your site, is the fastest train down to the deepest bowels of search engine mines. Number of links was once important, but not anymore. Now it's about the quality and organic nature of the links. If a site linking to your site is poor quality, it's a red flag and can hurt your ranking.
Google Tips #4:  Take the High Road
Through the years, some SEO people kept their white hats firmly on their heads and ignored the shady practices of their peers. They helped businesses build solid reputations with quality content and honest, organic linking. Today, sticking to the high road has really paid off. As Panda and Penguins 1-3 rolled over sites dominating the search engines with shallow garbage instead of real information, quality sites bubbled up to the top.
Google Tips #5:  Provide fresh, interesting, informative content
Publish often and promote your posts over social networks. Diversify your formats with graphics, Powerpoint presentations and videos. The most popular content based on number of shares is instructional: how-to articles, tutorials and step-by-step videos.
Google Tips #6:  Vary the length of your content
Social media content, like Facebook posts, is short and punchy. Blog posts may be anywhere from a few paragraphs to a five-page opus, but generally speaking, 500 – 1200 words is typical. Ebooks and whitepapers are tempting downloads, especially if you're trying to build your client list. As part of your content strategy, vary the types of content and lengths to address the needs of your customer base – addressing both the quick reads and the longer research requirements.
Google Tips #7:  Be the authority
Whatever your business is, become the go-to source for information. This means genuinely trying to help your audience do their jobs better or more effectively. What are your customers' pains? What are they searching for on Google? While staying with the Penguin guidelines is critical, write for your customers, not Google and Google will reward you.
Google Tips #8:  Create a deep linking strategy
Organic links from sites in your industry or a related subject are still valuable. Deep linking is building links to specific pages within your site that relate to your content, not the homepage.
Google Tips #9:  Engage your client base
Don't just put up words. Promote, start conversations, ask for opinions, answer questions and communicate with people who are interested in what you have to say.
Google Tips #10: Don't Take Shortcuts
You are probably already getting flooded with Twitter accounts offering to sell lists, grow your followers, retweet your tweets, place links on hundreds of sites and other services that sound tempting. Don't fall in their trap and dirty up your white stetson. Remember lessons from the past and keep that shiny white chapeau firmly in place. Therefore, when the next Google update comes out, your website will be safe and optimized, and both you and Google will be happy.
Are You Ready for the Next Google Move?
Are you confident that your site is ready for the next fearsome animal Google sends after your rating? Start with these tips to improve your chances of success.
And let us know about other Google tips you have found work well, so we can all exist in one big happy Google world!