Rival IQ Social Analytics + HubSpot Marketing & Sales Platform
We are incredibly excited to announce that HubSpot customers can now leverage Rival IQ's social media analytics for free thanks to our integration partnership with HubSpot! We pulled the troops together to get this integration up and running just in time for INBOUND, HubSpot's annual conference.

Free Rival IQ Social Analytics for HubSpot
Exclusive to HubSpot customers, this offer of a free lifetime subscription to Rival IQ delivers a powerful solution to refine the social component of inbound marketing, benchmark social performance against direct competitors, strengthen social marketing strategy, and discover actionable insights.
"Rival IQ provides HubSpot customers with an opportunity to benefit from meaningful social analytics, helping them identify content that resonates with their followers, which dovetails with the way they leverage HubSpot to optimize their inbound marketing strategy," said Kevin Raheja, director of strategic partnerships at HubSpot. "Understanding social data helps marketers better manage their brand, programs, and campaigns across their social and inbound channels."
Social marketing + @HubSpot friends, get amazing social analytics from @RivalIQ for free. https://t.co/cQ6b8FKZIL #INBOUND17 pic.twitter.com/OKdPfKqIWM

— Seth Bridges (@seth_bridges) September 26, 2017
Rival IQ enables marketers and brand managers to identify engaging content by providing critical competitive social insights, extending the value of their existing Hubspot subscription. Creating your free account and join the thousands of marketers who consider Rival IQ their secret weapon. 
"Rival IQ's social media analytics complement the robust reporting on inbound marketing already available in HubSpot," said John Gallagher, head of marketing at Rival IQ. "With free lifetime account access to Rival IQ analytics, HubSpot customers can immediately begin benchmarking social performance to the competition and start making more data-driven decisions based on comprehensive channel-by-channel engagement analysis."
Get your free Rival IQ account
Do I qualify for a free Rival IQ account?
Active HubSpot customers who are subscribed to a Basic, Pro or Enterprise HubSpot account can sign up between now and September 30, 2017, for access to Rival IQ social media analytics for as long as they maintain a paid account with HubSpot.  
How do I access my free competitive social analytics?
Qualifying HubSpot customers can access their free Rival IQ social analytics by logging into Rival IQ with their HubSpot credentials at https://www.rivaliq.com/product/HubSpot/
Step 1: Follow link
Step 2: Click "Connect Rival IQ and HubSpot"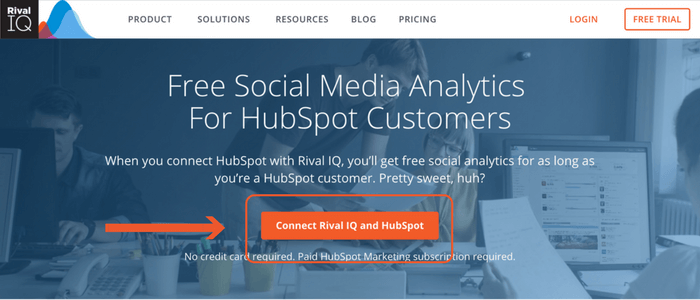 Step 3: Read through permissions. Click "Grant access".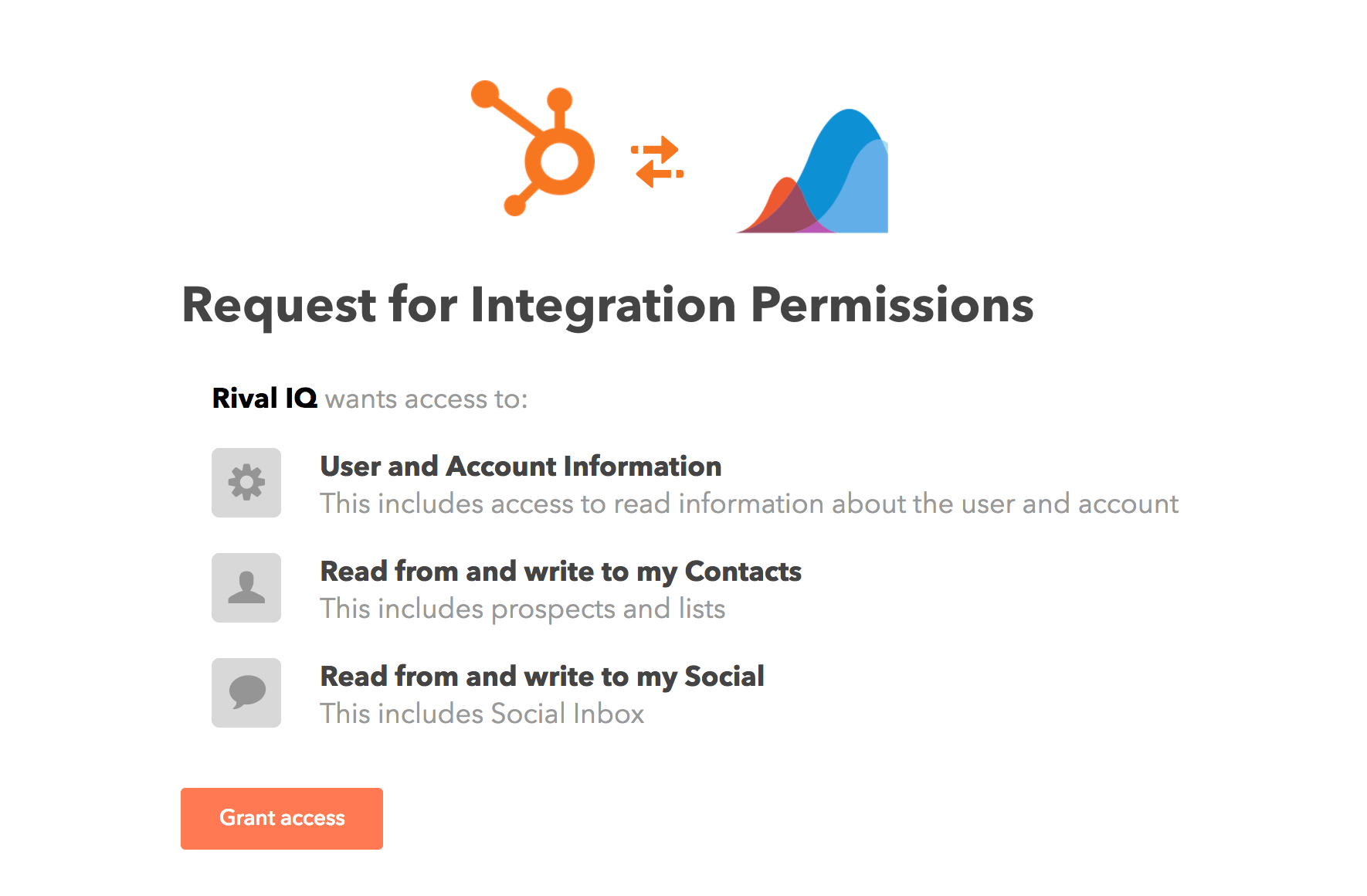 Step 4: Indicate whether your company is a brand or agency, then enter the website URL of your top 3 competitors, influencers, or any other organizations you'd like to compare your social performance with. Click "Continue" when you're finished.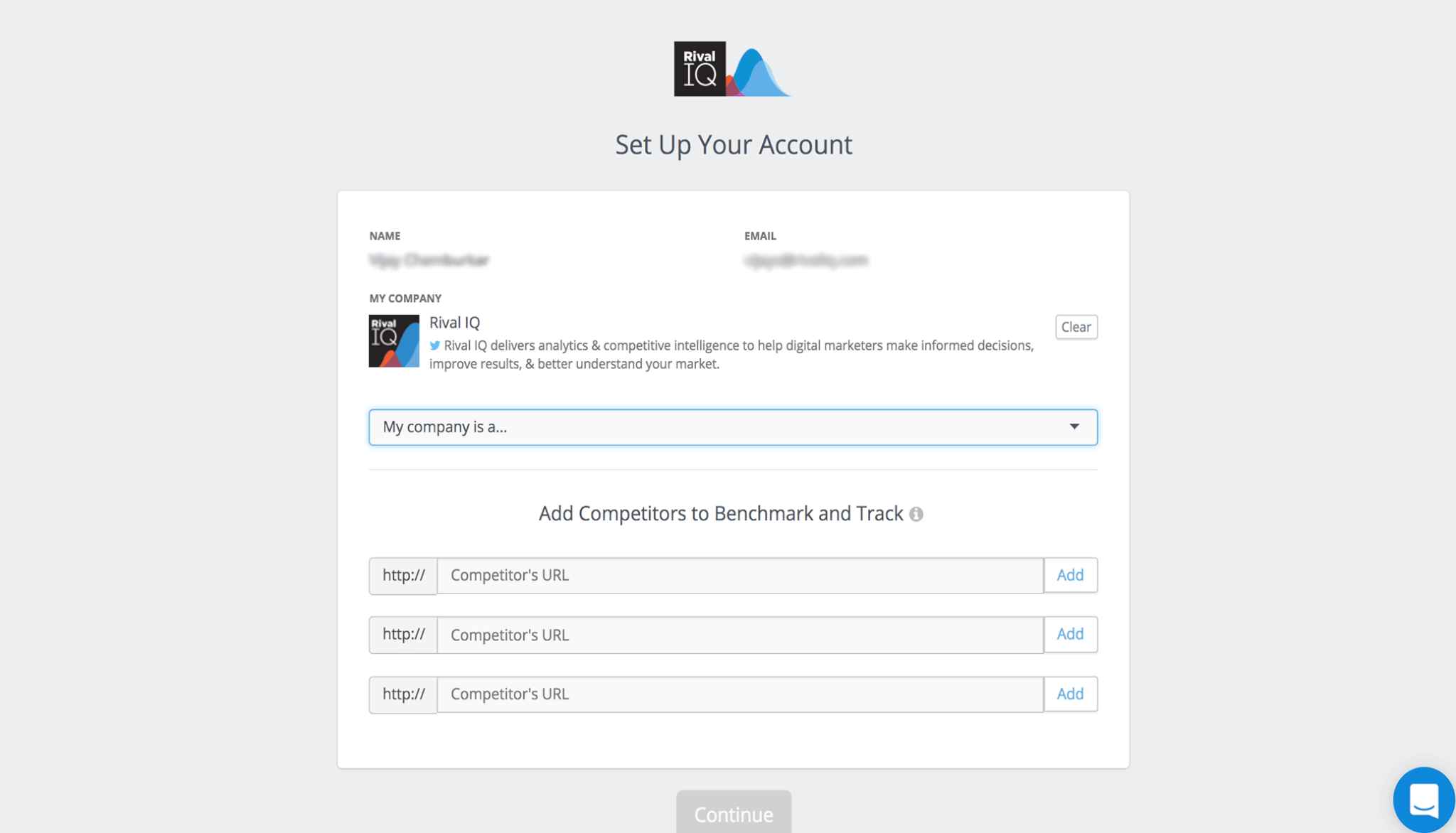 Step 5: Once Rival IQ has finished populating your landscape data, you'll be redirected to the Rival IQ dashboard where you can dig into the data! Enjoy!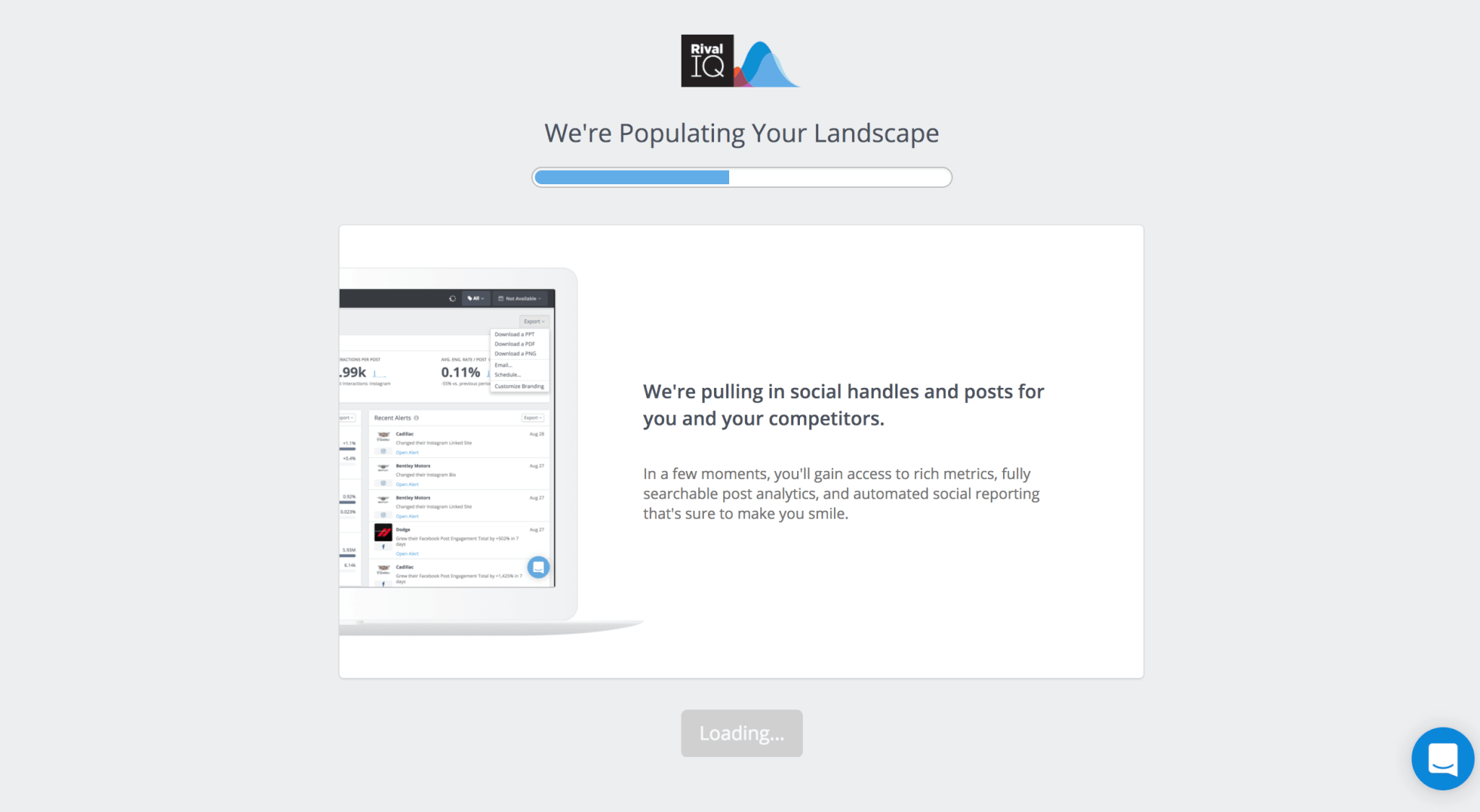 My account is set up. What Happens Now?
Within Rival IQ you'll track yourself and up to 4 competitors across Twitter, Facebook, and Instagram. Going forward you'll receive regular emails that include reports like Social Summary Report, Cross-Channel Performance Report, Social Post Report as well as intermittent alerts with noteworthy activity in your landscape.
Rival IQ gives you the power – you'll be able to:
Improve your social strategy with the right data for actionable insights to increase engagement, traffic, customers, and revenue
Predict social performance, maximizing your social success
Outshine your competitors with insight over your industry, performance, and strategy
Put your social analytics to use
Start by analyzing what social content is working across your landscape, and discover what you can do to drive your social strategy and tactics.
Social Posts summarizes social activity and engagement by pulling every post in your competitive landscape and presenting it in one comprehensive view. Use the breakdowns that matter most to you — hashtag, emoji, keyword/phrase, and more. Get started with social posts now.
Reach your goals with Rival IQ. Start benchmarking your social and understand how others are finding success with social media. Landscape Comparison gives you a solid comparison of the overall social performance. Use it to determine where your brand is compared to your competitors. See your comparison now.