This article was originally published on April 26, 2016, and has since been updated. 
Facebook carousel ads have only been around for three years, but they have proven to be a fruitful hit in the world of marketing.
The social network's own analysis of almost 9,000 ad sets reveals ads using the carousel format had a 30-50% lower cost-per-conversion and 20-30% lower cost-per-click than simple, single-image ads.
For some companies, the difference was even greater. Neiman Marcus reported three times more conversions from carousel ads than from other advertising methods, while MVMT Watches saw its click-through rate increase by 75%.
Yes, they take a little more time to put together, but they're well worth the extra effort. Here are some ideas on how you can use them.
#1. Highlighting a Single Product
A single, static image does the job when it comes to showing off a single product, but there are obvious limitations. Only one use, view or benefit can be properly conveyed; with a carousel, you can highlight up to five.
Ford used a carousel ad to show off their newest Mustang model in locations all around the world, celebrating its global rollout and showing the car off in a variety of color options.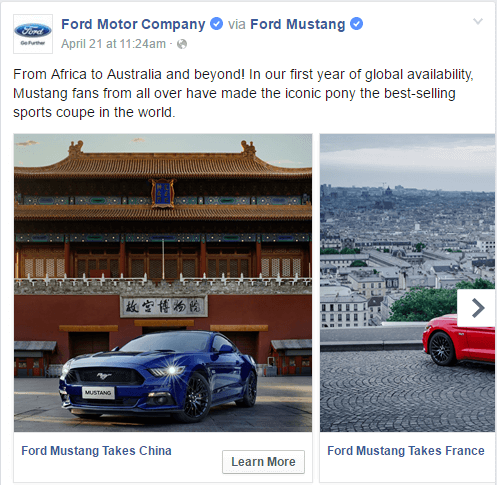 Bosch also used the format, albeit in a minimalist fashion, when promoting their new laser level. The carousel first demonstrates the product "in action" before showing the customer the all-important details–what's contained inside the box.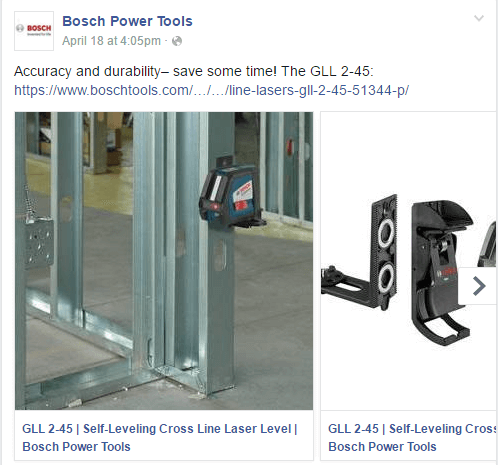 On top of the immediately obvious benefit of giving a clearer and more complete view of your product, analyzing which images generate the most clicks will give you key information about which features your customers value the most.
#2. Feature Multiple Products
Carousel ads allow you to show off up to five different products in one go–almost.
The nature of the format means the first and second images you show will catch the most eyeballs. Any casual Facebook user scrolling through their feed will see the full first image and part of the second, but only a fully engaged viewer, one who chooses to swipe or click to view the rest of the carousel, will see the rest.
For this reason, the "opening" image should always be the one you feel will have the greatest appeal–or the one you most want people to see.
The viewer will only see part of the second image, but that should be enough to get an idea of what it is.
Making this one quite different to the first may be a good idea. A potential customer unimpressed with the first picture may have their interest piqued by the second–then go on to check out the rest of the slides as well.
#3. Direct Customers to Different Parts of Your Website
If your website is divided into sections, each with a specific target audience, a very useful feature of carousel ads can be used to promote each one–and take customers straight to where they want to go.
Each image can be configured to point to a different location; for example, menswear, womenswear, and childrenswear. Leading British sports equipment retailer Sports Direct regularly uses carousels to highlight special offers in multiple departments, such as in this example of its cricket promotion.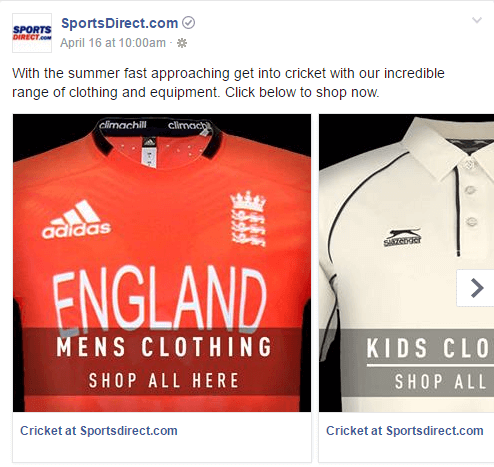 This sort of layout is not only useful to the customer, it also gives the business the opportunity to promote more than one sale in a single post – and encourages the viewer to engage, click or tap through in the hope of finding an offer that is of interest to them.
#4. Create How-To Guides
How-to guides can be a powerful tool in your marketing arsenal. Customers who feel confident they can get the most out of a product will be more likely to consider it a worthwhile purchase – and they'll appreciate the company that showed them how it's done.
Home improvement chains such as Home Depot put a lot of time and energy into demonstrations and guides for this very reason. For example, Home Depot could take this How to Build a Hexagon Planter article and create a carousel ad using the same images.
The carousel format lends itself beautifully to how-to-style postings, allowing you to guide your customer, step-by-step, through various stages of using or getting the best out of one of your products.
#5. Share Panoramic Views
If you're advertising a location or venue, the carousel ad format can be used to create an immersive, clear view of what a potential customer would see should they visit.
This not only allows you to really show off what you have to offer–it will encourage the viewer to actively engage with your ad, sliding or clicking right to reveal the whole image.
An obvious sector which could benefit here is tourism–a beach, beautiful natural scenes or views from a particular vantage point could all be conveyed far more effectively through a multi-frame panorama than through a normal, single-frame photograph.
But real estate, restaurants, hotels, retail and automotive organizations could also make smart use of this feature. Don't you want to see more of this breathtaking example from Travelzoo?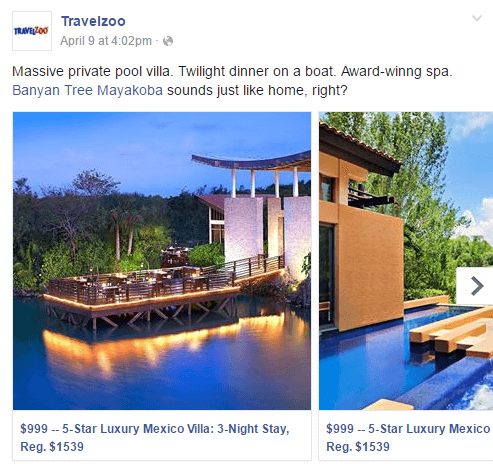 Facebook has a handy guide if you're unsure how to do it.
#6. Appeal to the Emotional and Rational Sides of Your Customers
Though we all like to think the calm, rational side of our mind is in control when we make decisions about purchases, this is not always the case.
Emotion is often the biggest driving force behind consumer behavior–evoking the right emotional response through advertising can be more important than giving the right information.
But giving information and appealing to emotion is far better than doing one or the other, and carousel ads could have been designed for this sort of advertising.
The London Eye's Valentine's Day advertisement is a fine example.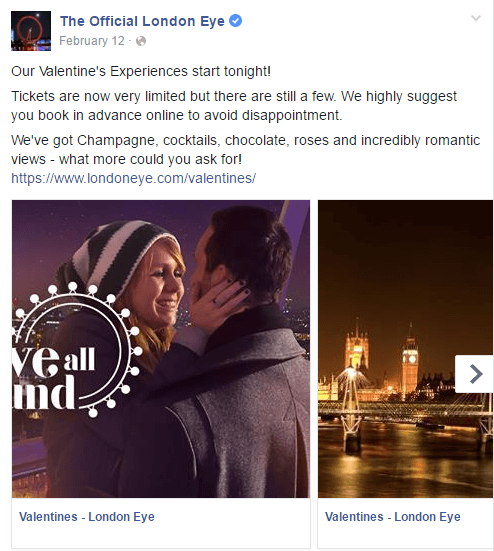 Most of the images aim to strike an emotional chord with the viewer with close-up, intimate pictures of smiling, happy, and content couples. These tug at the heartstrings, showing the viewer the sort of experience they could be having if they took up the deal on offer.
But for the more rationally minded, a simple, unspoiled picture of the London skyline is included as a reminder of the real reason someone would choose a giant Ferris wheel over a restaurant or bar. Learn more about the psychological social sharing and audience personas in our blog, "The Psychology Behind Social Sharing."
What Will Your Facebook Carousel Ads Feature?
Carousel ads are a primarily visual form of advertising; the viewer's eye will be drawn first to the imagery, which is why that will always be the most important part of your ad.
But the difference between a click and a pass could be in the detail–so the few words you write to accompany each image are important too. Keep your copy clean, clear and informative, and ensure every word complements its image.