Happy Enhanced Auto-Tagging Day!
We're not going to lie: we've been working on this one for a while and are dying to share a brand-new Auto-Tagging feature set with the Rival IQ family. If post tagging isn't already your favorite tool in Rival IQ for totally custom analysis, we're hoping a new slate of automatic tagging and brand-new ways to analyze your posts will make you fall in love.
We'll get into all the new features, but here's the tl;dr:
Easily see engagement drivers for top-performing posts. With Auto-Tagging Rules for contest detection, credited photos/videos (UGC), bio link promotion, and high-engagement posts, you'll see what's driving post performance without lifting a finger.
Quickly measure the impact of your campaigns, creative, and other post attributions. Analyze the engagement lift of your post tags automatically to see which of your content strategies or competitors really outperform the rest.
Lots of under the hood improvements to make your analysis easier. From a new metric summary row to a simplified process for creating Auto-Tag Rules, you'll move through your monthly reporting or social media audits more quickly than ever and with lots of new visibility into what's working well.
Read on for all the deets, and then get (auto-)tagging already!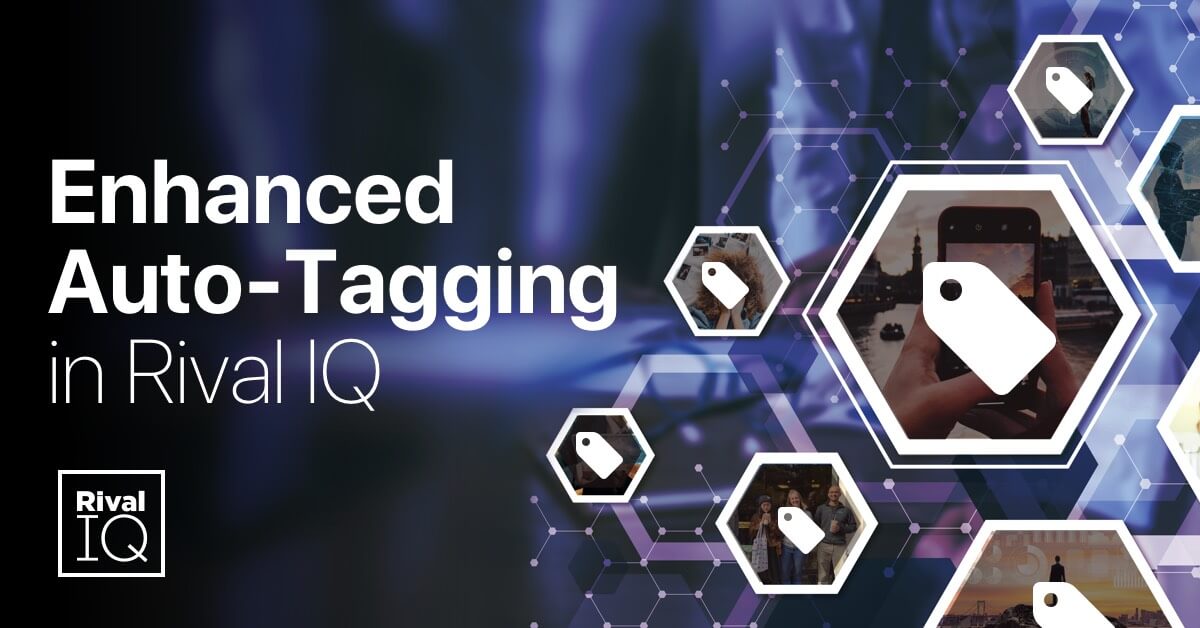 Check out the live walkthrough + Q&A
Watch now
New Auto-Tag Rules to detect top engagement automatically
We've automated some of the most common and engaging strategies social media marketers use so they're always handy in your account. These new Auto-Tag Rules are now baked into every Rival IQ landscape so you can see how expert-level strategies like UGC and contests stack up to other posts in your landscape. We've even got a new Auto-Tag Rule that'll specifically flag posts that are receiving higher engagement than usual so you can double down on that strategy (or copy a competitor's top-performing idea).
Every new landscape in Rival IQ will now come pre-populated with a few of these helpful new tags including UGC and Contests to help jumpstart your analysis (and hopefully inspire some post tagging of your own).
Let's get into these new Auto-Tag Rules and how they can help you be more efficient in your analysis.
User-Generated Content
From influencers to famous photographers, many brands use User-Generated Content (or UGC) as a central tactic in their social media strategy. So, we've made it easier than ever to group and analyze UGC posts with the all-new User-Generated Content Auto-Tag.
We'll automatically catch photos or videos attributed to another user via clues like the "📸" emoji or "photo credit" as seen below so you can easily group these posts together and compare them as a category to other strategies you're running.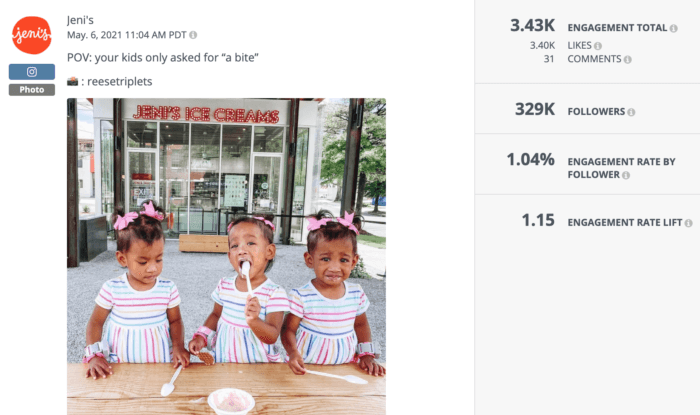 Through the magic of auto-tagging, UGC-tagged posts will now appear in your Post Tags Analysis table so you can see how these posts stack up. (Of course, you can always delete or rename any of our new built-in Auto-Tag Rules for truly custom analysis.)

As you can see in the table above, UGC isn't a top-performing strategy for this landscape, suggesting that these brands might want to focus more of their social media energy on contests or new releases.
Contests/Giveaways
In so many of our benchmark reports, we see that contests and giveaways are a tried and true strategy for brands across tons of different industries. That's why we've created a Contests/Giveaways Auto-Tag Rule to help you set it and forget it with contest analytics.
With a few clicks, our Auto-Tagging machine learning will tag any post that mentions a contest or giveaway on all Facebook, Twitter, Instagram, YouTube, LinkedIn (yep, we're now tagging your LinkedIn posts as well!), and TikTok posts in your landscape. This Auto-Tagging includes both your posts and your competitors' for ultimate visibility.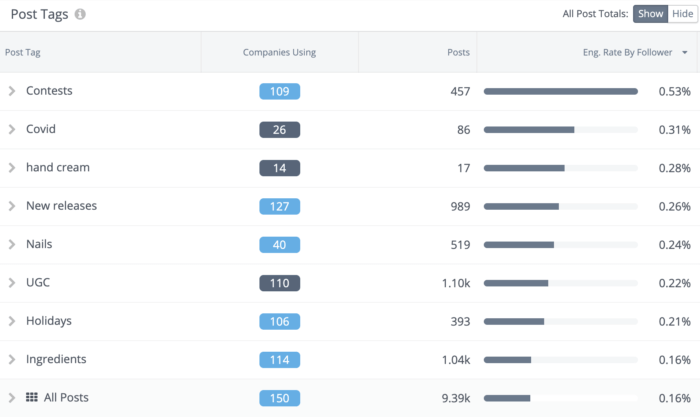 The top-performing posts in this beauty landscape were all about the giveaway. Quickly compare contest/giveaway posts with the All Posts summary row at the bottom (more on that later) to see that these giveaway posts grab 3.5x the engagement of the average post in this landscape. This high engagement is no surprise considering that contests were one of the most successful and popular strategies for beauty brands this year.
And if you're looking for inspo to supercharge your next contest, we love this post from Convince and Convert about everything you need to create an engaging giveaway that'll work for your brand.
Link in Bio
Anyone on Instagram or TikTok is familiar with the common plea to "check out the link in my bio for more info!" This next member of the new Auto-Tag Rule family will tag anything that mentions "Link in Bio" in the post caption.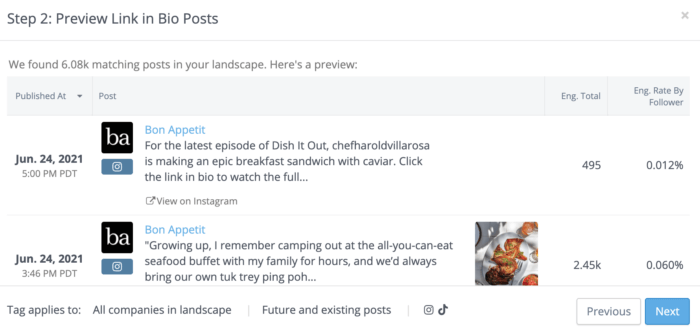 This tag is super relevant for marketers spending a lot of time on Instagram and TikTok where you have only a few words to try to direct engagement from viewers. The Link in Bio strategy is a great practice for anyone looking for a little more real estate when posting on social. Pro tip: Apps like Linktree and Feedlink can further expand your real estate by letting you post multiple links behind the one link you're allowed in an Instagram or TikTok profile.
We've focused this flavor of Auto-Tagging on ultra-visual channels where the "Link in Bio" practice is really common, so don't expect to see Facebook, Twitter, LinkedIn, or YouTube posts show up in this Auto-Tag.
High-Engagement Detection: See which competitor content is on top
Ever wished you could tag all of the highest-engaging posts in your landscape in one supercharged bundle? Maybe it's to see all of your competitors' most successful strategies in one place, or maybe it's so you can easily see which of your posts are rising to the top. (Or maybe it's to show off your dynamite work to your boss–we won't judge.) Either way, our final addition to the Auto-Tag Rule family has your back.
The High-Engagement Detection Rule allows you to set a minimum threshold for both engagement rate by follower and engagement total to tag and isolate whatever you deem high-performing across all your social channels.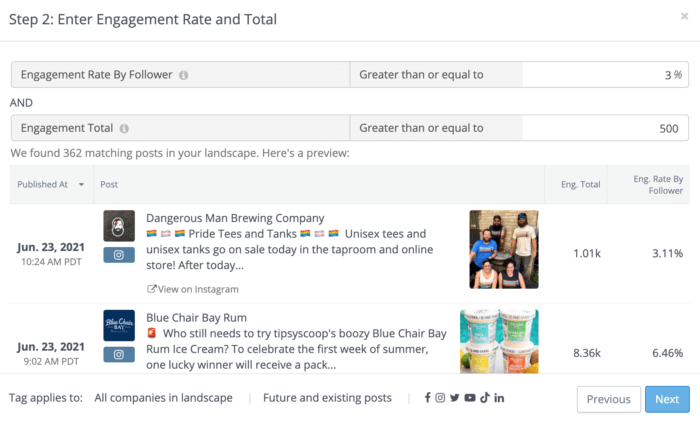 Let's take an Alcohol landscape as an example. Alcohol brands would want to head to our Social Media Industry Benchmark Report to find the median Instagram engagement rate of 1.17% to figure out what average Alcohol brands are up to on Instagram. (And if you know your brand's median engagement by studying your performance in Rival IQ, even better!) From there, double or triple the engagement rate to find the cream of the crop.
Be sure to add a minimum engagement total so you know you're comparing yourself to posts with the same approximate engagement to yours. Setting an engagement total threshold is important because it's sometimes easier for smaller brands to reach a higher percentage of their followers thanks to the algorithms, so this helps you compare apples to apples instead of apples to zebras if you're a really big or a really small brand.
Et voilà! We'll automatically tag past and future posts whose engagement we detect as high so you have a constantly refreshing list of the best of social for both you and your competitors.
Pro tip: social media marketers know that engagement rates and totals vary widely between channels, so don't be afraid to set a few different High-Engagement Detection rules for the channels that matter to you so you never miss a top performer.
Or if you really want to take automated social media insights and run with them, set up a weekly scheduled export of all the high-engagement posts for the landscape for a curated collection of the best social media content of the week straight to your inbox.
Spot engagement lifts in all your analytics
This summer update also comes with a brand-new way to see which posts are earning the most engagement: engagement rate lift. You'll find this new column all over Rival IQ to help you see how many times better or worse a post is doing compared to its fellows.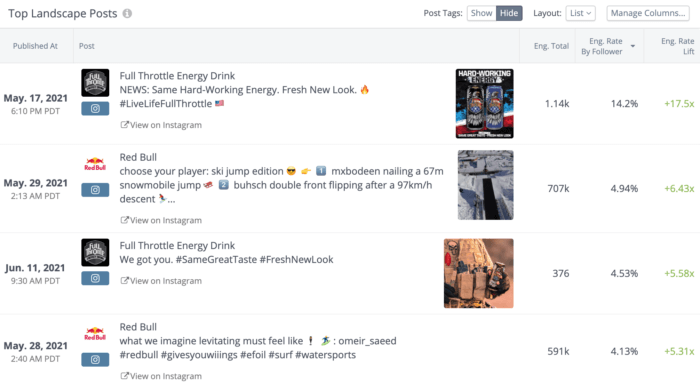 The new column on the right surfaces competitive context for the energy drink brands featured in this landscape. Full Throttle's post about their new look earned an engagement rate of 14.2%, which is more than 17x higher than the average engagement rate for all other energy drink posts in the query.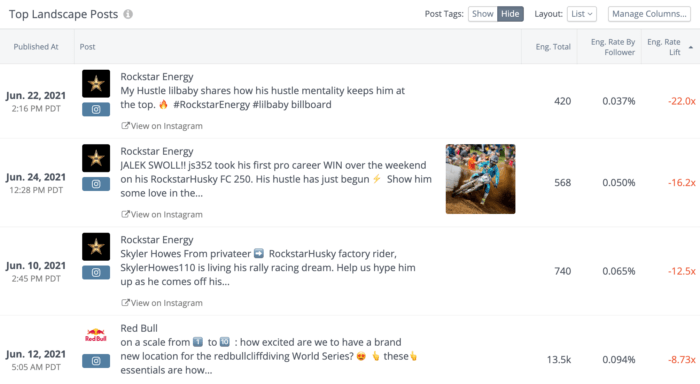 This new column is available in Post Tags, Top Landscape Posts, Hashtags, and Popular Topics so you know exactly how hard to pat yourself on the back for an awesome post (or how urgent it is to steal a competitors' strategy). As seen above, you can sort any of these tables by highest or lowest engagement rate lift so you can see top performers to emulate or the bottom of the barrel to shy away from.
The engagement rate lift column changes with your query, so if you update a date range or go from a full competitive landscape down to a head-to-head comparison, these numbers will automatically recalculate so you never miss a beat. This dynamic calculation and some simple color-coding (green=above average, red=below average) should help you keep in mind what success really looks like in your competitive landscape so you can earn the top spot every time.
Under the hood improvements to streamline your analysis
Our crackerjack team is constantly looking for ways to make Rival IQ easier for you to use, so here are a few other ways we've fine-tuned Rival IQ so you can spend more time analyzing and less time wondering, "Where's that thing again?"
In the post tagging genre, we moved the Post Tag Manager into the side navigation alongside Companies and Landscape Settings to put it well within reach whenever you need it.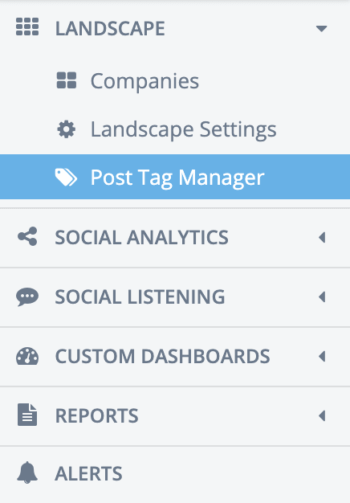 And once you're in the Post Tag Manager, we've simplified the number of steps you need to take to create an Auto-Tag Rule (yes, even the fancy new Auto-Tag Rules above).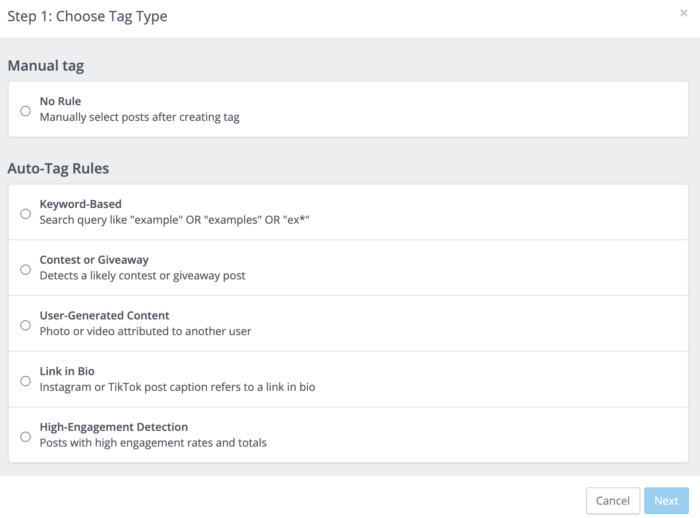 We hope this simplified process for creating rules and one-click access to the Post Tag Manager makes it easy for anyone on your team to create and analyze post tags so you never miss a top-performing post.
In case you hadn't noticed in this blog post (or anything else we've written in the last 9 years), competitive context is kind of our thing, so we're introducing a summary row to help you benchmark against other companies in your landscape.

All of your favorite tables including Post Tags, Hashtags, and Popular Topics now include a handy "All Posts" summary row that keeps the averages of all your metrics front and center so you can see how your company's hashtags, popular topics and phrases, and more compare to the average post in your query. Just like Engagement Lift, this row will dynamically change to reflect whatever changes you make in your query, from updating date ranges to searching post content to shrinking or expanding your landscape.
Wrapping it up
We hope this epic enhanced Auto-Tagging update makes it easier than ever for you to organize and analyze your posts so you can see exactly what's working and what isn't on social. Drop us a line on Twitter with your favorite new Auto-Tag Rule or your undying love for the engagement rate lift column.