It's time to quit chasing your Facebook data and settle the unknown. Rival IQ gives you more tools to control your data chaos.
Facebook Insights is a tool packed with helpful data, but only if you don't know exactly where to find all of it. Plus, it doesn't provide you with competitive data – like exposing your competitors boosted posts. Today we launch a command center of new features to give you a complete picture of your Facebook effectiveness.
This new feature release empowers you to:
Reveal boosted post impact – See how boosting posts influences your social engagement.
Expose your competitors boosted posts – Gain insight into the behavior of competitors, spotting boosted content and analyzing their audiences' response.
Advocate for budget more effectively – Know when the competition is outperforming you because of boosting, and better apply resources in response.
Present a complete picture – Track results across a range of channels, including boosted posts, live video, and organic response.
"These great new features in Rival IQ are a big deal to us, and help us give our executives a clear view of our results on Facebook. Rival IQ continues to help us prove the value of our social activities, and this new release is going to take our social media strategy to a whole new level."

– Fabiola Romero, Social Media Customer Care Specialist at Yamaha Motors.
New Feature Lineup:
Boosted Post-Detection
Ever wonder how often your competitors are boosting their posts to increase reach, engagement, and followers? You're in luck because we can help you find out! Our new Boosted Post-Detection feature uses machine learning to predict whether a competitor likely boosted any given organic Facebook post. In Social Posts, we will label posts that are likely boosted. Additionally, a page-level filter allows you to view only likely boosted posts or exclude likely boosted posts. These filters allow you to do a complete analysis of Facebook activity easily, whether paid, organic, or a blend.
In addition to the ability to benchmark organic vs. boosted engagement to see if they have better, more engaging content, or if they're just paying for it, you can see what content they're choosing to boost. When you know what content your competitors are boosting, you have a good indicator of key campaigns and what content they think is most important to promote.

Boosted Post Analytics
Rival IQ connects the organic and paid results from your Facebook Boosted Posts into a single, seamless interface. In Facebook Insights post analytics, you'll see boosted dollar amount, organic/paid breakdowns of engagement, engagement rates, consumptions, and video viewing.
Boosted posts are a critical component of your overall social strategy. Now, you'll be able to show the actual impact of your actions. If you're not already boosting posts, you should be. Boosting your posts increases your audience and the likeliness of breaking through the noise.

Instant Articles Analytics
Do you publish a blog or post articles? Now when you use Facebook Instant Articles to increase CTR (by 20%), article shares (by 30%) and decrease loading times (10x faster!), you'll find Instant Articles metrics in the Facebook Insights dashboard. You can have access to an analysis of views, view duration, and scroll depth of all your Instant Article content.

Facebook Live Metrics
Has your organization been trying to figure out Facebook Live? Videos, especially live broadcast, has shown to demand impressive engagement rates. If you haven't tried out Facebook Live yet, consider jumping on the bandwagon. If you are taking advantage of these Facebook features, you'll be thrilled to see the break out of live video and standard video metrics in Rival IQ, including total unique live viewers.
Figuring out what content works best for live streaming can be hard. Media companies do this well, which might be because they're always creating new content. If your brand prefers to learn the easy way, by letting others experiment first, check out these proven six ways you can leverage Facebook Live. Give them a try, and you'll have the stats in Rival IQ to demonstrate just how valuable this data is.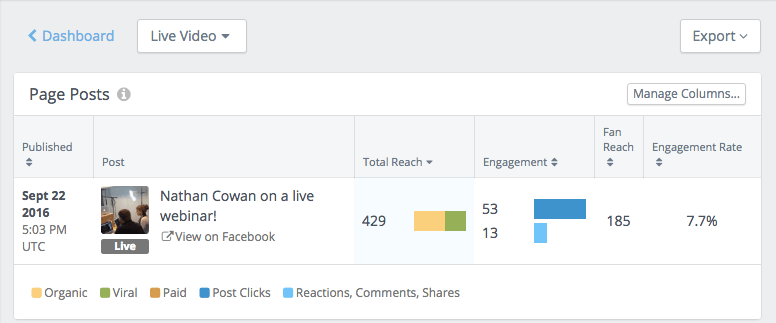 Enhanced Video Metrics
You now receive additional post-level video metrics including auto-play vs. click-to-play, sound-on vs. sound-off, and detailed viewer retention data. Enhanced video metrics augment the existing video information that gives good audience funnel information broken down by paid/organic viewers.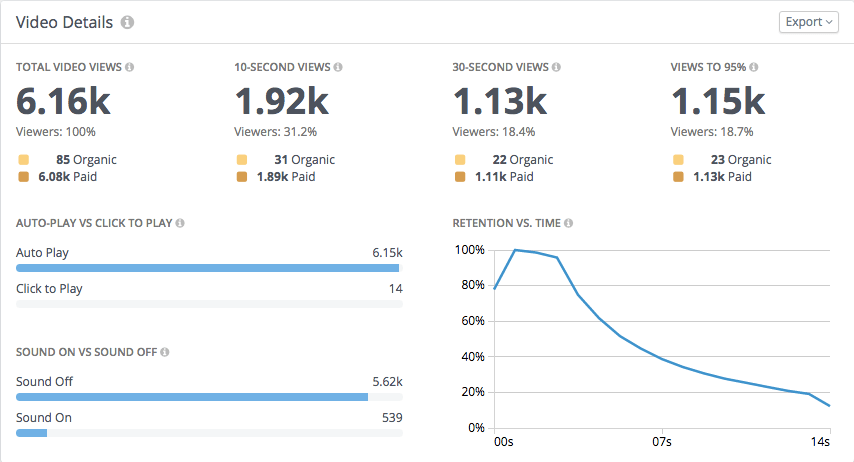 Enhanced Demographic Information
Do you ever wonder if your fans are different from your target market? Now you can clearly see if your evangelists are similar or different than your target audience. This new addition presents the demographic summary of your page fans AND total reach by country, city, age and gender.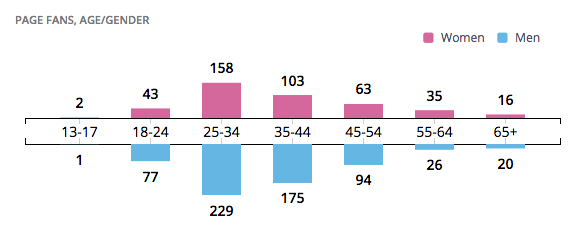 Single Post Report
A new, single post dashboard makes the metrics from any post easier to consume, process, and share. The new dashboard contains all of the metrics for a post to help you analyze and report on Facebook post performance. These reports are exportable and schedulable.
Global Page Fan Support
For Facebook Global Brand Pages, we now track audience (fans) for the regional page, yielding more accurate data about fans, fan growth, and engagement rates.
These new features give you the tools you need to advocate for more budget and take control of your social. Snag a trial now and see the possibilities for your brand.