Unless you're a total Scrooge, it's easy to catch the contagious feelings of joy and wonder during the holiday season. From TV commercials to emails and social media posts, brands play a significant role making the holidays surround us everywhere we turn this time of year.
We've compiled eight great examples of how brands create seasonal magic and inspire consumers to make purchases… lots of purchases. While your production budgets may not be on the same scale as a massive brand, the following ideas will help spark creativity as you brainstorm how you will reach your customers in your markets.
REI
#OptOutside
Over the last few years, even some shopaholics began to feel uneasy as our country placed an all-time heavy emphasis on consumerism. The lure of Black Friday was just too strong for big-box retailers with huge dollar signs in their eyes. Many companies chose to stay open on national holidays and keep longer hours to increase sales. Consumers started to question the new practice for both employees and shoppers' sakes. Where should we draw the line? Does this approach embody what the holiday season is truly about?
In direct response to this elephant in the room, REI made a startling move in 2015. In an effort to encourage people to spend time with loved ones outside, the brand announced that they would keep their doors closed on Black Friday, the busiest shopping day of the year for stores that drew 101.7 million shoppers last year alone.
This campaign was particularly effective because REI stood for their brand's core value shared with target customers: getting outdoors. Even though they skipped out on many potential sales, REI ultimately won: remaining aligned with their mission, blazing a trail for other retailers, and earning the engagement of new and existing loyal followers. The campaign was a huge success, with more than 1.4 million people and 170 organizations choosing to #OptOutside.
Mark and Spencer
Mrs. Claus
No matter your belief system, there are universal themes that unite us all during the holiday season. The best marketing ideas and campaigns tap into these messages that evoke feelings of peace, love, and joy.
Everyone knows about jolly St. Nick, but what do we really know about his better half? In 2016, M&S put a creative spin on this favorite holiday tale, focusing on the "real" hero of Christmas Eve: Mrs. Claus herself.
This touching commercial weaves a narrative that directly markets to women, the primary consumer of the M&S brand. Additionally, from the cozy socks to the incredible décor, the commercial effectively captures the essence of the magical holiday season. This feel good story is so wonderful it would even make the Grinch's heart grow three sizes.
I'm not crying, you're crying.
Walmart
Doing Good for Those in Need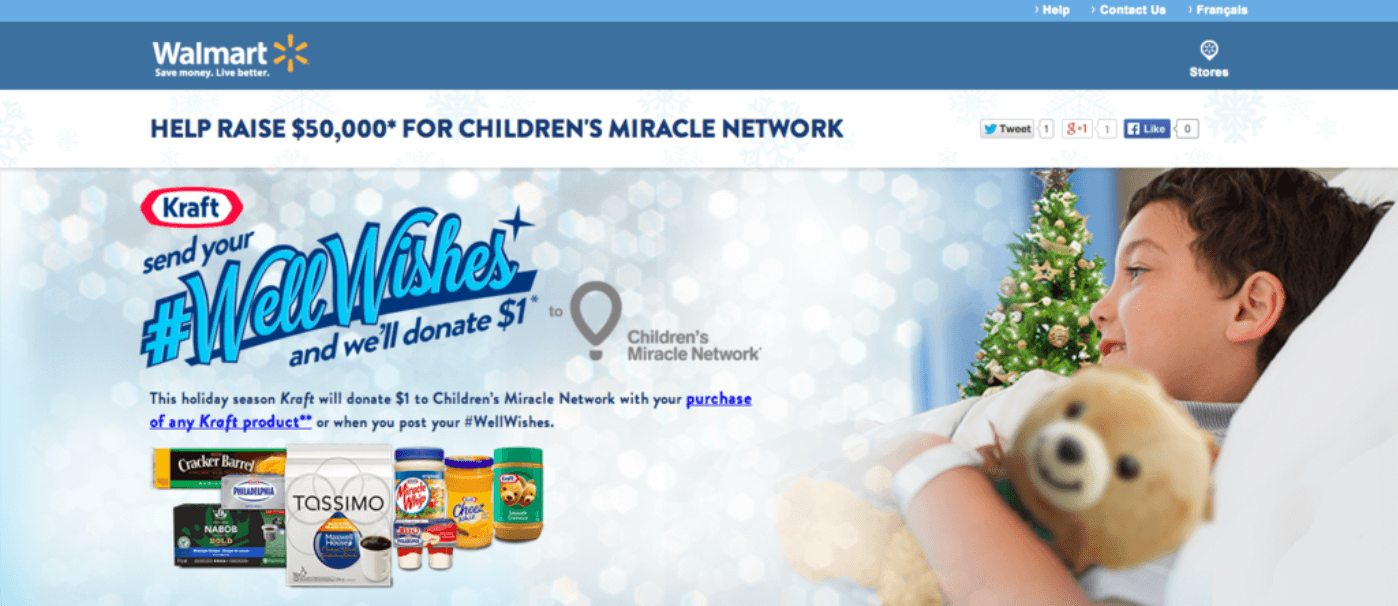 While shopping, gift giving and outfitting our homes for the holidays are all activities that get a lot of attention, that's not what this season is ultimately about. For inspiration to focus on what matters most, take a look at Walmart.
The retail giant created a corporate social responsibility campaign called #WellWishes, donating $1 to the Children's Miracle Network with every purchase made from the Kraft brand, and promoting a hashtag to send well wishes to the beneficiaries. Instead of creating a campaign all about making purchases like many of their competitors, Walmart decided to use their platform for good, spreading a heartwarming message.
Duracell
Powering the Christmas Spirit
As consumers are inundated with ads left and right, it's easy for all of the messages to start blurring together. What's the difference if you buy from one retailer versus another, so long as you get the product you want?
The most successful marketers avoid this trap by creating a differentiator for their brand, especially in an oversaturated advertising market. One way to stand out in a crowd is to do something unexpected.
If you think batteries are boring, Duracell wants you to think again. The brand created an on-demand battery delivery service on Christmas Eve, where customers could request batteries to their doorstep via the phone in their hand (a service similar to Lyft or Postmates). Not only did these deliveries save the day for parents who forgot to buy batteries required to power their children's new toys, but it also transformed the reputation of the product from an afterthought oversight, to a real necessity.
The video recap of their delivery experience in the Midwest both humanized the Duracell brand and promoted their memorable stunt. Whether you used the service or just heard about it, Duracell earned points in the hearts and minds of parents everywhere.
Krispy Kreme
Sweet and Simple
Ho, Ho, Holiday Doughnuts! Swing by and pick up some delicious holiday treats at shops in US/CAN. pic.twitter.com/0fFjUQfJNH

— krispykreme (@krispykreme) November 28, 2016
There's no doubt the holidays can be overwhelming. Keep in mind that your campaign doesn't have to be complicated to be successful and memorable. Take, for example, Krispy Kreme and their "12 Days of Donuts" campaign.
To the tune of the 12 Days of Christmas song, the donut manufacturer put a holiday spin on standard company operations: donut design and packaging. By adding incentives like a special holiday coffee flavor, coupons to draw in more sales, and a promotional video to garner awareness, Krispy Kreme received more attention on normal business practices thanks to a little holiday makeover.
ActionAid Sweden
Creating Weird Music to Stand Out
You can't have the holidays without music. From caroling to decking the halls, your soundtrack of holiday favorites is a large part of what makes the season so memorable.
But does it work if you use goat noises as the basis for your holiday tune? The answer is yes for ActionAid Sweden's holiday campaign. For context, the brand always identifies the goat as its hero: helping to fight poverty, provide milk for families, and income used to pay for school and food, empowering women and the community at large.
So, ActionAid Sweden released a different kind of holiday album titled "All I Want for Christmas Is a Goat," reinventing favorite Christmas tunes with, you guessed it, goats.
Is it weird? Yes. Memorable? Very.
Personally, all I want for Christmas is to know how these singers kept a straight face during their performance. True talent!
Starbucks
Creating Tradition to Spark Joy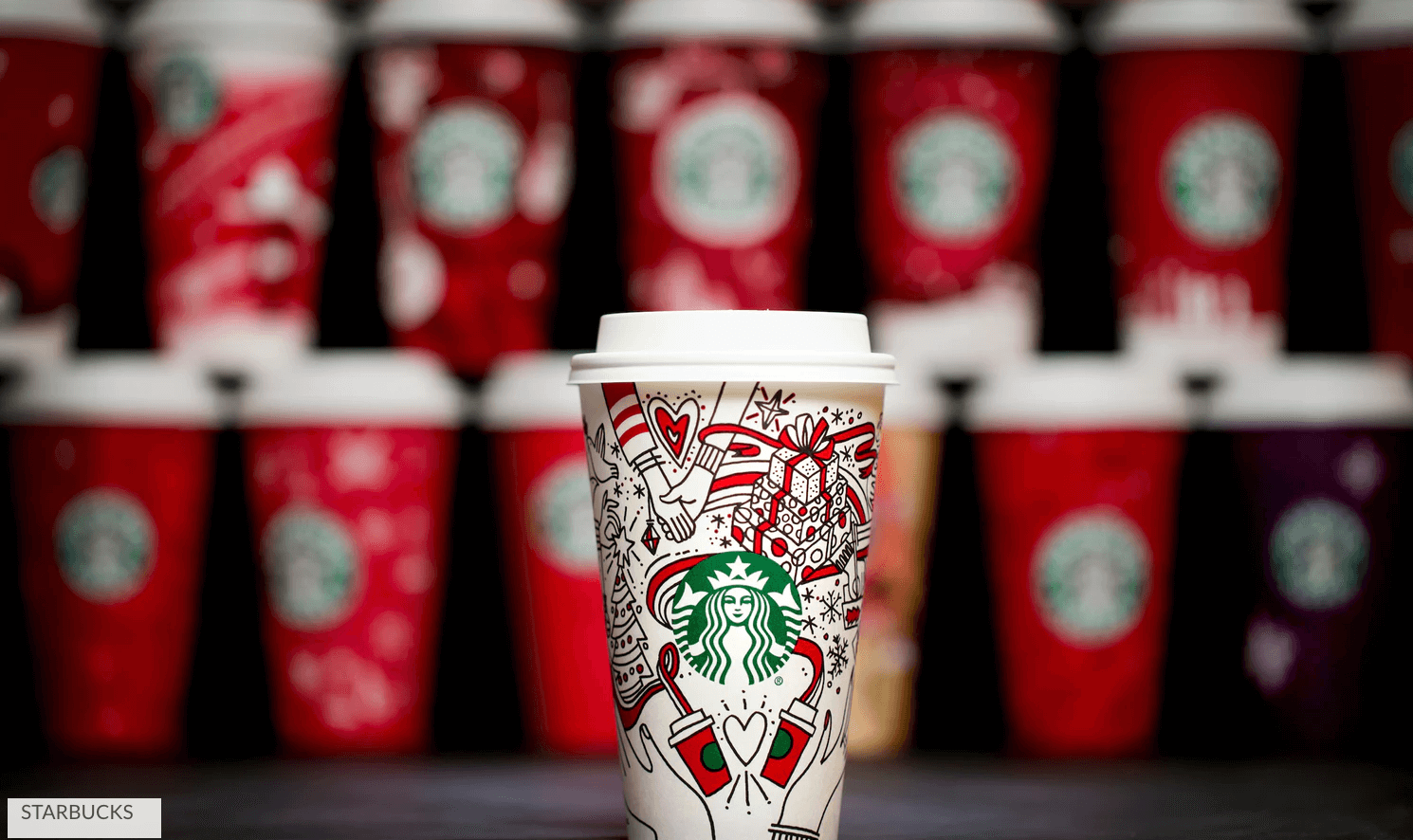 From hot cocoa by the fire to making and decorating cookies, some traditions just can't be beaten. With the release of their red holiday cups, Starbucks has successfully created their own tradition people anticipate all year long.
For something so small, it's surprising how much people enjoy receiving their morning joe in a holiday cup. This joy not only leads to increased sales but organic promotion of the company (very much so on social media) through carefully curated marketing campaigns like the #redcupcontest.
Thanks to the prospect of winning a huge prize (and just because it's fun), consumers readily participated in the contest, creating an avalanche of user-generated content. In fact, in the first two days of the campaign launch in 2015, a red cup photo was uploaded to Instagram every 14 seconds, with a total of over 40,000 entries overall.
Sephora
Special Release Gift Guide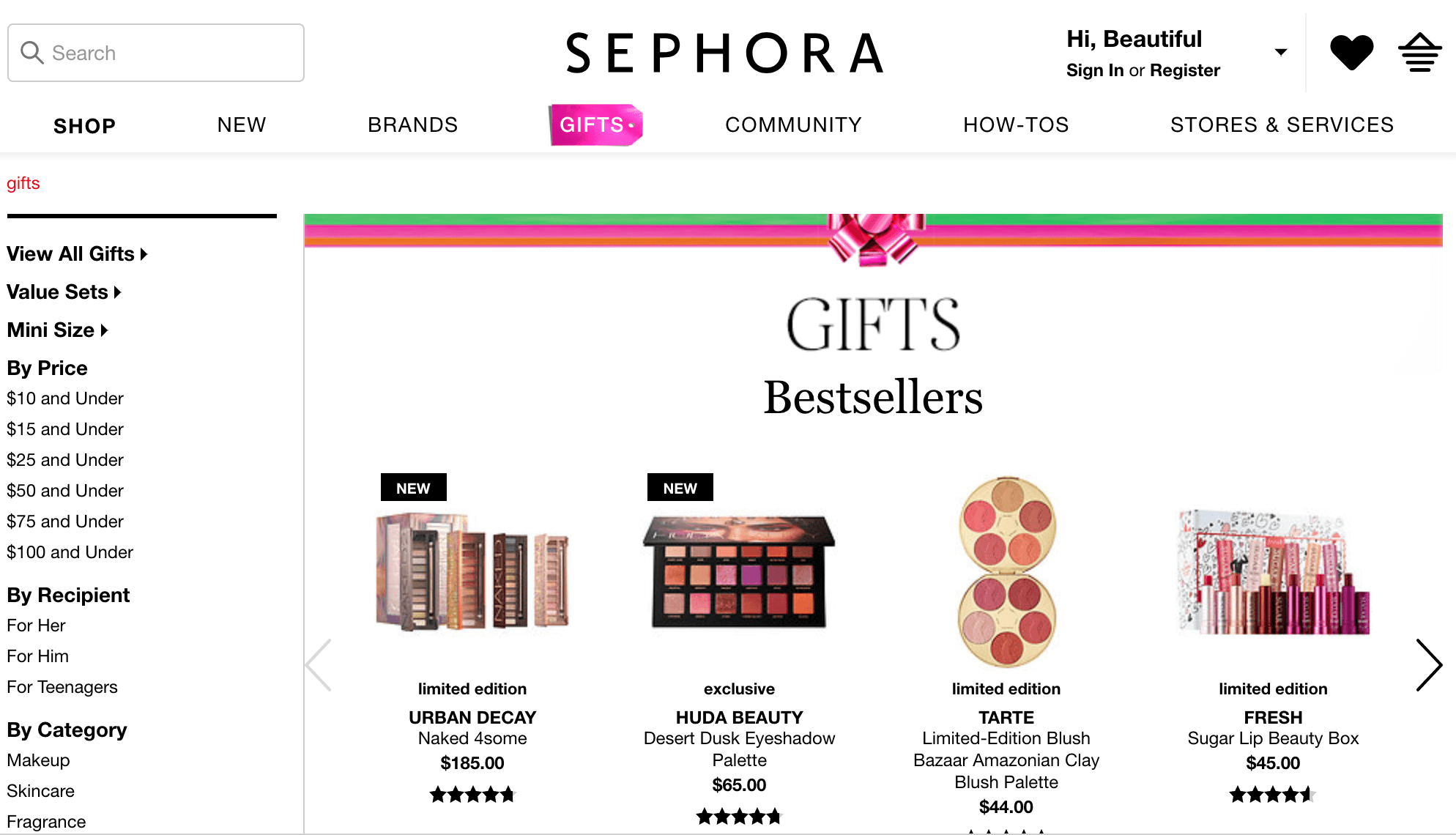 Many brands create gift guides to market their products and provide inspiration for shoppers finding items for everyone on their list.
Sephora takes it a step further by unveiling exclusive products specially released for the holiday season. They do it early too, often beginning in September! The early release date builds anticipation for popular items and causes quite a stir online among cosmetic fans; meaning lots of consumers will put these products at the top of their wish lists long before the holiday season officially begins. Additionally, the gift section of the brand website is a well-organized approach to help any gift giver find the perfect gift for the people in their lives at every price point.
When it comes to promoting your creative campaign, the options are unlimited. From digital platforms like dedicated microsites, social media posts and email blasts to printed coupons, signage and in person stunts, the marketing world is your oyster. No matter what tactics you use to contribute to the holiday spirit, always think of your audience first. Nobody knows your target customer better than you, so appealing to their interests, needs and desires will always take you far.
Happy Holidays!