At Rival IQ, we revisit our trial customer messaging frequently. We use data from opens, engagement, and unsubscribes  to see what we are doing well and where we can improve our communication cadence — we're data geeks, after all! We aspire to do this frequently, but don't always get around to it. At the beginning of September, we decided It was time.
In the past, we'd never really found a process that worked well for refining our trial cadence. This time, we did more upfront work with our sales, success, and product teams to try to get things going in the right direction earlier in the process. Looking back at the rest of the process,  I think was our best effort yet – so much so that we've written this post to share some of our secrets!
(Psst, it turns out our secrets are maybe just good common sense. Still, I bet the read is worth your time.)
Email Marketing: It's all about the process.
Updating customer messaging isn't a one-team task at Rival IQ, and hopefully it isn't at your organization either For this particular update, We brought in the expertise of our Sales, Customer Success, and Marketing teams to ensure we had all the inputs before starting.
In addition to getting everyone on board, we really upped our process game by really breaking things down into chunks that let us get quick feedback as we went.
Here are the six steps that got us to our completely revised email cadence:
Define Goals

Define Audience Segments

Define Content Topics & Message Order

Develop a Design Template

Evolve the Template by Writing for One Segment

Launch, Wait, and Evaluate Results
#1. Define Your Goals
As with any process that involves multiple stakeholders, it helps to have clearly defined goals before moving forward. As a team, we established three clear goals for our email revamp.
Goal #1: Increase Trial Engagement with More Education Earlier in the Process
When reviewing our current email cadence, we realized we were missing the educational content needed to make sure our trial users are engaged and get the most out of their product experience.
To fix this, we placed more benefit-focused educational content earlier in the sequence of emails we send to trial users. We now highlight some key features trialers and customers appreciate, but don't always find. At the end of the day, we are nurturing with education and leaving the selling to our sales team.
Goal #2: Improve Sales Interactions via Email by Not Automating People
Previously, our automated messages looked like personal emails, and they got in the way of actual people reaching out to potential customers. As a result, when our team would reach out to customers, their emails weren't getting the attention they deserved because customers weren't sure if they were talking to a real person.
After looking at emails from market leaders (Mailchimp, Intercom, and more), we decided to change our email marketing to have a consistent Rival IQ-branded feel, and toNOT look like our personal email. This way, our sales team can work on closing while our automation nurtures.
#2. Define Your Audience Segments
When working with any type of content marketing, it is important to have clearly defined audiences. While it is easy to group customers under blanket characteristics, it is important to realize that the more you segment, the more successful your messaging will be.
For example, instead of blasting the same messaging to all of our trialers, we segment them into two groups by persona: brand marketers and agency marketers.
While both of these personas are marketers, each has very specific needs that affect how they use our product. By segmenting them, we can address the primary concerns of each audience without trying to talk to both simultaneously.
Your customers are all different, and, the way you communicate with them needs to be too!
#3. Define Content Topics / Order
We time our email cadence for trial customers on the number of days since a trialer activated their account, and for this revision, we stuck with that model. Additionally, since we've got really good data that tells us people who engage with us early in a trial are more likely to subscribe, we decided to schedule the bulk of our communications in the first few days after activation.
Specifically, we wanted to put more educational content at the beginning of the trial and leave most of the selling to the sales team. The only trick ended up being how to prioritize the content we wanted to deliver.
We brainstormed a big list of topics, and then sorted and selected the ones we felt were most valuable to our customers. By putting the most important parts first, we felt like we'd deliver ma maximum value while we still had our trialers' attention.
#4. Develop a Design Template
When you design a new email – just like designing a page in a web site or an offer for a customer – you can't design in a vacuum. Similar to the UI Pattern designers use for a new web page, we wanted the design of our emails to follow an all-encompassing template to keep elements of our messaging and interaction points consistent throughout the trial.
Specifically, we needed to come up with a template that would support the following key elements:
Hook:

A punchy piece of initial copy that draws the reader in.

Headline:

The main reason you should be reading our email

Benefit:

An overview of what the email is about and why you should care.

Image:

A visual representation of the benefit we are sharing with you

CTA:

A call-to-action that prompts you to experience the benefit we are sharing
As a customer satisfaction oriented company, we always reassure our customers that they can reach out to us, nothing new there! We did, however, add a branded header and footer to clearly call out the marketing intent.
Here's the final message template we're using, including the consistent branding and trial-progress information.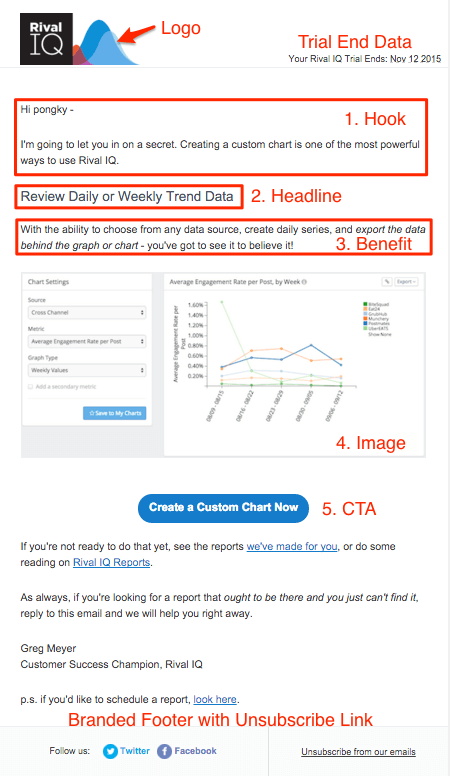 #5. Evolve the Template by Writing For One Segment
With a basic design template for our emails in place, we starting trying to write emails for one particular segment (we started with our brand persona). In just trying to write the first mail, we ran into all kinds of issues with ordering, relative font sizes, overly verbose language that didn't fit or read well, etc. Without even moving to our second message, we worked to resolve those issues, at which point we got team input using RedPen.io (an awesome tool, btw).
Writing the rest of the cadence for our brand persona was much easier, though we found a few places where our template didn't flex to support a particular message. Once we got all of the messages written and the template refined, we were set to do the final bit of work – editing and refining for consistency of tone and style throughout our cadence.
With the final edits in, we had a complete cadence. Creating a tailored version of this cadence for our agency persona was a very simple process – changing messaging inside the same general framework and applying reordering where it made sense.
#6. Launch, Wait, and Evaluate Results
When making any changes, you want to be able to define and measure success. That's what data is for! After launching our new cadence, we anxiously awaited the open and engagement data.
After about a week, we had enough initial data to start to compare our new cadence to its predecessor. We found a few things of note, including that the welcome email from our CEO maintained a high open rate (phew! Do no harm, right?).
As we went through our data, we were trying to answer the following questions:
Did we maintain or increase our open rate?

 We wanted people to open our emails, of course.

Did we increased goal completion?

With Intercom's goal tracking method, we changed the goals for some emails from initial goal of "increase sessions" (or times the trialer visited our application) to a goal letting us know whether they visited a specific area of our application.

Did we maintain a low unsubscribe rate?

We want our customers to enjoy hearing from us. The last thing we want is for them to unsubscribe!
After looking at the data with these three questions in mind, I have to say, we are pretty happy with the changes we made. We maintained a high open rate, saw an increase in goal completion, and our unsubscribe rate has remained consistent.
On the down side, for this particular email, we don't see as many replies as we used to. However, the goal of this email and the message we are sending are different than what they were previously. So, we aren't worried about it.
So, How'd it Go?
Let's be honest – we didn't have this exact process in mind when we started this revision of our trial email cadence. This is the process we used, however, and it felt better than any previous attempt we've done at this.
We've been writing and revising our trial email cadence for three years. We've done four or five full re-writes, and each time has been a little bit different. We've had different people involved. We've grown our understanding of our funnel and our business over time. We're getting better.
Having clear goals gives you a test for each decision, and in this way, creating emails is no different than doing product design. Knowing what you're optimizing for makes evaluating your choices easy. Sadly, it doesn't help making those decisions any easier.
Next time you sit down to work on an email cadence, try our process – and make sure you start with clear goals that get buy-in from everyone. You'll be surprised how much easier it makes the creation and evaluation process.