Marketing isn't a level playing field. Big businesses can afford to employ costly, professional advertising agencies and pour hundreds and thousands of dollars into creating slick, polished and beautiful campaigns. Small businesses cannot.
However, every time large companies release new campaigns, they give away some of their marketing secrets. Just by operating on a day-to-day basis, they reveal to anyone watching how they go about attracting new customers and retaining the ones they already have.
And helpfully, many of their carefully researched techniques and approaches can easily be adapted to a smaller budget. So, let's take a look at some marketing tips for small business from these big players.
5 Marketing Tips for Small Business from Big Players with Big Budgets
1. Help Your Customers, Like Home Depot
Home Depot, the largest home improvement chain in the USA, doesn't just sell products to its customers.
It also publishes project ideas and tips, gardening advice and countless how-to guides and videos. In-store, it even holds regular workshops showing customers, existing and potential, how to carry out various tasks around the home.
Sign up for our #DIHWorkshop on 5/19 at 6:30pm and learn to build a wooden grill caddy! https://t.co/0eQ4IOx0Ik pic.twitter.com/MkHqSdbtJo

— The Home Depot (@HomeDepot) May 14, 2016
This isn't just the company showing some altruism and doing something nice. Customers appreciate the company going out of its way to help them, creating a closer bond and greater brand loyalty. Furthermore, in Home Depot's case, a customer who knows what he is doing is more likely to attempt larger projects – and where are they going to buy the material from?
A company that helps them, or a competitor that doesn't?
You're an expert in your field, so think about how you can offer the same sort of service to your own customers.
This could be in the form of articles on your blog, videos on YouTube, helpful tweets, replies to Facebook comments or just good old-fashioned face-to-face service.
And because you're relying on yourself, not a vast army of customer service employees, you might even be able to do this better than your larger rivals.
2. Target Your Advertising, Like Rolex
You'll never see prominent Rolex branding on the jersey of an NFL team, nor will you spot the famous crown on the shirt of an English Premier League side. Football and soccer may well be two of the world's most popular sports, but their appeal is to the mass-market – and Rolex is not a mass-market brand.
The appeal of Rolex is to a relatively small slice of the population – the wealthy, those with a sufficiently large disposable income to consider buying a very expensive watch. With this in mind, Rolex targets its sponsorship at sports that are more likely to be of interest to an affluent audience.
The watchmaker invests heavily in its links with golf, sponsoring more tournaments around the globe than any other company. Rolex also has a heavy presence in tennis, equestrianism and sailing, and spends a reported $21 million per year to be associated with the glamorous, exclusive world of Formula One motor racing.
The Rolex marketing budget it not spent on reaching the most eyeballs; it's spent on reaching the right eyeballs.
You may not be controlling a budget as large as that of the Rolex marketing department, but you can spend what you have in the same way they do.
A more generalized campaign is easier and the "views" count might look good, but chances are you'll be paying out most of your budget to reach people who either can't buy your product or who have no interest in it.
A targeted campaign may take more time to plan, and it'll probably pull in fewer total views, but you'll be catching the eye of the people who actually matter to your business – and you won't be wasting money on the people who don't.
So do what Rolex has done – identify your core market, and find the best ways to put your brand in front of them.
3. Maintain a Strong Social Media Presence, Like Comcast and Starbucks
The main Twitter account of Comcast has tweeted around 10,000 times. That sounds like a lot, and by most measures it is, but the company uses a separate handle to provide support and assistance to its customers – and that account, ComcastCares, has sent over 410,000 tweets.
Customers who get in contact to report an issue get a personal response from one of the social media team members monitoring the account. Most are invited to send a direct message so issues can be discussed in more detail and the problem resolved as quickly as possible.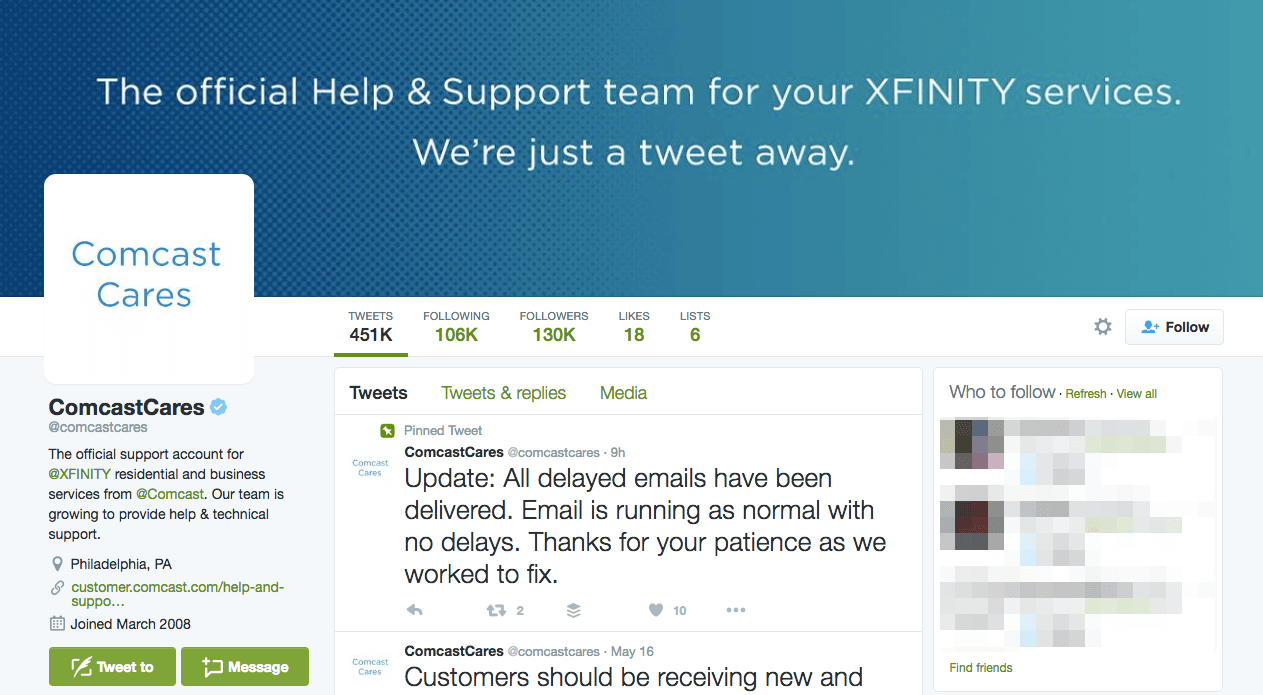 And big companies don't just use social media to deal with complaints. Starbucks, for example, engages all kinds of customers, giving individual responses to comments, questions and compliments.
@_amandaobregon So cute! What did you suggest?

— Starbucks Coffee (@Starbucks) May 17, 2016
The sort of engagement practiced by Comcast and Starbucks is not just customer service – it's also a form of marketing. Customers are more likely to develop positive feelings about a business, and recommend that business to their friends, if they feel engaged and valued.
You won't receive as many complaints as Comcast, nor will you have as many people getting in touch with you as Starbucks. But you can still follow their lead and ensure you speak to the people who are speaking to you.
Remember, marketing isn't just about attracting new customers – it's about keeping the ones you already have.
4. Explore Why People Would Choose Your Product, Like Dyson
The Dyson company, producer of vacuum cleaners, hand driers and fans, didn't even exist in 1992. Twenty-five years later it's a global giant in its field, holding substantial shares of key markets including the USA, Europe, China and Japan. If you don't own a Dyson product, someone you know almost certainly does.
Dyson's meteoric rise happened because consumers bought into what the company's marketing told them – that even something as dull as a vacuum cleaner could contain interesting, cutting-edge technology that made a difference to the way it performed.
That is, after all, why people today choose to buy a Dyson. They believe the innovations contained within the distinctive machines make them more effective – therefore making a tedious chore a little less tiresome.
This UK Dyson ad, featuring company founder James Dyson, pushes home the scientific message with a laboratory backdrop, short, snappy facts and statements backed up by research.
The same approach to marketing can be used by any business of any size. Instead of simply showing off your product or announcing that it's really good, identify exactly why a customer might want to buy the sort of product you are offering.
What are the key factors in their decision? Cost, style, ease of use, technology, something else?
Telling consumers that they should buy your product might work on occasion, but you're more likely to make a sale if you can also tell them why they should buy it.
5. Consider a Furry Friend, Like Budweiser
There's a popular saying: "Never work with animals or children."
It's often attributed to W.C. Fields, but advertising agencies clearly don't hold the comedian in too high regard. That's a good thing, because consumers love to watch and share anything that's fluffy, cute, emotional or amusing – and animals can cover all those bases.
Budweiser's famed Clydesdale horses have been around for decades, starring in all manner of campaigns for Anheuser-Busch. The horses have many talents; they can tug at the heart-strings, like in the Brotherhood commercial – the most-shared of all the 2013 Super Bowl ads.
But it can just as easily pull off comedy – as one did two years later in Budweiser's Beer Run video.
These ads succeeded because they flipped the usual consumer perception of advertising on its head. We tend to see adverts as something we're being forced to watch, the price we pay for watching TV or using the internet.
The animals in these two examples, and many more, make them into something we want to watch – and that some of us will even share with our friends.
Small businesses could never afford to produce slick, professional videos like Budweiser – but they can still harness the power of cute in their advertising.
The animal doesn't even need to interact with your product; it could be nothing more than a funny video of a cat, with a related message – tailored to what the cat does – from your company tacked onto the beginning and end. Remember when Ikea filled its store with cats? It was big budget, but yours doesn't have to be.
If that isn't an option, could a furry friend help your more basic forms of promotion?
Even a static ad for your brand might be enhanced, and made more attractive to a consumer, if it includes a grumpy cat, a grinning dog or a happy fish. Check out these examples from Microsoft and furniture store DFS.
A cute animal makes all the difference to those ads, and it could for yours too.
Some of these tips might work for you, some of them won't. But many of them can and will work for any kind of business – no matter how small your budget may be.