When I first sat down with my Social Posts dashboard, I was excited to see which hashtags earned the highest engagement rates. It's one thing to create great content, but it's another thing to frequently engage with your customers on social media. Engaged audiences are opportunities to cultivate brand ambassadors and earn new customers.
Hashtags have always been a great way for marketers to organize their social content and for social media users to participate in campaigns and movements. With hashtags everywhere, I've always wondered how to successfully use them. So I sat down with my Social Posts dashboard to take a look at how the world's leading active lifestyle brands have successfully used hashtags on social media this year.
#1. Identify & Understand Anomalies
Navigating from the Cross Channel Social Posts dashboard to the Hashtags section, this is what I found myself looking at: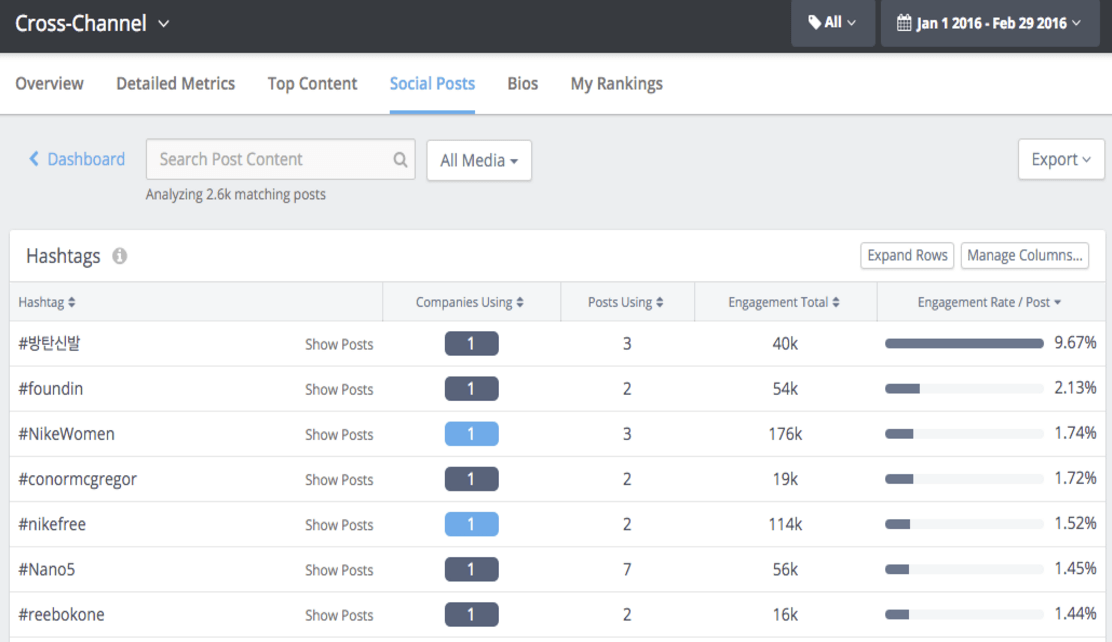 Of all of the hashtags used, a Korean hashtag, #방탄신발, used in merely three YouTube posts was the clear frontrunner. The 9.67% and fully blacked out progress bar jumps right off of the page compared to the other Engagement Rate/Post metrics. Right away, you can visually tell that this hashtag is an anomaly with an astounding 350% better performance than the second place hashtag, #foundin.
So what on earth was this hashtag all about? #방탄신발 ("Bangtan shinbal") means "Bangtan shoes", Bangtan referring to the k-pop group BTS (Bangtan Boys), who feature Puma's Blaze shoe line in a k-pop music video style commercial for Puma.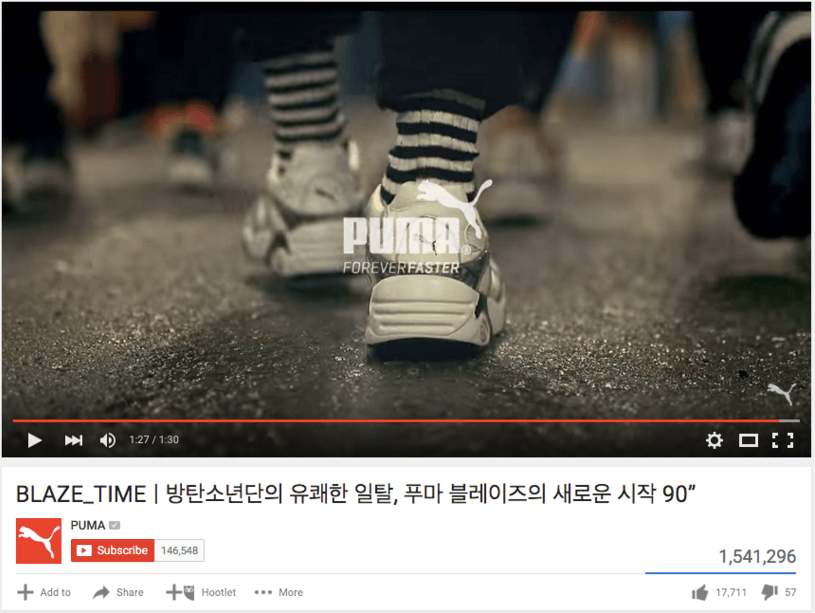 To figure out why this hashtag earned such outstanding engagement rates, you have to take a look at the posts using the hashtag.
In this instance, Puma used this hashtag in the description of their Blaze_Time shoes YouTube videos. These videos are more than just commercials uploaded to YouTube, they're music videos — k-pop music videos. K-pop videos average in the 10s of millions of views range, so it was a pretty clever choice on Puma's part to use:
A popular group that many fans might idolize

A music video to…

Organically feature and endorse their shoes

Showcase the kind of lifestyle one has who wears their shoes

Highly engage their customers in a gracious, not product-pushy way
With most of Puma's business coming out of EMEA, partnering with a popular k-pop group to showcase their line of shoes allowed Puma to capture a new audience: Asian urban youth. K-pop artists and songs are popular throughout Asia with a highly engaged, young fan base. In the past decade, Puma's been strategizing to become more relevant and accessible to urban youth after years of success with the more elite athletic markets (motorsports, for example). Choosing to produce a music video style promo video with subtle product placement was a wise way for Puma to organically reach a new region (Asia) and customer segment (urban youth).
Investigating any metrics anomalies that appear in your Social Posts dashboard can help you quickly identify any outstanding content your competitors may have created. By taking a look at any of your competitors' awesomely successful content, you'll have a chance to recreate and optimize what appeals to your customers in a way that's relevant to your own brand.
#2. Analyze Post Frequency
Once I got over the engagement rate of the Puma video, I wondered what I was looking at for numbers. There was no consistently used hashtag that drove high engagement rates. When I noticed hashtags like #conormcgregor and #NanoShowdown, it seemed like there were a few social media posts that took advantage of popular current events that managed to get their timing right. Knowing how to anticipate popular events and trends and turn them into highly engaging hashtags comes with experience and knowledge of your audience, your customers, and how they view their world and yours. It's a tough science to recreate successfully with each popular current event.
So what about the number of posts using a single hashtag? Which hashtags were used in the most posts? I adjusted my Social Posts dashboard to sort the hashtags in the Posts Using column (most posts using a given hashtag to the least posts using). This is what I saw: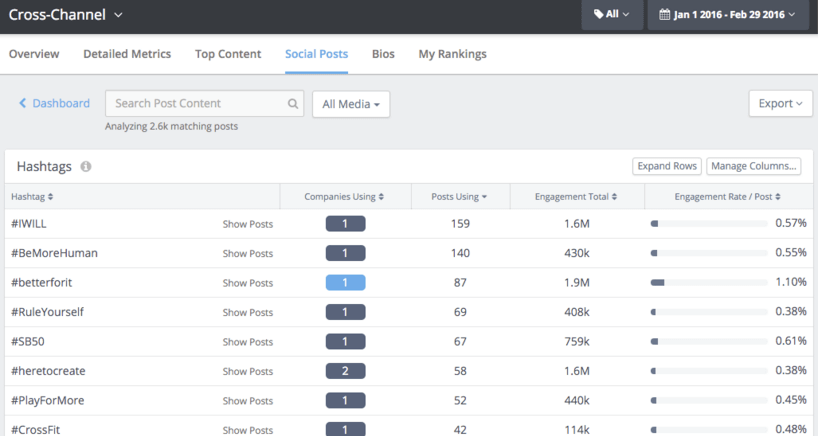 Bypassing the Superbowl 50 hashtag, I went to investigate the top 5 hashtags here – the most used hashtags unrelated to an obviously popular event. Here's what I found:
#IWILL is a hashtag used by Under Armour that represents an athlete's commitment to their goals, a determination to follow through.
#RuleYourself is a hashtag also used by Under Armour that conveys the concept of an athlete being the sum of all their training. Under Armour often uses the #IWILL and #RuleYourself hashtags together, featuring images of athletes "ruling themselves" as they grind through a work out.
#BeMoreHuman is a hashtag used by Reebok that glorifies the capabilities of the human body, of what real people – real athletes – can do.
#BetterForIt is a hashtag used by Nike – mainly NikeWomen – that proclaims you are better for each workout that you complete, for each time you challenge yourself.
#HereToCreate is a hashtag used by Adidas – interestingly also mainly Adidas women – that encourages creativity in sports, encouraging women to push the boundaries in their own way.
What stuck out to me just looking at this dashboard was that each hashtag was only used by one company. This led me to discover that these hashtags are campaign hashtags created by each brand for a specific campaign. For a more in depth look at these hashtags and campaigns, you can check out my last post on the top 5 social media lessons you can learn from active wear brands. But the top takeaway here? Create a hashtag for your marketing campaigns and be sure to use it with each and every post. By investigating Posts Using hashtags in Social Posts, you can figure out how your hashtag post frequency stacks up compared to your competitors and determine whether you should post more or less frequently. In this example, Under Armour and Nike posted at least twice a day and earned upwards of one million total engagements in two months.
#3. Evaluate Engagement Rates
The Engagement Rates/Post for these hashtags weren't as high as some of those used in fewer posts (.5% compared to 1.3+%), so I wondered why these brands continued to post with these hashtags so much. Don't you want to aim for the best engagement rates? Wouldn't that make the most of your time, budget, and efforts? When you take a look at Engagement Totals instead of Engagement Rates/Post, things start to make a little more sense: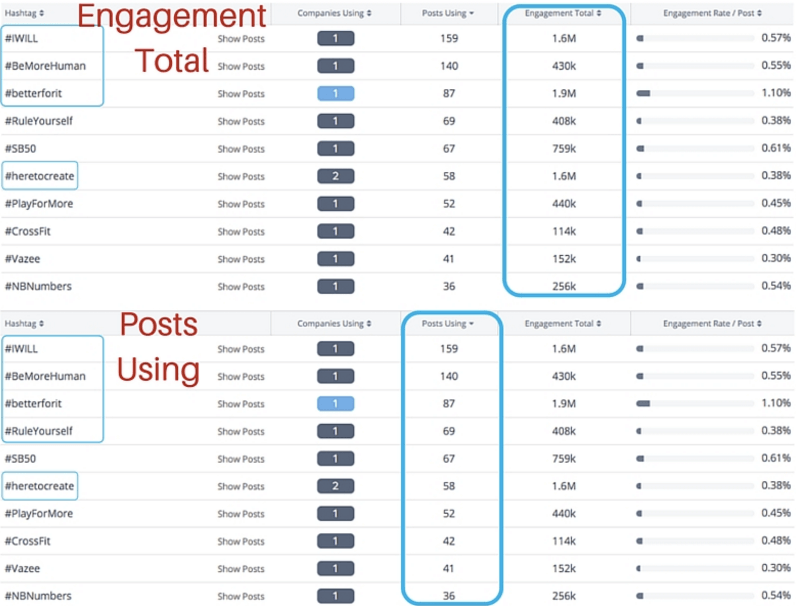 The Total Engagement for posts using these hashtags is highest for hashtags used in a higher quantity of posts. Almost all of the most frequently used hashtags were also in the top 10 "Engagement Total" hashtags – every hashtag except #RuleYourself.
Even though #IWILL Engagement Rates/Post seem miniscule compared to the rates for #방탄신발 (0.57% compared to 9.67%), Under Armour managed to drive more total engagement (1.6 million compared to 40k) in the same 2 month time frame by frequently posting to social media with their hashtag.
By looking at Total Engagements in addition to Engagement Rate/Post, you can get a sense of what hashtags can stick with your audience throughout a campaign. While achieving stellar Engagement Rates/Post is still a good goal, being able to drive consistent engagement over time shows that your audience has more of a commitment to your brand or your campaign, rather than to one uniquely engaging post.
You Can Compete With Viral Engagement By Posting Consistently And Frequently
Probably the neatest lesson I learned while using Social Posts to look at how active wear brands were using hashtags is that you can earn the same amount of engagements as a viral video might by posting to social media consistently and frequently. By posting to social media with their campaign hashtag frequently, at least 2 times per day, Under Armour managed to ramp up momentum and earn more overall engagement for their #IWILL campaign than Puma did for #Blaze_Time. So while all of us are always hoping we might create something that will go viral, until someone figures out a sure-fire science of viral, try posting consistently and frequently to achieve the best results. This is just one of the many lessons you can learn when you dive into Rival IQ's new Social Posts feature!