I've always been fascinated by Nike as a brand. As a young track and field athlete, Nike was my go-to brand for sneakers, spikes, and workout wear. When I morphed into a contemporary and hip hop dancer in college, Nike was also my go-to brand for kicks, comfortable lifestyle wear, and yoga attire. From an oblivious, workout focused athlete, to an image-driven performer, Nike turned me into a loyal customer that wanted every new line of products launched each season. How did they do this? How did they get me to keep coming back for more? With their marketing, of course!
It's not just Nike that's achieved a massive, loyal customer-base – all the major active lifestyle brands have recognized the power of social media and now use it to amplify customer engagement and refresh customer loyalty anew. In this article, we're going to cover the top 5 social media lessons learned from this year's leading social media campaigns as created by the world's top activewear brands: Nike, Under Armour, Adidas, and Reebok. Special thanks to the Rival IQ team for letting me use their beta feature, Social Posts, to really dive in deep with this analysis!
#1. Create a hashtag for your social media campaign
Under Armour, Reebok, Nike, and Adidas all launched major, lifestyle driven social media campaigns this year. What's the one thing every company made sure to include in their campaign? A specific hashtag that:
Aligns with their brand values
Elicits an emotional response
Let's take a look at the campaigns and how their hashtags align with brand values and elicit an emotional response!
Under Armour: #RuleYourself
Under Armour's Brand Values: "Empower athletes everywhere" and "Make all athletes better through passion, design, and the relentless pursuit of innovation."
"Empower", "passion", and "relentless" are all powerful words that connote strength, drive, and conviction. #RuleYourself aligns with all of these values and also carries an electrifying and captivating tone that also matches Under Armour's values. Royalty and powerful leaders are the ones who "rule" things. It's a pretty compelling CTA to call on your followers to rule themselves by taking control of their athletic goals and passions.
Emotional Response: Powerful inspiration. An inherent obligation to pledge conviction for your own athletic goals. The hashtag itself stands as a CTA on its own!
Reebok: #BeMoreHuman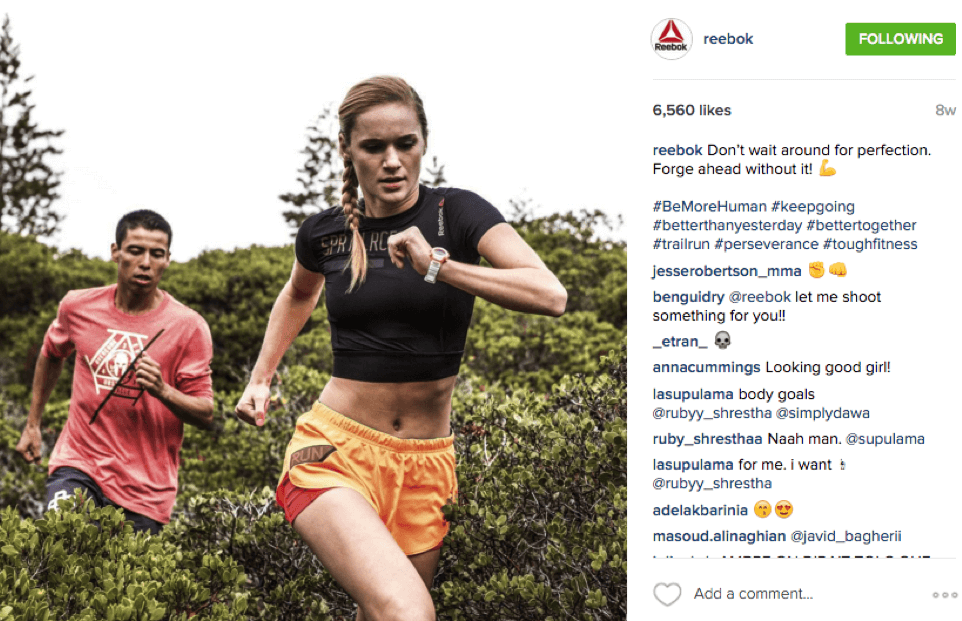 Reebok's Brand Values: "Challenge and lead the fitness world through creativity", "celebrate individuality in sport and life", and "fit for life. Have fun and stay in shape"
"Celebrate", "individuality", "fit for life", "have fun", and "stay in shape" are all much more relaxed words and phrases compared to the powerful ones used by Under Armour. Reebok focuses on the individual and aims to encourage personal, lifelong fitness, which means embracing the realities of staying active every day. #BeMoreHuman aligns with Reebok's aim to celebrate individuality and encourage its customers to embrace who they are and how they choose stay fit.
Emotional Response: Embrace yourself. Embrace a fit lifestyle. Feel encouraged by a community of individuals much like yourself. Friendly encouragement. #BeMoreHuman embodies all of this in one simple hashtag. Did I mention this hashtag can stand alone as a CTA too? 🙂
Nike: #BetterForIt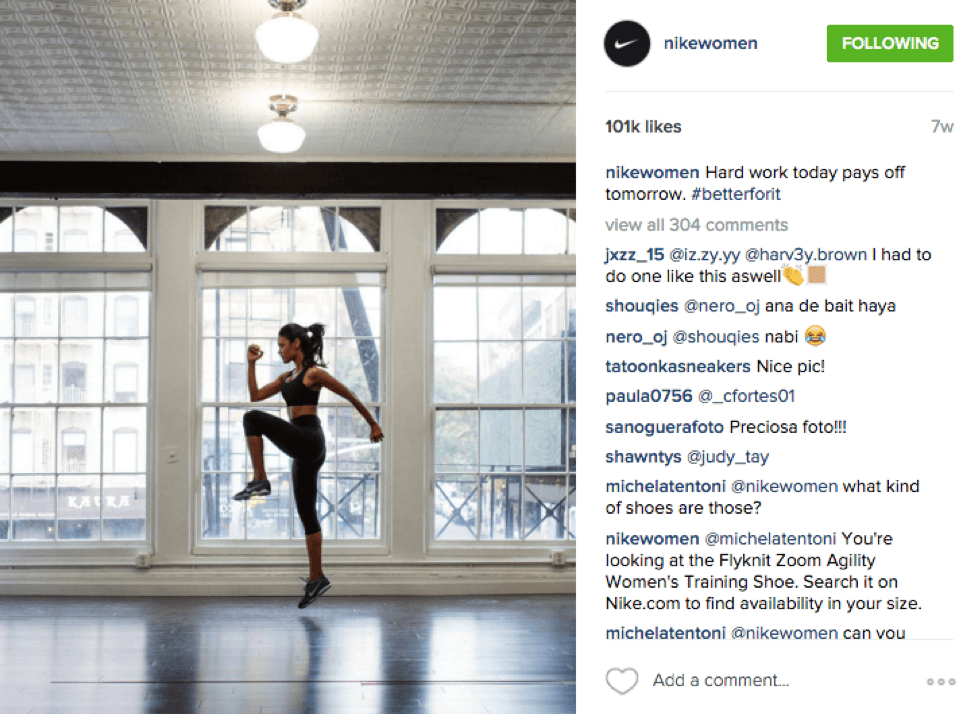 Nike's Brand Values: "To bring inspiration and innovation to every athlete in the world" and "if you have a body, you are an athlete"
It's interesting that Nike's mission statement comes across more general and relaxed. Nike considers every person an athlete. This statement can encourage anyone who never considered themselves an athlete to not just become one, but already think of themselves as one. Nike's belief that any person that has a body is an athlete can also remind any athlete that they are, also, human. #BetterForIt conveys a somewhat relaxed, matter of fact tone that aligns with Nike's voice and values. The hashtag suggests that challenging yourself, no matter who you are or what level of your challenge, you are better for challenging yourself to do more!
Emotional Response: Join a community of people – athletes – just like you, yeah you! Challenge yourself, don't focus on the competition or comparison. #BetterForIt is like your own subtle, personal pat on the back each time you get up and work out.
Adidas: #HereToCreate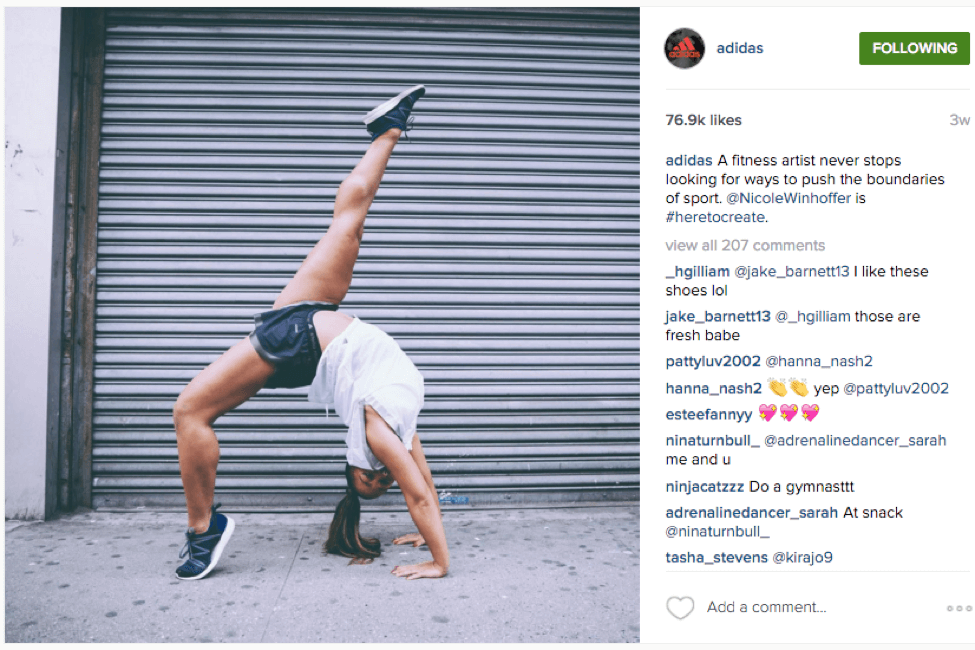 Adidas's Brand Values: "To be the leading sports brand in the world" and "authentic, passionate, innovative, inspirational, committed, honest"
It's almost as if the Adidas brand is a persona of their ideal athlete – a leader who is authentic, passionate, innovative, inspirational, committed, and honest. That's a lot of great things to be! #HereToCreate aligns with the Adidas mission to lead, be authentic, inspire, and passionately innovate. Whenever an individual uses the hashtag, they're instantly suggesting that they also embody Adidas's brand persona of an authentic, creative athlete that's inspiring those around them.
Emotional Response: Bring out your inner Adidas persona – be the creative athlete that inspires others to tap into their own creativity. #HereToCreate tags the efforts of each inspiring, creative athlete so you can be inspired too!
Creating a hashtag for your social media campaign not only organizes your social media efforts, it also ensures that you're clear on your messaging. Oftentimes, lengthy copy can breeze right by its readers but a hashtag and the emotions it can encourage often sticks in your audience's memory. So choose your hashtag with care. 
#2. Find the emotion in your social media campaign
I took the time to walk through all of the emotional responses elicited by these campaign hashtags because I think they're pretty profound. While all of these activewear companies do use product related hashtags (Reebok's #SpeedTR shoes, Puma's Rihanna line of shoes #FENTYxPuma, New Balance's #FreshFoam shoes), the campaign hashtags that elicit an emotional response have received the most engagement.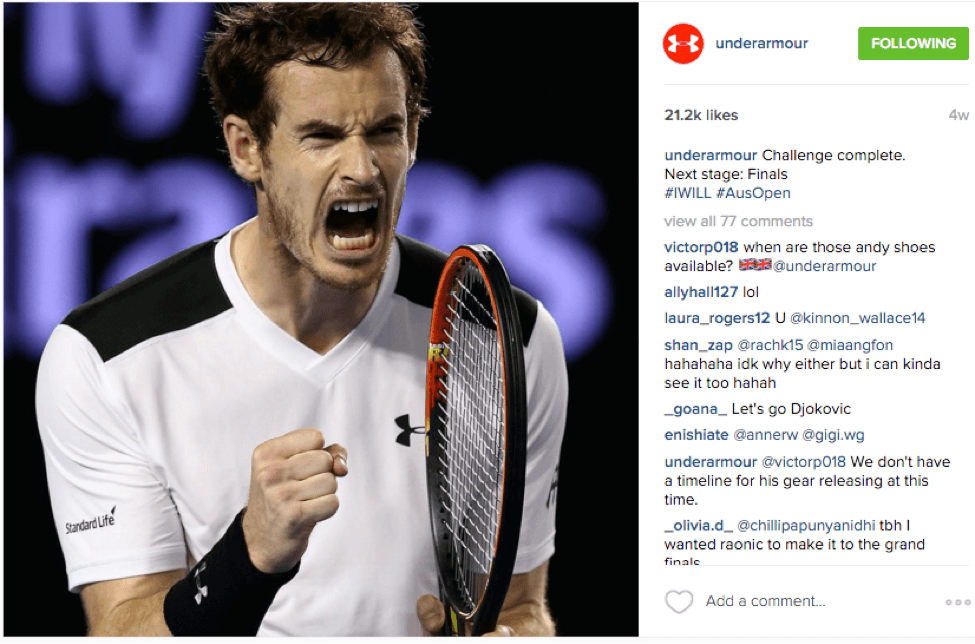 Affiliate mentions and social media advertisements have exploded lately. There's nothing better than a word of mouth recommendation or review, but somehow including a product focused hashtag feels more sales-y than it does authentic. Hashtags that motivate and are relatable to every person who feels emotions (and that's just about everybody) are much easier for anyone to use. They also encourage the creation of your own social media brand ambassadors when you create hashtags that align with your company values and customer experience. The right hashtags can turn into beacons for your loyal, enthusiastic customers to use and proclaim that they are one with you!
#3. Create a landing page to showcase your community (technically your social engagements)
As I researched each of these hashtags (shout out to RivalIQ's beta feature, Social Posts!), I found that each hashtag corresponded with a clearly strategized multichannel marketing campaign. Beyond these social media posts, there were also TV advertisements, billboards, and print advertisements as well. I also found a landing page for each and every one of these hashtags.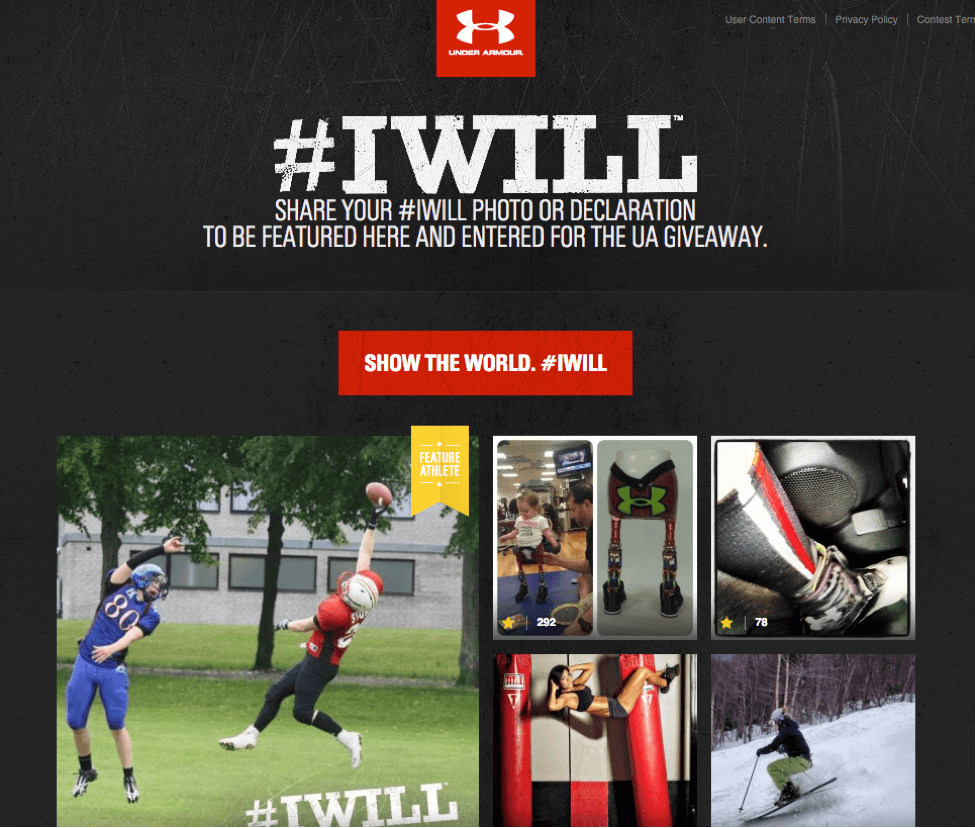 These landing pages offered some form of showcasing community posts, which include posts by famous and non-famous individuals, that contain the campaign hashtag. These pages also provide more insight on the "mission" behind each campaign. The hashtag landing pages share captivating images, video, and copy that clearly reflect the values behind the company and the campaign's message. Not sure how to create a social stream for a certain hashtag on your website? Check to see if there's a "social streams" plugin for your CMS! For WordPress, there's a plugin called Social Stream 🙂
#4. Create a Social Media Campaign!
This seems obvious, but sometimes when we're lost in the world of content curation and social media analytics, we can often get lost in the numbers and lose sight of our overarching goals. To drive impact and engagement for the content you're taking the effort to produce, make sure you've created a social media marketing strategy for sharing this content. That means:
Identify your goals

Map out your path to achieving these goals via social media

Utilize brand standard guidelines or a core messaging deliverable to ensure your content stays consistent

Create a campaign hashtag that aligns with your brand values, your campaign goals, messaging, and visuals (and elicits an emotional response if relevant!)

Use your campaign hashtag on every piece of your campaign
#5. Post consistently and frequently
All of these activewear brands have posted to social media with these hashtags more than they have with others.

These leading activewear brands posted to social media with their campaign hashtag at least once a day, if not two times a day at most over the course of eight weeks. This kind of consistency earned regular engagement and ensured campaign messaging resonated with their audiences. While Reebok's #BeMoreHuman hashtag has only driven 3.1k engagements per post, which seems lower than the Engagement Totals for some of the other hashtags, there are over 217k posts on Instagram with the #BeMoreHuman included! How's that for an engaged audience? When you've put together your social media campaign, make sure you post daily and use your campaign hashtag!
Active Lifestyle with Active Social Media Lessons
What do you make of the way these leading active wear brands do social? To me, it seems like these brands have realized their consumers live and share their lives on social media. They're fostering community around their products and tapping into their consumer lifestyles with emotion-prompting hashtags and campaigns. Stay active with your social media efforts and you can build your own engaged digital community too!