The 2017 Higher Ed Social Media Engagement Report is here!
Rival IQ and Up&Up partnered again this year to look at the most engaging universities on social media during the school year. In this report, we cover the top ten higher ed institutions across Facebook, Twitter, and Instagram. As this is our second year, we also took the opportunity to look at which universities had the most improvement from the previous year.
The top 5 overall colleges and universities for social media engagement are:
Northern Arizona University

University of South Carolina

James Madison University

University of Dayton

U.S. Military Academy
"Our social media presence is an extension of Lumberjack life," said Maria DeCabooter, social media strategist at Northern Arizona University. "Social media changes all the time, but great content remains the core element of our social strategy. We listen, respond, and engage with our audience in efforts to match the enthusiasm of our campus, community, and the Lumberjack spirit on social media. We're honored to be recognized as the top performing university for social media engagement. It's a testament to all the people with whom we work who help share the Lumberjack story."
See where your university ranks in 2016-17 and take away lessons on how to improve your own social media strategy. Download the 2017 Higher Ed Social Media Engagement Report.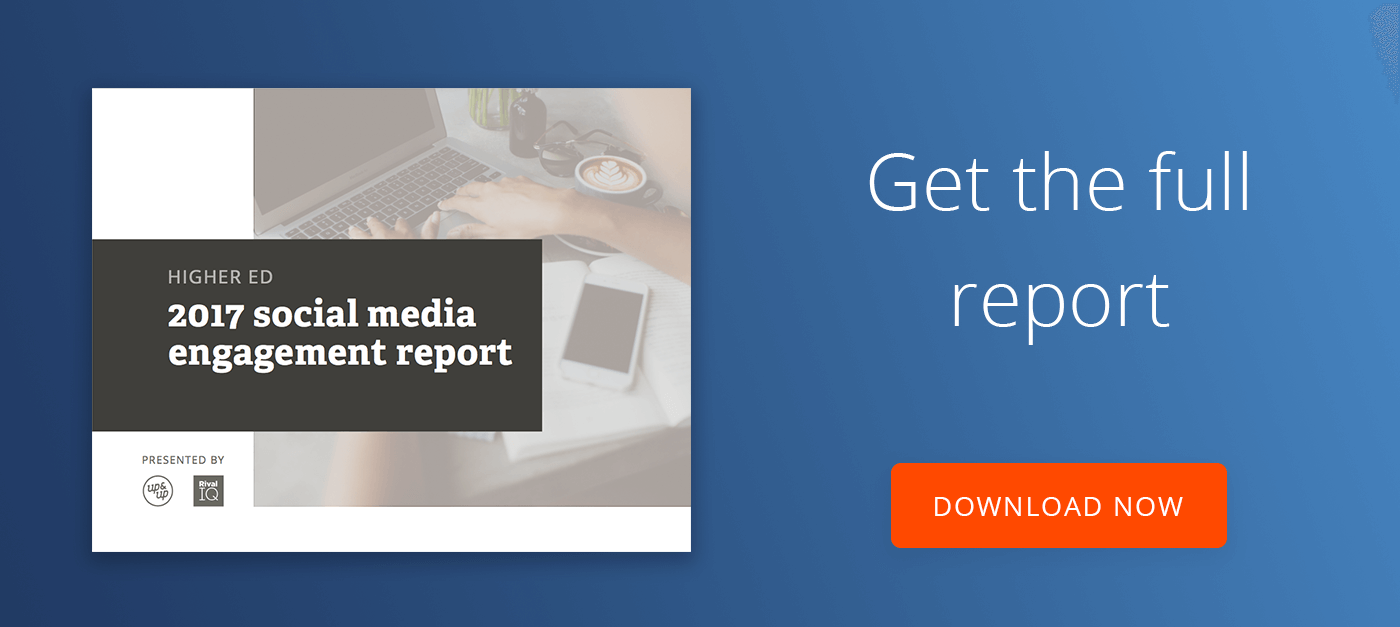 Setting the Bar on Social Media
Higher education institutions bring in high levels of engagement across the board, often higher than other industries. For example, according to the 2017 Social Media Benchmark Report, higher education institutions have twice as much engagement on Instagram compared to other industries such as the health and beauty, fashion, media, nonprofits, and food and beverage industries.
There's a lot everyone can learn from universities when it comes to improving social strategy. Higher Ed has the best record of engaging their audiences, so if you want to build an engaged community look no further.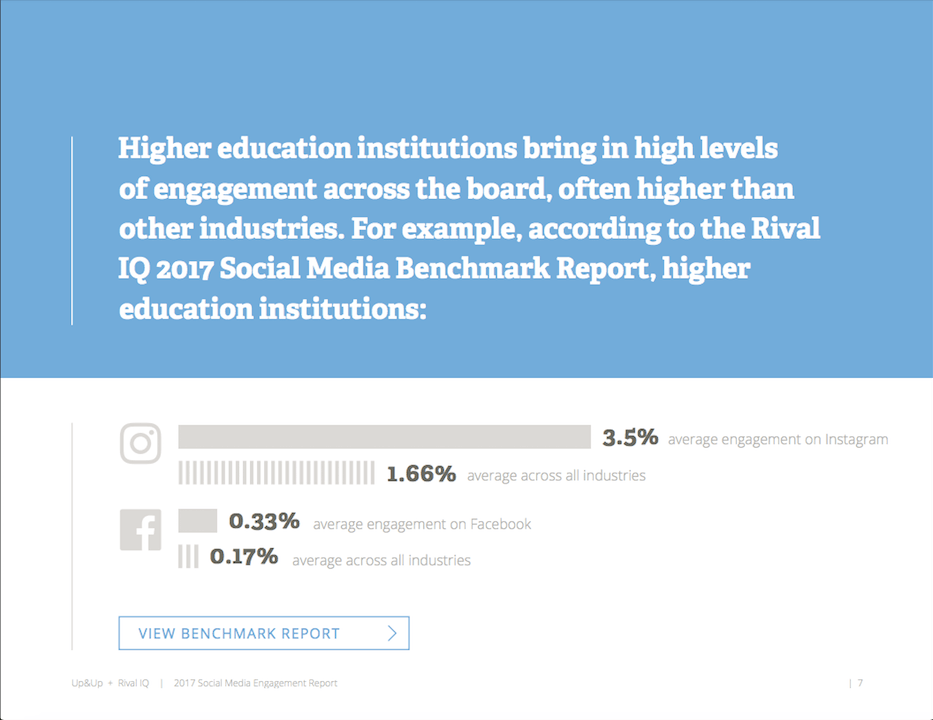 Methodology
We looked at data from 338 Division I institutions and analyzed their university-level account posts from August 2016-May 2017. We used cross-channel performance, which is determined by engagement on Facebook, Twitter, and Instagram. We define engagement as measurable interaction on social media posts, including likes, comments, favorites, retweets, shares, and reactions. Rankings were then computed using a weighted score of audience, activity, and engagement (with a strong bias toward engagement).
Using this data and weighted formula, we determined an overall engagement ranking for each school. The highest ranking universities have high engagement rates with average or better audience size and posting volumes.
Let's see who brought home the top rankings this year. Download your copy today.