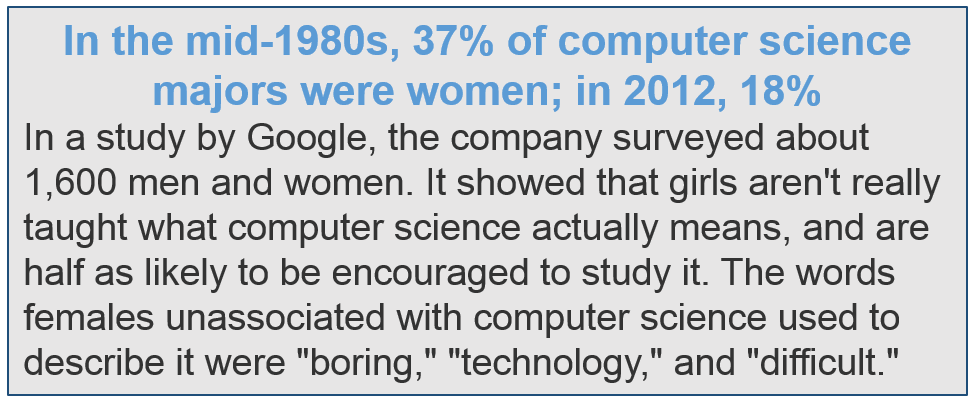 This week I was in New York City attending one of my favorite events of the year, Women of the Channel, or WOTC as it's fondly called. I've been going to this conference for four years and speaking at it for the past three. Many men have asked me why we need a conference just for women in technology, and the reason is because at every other tech event, women are one out of every 50 or 100 attendees.
Why Women in Technology Conferences? Because We Need Them
This "need" became even more glaring to me at this year's event, WOTC 14.  I found myself energized and inspired as I always do from WOTC, but also incredibly saddened. Every time I feel that women are creating an environment where the next generation of women can succeed and embrace technology careers like never before, I hear the same questions, fears and low numbers I've heard for years.
At WOTC, women were asking why men can be aggressive and women can't? Why can't they just be recognized for their good work? How can they promote themselves better?  How can they make more money? How do they move into leadership? And the list goes on.
This, in spite of many of us holding leadership positions and a speaker lineup that revealed some of the most incredible stories of inspiration, perseverance, success against all odds and women heroes unlike I've ever heard before in one place. I was literally tired of crying by the end of the day (more on that later).
But the nearly 500 women, who work in different areas of technology and are mostly involved in the channel, still were clearly struggling with the basics of how to move ahead as a women in technology.
My Calls to Action
Here are my four calls to action (CTA) for what "we" as the generation handing the torch to 20 and 30 something women can do. Actually, I think these can be a call to action for all men and women in technology.
Less Tears and More Kicks in the Butt
More Intentional Hiring of Women and Minorities
More Women Only Technical Conferences
Re-embracing Feminism and Its Original Intent
CTA#1: Less Tears and More Kicks in the Butt
I should tell you upfront that I am a crier. My kids have joked through the years about how long it will take during any Disney movie (okay, any movie) before mom cries. I think it's usually about 5 minutes. I have worked through my many years in tech to not cry.  Your point gets lost.  Ironically, I've also worked hard at not using the "F" word so much – funny combination I know, but true.
So, yesterday, when, speaker after speaker, told these stories that had the room sobbing, I found myself exhausted. While the stories were inspirational, something struck me about all the tears, both sad and joyful.  Tears are healthy, but really what I think many young people (and old people) need is a kick in the butt.
As I probably too often say, get over yourself. Nearly everyone has their version of a story about a really rough life, an alcoholic father, a broken marriage, etc.  Now I am NOT downplaying tragedies. Some people really get dealt an absolutely shitty card, and we need to figure out how to do more for those kids and adults, which is a whole different subject.
What I am saying is many people get stuck feeling sorry for themselves and can't move forward.  When this happens, ask for help, or find someone in your life that will give you that kick in a butt. Or if that fails, go get some therapy, so you can figure out how to move forward.
My suggestion to the WOTC folks is we should have more presentations like Carla Harris that make us jump out of our seats, sing gospel, and take on the world. I'm not saying every speaker needs to be that inspiring, but I'm talking more about the attitude of "keep moving forward".
I also loved the talk by Regina Calcaterra, an amazing woman who has succeeded against all odds. When someone asked her what women can do, her answer was to become a foster parent or adopt one of the thousands of children in the "system" that will never know what a real home is. She also said donating money to a relative charity was good, too.  But really, if we want to change the world, go save one of those children who are told every day they won't go to college and they won't succeed.  Now THAT'S a kick in the butt.
CTA#2: More Intentional Hiring of Women and Minorities
The key word here is "intentional"! I have said many times that I am unapologetic about seeking out and hiring women and minorities when I have been in leadership positions in technology companies.  When I ran a fairly large product marketing team at a large IT company, I was proud of the diversity on our team. I intentionally tried to give everyone on my team, men and women alike, new opportunities. Was I always successful?  No.  But do I feel like I did my best empowering my team? Yes.
This, in spite of being asked by someone in HR why I was doing this when it didn't actually help me or give me any "points".  As with anything, if we are doing it for recognition or some kind of award, then it isn't genuine, and we won't make a difference.
I think all women in tech, and men for that matter, should embrace and be intentional about hiring women and minorities. We have all seen the stats that teams with women succeed more, companies with more women on the board have higher valuations, etc.  And this comes from a woman who has worked with mostly men my entire career in automotive and technology and who has said (complete honesty here) that I often prefer working with men.  I need to stop saying that.
For all of us, there are no more excuses. I give tech companies kudos for disclosing their numbers of women and minorities, but even more, I would like to see them actually DO something about it.
CTA #3: More Women Only Technical Conferences
While I have attended many women's networking events, breakfasts or special breakouts at technical conferences, I cannot think of another conference focused only on women in technology like WOTC. I'm sure there are some, but this event is attracting hundreds of women. WOTC is focused primarily on the channel, so there is room for other women-only conferences focused on the high-tech industry.
And existing women's conferences can also add more technical content. At WOTC 14, for example, mine was the only session focused on technology.  I gave a talk on big data. I would hope there is an appetite by women in this industry for a range of technical topics relevant to both the business and IT side of the house.
A good friend of mine in Seattle and I have been talking about this for a few months and just haven't gotten off our butts.  So I think I need to take my own advice, kick myself in the butt, and get one of these conferences going in Seattle. Let me know if you want to help.  I think I already have a potential sponsor.
As I said above, many people I meet have asked me why this is necessary.  I wish it wasn't. But with the percentage of women at general tech conferences at about 10% max – up from 5% a couple years ago (good start but still sad), it's helpful and inspiring to be surrounded by other women and hearing from women.
Which leads me to another related point – too few women speakers. I know many of the technology conferences are trying to secure more women speakers, and they all say the same thing – it's really hard.  So we own part of this problem. If you are an expert in something, put yourself out there.  If you are working in events or PR for your organization, then find women in your company that can speak and get them out there.
Conferences that would love to get more female speakers include Cloud Connect, Interop, Structure and other GigaOm Events, Strata and other O'Reilly conferences, and many more.
CTA #4: Re-embracing the Original Intent of Feminism
For years now, Feminism has had an ugly name, and there is a feeling among men and women that the "F" word is now used by extreme activists who hate men and are angry at the world. I have to admit that I started saying I was a "humanist" a few years ago.  That is true, but I am also a feminist.
What is the TRUE meaning of Feminism? Let's go to the dictionary, which tells us there are three meanings of Feminism:
1. The doctrine advocating social, political, and all other rights of women equal to those of men.
2. (Sometimes initial capital letter) an organized movement for the attainment of such rights for women.
3. A feminine character.
Feminism originates from the French word féminisme.
Equality for women.  That's it.  It was not that long ago when women were still fighting for the right to vote.  And as we've all heard many times, a woman is still paid 70 cents to a man's dollar. Feminism in its original intent is still a "fight" worth fighting for.
The best way to show your feminism is to support women in everything you do. Help them. Coach them. Encourage them. Model your own authenticity for them. And thank and encourage men who do the same. I have been blessed with many men throughout my life who were huge supporters of and proponents for women. I would call them feminists, only we never think of men as feminists. Maybe we should.
So, let's knock of the angry rhetoric and start fighting this equality battle with words of wisdom, better hiring practices, women on the podium, voting for women and helping our daughters (and sons) succeed in following their passions.
Can I just add – be NICE to each other. If I see one more situation where women are nasty to each other, I will lose it.
What else can we do?
By 2020, there will be 1.4 million computer science jobs available in the US, according to the Bureau of Labor Statistics, and at the rate we are going, it will be hard to fill them. Women, who are the majority of college graduates, can help! Support STEM, women who code, geek women, and any other organization showing women and girls the wonders of math and coding!
I'm sure many of you have other ideas and actions we can all take. Please share them.
And while you are thinking about that, here are some great books featured at WOTC 14 I want to share with you: