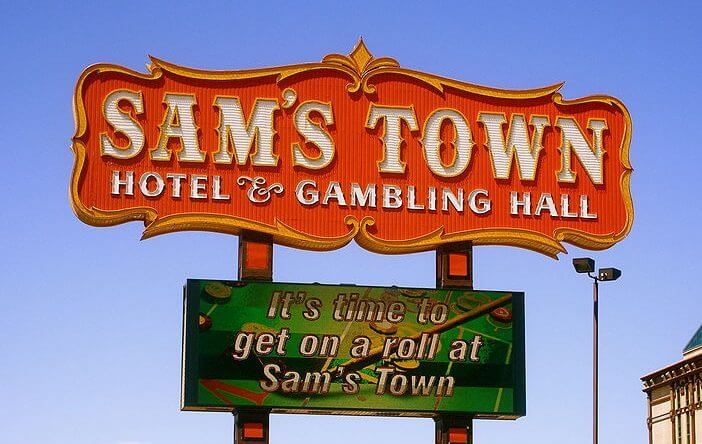 As we have done every year for the past 10 years or so, my husband and I joined our family for a reunion in Las Vegas the weekend before Christmas. We stay off the strip near suburbia and Uncle Tommy's house, and tradition now dictates we always stay at Sam's Town – where the local's gamble and hang out, and where the word "resort" needs to be taken a bit loosely. But we love it.
While Sam's Town may not be the Bellagio, I decided to see how my little resort fared against the big money Vegas hotels on social media. Also, I figured Vegas must truly be more beautiful in the virtual world than what I experience in the real world.  In doing so, I discovered that Sam's Town is more active on social media than I would have guessed, but, as you'd expect, the big boys, such as MGM Grand, Bellagio and others, really know how to play the social game.
What Vegas Hotels Do Right on Social Media
In analyzing social media analytics and content for 13 top Las Vegas hotels on the strip plus my beloved Sam's Town, I identified six key social media best practices we can all learn from!
Social Media Best Practice #1:  Focus on Key Social Channels
At a check box view, it appears most Vegas hotels are present on all social channels. However, when it comes to where they are active, they focus on three key channels:  Twitter, Facebook and Instagram, with YouTube mostly being used to host videos they post on other networks.
This follows social media best practices and advice I often give to clients – focus on a few channels you can do really well, as opposed to spreading yourself too thin across many networks. These hotels and casinos clearly have done the research to know where their competitors and customers are spending the majority of their social time, and optimizing their marketing efforts there.  The Bellagio and MGM Grand are really ahead of the pack when it comes to engaging across Twitter, Facebook and Instagram.
Social Media Best Practice #2:  Beautiful Photos Always Engage
Those in the tourism and food industries learned this long ago, but many markets need to take this lesson to heart and follow the leader when it comes to using luring photographs to draw engagement. The hotels in Vegas are no exception, and consistently, the most engaging posts across networks included an awesome photo, and in some cases, video.
Of course, the holiday season lent itself to beautiful photos, especially at the Bellagio, which is known for its Christmas decorations. And the Bellagio milked its Christmas photos for all it could, scoring the top 12 Facebook posts for the month of December.
Beyond the holiday shots, the most engaging posts included photographs of beautiful, sunny Vegas mornings or beauty shots of the hotels themselves, like this one from the MGM Grand.

Social Media Best Practice #3:  Keep it Short and Simple
The post from MGM above fits perfectly into our keep it short and simple best practice.  If you look across the top 50 Facebook and Twitter posts from this market landscape, the average post is 60 characters, with one or two hashtags at most.  We all know that Facebook allows many more characters than that, but clearly, these hotels have found short and sweet works best with their audience.
I love how in this post below MGM Grand not only kept it short and used hashtags beautifully, but in one sentence drew massive engagement and participation from its followers, by asking them to describe Vegas in one word (I did notice some followers can't count!).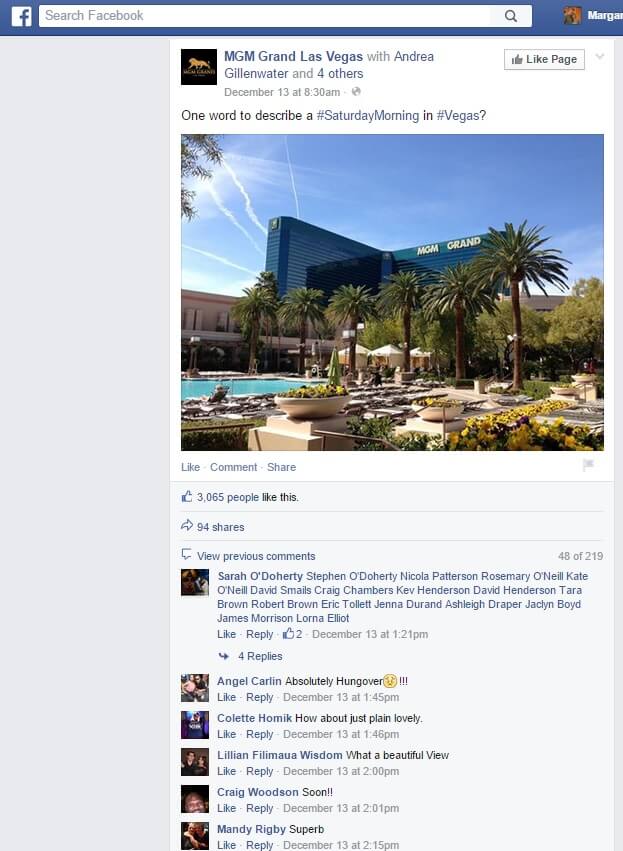 Social Media Best Practice #4:  Repetition Works
As I reviewed the top posts across this landscape, I was struck with the high level of repetition. I mean, how many times can you say Good Morning #Vegas or Happy Holidays or Don't Miss Shania Twain? Turns out, you can do it a whole lot, and over and over again. And the engagement keeps on giving! Don't be afraid to reuse content, not only over different days of the week or month, but even on the same day. This is especially true on Twitter, where content is cycled so much more frequently.
Also, repeat content across social networks. Sure, you might need to tailor the content slightly to match the channel, but photographs and simple posts can be used across nearly all networks successfully.  See how the Bellagio did this across Facebook, Twitter and Instagram with a post for its Raspberry Cobbler Cocktail (sounds horrible but looks pretty!).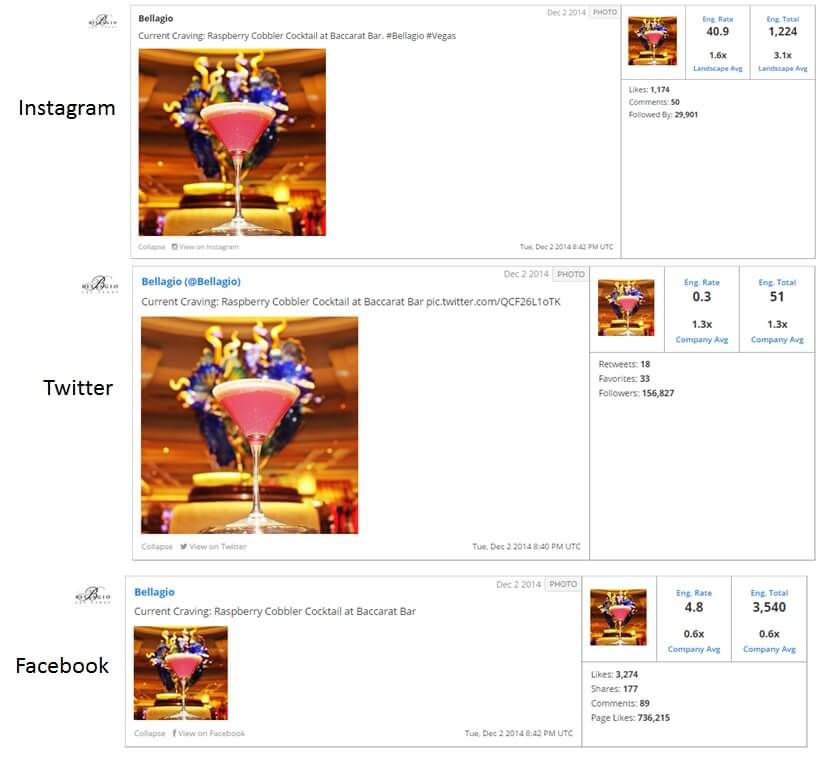 Social Media Best Practice #5:  Leverage Influential Relationships
In Vegas, people love throwing around names of famous people. Turns out, this works well on social media for the hotels.  Celebrity reach is especially powerful when the famous person is doing the mentioning.  While the Trump Hotel is near the bottom for social engagement in this landscape, the hotel does have one big advantage: Trump himself. Whenever Donald Trump talks about the hotel, engagement soars from his 2.7 million Twitter followers.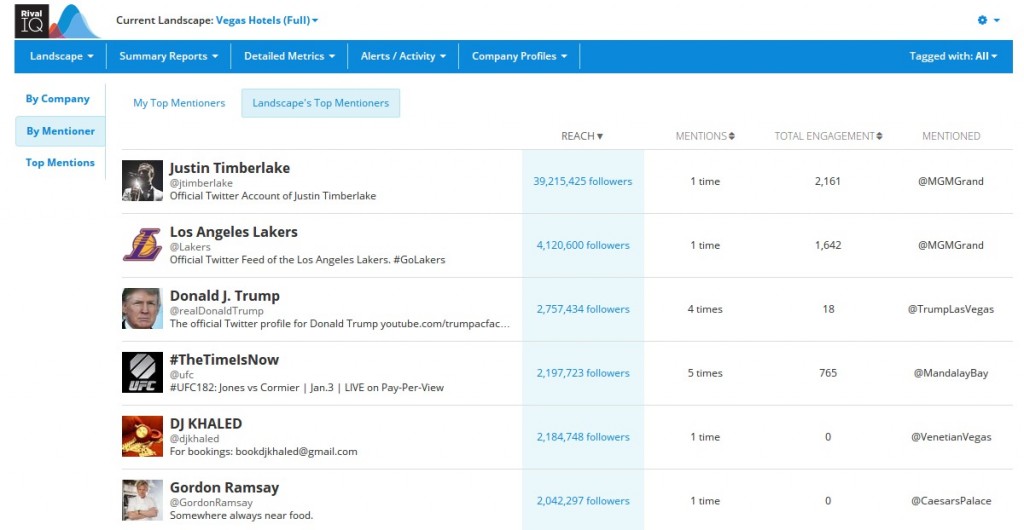 The MGM Grand had the most powerful mention over the past month from Justin Timberlake, who tweeted to his 39+ million followers about a charity New Year's show at the hotel.

This reminds us to maintain healthy relationships on Twitter, and all social networks, with influential people. Do some research to figure out who is talking about you and your competition. Are you following key influencers for your market? Are you engaging with them on social media? Mentions and inclusions of your brand by credible third parties is a priceless extension of your marketing. Even for those brands who pay for those relationships, it's worth the cost to associate appropriate celebrities with a brand. A good way to identify key influencers, especially those of your competitors, is using Rival IQ's Top Twitter Mentions feature.
Social Media Best Practice #6:  Focus on Your Best and Differentiated Assets
Most people have their favorite hotel in Vegas for a specific reason – the food, the rooms, the view, the pool, the celebrity sightings, the location, etc.  The hotels in this landscape seem to know their key differentiator and play it up in social media, which you should, too.  Why does Bellagio post photos of their amazing water show day after day? Because people love it and go out of their way to see it. Same goes for The Venetian, which emphasizes #SuiteLife, since every one of its rooms is a suite.
Even Sam's Town knows to focus on its special sauce. Its #1 most engaging post over the past month was when it updated its cover photo to show the Christmas laser light show and its atrium garden lit up and decorated for Christmas. It might not be Bellagio, but folks come from all over to see the show and walk through the garden. And yep – I "Liked" this post!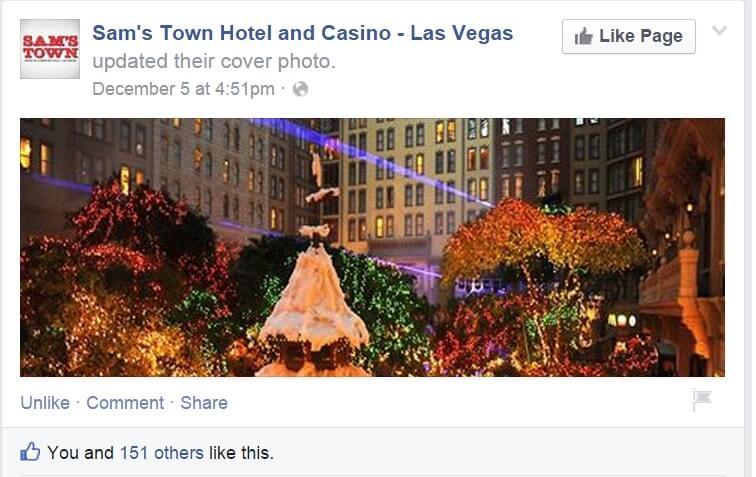 What Can You Learn from Vegas?
Next time you're in Vegas, take a moment to learn from the marketing prowess of the hotels, casinos and restaurants in this town that survives off of tourism. You might just take something home besides a hangover or new friends – some new best practices to put in your marketing toolkit!