As TikTok has risen to be the social media platform of choice for younger generations, brands and organizations have flocked to the short-form video app. Of course, higher education institutions have been no exception.
Looking to attract and connect with their Gen Z audience, plenty of colleges and universities have caught on to the importance of being on TikTok and ramped up their presence on the social media platform accordingly. As such, it was a no-brainer for us to include schools' TikTok performances in our annual Higher Education Social Media Engagement Report.
In the spirit of that report, we decided to deep dive into a few of the top-performing colleges and universities on TikTok to figure out what it was that made them excel. If you need some ideas for your next video, check out how these five universities are acing it on TikTok.
Examples from Top-Performing Universities on TikTok
University of South Dakota: Turning On-Campus Fun Into Online Engagements
With 22.8K followers at the time of writing, the University of South Dakota ranked 2nd on our list of top higher education institutions on TikTok — an impressive feat for a school with less than 10,000 students enrolled. But perhaps it's exactly that intimate setting that's enabled the University of South Dakota's official TikTok to create the kind of engaging content loved by so many.
Racking up more than 1.62M total engagements and 10.7M views across 93 videos, the university's presence on TikTok is nothing short of impressive. The student-run TikTok account has clearly chosen humor as its weapon of choice, cracking jokes and acting out skits tailored to its Gen Z audience.
The University of South Dakota's page especially stands out for its active presence on campus. Beyond highlighting things that are already happening at the school, Riley (the main face of the account) also actively creates fun moments by engaging with other students himself.
For instance, on Star Wars Day, he dressed up as Darth Vader and surprised students with lightsaber duels all over campus in a spin-off of the "Can you hold this?" trend. The TikTok's engagement rate by view was nearly 3x higher than the Higher Education median of 6.7% and there were even requests for a Part 2.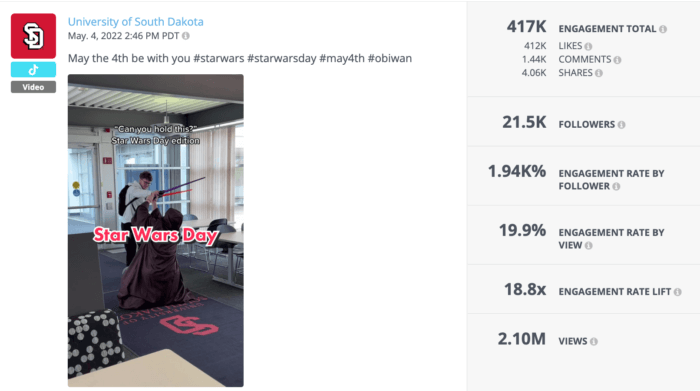 There's also plenty of content that involves Riley starting on-campus challenges in which students could win free school swag. The "Make Me Laugh" challenge was so popular that it ended up being a 4-part series, with the highest-performing post being "Make Me Laugh 3."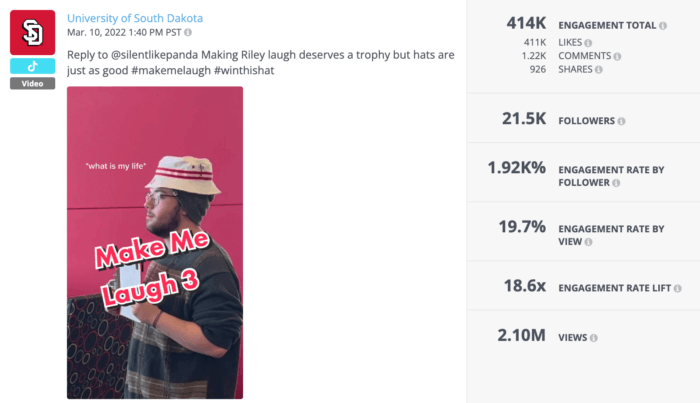 The University of South Dakota's approach to TikTok content shows how offline interactions can translate to online engagements. By going out and creating fun on-campus moments for people online to enjoy, the university not only engages with its current student base but also showcases the fun of campus life to prospective students. Combine that effect with having a relatable and recognizable face run the account and it's no wonder the school's been killing it on TikTok.
Baylor University: Staying On Top Of Pop Culture Trends
Ranking 3rd on our list of top D1 colleges and universities on TikTok is Baylor University, which enjoys 16.9K followers, as well as an impressively high average TikTok engagement rate by view of 16.7%.
Out of the 110 TikToks it posted during the tracking period, 85 videos had an engagement rate by view that was greater than the industry median. With about 77% of its TikToks knocking it out of the park in terms of engagement, the official TikTok of Baylor U is an account worth learning from. Here's what's notable about its approach to TikTok content.
For one, the university posts quite frequently, averaging a little more than 2 TikToks a week, which is well above the Higher Education median frequency of 0.75. This makes a lot of sense considering that the account is big on using viral audios and pop culture moments. With how fast new trends pop up on TikTok, you have to post quickly and often to catch that window of relevancy.
With its finger on the pulse of the latest content trends, Baylor University does a great job of using popular TikTok sounds and formats to shine the spotlight on student life and express its school spirit.
The university's top-performing TikTok, which boasts an engagement rate by view that's 3.3x higher than the industry median, combines Baylor's lovable live mascots with the "I would like to see the baby" audio. The popularity of the sound, which had nearly 4M views on the original TikTok and more than 93K videos using its audio, helped boost the reach of Baylor's video by getting it pushed through to more users by TikTok's For You Page algorithm.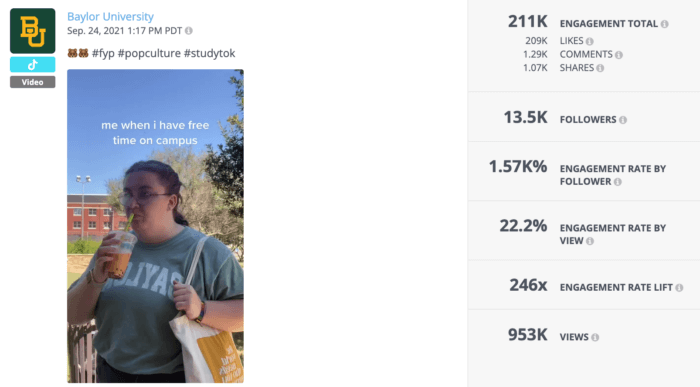 Baylor University's TikTok is also an encouraging example of how there's more to the platform than creating viral videos with 1M+ views or having hundreds of thousands of followers. If Baylor can achieve consistently high levels of engagement without either accolade, so can your school or brand.
Louisiana State University: Celebrating Big Wins and Big Cats
While Louisiana State University tied for #4 on our ranking of top D1 schools on TikTok, it boasts the most followers out of all the universities in the top 10.  Despite a massive following of 547.2K, LSU's official TikTok certainly has no issues with stage fright, impressively posting an average of nearly 3 times a week, a frequency that's 3.87x higher than the industry median of 0.75.
LSU's TikTok page features a diverse mix of content, from trending jokes and funny POVs to official faculty interviews and campus tours. Its top-performing TikToks, though, are centered around two widely popular topics: sports and animals.
Full of school pride and spirit, the Baton Rouge-based university often shows off the athletic achievements of its students and alumni. These TikToks, such as the one below that highlights the LSU alumni who made it to Super Bowl LVI, make up much of LSU's top-performing videos.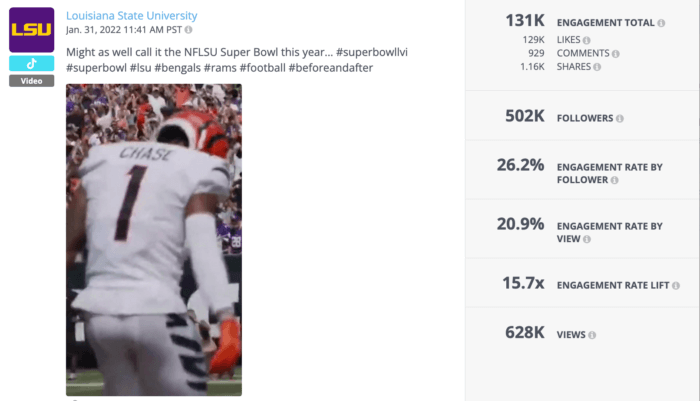 Out of LSU's top 10 TikToks with the highest engagement rates by view, 6 were sports-focused content. Interestingly, though, its top-performing TikTok had nothing to do with sports and more to do with a furry feline friend. Starring in 3 of the school's most engaging TikToks was  that lives right on campus.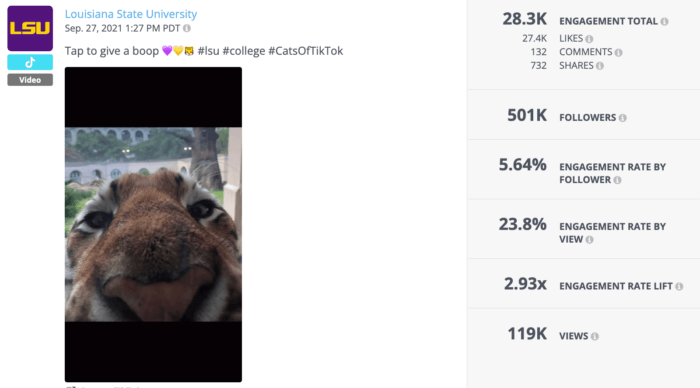 To amplify the effect of including widely popular subjects in its content, the university also makes sure to use trendy audios to further boost exposure and catch users' ears. With LSU's top-performing videos following a straightforward formula, it's a good reminder that sometimes a great TikTok can simply be a topic that's universally loved plus a fun, recognizable sound.
Binghamton University: Putting the Spotlight on Its Unique Campus Life
Coming in at 6th on our ranking of top universities and colleges on TikTok is Binghamton University. Despite having only 8.1K followers, the official TikTok of Binghamton U is the account that's posted one of the most engaging TikToks among the top 10. The video below hit an engagement rate by view that's 3.88x greater than the industry median!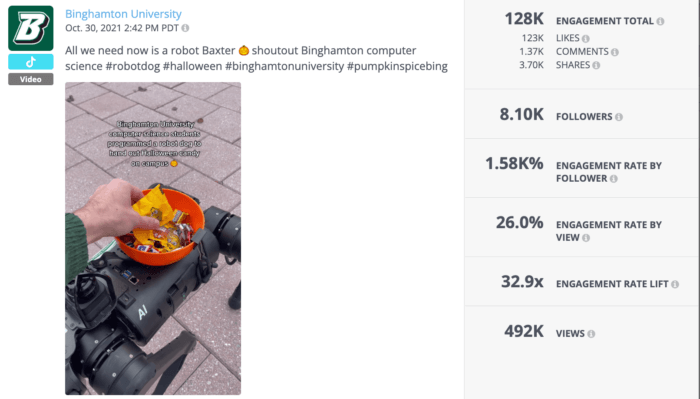 In fact, Binghamton University has a great record of high-performing TikToks. Of the 78 TikToks it posted during the tracking period, 47 (or roughly 60%) videos had engagement rates by view above 6.7%.
In its approach to content, the university has a clear audience in mind: Binghamton U students. Its TikTok page is filled with videos showcasing all the unique and fun things happening on campus. It is almost like a discovery page for students looking for new activities to check out.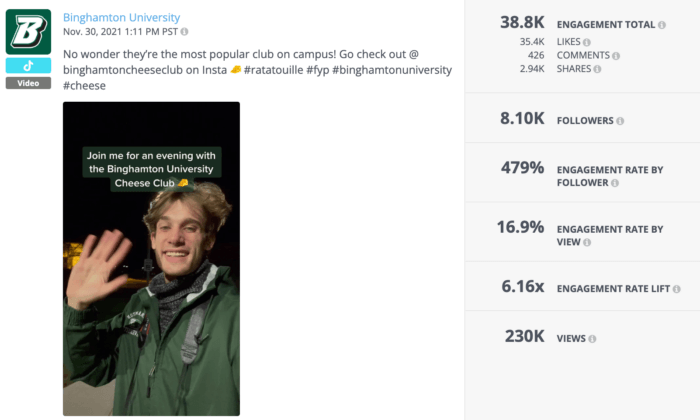 The school also regularly uses trending sounds to highlight distinct experiences of student life at Binghamton University, such as one starring recognizable campus figure "Mein Bowl Mary" and another celebrating the completion of the fall semester with clips of the campus decked out for the holidays.
In creating content specifically tailored to current students, Binghamton University was able to build an engaged online community of users who are interested in connecting over what's happening at the school — something that's arguably more valuable than even millions of passive, uninterested followers.
Auburn University: Getting Specific With Its Accounts
Auburn University made it to our list of top 10 colleges and universities on TikTok by doing things a little different than most.
With more than 96K followers and high engagement on every single one of its videos, the Auburn Tigers TikTok account caught our eye as a top-performing university account on the platform. Diving into its content, we noticed the familiar pattern of lots of sports-related content — something other top schools like LSU also saw great success with. In Auburn University's case, the entire Auburn Tigers TikTok page was dedicated to the university's athletic programs.
TikToks about Auburn's gymnasts particularly got a lot of love from viewers — something that makes perfect sense when you find out that the university is home to Olympic gold medalist Sunisa Lee. The Auburn Tigers' account clearly knows that its audience is full of sports lovers and delivers on that kind of content.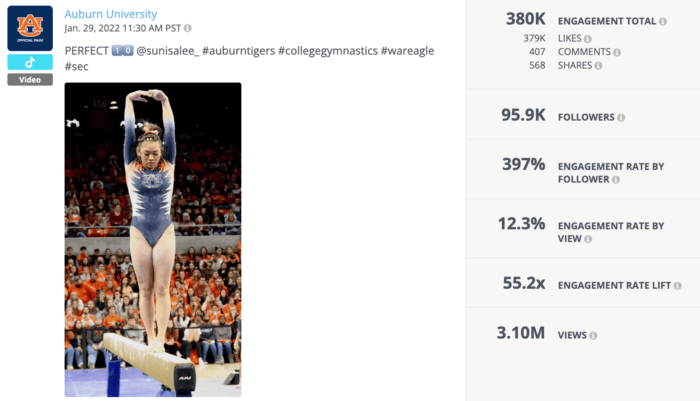 Indeed, the Auburn Tigers' success at niching down to one specific subject reveals its larger social strategy.
As it turns out, Auburn University has several different TikTok accounts that each serve a particular purpose. While the Auburn University Official TikTok posts general content about university life, Auburn Football and Auburn Basketball focus on the school's football and basketball program, respectively. Even Auburn's Wheelchair Basketball team and its official bookstore have their own official TikTok.
Considering the fact that niche communities thrive on the platform, creating individual TikToks for each aspect of a university can be a great way to build an audience that's more likely to be engaged with the kind of content you're posting. If it makes sense for your school, consider following in Auburn University's footsteps and niche down with your accounts.
High Scores Across the Board
TikTok can be a tough platform to crack, but these high-performing universities have plenty of excellent videos to learn from.
If your university or college is looking to boost engagement on TikTok, try showing off student life with trending audios and pop culture moments like Baylor. Or take a page from USD's book by engaging with students to create funny moments. Find the approach that works best for your brand and you'll be on your way to greater engagements from your audience.