'Tis the Season for Mobile Providers to Tweet
Now that the holiday season is in full swing, everyone is looking for the perfect gift for their near and dear. With the abundance of mobile devices on the market, it's easy to meet the needs of everyone on your shopping list with a little bit of technology. Mobile providers are trying to win these holiday shoppers by pushing irresistible holiday offers using Twitter, Facebook and other social networks. If the level of social media activity is any indication, then using social media to increase sales must be working.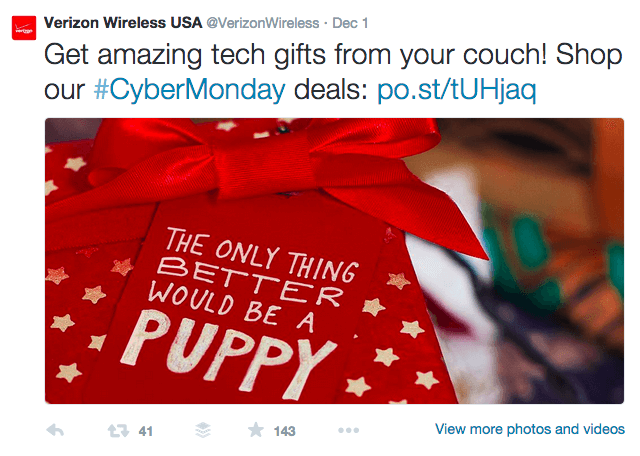 Using Social Media to Increase Sales and Reach the Masses
Whether it's teenagers, busy businessmen or Baby Boomers, most people can be found somewhere in the social-sphere and mobile operators know it. With every service provider claiming to have the latest products and greatest deals, comparison shopping during the holidays can become rather tricky. So, we thought we'd do our own "comparison shopping" of sorts and turn the tables on the mobile providers by seeing who is performing the best on social media using Rival IQ.
Which Provider is Winning Holiday Shoppers on Social Media?
We created a competitive market landscape of eight mobile service providers that have been vying for the attention of customers. The five big contenders are Verizon, AT&T, T-Mobile, Sprint and Virgin Mobile USA. Three smaller players are included in the mix as well — MetroPCS, Cricket Wireless and Boost Mobile – each known for their seemingly "too good to be true" affordable phone plans. Here is an overview of the social platforms each provider is using.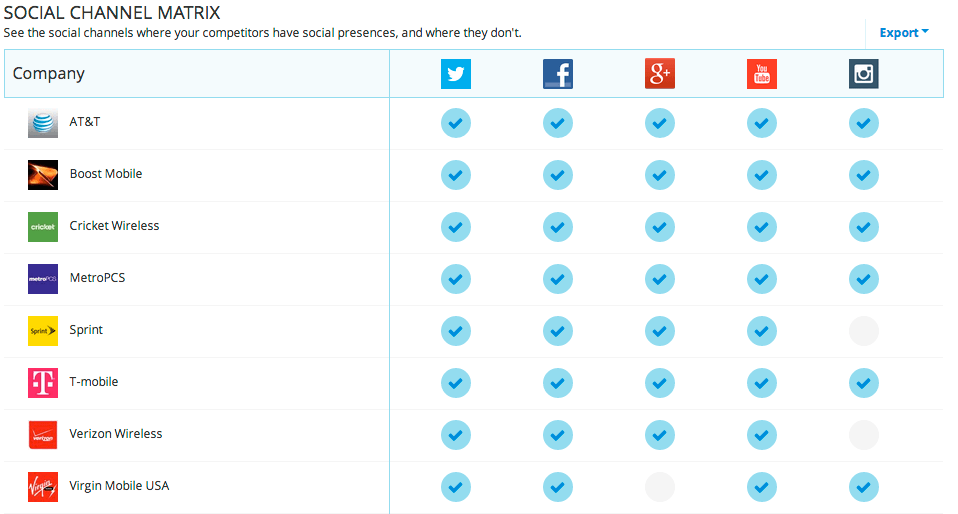 Surprisingly, every company utilizes Google+ except for Virgin Mobile USA. Notably, Sprint and Verizon Wireless do not have Instagram accounts, while all the others do. That being said, just because you have an account does not mean you use it regularly, as we'll see in the data below.
Social Activity Boom for Big Shopping Days
The unofficial start to the holiday shopping season is typically considered to be Black Friday. The following graph shows social media activity for all eight mobile service providers between November 27 and December 2, 2014. This date range includes Thanksgiving and ends on the day after Cyber Monday.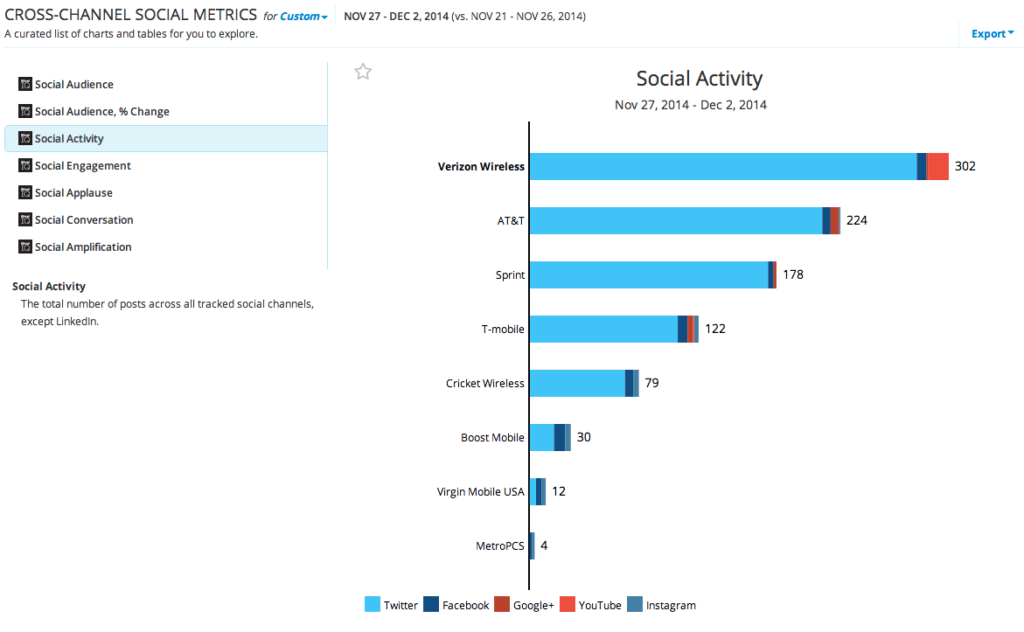 If you've been on Twitter, there is a good chance you've been bombarded with marketing from Verizon Wireless, which posted 279 tweets within our date range. AT&T followed closely behind with 211 tweets, and the smaller players (MetroPCS, Boost Mobile, and Cricket Wireless) were right where we expected them to be – at the bottom. However, Virgin Mobile USA was surprisingly second-to-last – perhaps they were feeling a little "Scroogey".
Going back to the presence of companies on a wide array of social sites, Verizon Wireless only posted once on Google+ during this time period, though leading in social activity. AT&T led with six Google+ posts. Looks like it's difficult to be everywhere at the same time – at least in terms of marketing.
#CyberMonday Wins the Hashtag War on Twitter!
In analyzing the top 50 tweets based on total engagement, the big five providers were aggressively tweeting about holiday specials. Verizon and T-Mobile were pushing #CyberMonday, while Sprint went heavy on #BlackFriday, and AT&T played on their TV advertising plot with #rivalryweek. A popular hashtag for all the telcoms was #HappyThanksgiving.  I guess they were trying to get in the giving spirit just before making you a deal.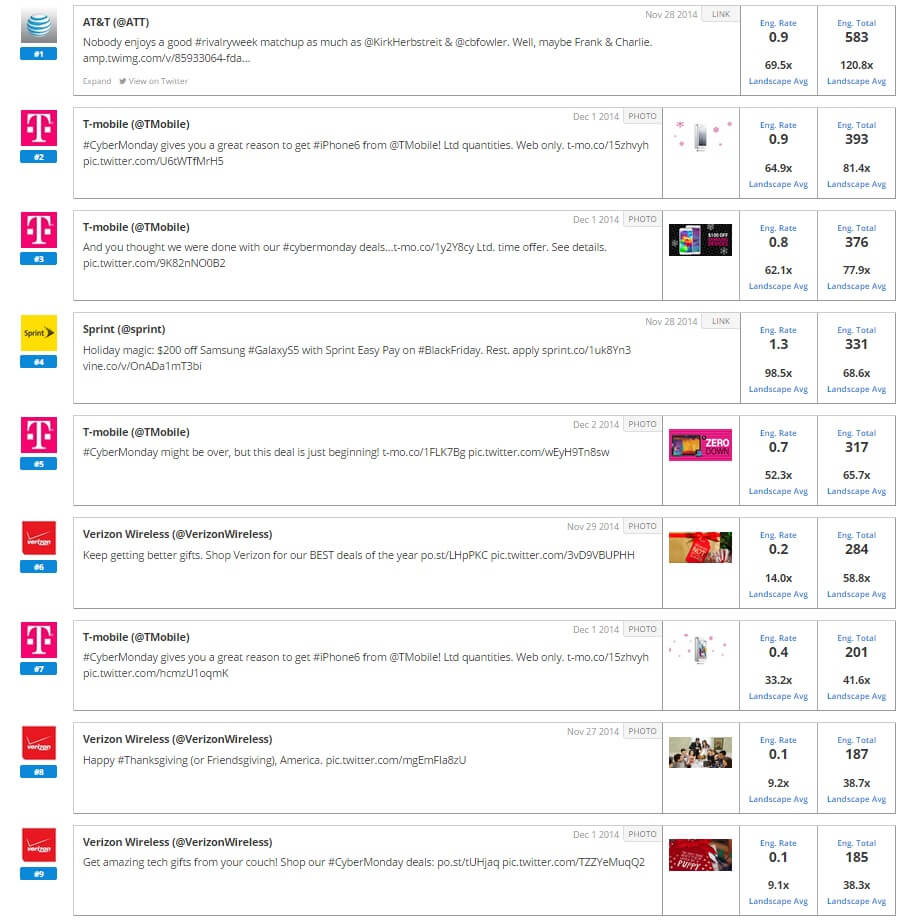 Take Your Shopping List to Twitter
As a consumer, the data shows that if you want to find out about the latest mobile tech deals, you should go to Twitter. Be sure to take a moment to compare the deals just like we did in this competitive social media analysis! You can check out our complete competitive landscape of these eight providers here.
From the provider perspective, I'd recommend they all spread their efforts more evenly during the holiday season. While it may seem like everyone is on Twitter, the fact of the matter is there are still millions of people on the other networks, such as Facebook.  So spread your love, hashtags and offers around!