Much of the U.S. population today will be watching TV for the big NCAA Final Four men's basketball playoff games. As I love doing with our Rival IQ application, I created a landscape of the four teams in today's face off to see how the teams are doing off the court in the final four social media arena.
And I am making some pre-game predictions based on their social media scores (disclaimer: I take no responsibility if someone actually bets on this!).
For this evaluation, we used the official social handles for the basketball teams or the school's official Athletic Department handles – in order to really evaluate the sports fans!
Let's Size Up the Off-Court Audience
We have learned many times in our analysis of social media prowess that the largest companies, brands or schools do not always have the biggest social media following or engaged fan base.  Let's see if that rings true for our college teams. From the numbers below, it's easy to calculate that the big state schools could have literally hundreds of thousands of fans rooting them on today.
Based on official Collegeboard.org undergraduate populations, our final four teams have the following student base enrolled:
Michigan State: The largest of all the final four schools, with an undergraduate population of ~39,000.
University of Wisconsin, Madison:  Next in line with ~32,000 undergrads enrolled.
University of Kentucky: The eight-time national champion team school has ~22,000 undergraduates.
Duke University: The smallest and only private institution in our final four playoff, with just under 7,000 undergrads enrolled.
Who has the Largest Fan Base?
Going into today's big games, Michigan State is capturing those hundreds of thousands of current and previous students on their social media channels. It easily wins the Social Audience portion of our pre-game analysis, with nearly 900,000 fans across the top six social media networks.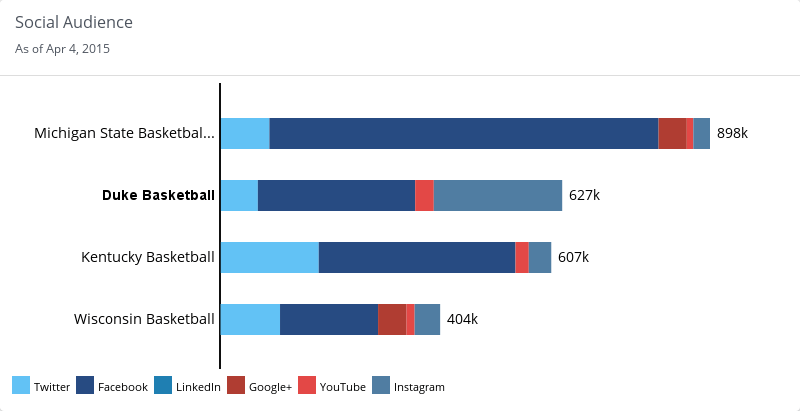 In spite of being in the lead, Michigan State is not standing still. The social media team for the athletic department and hoops team has added nearly 21% new followers in just the last week alone!
Who's Going to the Post the Most?
Going to the post? Get it — passing to the big man and posting on social media – he he!! Okay, I thought it was funny.
The point of this is who is most ACTIVE on social media. And Kentucky and Wisconsin are in the lead.
Kentucky edges out the Badgers with one more post, hitting 319 posts in the past week. Twitter and Facebook and where the action is.
Whose Fans Are Showing the Love?
Kentucky is not wasting those posts either – they are engaging with their fans, especially on Facebook. When we look at the aggregate social engagement totals for the teams, Kentucky outscores everyone with 735,000 social interactions this past week.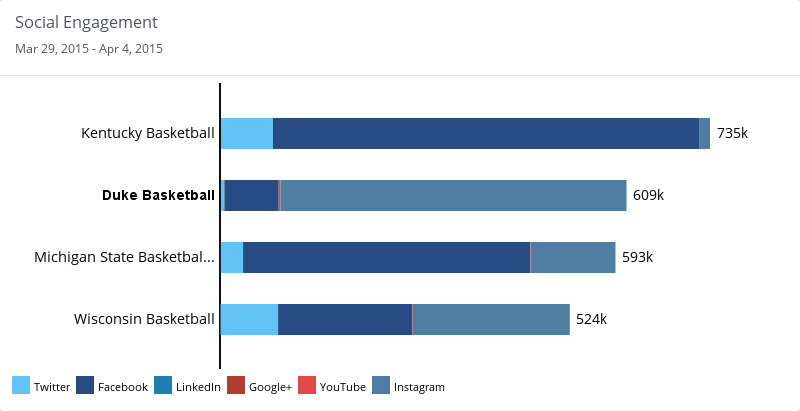 Duke is small but mighty, coming in second for engagement with over 600,000 interactions, with much of that love shown on Instagram (the most popular of the six channels with the college age demographic).
Where in the Social Arena is the Game Playing Out?
Staying true to what we find for Business-to-Consumer brands, these teams are focusing their activity and engagement on Twitter, Facebook and Instagram.  And from the chart above on social engagement, the teams are doing a good job tailoring their focus to where their relevant fans are. For Kentucky, Facebook and Twitter are tops, Duke has Facebook and Instagram focus, while Michigan and Wisconsin spread the effort across all three.
What are the Big Plays Drawing Applause?
Let's dig into the social content to see what we can learn about how the teams are getting engagement with their fans.
If we look at the top content scored by total engagement (defined as the total number of interactions on that social network for the time period we are using), it plays out as I'd expect.
Duke has the most engaging content on Instagram. 10% of these top posts were video, which we are seeing more of on Instagram (not just YouTube!).
Kentucky is scoring big on engagement with Facebook.
and Wisconsin edges out Kentucky for most engaging tweets on Twitter.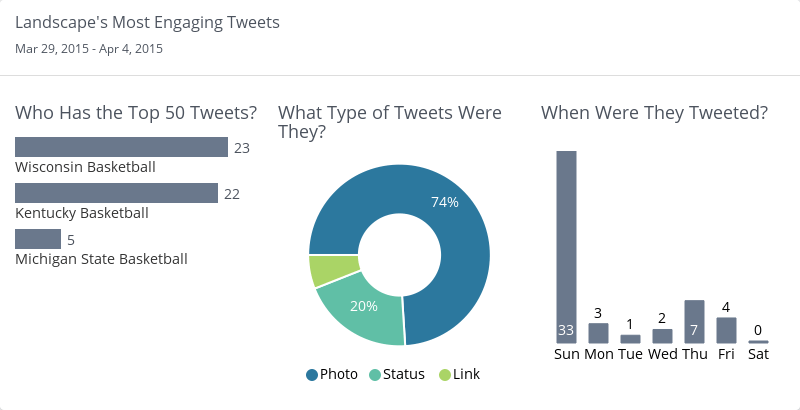 Each School's Top Play
Every team, like every organization, has it's own personality. Let's take a look at the top Facebook post for each team and see what it says about the team, it's fans and the school.
1. Michigan State Focuses on the Score
With a nail biting playoff game going into the final four, no wonder the Sportans team's most-engaging post of the whole week was it's win over Louisville. No photo was needed here, as the score said it all.  No matter what size your social fan base, achieving an over 11% engagement is impressive!

2. Kentucky Focuses on Team Effort
Packed with a team of stars, it's no wonder that Kentucky showcases a full team "selfie" for its most engaging post on Facebook.

3. The Big Man Wins the Hearts in Wisconsin
Who knew Badgers could be so big. This team is packed with size, led by the all star post Frank Kaminsky. He's the go-to man on the court, and on social media, too.  The top two Facebook posts for Wisconsin featured shots of Kaminsky, drawing likes, shares and supportive comments from Wisconsin fans.  On the hardwood, the team's second-tallest player, Duje Dukan, who stands a mere 6-10 to Frank's 7 feet, receives a lot of applause, too!

4. Duke Notices Every Detail
Coach K is known for his incredible focus on details and the fundamentals. It appears the team's social media manager does, too. Duke fans love to see photos of Coach K achieving his own record and hearing all the details.  I noticed the post is also written in grammatically correct full sentences, as all good grads of a top private school should. Even the commas are correctly placed. We'll see if that intellectual approach will bring the ultimate trophy for the team!
The Prediction
The games today are going to be close. These teams know how to play when the pressure is on.  They all have amazing players and coaches.
I created a cross-analysis chart of social media activity and engagement for the six networks we track.  Kentucky really stands out from the pack in this chart.
Therefore, I predict that Duke will beat Michigan State and Kentucky will win over Wisconsin.
Your Takeaways
So what can all social media strategists learn from this analysis?
Here are 5 takeaways:
Build your fan base starting with those people that already know and love you, and grow from there
Post frequently to keep your fans informed and coming back for more
To gain engagement, give the fans what they want – if they want to hear about your star players, then give them your superstars.
Make your social voice true to who you are. Are you fun, intellectual, assertive? Whatever your company's voice is, your social media should reflect that.
 Track your competition and make sure you know what your best offense and defense is.
If you would like to review all the data and analytics we used for this analysis, you can use this link to start a 14-day free trial: http://bit.ly/1Mqxejf
Good luck! And let's all play nice on and off the court.