There's a lot of chatter about when to post on social platforms. Hoards of data from trustworthy marketing research sources (thanks, Hubspot and Fast Company!) gives us some solid background in the timescape of social.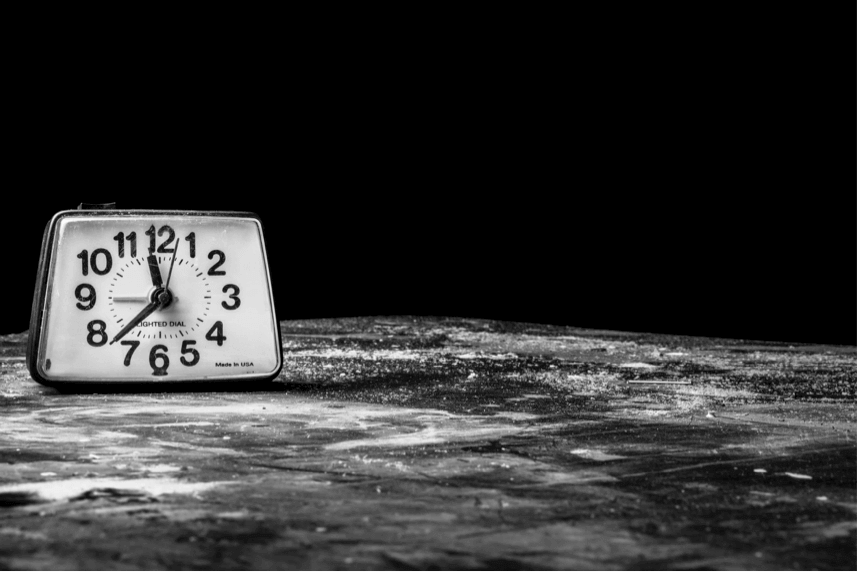 Post to LinkedIn on Wednesday mornings or earlier in the week – no one's diving into their professional network on a Friday afternoon or the weekend.  
Scatter content across Pinterest on Friday and Saturday nights – Pinterest is the ultimate playground, after all.
Twitter, Instagram, and Facebook? These channels are so mobile-based, and often used for breaks during the work day that there's a bigger window for posting content to these platforms. Facebook's perfect for afternoon lulls at work, so weekdays between 1-4 can be a major clickthrough time, and Twitter sees a lot of lunchtime action.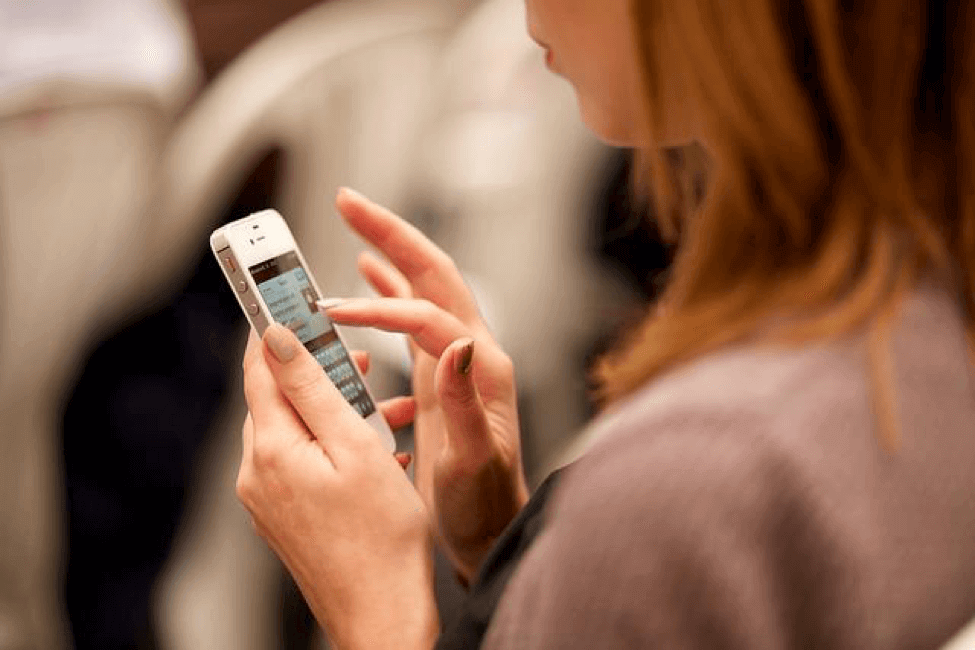 When strategically released, your content can grab users at key moments and encourage future engagement.
Does the use of generic 'best practice' posting times makes sense?
Based on user-demonstrated engagement, these trends can be key to heed as you plot your posting timeline. But it would be a big mistake to skim this kind of summarized wisdom and ignore your own landscape's metrics. The data you find in infographics and blogs scattered across the internet are generalizations, not customized suggestions based on your target audience's activity or engagement. Hell, most of the time they aren't even industry standards! To know the best time to post, you have to measure your engagement as well as your competitors'. You're only using broader market data; you're not managing your brand. So when it comes to timed content releases, we find some parallel wisdom in what Henry Rollins says about time:
"No such thing as spare time, no such thing as free time, no such thing as downtime. All you get is' life time'. Go."
He had it right, at least when it comes to how we think about interpreting social metrics like this. So if you tweak this life time philosophy and think of it as brand time instead, you'll be on track and inspired to manage your content in a way that maximizes engagement proactively. Here's what to think about when you're navigating the various infographics available about when to post.
How to Get Actionable Insights
Think of social data like this graph pitting National Geographic's Twitter engagement per hour against other nonprofits in their landscape (nonprofits like them):
Graph A)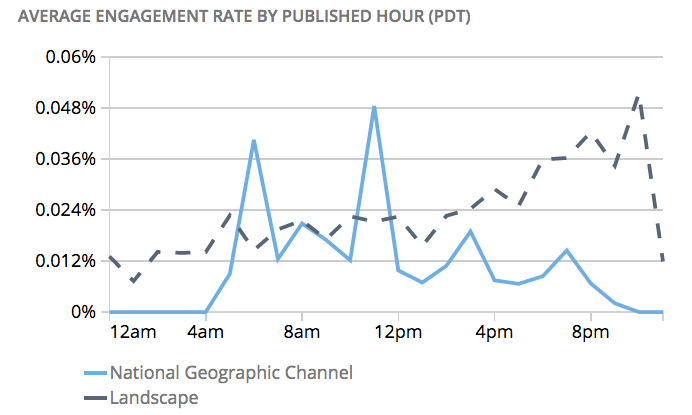 NatGeo's user engagement is clearly a different reflection of the brand as opposed to the overall landscape. Different companies in different industries will yield different follower activity. We spoke with a social strategist who pointed out that digital-focused marketers will browse social media frequently throughout the day and tend to step away at night, while an architect is more likely to engage at night or on weekends. So it's possible to see wildly different activity rates depending on your audience.
Again, you can see this demonstrated in the graph below where Washington State University's audience engagement displays different peak times than NatGeo (compare Graph B to Graph A). Also note that their landscape engagement rates throughout the day also rise at different times, suggesting that their different audiences are active and engage at various points throughout the day.
Graph B)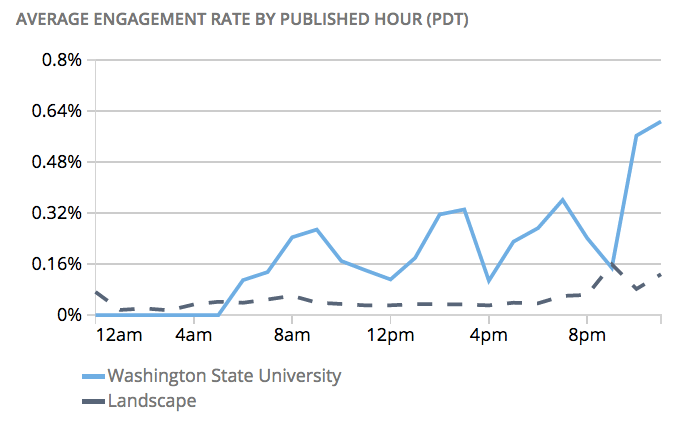 So what does this mean when it comes to your brand's social media release schedule? You need to measure when your audience is active and when they engage with you on social media. If you haven't started to measure your metrics yet, where do you start?
Know your audience.

Create

buyer personas

to release content that you know your followers will find engaging.

Determine what platforms your customers are using.

 Design your strategy around those platforms. Some platforms like Facebook have built-in trackers, like their Platform Insights page, where you can see social metrics such as likes, reach, engagement and more. Twitter, Pinterest, LinkedIn and Google+ also offer analytics tools to give you a breakdown of how your content is (or isn't) affecting your base.

Compare your data to your direct competitors or organizations like you.

Beyond these individual tools, you may need to invest in a resource to deliver more comprehensive and tailored insights to

increase the relevancy of your data and increase your social media marketing ROI.
Get ahead of your metrics.
Are you creating a campaign over the course of a few weeks that will thematically tie your posts together? Or are you looking at a one-time call out about a recent success your company had?
If you think of brand time as your creation, your social outreach can be a major boon to your overall engagement. Design a campaign where your content is tied to a particular time of day, like the morning. Make a hashtag like #TuesdayCoffeeTips where you consistently post content designed to fit into your user's natural routine – instead of seeking user engagement based on preexisting patterns, you're driving your data.
In an age where we're seeing a dismantling of the typical 9-5 office culture, where freelancing, remote work, and startups are changing how people structure their time, content strategy will continue to be fluid – don't get bogged down in stagnant metrics that don't reflect what your audience is doing.
The Takeaway
Yes, market data is important, and there's a lot out there. But that data is constantly going to change and evolve, in the same way, that your brand will be subject to change based on follower activity. So what do we ultimately think when it comes to that pesky "when" question?
Time is something you create for your brand. So don't be afraid to turn over the "standard timetables." Do what makes sense for your organization. Post when you reach your audience and followers based on your actual personal data. Use market data as a starting point to launch from.  We do not deny that across broad segments of the consumer population, social media users can fall into certain scheduled patterns, but use it with a grain of salt.  Do some research to discover when your audience is active, then cater to them to drive up engagement.