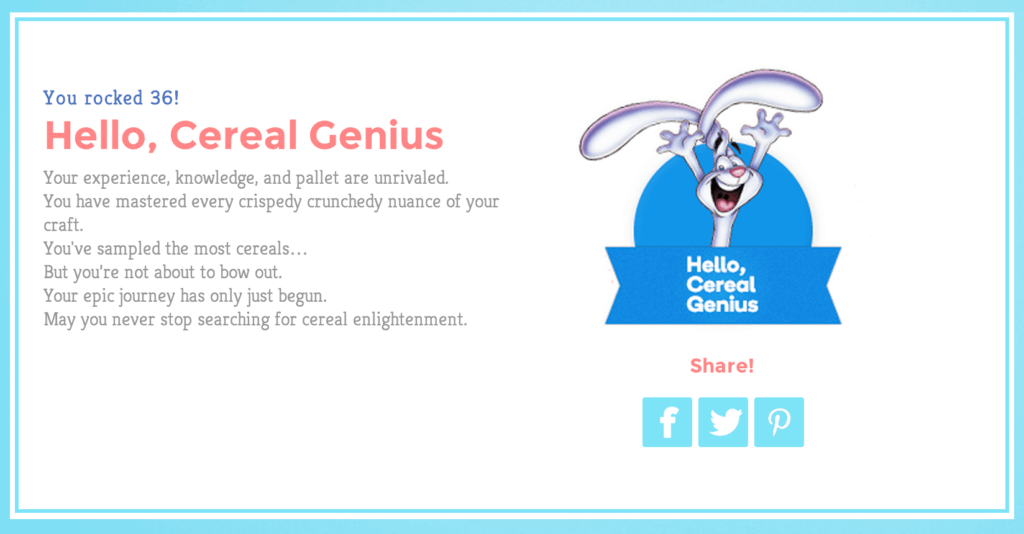 Today we will be talking about two of my favorite things: Facebook and cereal. In order to combine my two loves, I decided to track the top cereal brands' Facebook progress in Rival IQ. As you can see from my Cereal Genius score above (36/41), I am extremely qualified for the job.
Best Cereals
According to Ranker.com, the top five cereals chosen by voters are as follows.
Frosted Flakes
Cap'n Crunch
Lucky Charms
Cinnamon Toast Crunch
Honey Nut Cheerios
After viewing this list, I thought it would be interesting to see if a correlation exists between the top five cereals and their performance on Facebook. I'll be rooting for Cinnamon Toast Crunch because I truly believe it was sent down from the cereal heavens to make breakfast a holy experience.
Most Likes
Let's take a look at how the top five cereals compare in number of Facebook likes.
That's what I'm talking about – Cinnamon Toast Crunch for the win! With those wonderful swirls of cinnamon deliciousness, it's no surprise that over one million people agree it's a gloriously perfect cereal.
On another note, I was very confused to see Lucky Charms so low on the list. Lucky Charms practically has a cult following, so it's surprising that this number is not reflected in how many Facebook likes they have.
Most Posts
How many people like a company's page can oftentimes be determined by how active the company is on Facebook. Let's see if this holds true for these cereal brands.
This is pretty interesting. The rank order for number of posts in the last seven days is actually quite different than the rank order for number of page likes. Surprisingly, Lucky Charms who was in second to last place for number of page likes, has tied for first with Cinnamon Toast Crunch for number of posts this week. Now let's move on and see which of these two cereal brands has the most engaging posts.
Most Engaging
I've said it before and I'll say it again, there's no point of having a ton of followers if no one is engaging. Facebook's algorithm, EdgeRank, places a great deal of importance on engagement. If you want your company updates to appear in your followers' news feeds, you need to get them commenting, liking, and sharing your content. Let's see which of these cereal brands has the highest engagement rate (the number of likes, comments, and shares of posts on this company's Facebook page, per thousand page likes).
In a turn of events, it appears that Lucky Charms might take the cake for best cereal company on Facebook. It seems like their cult following is really paying off! With an engagement rate nearly doubling Cinnamon Toast Crunch's, it looks like Lucky Charms really knows how to get their followers involved.
Top Content
Let's move along and take a look at examples of top content that are responsible for such high engagement rates.
Not surprisingly, the number one and two spot for most engaging content goes to Lucky Charms. The lessons: Include visually appealing images. Oh, and nostalgia is almost always a safe bet to get people talking (did you grow up with Lucky?).
The number three and four spot for most engaging content goes to Cinnamon Toast Crunch. The lessons: pictures are really important, posting images of your product in action is a good way to show it off and get people talking, and bananas with any cereal is an epic mix.
The Final Results
This is a super close call! The winner seems to be a toss up between Cinnamon Toast Crunch and Lucky Charms. While it's clear that Cinnamon Toast Crunch is the obvious champion in terms of best cereal (in my opinion, of course), I have to say that Lucky Charms is the Facebook winner. Based on the Rival IQ data, Cinnamon Toast Crunch wins the numbers race but Lucky Charms has cracked the code for getting their followers to engage, which I believe is a more notable feat. Congratulations Lucky Charms!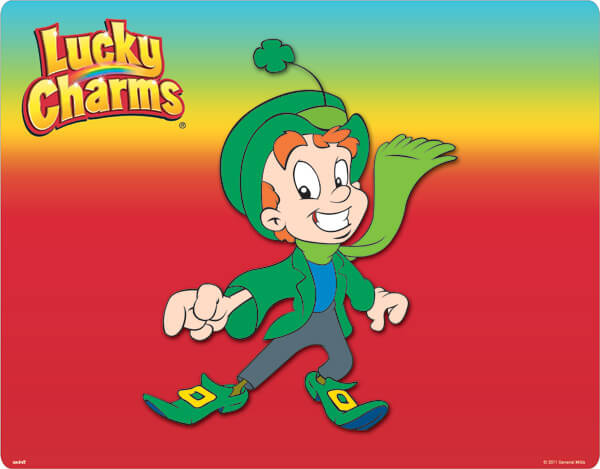 Before I go, in the spirit of these two wonderful cereals (and another one of my personal favorites), let me suggest the best cereal combination ever: Lucky Charms + Honey Nut Cheerios + Cinnamon Toast Crunch. Your taste buds can thank me later.