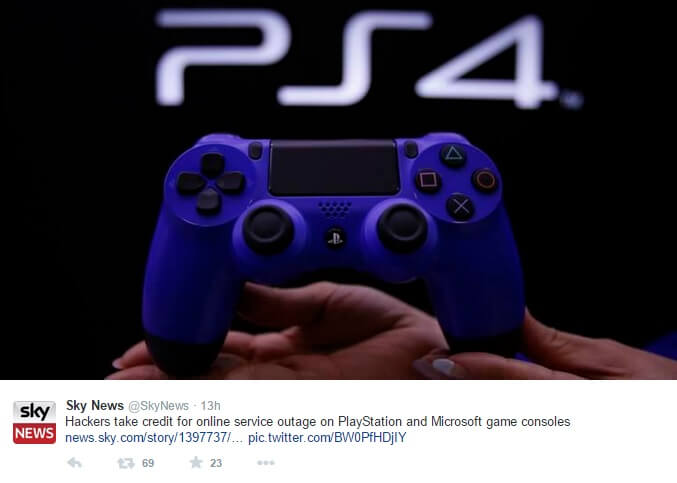 How the Hacker-Grinch Stole Christmas
The war between leading gamer consoles, pitting PS4 vs Xbox One, is not a new battle. This holiday season was no different, with never-ending online chatter comparing the two products, and consoles flying off both physical and virtual shelves. However, this year did bring a new entrant to the gamer battlefield: hackers!
On Christmas Day, network errors disrupted use of both Microsoft Xbox One and Sony PlayStation 4. Taking responsibility for this holiday gamer outage is a modern day Grinch known as the Lizard Squad.

The system outages were definitely a huge setback for both Microsoft and Sony, who expected heavy use volume on Christmas, just as gamers everywhere were unwrapping their shiny new consoles. While Xbox remained mum on social media, PlayStation attempted to provide some customer reassurance via Twitter, while working to resolve errors within their hacked system.
How the Crisis Played Out on Twitter
Twitter was a flurry of conversation, with gamers being quite aggressive against the hackers in their tweets. But how could they not be, when, instead of playing multiplayer Halo, they were sitting on Twitter complaining about the outage.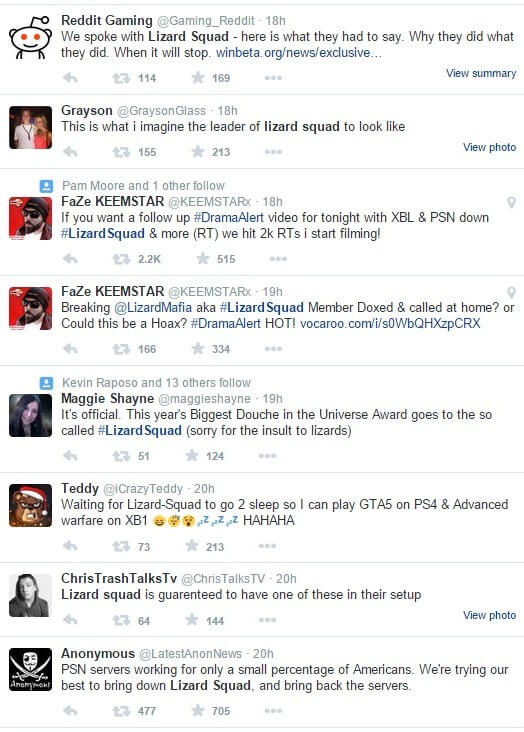 While gamers were prolific, the gaming companies were abnormally quiet on Twitter. On Christmas Day, Xbox tweeted zero times, a huge contrast to the 133 tweets promoting sales, games and features on December 24. PlayStation tweeted only four times.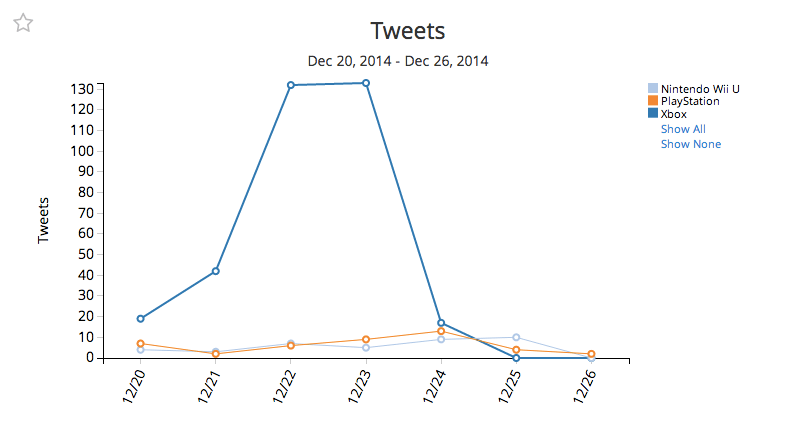 Even on the support handles for the two gaming companies, @askplaystation and @XboxSupport, the tweets were few and far between, with both companies just saying they were "working on it".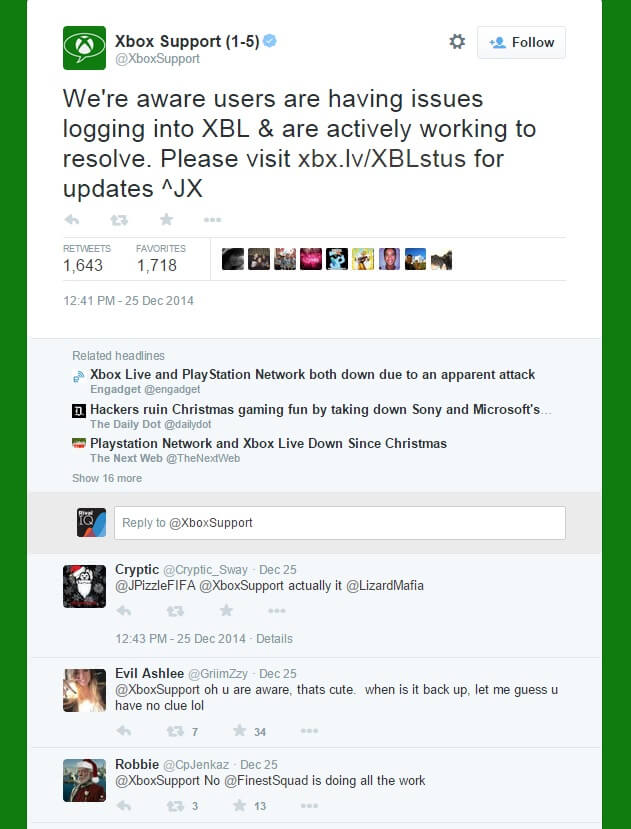 With all the uproar on Twitter against Xbox and PlayStation, Nintendo enjoyed some limelight from its fans. However, this might be because the Wii has fallen off the favored mantle of most gamers. The hackers ignored Nintendo, because the once hot Wii has seen a significant cooling in sales compared to the other two consoles. I can just picture gamers everywhere blowing the dust off their WII and begrudgingly playing Super Mario while gritting their teeth.

Hackers and the Hero on Twitter
Just as the outage played out on Twitter, so did the rescue. While both companies clearly struggled to figure out what was wrong and how to bring their services back online, an Internet hacker-hero stepped in – as if playing a scene from one of the games itself, Kim Dotcom, aptly being called now the Santa of gamers, made a deal with the hackers to stop the attacks. A great article in Gizmodo tells the story well.
It's as if an entire hostage negotiation was played out on social media.  But as is so often the case, someone who has the gamer and Internet cred is much more capable of negotiating with cyber experts than major corporations.
What We Can Learn from this Christmas Twitter Miracle
While this 48-hour drama seems an unlikely scenario for your company, there are still some key learnings we can all take away.
1.  Don't stop communicating during a crisis:  If anything, this is the time to over communicate. Take your crisis communication 101 plan and apply it to social media! In this case, PlayStation did a better job of repeating its message that it was working on it, while Microsoft stayed mostly mum.
2.  Don't underestimate the power of social media:  You've heard it many times, but this should prove once again that real business, warfare and negotiations are taking place online, virtually. It's not just about sharing your photos of your kitten.
3.  Heroes can appear from anywhere:  Don't stop believing in heroes. You never know when your company or you might be saved from a very unlikely person or avatar.
Meanwhile . . . Back at the cash register
While this hacking episode will definitely leave a black eye on Microsoft and Nintendo, it's yet to be seen if their sales will suffer. My gut is not likely. According to Microsoft, the company sold around 10 million Xbox One systems in 2014, while Sony sold 13.5 million units of their PlayStation 4.

So while Kim Dotcom may have just shelled out 3,000 lifetime accounts to the Lizard Squad on his encrypted upload service, Mega, the corporate gaming giants are so far not having to pay directly for hacker negotiations. Well played.
Update
PlayStation Network is still down — look's like Lizard Squad is not in the mood of giving PlayStation users a holiday miracle.