LinkedIn is undeniably the largest professional social networking site in existence. With over 260 million registered users and over 3.5 million companies, not paying attention to LinkedIn business pages is a huge marketing fail and a wasted opportunity.
I must admit – LinkedIn intimidated the crap out of me for a really long time. It was the only social network that felt completely foreign and unfamiliar. However, after reading a lot (and I mean a lot!) about LinkedIn, it became less and less scary and more and more exciting. With a few easy to follow guidelines, you'll be well on your way to developing a strong and powerful LinkedIn business page presence. I hope you'll join me on the journey to LinkedIn Stardom!
Why A LinkedIn Business Page is Awesome!
Before we cover the steps you should take in order to optimize your presence on LinkedIn, let's discuss some of the use cases that make this networking site so exciting.
LinkedIn allows you to:
Build a network of advisors: You can cultivate relationships with influencers who are oftentimes more than willing to lend you their knowledge and guidance.
Set yourself up as a thought leader: By joining groups, answering questions, and sharing your content, you become a thought leader in your space.
Generate leads: LinkedIn is particularly good at generating B2B leads
Keep up to speed on news in your field: By following influencers in your space, you will be kept in the loop on the latest industry trends and news.
Find qualified candidates for employment: Easily view a person's experience and skill set to determine if they are a right fit for the job.
Create partnerships: If you are an early stage business, LinkedIn is a great place to find entrepreneurs with similar interests.
As you can see, LinkedIn possesses so much power; all you have to do is tap the resource!
Getting Started: Setting Up Your LinkedIn Company Page
The first step to getting started on any social media site is setting up your page. Much of this is self-explanatory and LinkedIn will prompt you with clear directions. There are, however, a few best practices to keep in mind.
Setting Up Your Home Page
Like Google+, Facebook, and many other social media sites, your homepage on LinkedIn is an opportunity to grab the attention of those who land on it. If you have a really uncool homepage, you're going to have an equally high bounce rate. However, if you have a homepage with great language and visuals, you have a much higher chance of your visitors sticking around and learning more about what your company has to offer. Note that it's best to use language that is consistent across all existing channels.
Banner
The banner is the next step to making your homepage fabulous. Take advantage of the LinkedIn Banner space to bring some visual appeal. The best banner is one that is both easy on the eyes and contains good branding and messaging. The size of your LinkedIn Company Page banner should be 636 x 220 pixels.

The above banner, as you probably guessed, comes from the Walt Disney LinkedIn page. It's immediately clear the primary purpose of Disney's LinkedIn presence is recruitment. If this is your primary goal on LinkedIn, be sure that your banner paints a picture of a great work environment. It may be difficult to come up with a better catchphrase than "Your story could begin here", but I'm confident you can come up with something equally awesome.
Here are some more ways to optimize your homepage:
List your specialties: This is great for the people that just want to do a really quick scan of what you're all about.
List your contact information: You want to make it as easy as possible for potential leads to contact you.
Post great content: All of your posts are visible on your homepage, which gives you to opportunity to liven up your page with pictures and videos. Post content that you think will interest your ideal customer. This is also a great opportunity to post some of your own content. To avoid coming off as completely self-absorbed, try following the 3:1 rule: one of your own links for every 3 links that aren't your own.
Make the first 156 characters of your description count. Google previews the first 156 characters of your description. Do you know what I'm getting at? That's right, SEO people! Use strong wording and phrases that will attract your target customer.
Careers Tab
As we discussed earlier, one of the most powerful LinkedIn use cases is its networking potential. Unfortunately, using the Careers Tab will cost you, as it is a paid feature. The good news is that it's money well spent and will give you the opportunity to reach a multitude of qualified applicants.
Products and Services Tab
Think of the Product and Services tab as the sales section of your LinkedIn profile. If your goal on LinkedIn is lead generation, then this is a section you don't want to miss. Be sure to use compelling and concise language that clearly describes your product, and take advantage of visual appeal by including images and videos.
It's also good to note that you can link to practically anything from the Product and Services tab. This means you can include your latest blog posts, white papers, webinars, case studies, videos, etc.
Make sure your most important product is listed first. The first listing on your product and service page is the only feature that is listed in the sidebar located on your home page. As you can probably imagine, a large number of people that land on your LinkedIn page won't make it past your home page unless given a reason otherwise. Entice them with your most exciting product by listing it first!
Good Manners Matter
Considering I spent 23/24 years of my life growing up in the Deep South (maybe a bit of a stretch, but Orlando is technically almost as south as it gets), I feel like I've earned the right to preach the importance of good etiquette. As someone who by nature is petrified of being the annoying person, I've never experienced LinkedIn wrath before. However, after reading a few stories of others being blatantly called out on LinkedIn, I know for a fact it exists.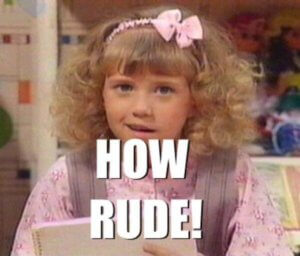 Here are some tips to avoid being shamed and ridiculed. You can thank me later for saving you the embarrassment.
Business cards ≠ excuse to be spammy. Networking events are a great way to expand your network in "real life". Historically (meaning a few years ago), you'd leave an event with a stack of business cards, courtesy of all the lovely people you met. Now, let's be real for a second: the majority of those business cards were later used as bookmarks or a place to jot down notes. With the addition of LinkedIn, you can quickly go home, search for the names on those business cards, and continue to build relationships with those people via LinkedIn. In order to present yourself as the lovely and personable person that you are, send requests with personalized messages. Include a short line of how nice it was to chat about xyz and how you'd like to continue the conversation in the future.
Be personable when reaching out. If there is a person that you'd like to connect with, do not reach out with a cold and impersonal message. You should never come off as a user with an agenda. Be personable and build a strong relationship before you ever ask for something. When I applied for my job at Rival IQ, I reached out to one of the cofounders via LinkedIn. I sent a message including a summary of my background, how I heard about the job, and how I'd love to further the conversation. I feel pretty confident that this approach worked, because my boss messaged me back a day later. Success!!!
Do not be self-absorbed: I'll admit, I'm guilty of this LinkedIn faux pas – but hey, we all have things we can improve on! To avoid appearing self-absorbed and spammy, post interesting content asides from your own. Posting the content of influencers in your space is a great way to give them "kudos" and build relationships.
In summary: be genuine, be friendly, be helpful, and you'll be a great addition to the LinkedIn family.
How To Generate Leads
I mentioned earlier that LinkedIn is particularly good at generating B2B leads. I'm about to share a stat that may just knock you off your seat. LinkedIn's rate of conversion is three times higher than Facebook or Twitter for B2B leads. Taking advantage of LinkedIn for lead generation if you are a B2B company is a must. Here are some ways that can help you turn into a lead gen machine.
Groups
A LinkedIn group is a community forum that focuses on a particular topic. Think Google+ Communities. Make sure you search around to find groups covering topics that line up with your product or service. You can learn about the topics covered in the group by reading the information in the group profile.
If you want to get really sophisticated, click on the little "i" at the top right of a group page and then click "Group statistics". Here you will find information on the demographics of people in the groups, including seniority, function, location, and industry. Doing a little of this research will ensure you are finding a group that matches up with your business goals.
Now that you've found which groups to join, you need to start engaging. Providing answers to questions, sharing interesting articles, and being accessible when someone asks for advice are all ways to gain the title of thought leader. The number one key point to remember is: be consistent. Gaining the respect of your group members will not happen over night. It takes time and dedication. Continuous posting and commenting is the only way for people to remember you.
InMail
Linkedin's free plan limits you to sending messages to members in your network. However, by purchasing the premium plan, you have access to LinkedIn InMail, which allows you to send messages to people outside your network. With a paid plan, you are allowed a certain number of InMails per month, depending on the plan you choose. LinkedIn feels so strongly about their InMails, that they have a "money back guarantee" of sorts; if you don't get a reply in 7 days, you get refunded the InMail credit.
LinkedIn goes as far as saying that InMail is 30% more effective than regular mail! With that said, whether you are contacting the CEO of a company or a director of marketing, InMail can be a great way to start a conversation and potentially gain a new customer. Follow the link to find out how to write a great LinkedIn InMail.
LinkedIn Ads
Unlike Facebook and Twitter, LinkedIn Ads allows you to select a target audience and essentially specify which members view your ads. Whether you customize by job title, job function, industry, age, or LinkedIn Group, LinkedIn Ad's are a great way to increase conversions with little cost. To learn everything there is to know about LinkedIn Ads, I suggest you read this Getting Started Guide to LinkedIn Advertising.
KPIs You Should Be Tracking
If you plan on investing time and resources on LinkedIn, you should 100% be monitoring your progress on this channel. How will you know whether or not your efforts are paying off if you don't keep track? Following your LinkedIn progress in Rival IQ will ensure you're on track to meeting your goals. The following are some metrics that I feel are the most important.
Follower Growth
It's important to measure how many people are following you on LinkedIn. Think about it: the larger your reach, the more potential for traffic that you can drive to your site. It's all about pushing qualified leads into the funnel.
Frequency Of Update
Keep track of how often you post and compare this number to your follower growth. Pay close attention to whether or not a correlation exists between the frequency of your updates and your new follower growth. Experimenting with your posting frequency while keeping new followers in mind, will help you discover the optimal number of times you should be posting per day.
Content Type
Keep track of the type of content you share (pictures, videos, links, interviews, etc) in addition to the topics you post about. Do pictures get more engagement than links? Are team update posts more engaging than product update posts? You should always be asking yourself these questions; it's the first step to developing a LinkedIn strategy that works.
Update Engagement Rate
Your update engagement rate is the average number of interactions (likes and comments on updates), per thousand followers during a set time period. If your goal is to generate leads and fill the top of the funnel, it's essential that you not only have people following your LinkedIn page, but also have them engaging. This boils down to whether or not you are posting content that resonates with your followers.
Awesome LinkedIn Pages To Inspire You
Now that you hopefully understand the basic steps to getting started on LinkedIn, I suggest seeing them put into action by visiting some really great LinkedIn pages. Get inspired, start experimenting, and get active!
Now that you hopefully understand the basic steps to getting started on LinkedIn, I suggest seeing them put into action by visiting some really great LinkedIn pages. Get inspired, start experimenting, and get active!
Adobe: The Showcase Pages experts
Dell: Pros at creating awesome headlines for their content
Kellogg Company: Awesome at incorporating brand culture into their page
Mashable: Get inspired by the content they post
Teach For America: These folks are experts at using LinkedIn as a recruitment tool
Remember, the number one rule to LinkedIn is to be genuine, helpful, and consistent. Success doesn't happen over night, and LinkedIn is no exception.
What are some of your favorite LinkedIn pages that inspire you? Please leave them in the comments below!