Social media is a long haul game.
We all know this. Yet, we can't help but click on the articles that promise to explain just how to grow our following to six-figure counts or how to blow up our site traffic. Just as we know we can't predict content going viral, we dream of the day our brand knocks it out of the park.
But to accomplish that means constantly and consistently creating and sharing high-quality content. KUOW, the Seattle NPR affiliate, sets an example of this. Yes, they are a news station, but we all know that content for the radio is not the same as for social. But it's easy to spot how the digital team at KUOW has put in the effort to build social channels that connect with their audience by leveraging quality content.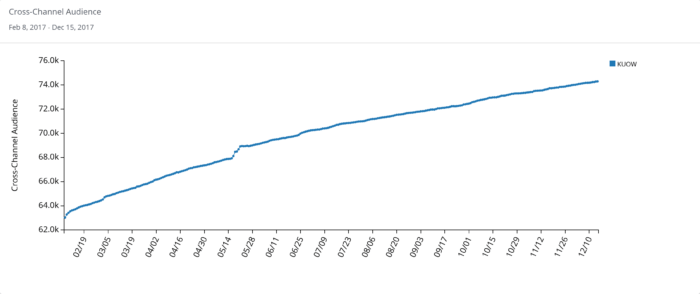 In the last year, KUOW has grown their social audience, reaching 30% more people with their content. As you can see from the time-series chart (above), this growth has been fairly steady over the last year. An occasional post might drive a spike, but the steady growth is driven by the improved social engagement.

KUOW's audience growth was solid in 2017, but what is remarkable is their social engagement growth. While they've had a few breakout stories adding some growth, the primary driver was not a dramatic single success but a consistent output of quality content. In the last year, the KUOW newsroom has focused on Pacific Northwest issues by creating City of Dreams and Region of Boom topics, launching podcasts like Prime(d) and How's Your Day?, and then sharing this high-quality content.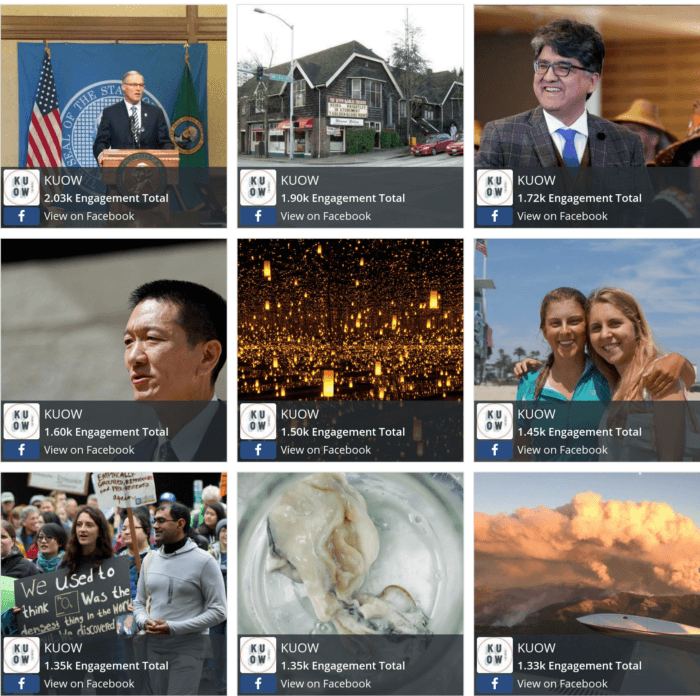 Compelling stories that touch people's hearts will always be the cornerstone of audience engagement, which is why this story of a young teen's death (post below) received such high engagement. Most media companies see less than .013% engagement rate on Twitter, and nonprofits fare a bit better with about .55% engagement rate based on our 2018 Industry Benchmark study.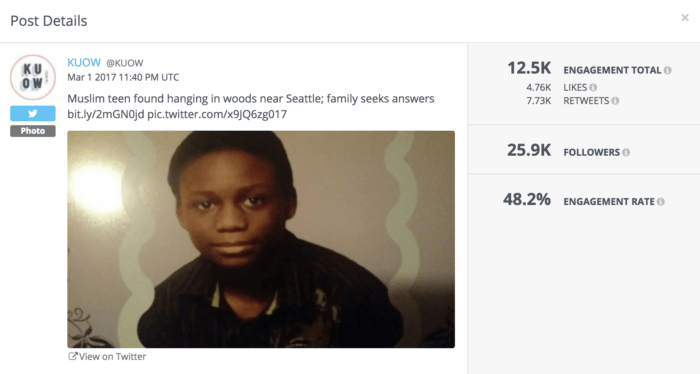 While the engagement rate on that post is impressive, what's more impressive is the consistent engagement from KUOW social audiences. Locally focused topics, like this post of a local theater shuttering (below), garnered attention and engagement. In this example, over a quarter of the engagement came from shares, which further extended its reach. This article moved beyond the public sphere to reach countless people, and it was done without flash – no custom images or videos.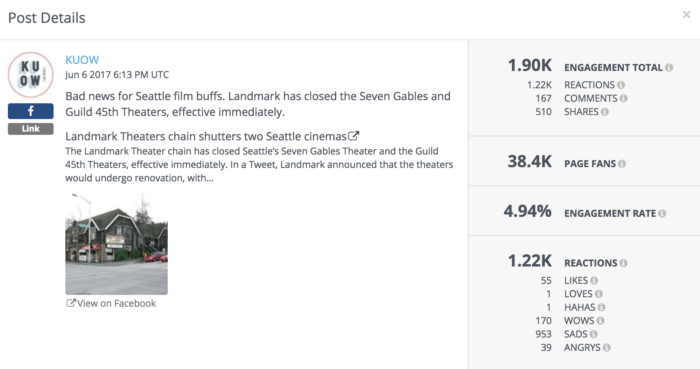 Using the new Rival IQ Discover tool, I took a look at who is sharing KUOW content via Twitter. What I've witnessed over the last few weeks is interesting. Most companies see a series of peaks and valleys when it comes to content sharing. The typical scenario is for content to be shared by an influencer, which is then picked up and shared by their followers. The counts of content spike and then fall until a new piece of content is shared by another influencer. KUOW instead seeks a constant sharing count. The number of tweets linking to their content is constant. This is most atypical and of course, interesting.  
KUOW's content reaches such a diverse audience each week, with new 'influencers' (Tweeps with large audiences) share a piece of content, many without mentioning, tagging or using any KUOW related tag. The content, both topic and approach, resonate with the audience and receive attention and engagement.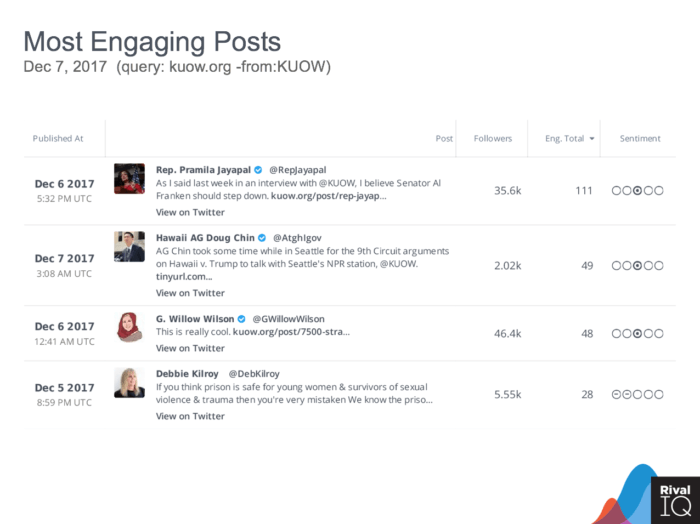 As you can see from the chart below, on this particular day in December links to the KUOW site were being shared regularly. The insight we get from this is clear that these are followers with smaller audiences with the median follower count of 1,240. And there are only 1.39 tweets per user, which means these 215 tweets are primarily from individuals, which means KUOW's content is reaching thousands of people through these shares. On top of that, we can see their engagement rate is .048%, which, as I mentioned earlier, is close to what nonprofits benchmark their engagement rate at. Compelling content gets shared and doesn't need to always be driven by large influencers. The consistency seen in this chart makes it a strong strategy. This is what leads to the growth in followers, but also engagement.

For many non-profits and brands, getting seen on social can feel like an uphill battle that's not winnable. Maybe it's time we redefine what it means to win at social. Growing and engaging your audience are sure signs that you're doing something right, and KUOW provides great examples of how to approach and engage your audience.
Despite what you've been told, flashy images and videos aren't what drive steady engagement and growth. Your audience must trust the quality of your content and come to rely on you to give it to them consistently. KUOW's social posts don't use hashtag hijacking, clickbait headlines, or provocative images – they've relied on telling stories that resonate. This success isn't only because of the quality content but also from understanding your audience and acting on it.