The news business is more fragmented than ever before, and organizations are struggling to lift website traffic, acquire new subscribers and grow revenue.
While social media is responsible for much of that fragmentation, it's also a useful platform for building a dynamic and engaged community.
We wanted to find out which publishers are killing it when it comes to social – Who's growing their audience? Which organizations see the most consistent engagement? What sort of content are they posting? How can other publishers use this data to help them build smarter social media strategies?
We used Rival IQ to analyze 662,000 social media posts across Facebook, Twitter and Instagram from the top 50 legitimate news organizations in the United States across the 90 day period commencing February 1, 2017. What we found may surprise you.
Key Takeaways
1. The news outlets with the most followers performed the worst when scored on engagement
The top three news organizations with the biggest audiences, BBC, CNN and the New York Times, didn't even make it into the top 20 when it comes to engagement. Incongruency between audiences and engagement rates is a trend we see across most industries we study, but it's even more pronounced in the news business.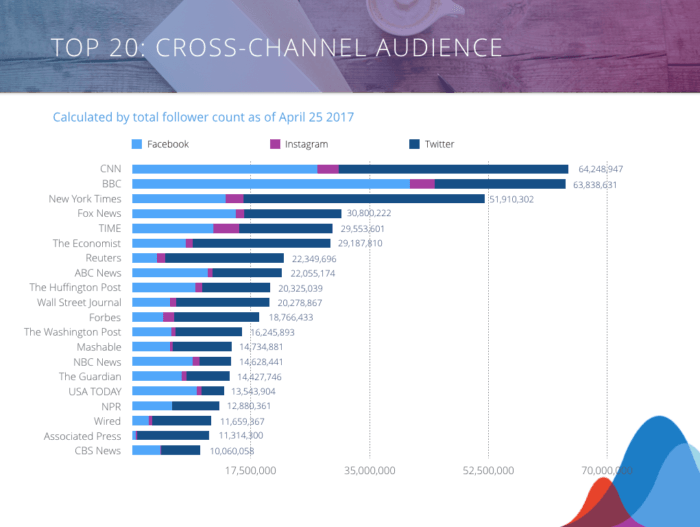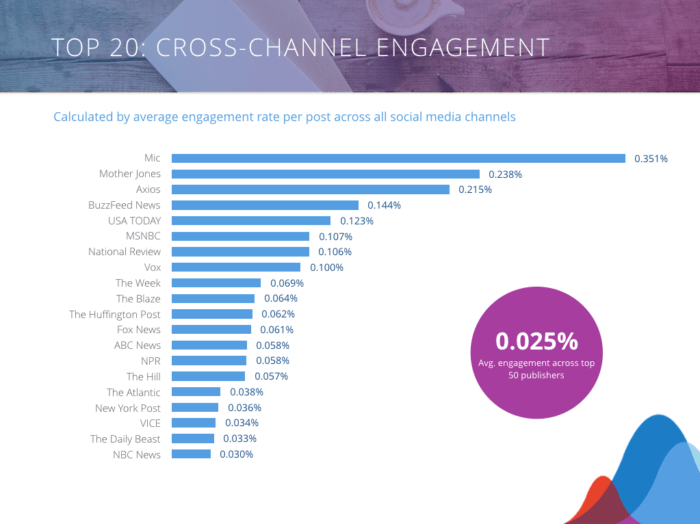 2. Smaller, newer organizations like Mic and Axios are winning the engagement game
Founded in 2011, Mic has quickly grown its following and is leading the pack on engagement rates. Axios, founded in 2016, is nipping at Mic's heels in third place. It's no surprise that younger, most Millennial and Gen Z-focused organizations are finding unique ways to engage with their followers – and win new ones.
Both Mic and Axios tend to use more videos and photos in their posts, as well as occasionally boosting their Facebook posts to help them broaden their reach and acquire fans (and subscribers).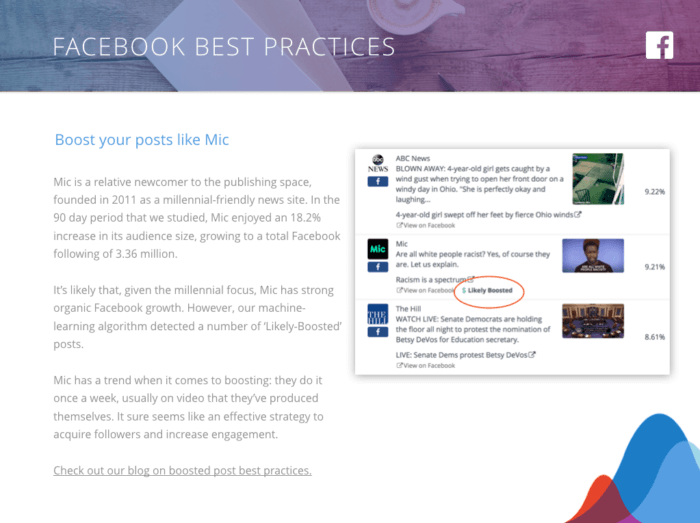 3. Instagram is where the engagement is – but not where the media is
Instagram's average engagement rate across the top 50 news outlets was 9x the Facebook rate, and 16x the Twitter rate (Instagram 0.66%, Facebook 0.07%, Twitter 0.04%). However, the organizations we studied tended to focus the majority of their activity on Twitter (67% of posts) and Facebook (43% of posts).
There's a huge opportunity for media companies to create engaged Instagram communities that, in turn, build loyalty to the brand.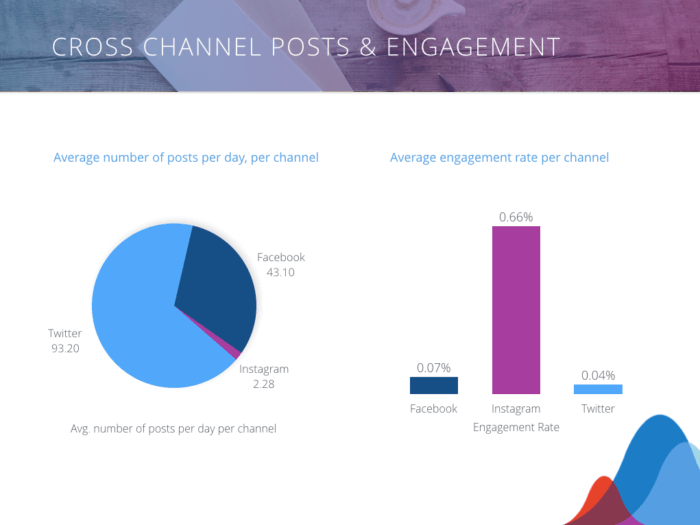 Your Free Report:
The full report includes 38 pages of in-depth analysis, best practice recommendations and a complete ranking of the top 50 companies we studied. Download it today for free.