We're thrilled to announce new features to help you take charge of your private social data in Rival IQ!
From private profile dashboards to in-depth private post analysis to private Post Tagging (including LinkedIn!), we've got everything you need to go deep in analyzing your brand's posts on Facebook, Instagram, Twitter, and LinkedIn.
Here are some the features we think you'll be most excited about:
Your brand's social media impact is easier than ever to understand with new Profile Dashboards for Facebook, Instagram, Twitter, and LinkedIn.
Use in-depth private post analysis to see exactly what's working on social with improved search, hashtag and Popular Topics filtering, and more.
Use private Post Tagging to analyze reach, impressions, video views, and more private social metrics to monitor what matters most.
We're rolling out every kind of engagement rate, more customizable columns in your favorite panels, and an easy-to-search metrics finder so you can measure what's important to you.
Read on for the full list of brand-new functionality in Rival IQ to help you master your private social analytics! 🥳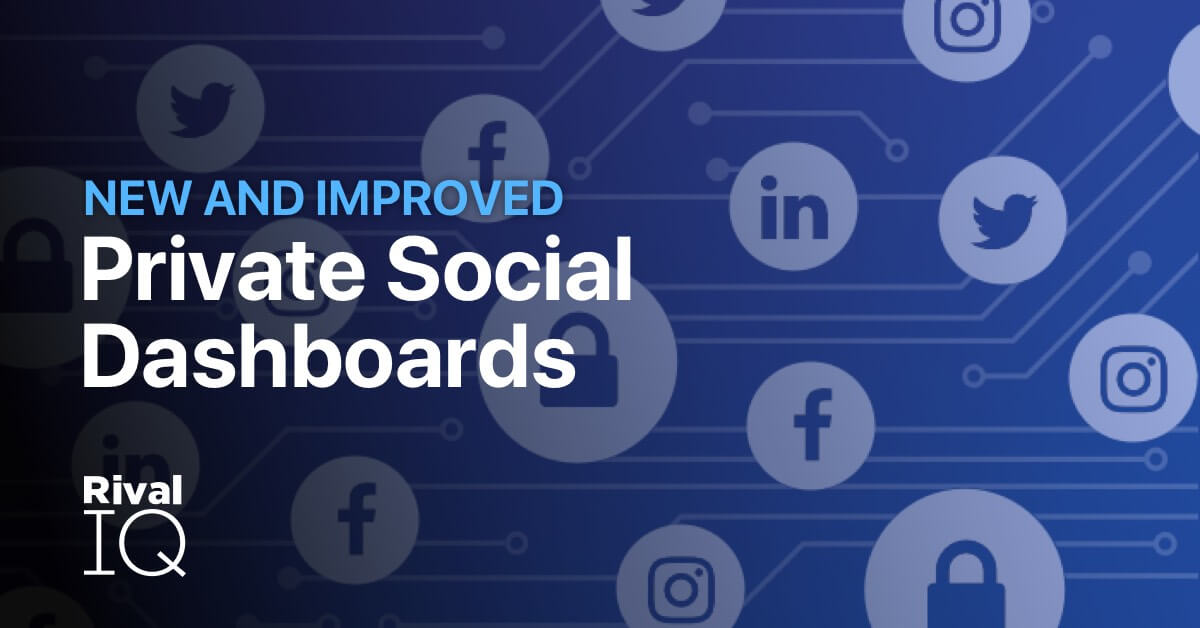 Watch Product Manager Tiffany Lin break down these features
See the video
Understand your impact with new profile dashboards
We expanded and reorganized profile dashboards for Facebook, Instagram, Twitter, and LinkedIn to give you total access to your profile metrics.
For every channel, we've separated profile and post metrics to make it easier than ever to see how you're doing on social. Never miss a follow, CTA click, or critical demographic information with new private profile tabs.
Profile-level engagement metrics
We've loaded up your Page/Profile tab with new views and breakdowns for insight into who's engaging with your profile and how.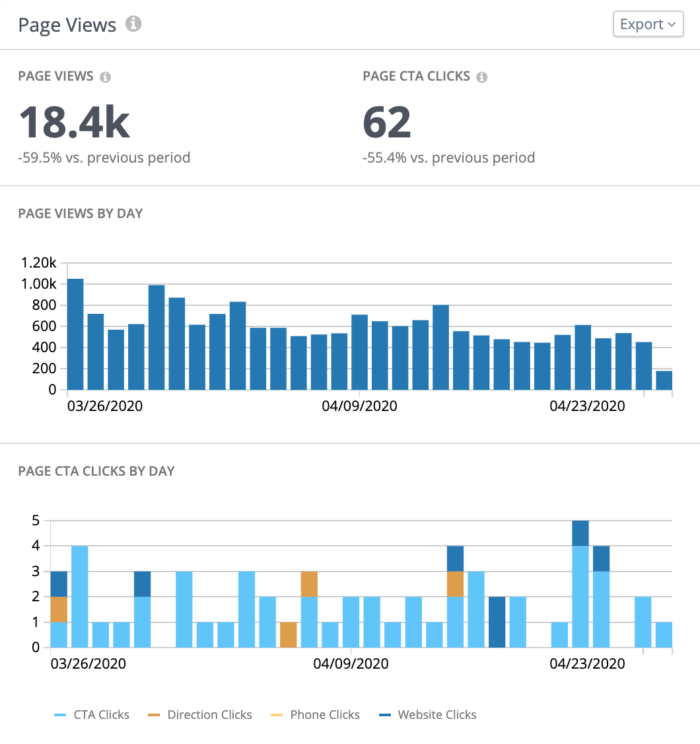 This new panel breaks down your Page Views and Page CTA clicks by day. Identify exactly which days are resulting in lots of Page Views to see how seasonality, ad campaigns, or dynamic content affect your traffic on social.
We break down your Page CTA clicks by type so you can see if you're seeing more fans looking for your website or directions than usual. Seeing a day with tons of views and CTA clicks? Be sure to click back into Social Posts to see what's driving so much traffic to your Facebook Page.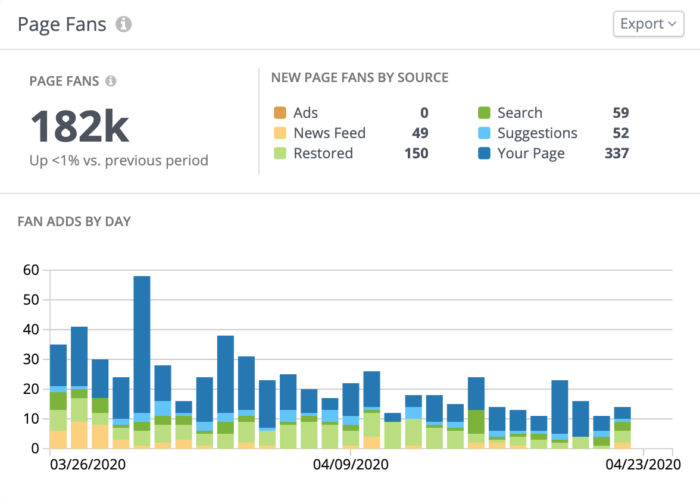 See how your new Page Fans are finding you day by day for even more insight into whether or not your ads and organic content are working for you.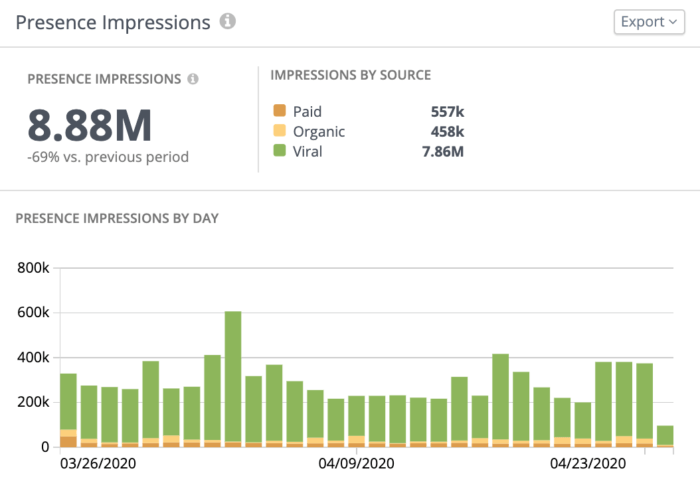 Check out the summary and daily breakdown of your Page's impressions. See if your paid content is resulting in more or fewer impressions than your organic posts to make sure you're getting your money's worth.
Location and demographics
Get to know your fans and followers with advanced demographics for your handles.
Break down your fan and follower locations by country and city to see how far your content is reaching on Facebook, Instagram, and LinkedIn.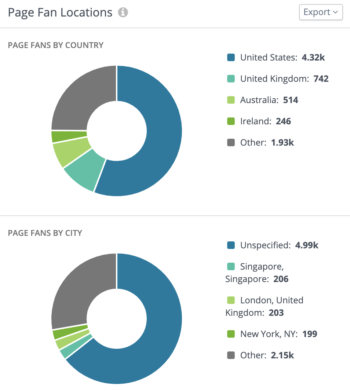 Spotting a bunch of new fans or followers in a city or country you didn't expect? Try investing in content or ad campaigns that target that geo for even more impact.
You can now analyze your followers' industries and job functions for more insight into the verticals and roles that are engaging most with your content.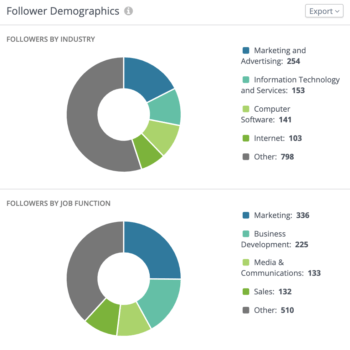 Fan/follower locations, gender, job functions, and industries are available throughout your private data in Rival IQ.
See what's working with better post analysis
Introducing powerful new analysis features for your private social data including analysis of popular topics, hashtags, and post times—all using your connected data like impressions, clicks, views, and more.
Filter posts, tweets, and updates by type
Fans of Social Posts in public data will be stoked to learn that you can now search all of your private posts by hashtag, keyword, or post type for even more insight into what's working. Search or filter just about anything and we'll make sure all of your private metrics reflect your query.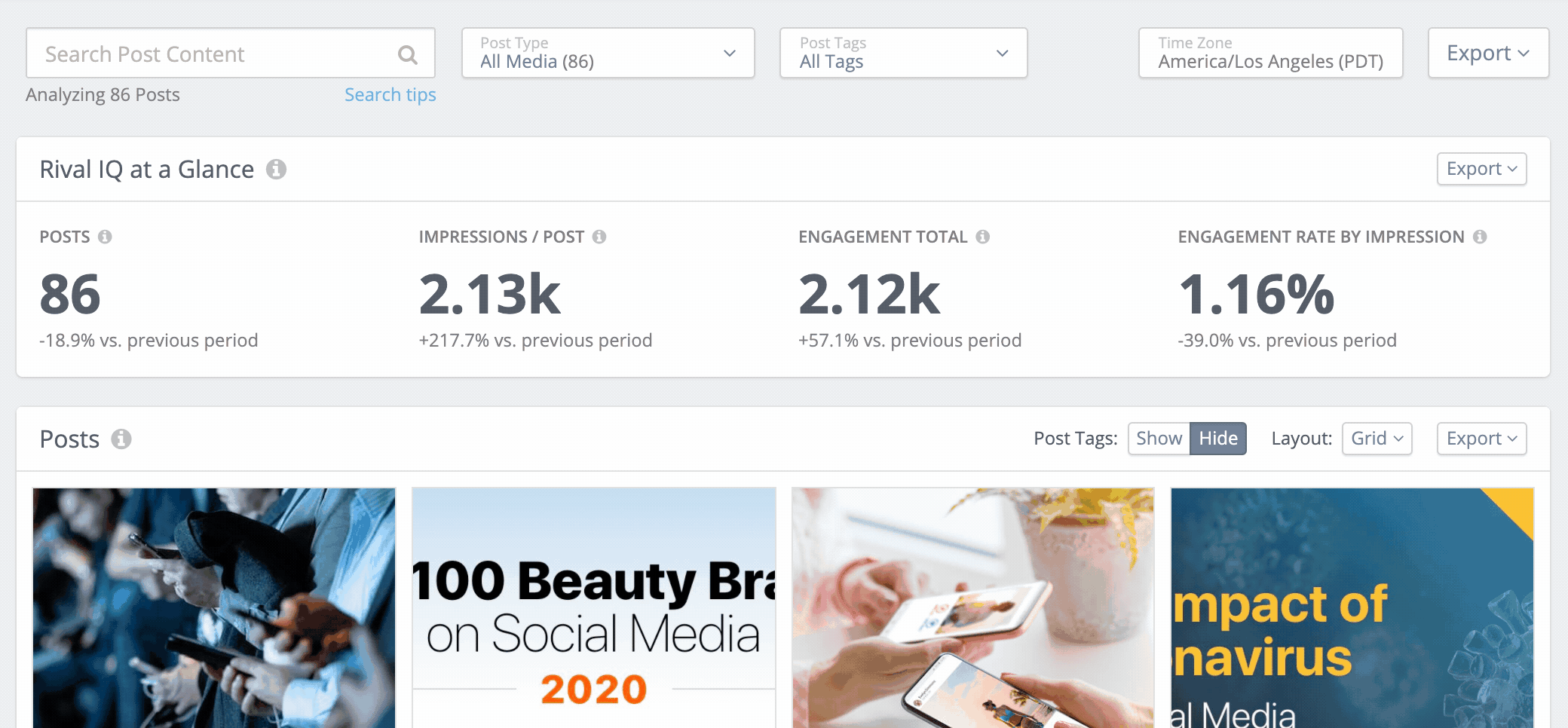 Use the new post type filter to select a specific post type, like a photo, and we'll instantly update all your stats to reflect your photo performance. Now you can see post counts, impressions, engagement totals, your best photos by type, and tons more of your favorite private metrics without lifting a finger.
Find engaging phrases with Popular Topics
Let the robots do the hard work for you🤖! Our natural language processing (NLP) pulls out common words and phrases from your private posts to help you see what's grabbing the most engagement.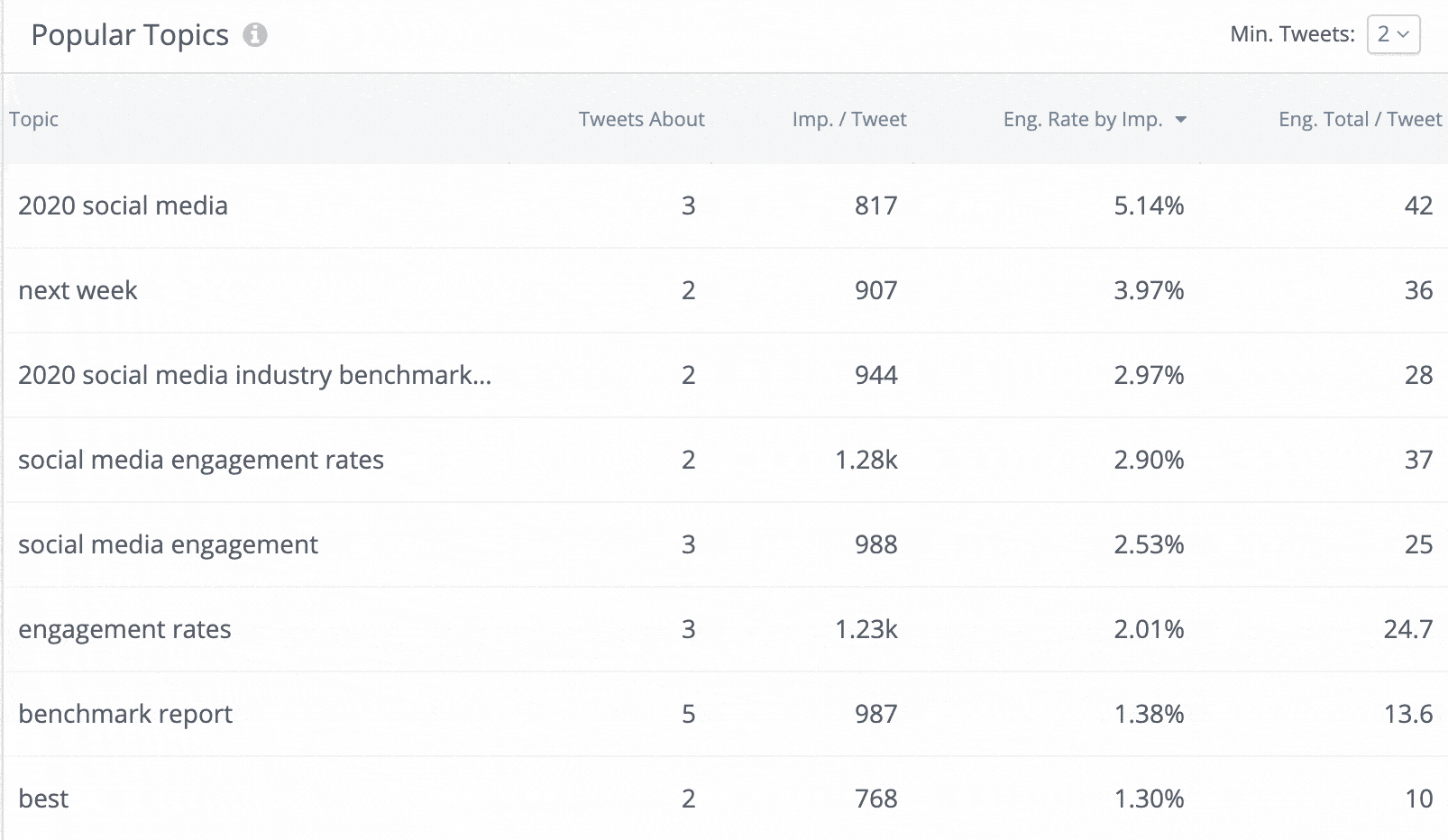 Easily toggle between words and phrases with high engagement totals, high impressions, high engagement rate by impression and more to see what's doing best for you on social. Popular Topics is available throughout Facebook Insights, Instagram Insights, Twitter Analytics, and LinkedIn Analytics.
Analyze private metrics with Post Tags
Post Tagging helps you analyze exactly what matters most to you, so we're thrilled to roll it out for private posts–and LinkedIn! We hope this update will help you see exactly what's happening in your posts by analyzing your reach, impressions, video views, and other private metrics using Post Tags.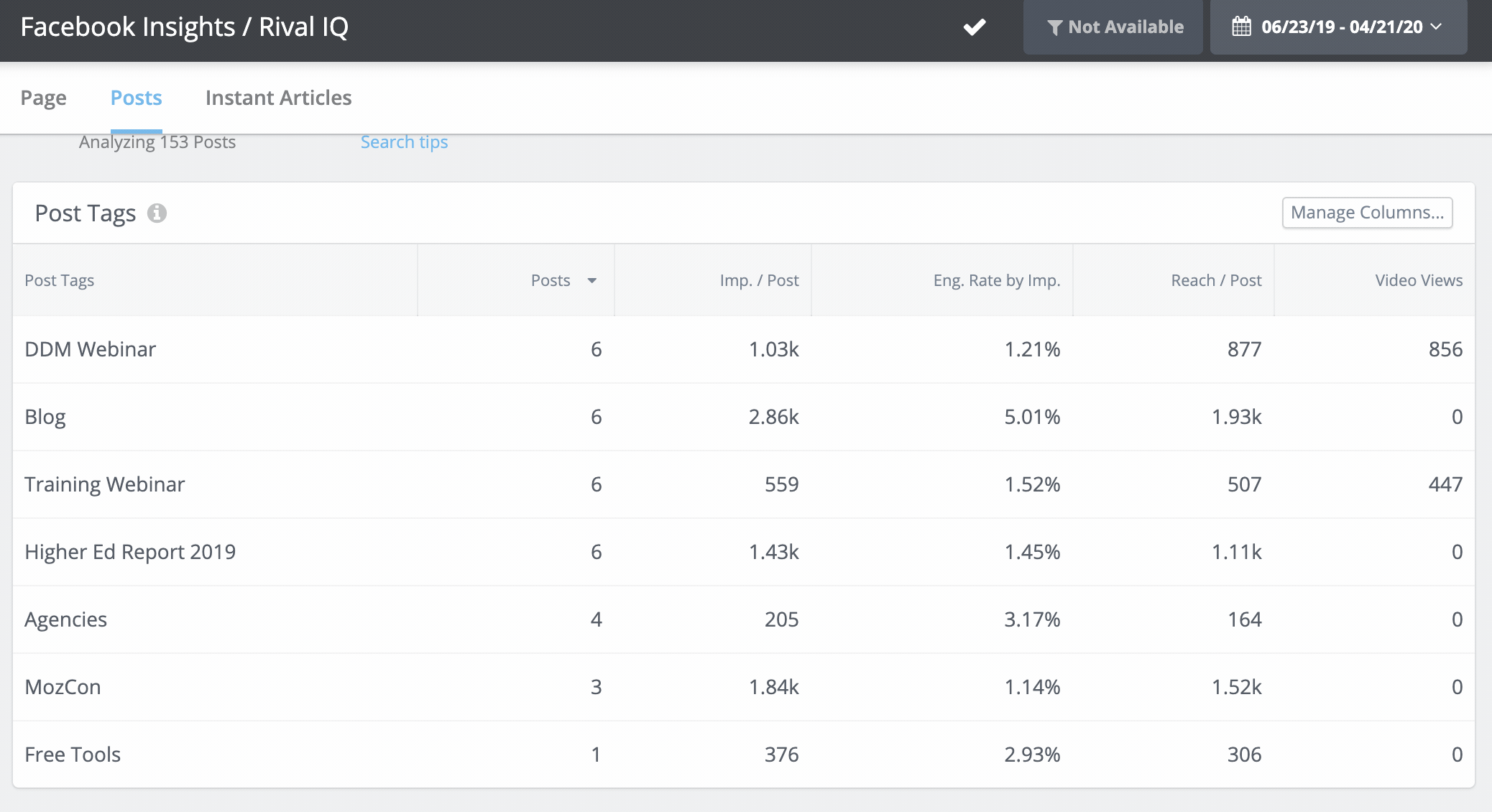 If you've been using Post Tagging for your public posts, we'll bring over all your currently tagged posts and future posts using Auto-Tag Rules. Choose from our dropdown of more than 130 private post metrics to go beyond engagement totals to measure your impressions, reach, and more.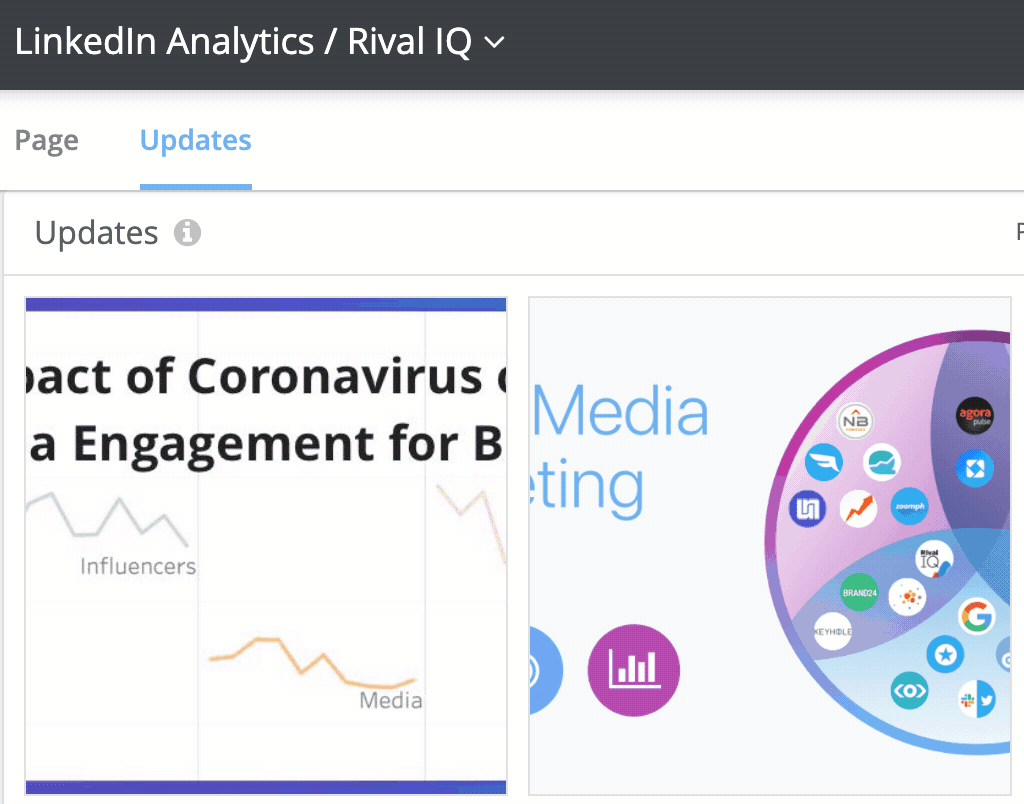 Welcome to the Post Tags family, LinkedIn! You can now add tags to any of your LinkedIn updates and analyze using all the in-depth metrics available for Facebook Insights, Instagram Insights, and Twitter Analytics. Just click the "+🏷" button for any post on any channel to choose from an existing tag or create a new one.
Next-level metric customization options
We know many of you work hard to customize your social media metrics in Rival IQ, so we're rolling out tons of new tweaks to help you take more control over your data, like every kind of engagement rate, more customizable columns in your favorite panels, and an easy-to-search metrics finder.
We now display engagement rate by impression, follower, and reach so you know exactly how your content is resonating with your fans.

For the same post, the engagement rate by Page Fan is just 0.31%, the engagement rate by reach is a whopping 6.45%, and the engagement rate by impression is 4.76%. The details of your analysis really matter, and now you have more control than ever over how you're analyzing.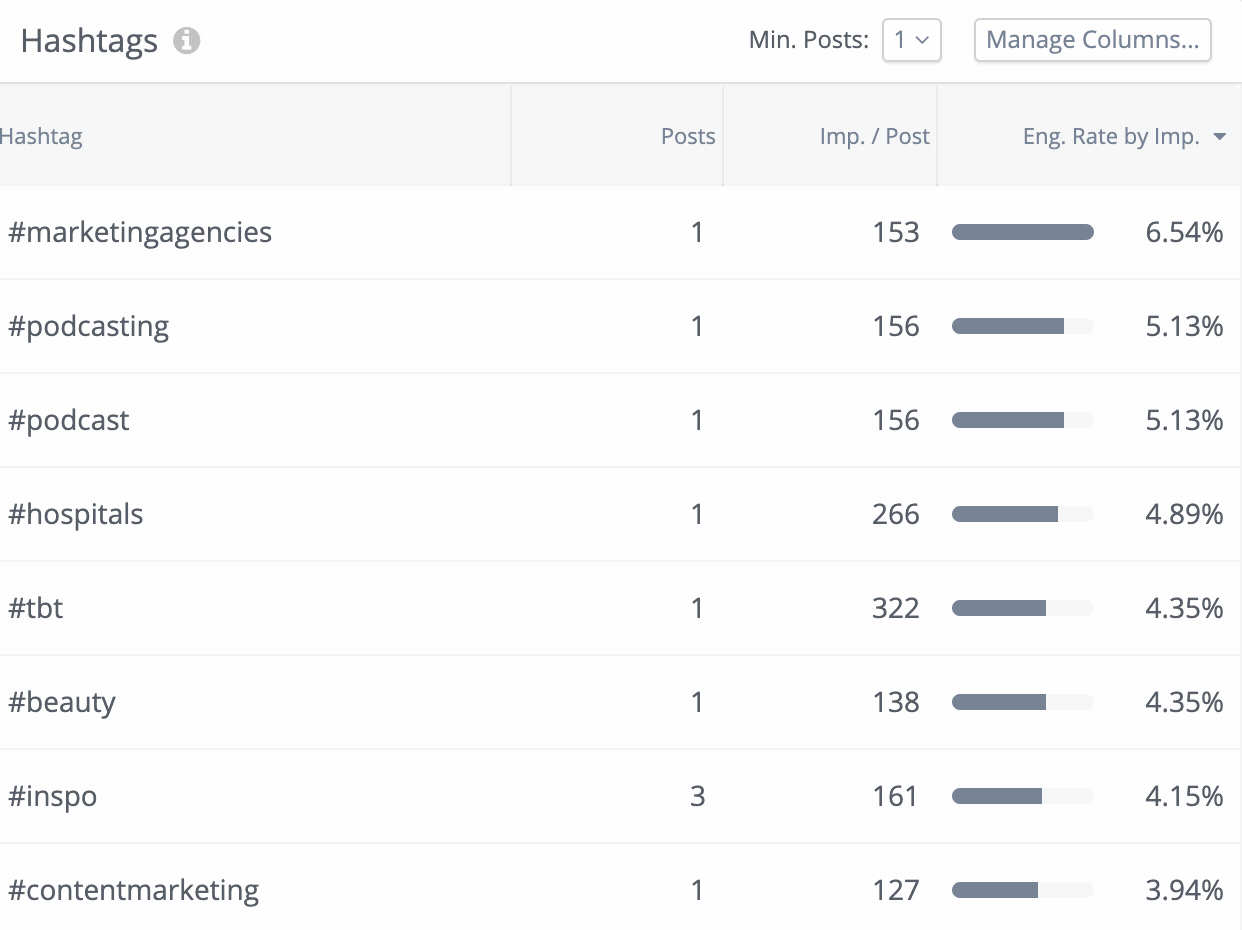 Can you spot the "min. Tweets" dropdown at the top right corner of the above panel? You can now set a minimum number of tweets, updates, or posts to make sure that the Popular Topics or hashtags you're reviewing in private data are of the highest relevance to your brand.
Even more good news: customize your columns in just about any table throughout the app–no need to be constrained by our defaults! And don't forget to use our easy-as-pie metrics search dropdown when customizing tables or custom dashboards to find exactly the metric you're looking for.
How to access new private social data in Rival IQ
Private social data is now available in all customer and trial accounts in Rival IQ. Just access any channel in "Your Private Data" to get your hands on all the latest metrics.
Remember that private data is available only to those with admin or analyst access for Facebook, Instagram, Twitter, or LinkedIn and isn't available competitively, so get ready to dive deep on your brand's performance. And a quick reminder that you can analyze multiple handles of private data simultaneously with admin or analyst access.
Wrapping it up
Hungry for even more ways to master private social data in Rival IQ? We've got a webinar for that: New Private Social Dashboards For Advanced Reporting.
If you're ready for even more detail about this feature launch, get reading our help article.
If you're not already a Rival IQ customer, go grab a free trial and check all of this out!