One area that many businesses struggle with in online marketing is coming up with a social media strategy. From creating social profiles to a content strategy, formulating a plan can be daunting. And, you know you want to use data to drive your plan, but getting everything pulled together is hard work.
Fortunately, your business doesn't have to reinvent the wheel. Chances are, you can gain a good understanding simply by reviewing your competitor's social content strategy. In this post, we're going to look at how you can scope out your competitors and apply their best tactics to your social media strategy.
Step 1: Identify Your Competitors' Social Media Strategy
Your first step in creating a competitive social media strategy is selecting your competitors. You will want to find businesses similar to yours, but not limit your analysis to competitors of a specific size. For example, you may have a small local marketing agency, but you will want to include other small local agencies along with larger ones that offer similar services in your competitive analysis. Marketing agencies, large and small, are often going after similar or the same audiences.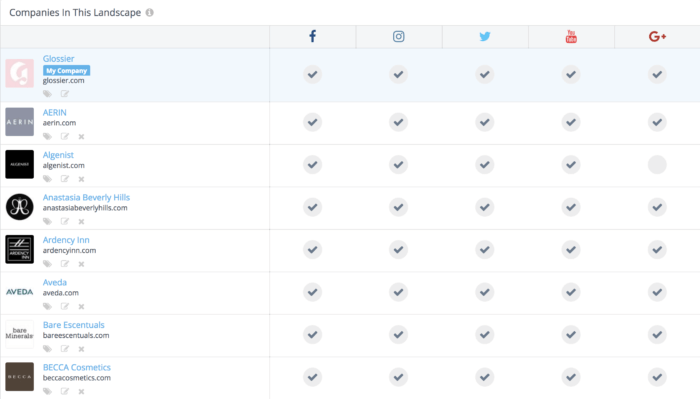 If you have a Rival IQ account, you can add your competitors to your landscape. Creating a competitive landscape will help you with your initial research and future monitoring. If you don't have one, you can sign up for a free trial today–no credit card required.
Step 2: Review Competitor Profiles
A great social media campaign starts with solid social profiles and pages. Here are some things you will want to analyze to see how your competitors have set up their social presence.
What wording do your competitors use in their social bios?
Since you usually have less than 200 characters to describe your business to a first-time page visitor, you will want it to be succinct and capture the value you bring to the market. See what your competitors have to say about their business, particularly noting keywords they include. And regardless of what your competitors do, be sure to squeeze your URL into your description to increase the traffic potential from those networks. This tactic is especially on Twitter and Instagram, as you will only see the URL in your profile in some areas of the site like search results.
Rival IQ collects all this data in one place: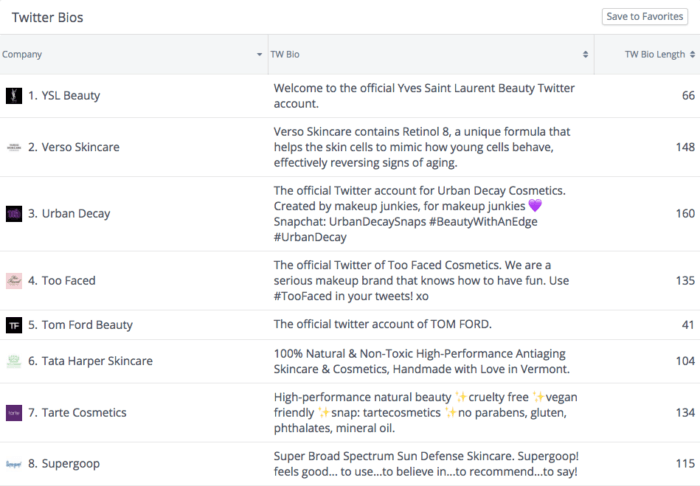 What images do your competitors use?
Imagery tells the story of your brand. While photos have always been a key component of social media, every social network provides a way to share native video with your audience.
All of the imagery you share goes a long way toward branding your social media presence. See how your competitors use images and find a creative way to brand your own profiles. In Rival IQ, you can see all of your competitor's photo and video posts in one grid view. On the grid view, you can filter social media posts by content type (photo, video, etc.), by a competitor (to spot branding patterns, campaigns, etc.), or by metrics like engagement rate and engagement total. Using the right images and video content is a crucial part of your social media strategy.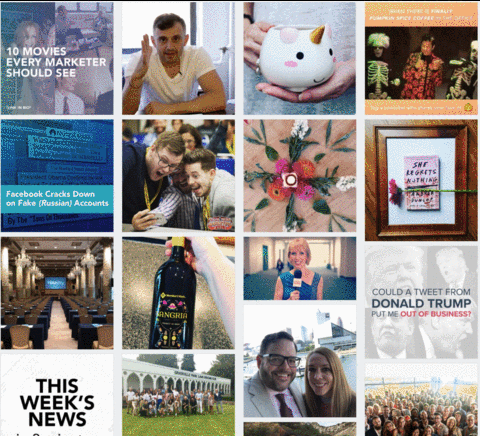 Step 3: Analyze Your Competitors' Content and Social Media Strategy
Once you have a great profile, you will need to create content for your social media updates. Here are some things to note about your competitors' social media strategy.
Do your competitors share their own content and/or content from other industry news sites and blogs?
Businesses use social media in a variety of ways. Some use social media as a way to share the latest industry news and updates with their audience by posting links to content on a regular basis. The content may be a mixture of their own and off-site articles. If your competitors are sharing a mixture, see which updates are receiving the most engagement (replies, likes, shares, etc.) to decide on what approach will be best for your business.
This screenshot shows how Rival IQ's software pulls in all the top-performing posts amongst competitors: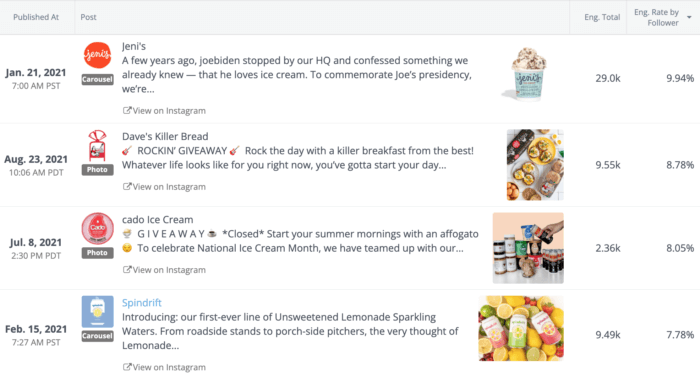 Do your competitors use images, video, or other media in their updates?
Videos bring in the most engagement on Facebook, and other social networks enable the sharing of native video to keep your audience engaged and growing.  See how competitors' media type enriched updates performance to determine whether your target audience would be interested.

How often (and when) do your competitors post updates? When do they get engagement?
A key component of social media content is timing. If your business is going after a local audience, you should post updates when that audience is likely to be online. If your business is going after a worldwide audience, then you will need to do some experimentation on when your updates receive the most traction. You can refer to the Science of Social Timing Infographic created by KISSmetrics and Dan Zarrella that shows the most popular time zones for targeting social media updates. Better yet, you can also use Rival IQ to see how many updates your competitors are posting within a specific timeframe.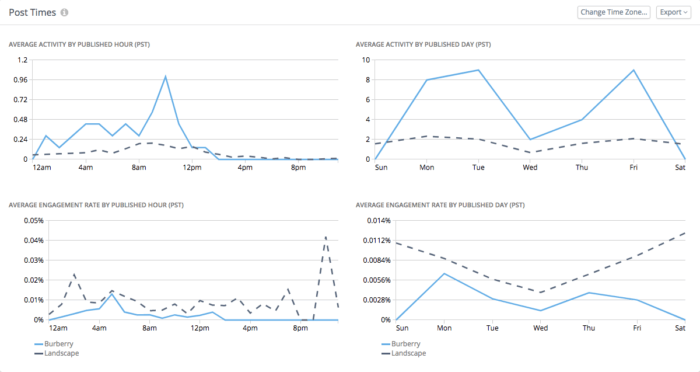 How often do your competitors engage with others?
Social media is not a one-way broadcasting system. You will probably be able to see the difference in overall engagement between your competitors that are responding to their followers and fans vs. the ones that are not. Regardless of what your competitors are doing, you should always make it a point to engage with your social media audience by responding to mentions and direct messages on Twitter, replying to comments on your Facebook wall and Instagram feed, and replying to comments on posts within LinkedIn groups.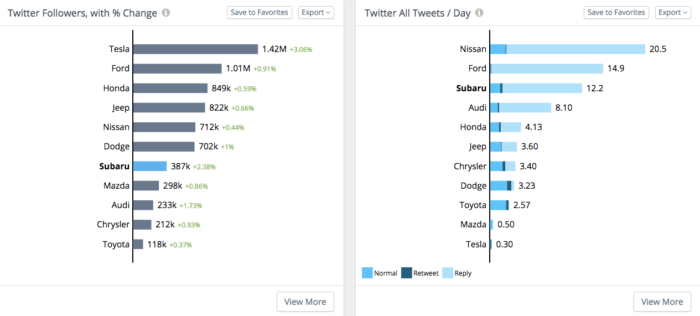 Step 4: Monitor Your Competitors' Changes
While you will derive a lot of valuable information in your initial competitor research, you will want to make sure you are monitoring them on a regular basis to see if they are changing their strategies. Rival IQ can help you quickly see when a competitor's approach to social media and their results are changing at a glance on the major social networks.
You can also find out when your competitors change specific things within their social media profiles such as their profile photos and bios.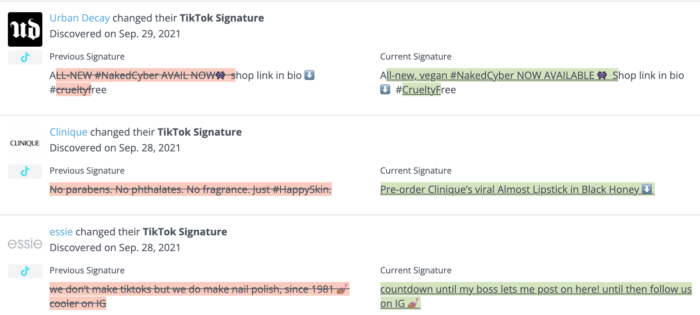 Now that you have a few ideas of how to use competitive data in building your social media strategy, put them to work!
Start researching your competitors now.
This article was originally published in 2016 and has since been updated.