In my last post, I provided a fun quiz for you to figure out your Social IQ. How did you do?
Now, I want to provide some tips – really, fundamental principles – to help you increase your Social IQ, so you can move toward the level of influence and social media engagement that you want.
First, don't be lulled into sleepy observance of pedantic "listicle" conventions for how to build your social influence, as in, just add followers or post every day. Way too many people focus purely on activity or just trying to build up as many followers as they can, without really thinking about community, engagement or true influence. These are all important for a strong Social IQ.
Here are five principles for increasing Social IQ
Principle #1: Social influencers apply street smarts to "social space smarts"
People with street smarts use common sense and know how to "speak the language" of a person they are talking to. They adjust expertly to different situations. The same is true with social media. You need to apply those street smarts to your social interactions.
For example, let's say you are a plumber, and Facebook is currently your top social media source.  However, Facebook would NOT probably be the best place to post an involved article on traps, drains and the best sealants (you're probably yawning just reading those words).
What would work is a simple "How to" Video on YouTube – the right message and the right medium. And you could then do a fun post on Facebook linking to the YouTube video – and now you're thinking street smart and cross channel. Boom!
Principle #2: Social influencers uncover insights that solve a problem
Insight relays authentic authority. It naturally drives a conversation, creates authority about the subject matter and provides excellent value for your audience. Share content on topics you have knowledge about and some level or authority, and then take the time to uncover key insights you can share. These don't have to be super difficult or earth shattering, but they should add value to your community.
For example, going back to our plumber analogy, you could be posting helpful insights on how to handle your plumbing during a very cold winter.
Principle #3: Social influencers maintain a consistent "voice" and topic
You'd probably wonder if someone hacked Oprah's Twitter account if you read a tweet that was a tirade about her horrible life. It wouldn't align with her many years of sharing her positive messages on self development. Oprah is consistent with her key themes and what she knows her community wants to hear from her.
Your content should align with your voice, your key messages and your audience.  A relevant network will develop naturally as a result. Although to increase social influence, working at building a relevant network is equally important.
If you don't know your voice, then take time first to establish it. Is your message humorous, helpful, insightful, passionate or technical? Whatever it is, it should reflect what is important to you, and then, naturally, your audience.
Principle #4: Social influencers call you to action
Influencers bring oxygen into a conversation and help expand your understanding on a topic. As a result, you not only want to read it, but you're inspired to reply to it, share it or at least tag or bookmark it as a resource. Great content compels you to action.
Sometimes action is the goal of the content, such as with a Twitter chat, where great influencers compel a group of strangers to come together and have a conversation about a certain topic. Typically, these are only successful if the host or guest has credibility with the community they are tweeting, and if the topic is relevant (see #3).
Principle #5: Social influencers create and maintain a clear and dynamic strategy
If you attack your social media without a strategy, the results will be as haphazard. Social influence and increasing your Social IQ takes time, energy, strategy and hard work.
You need to actively build a relevant network, targeting and engaging with influencers who will share your content virally. You need to be willing to test, adjust, improve and discard what engages and what doesn't engage with your audience.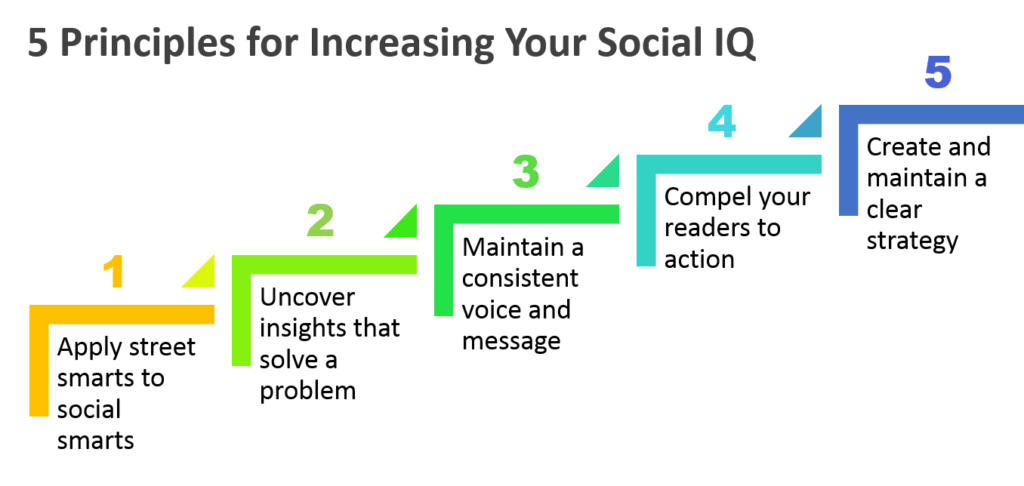 Take these steps to a higher Social IQ
Building a high Social IQ, like our intellectual IQ, takes a bit of leveraging who you naturally are and a whole lot of hard work and continuous learning. So, what are you doing to increase your Social IQ?