I give a lot of Rival IQ demos to prospective customers.
As part of this process, I show off our "Landscape Overview", which includes the relative balance of fans across six top social networks. One thing that always surprises me, and most of our potential customers, is the significant number of brands with an active Google+ company page.
For example, check out this report for major car companies. Tons of red, right? The largest social audience after Facebook is Google+. Not Twitter, not Instagram, not YouTube, but Google+.
Clearly, optimizing a Google company page is a critical part of these companies" digital strategy, but why? I didnt get it, and all I heard from marketers was how they disliked Google+. So, I started digging around to discover the answer.
6 Reasons to Maintain a Google+ Company Page
Reason #1: There is a Big, Growing and Engaged Audience on Google
In an article by Ishita Ganguly on Social Media Examiner (love those folks), I found some very interesting stats about the growing user base on Google :
Google has 540 million monthly active users and 20 million unique mobile monthly users.
Engagement on a Facebook post per user is .073% while it's .069% on a Google plus post.
Google mobile app user growth from December 13 to May 14 was 14%.
Reason #2: Show Up in Organic Search Results
There are direct benefits to using Google+, especially if you care about organic search traffic, and who doesn't? As SEO expert Josh Patrice wrote in his post on 3 Reasons to Use Google+, Google loves Google, so high-quality Google post content can show up in organic search results. And, when people click on this content, Google will notice and your value will keep increasing. This increased organic search value is nearly impossible to get with other social networks, like Twitter or Facebook.
Here is an example from Ishita's post:

Content Marketing Tip: Create content that is tailored to your audience and optimized for certain keywords or terms. This should be part of your content marketing and SEO strategy anyway. Showing up inline with other search results is just an added benefit.
Reason #3: Reserve Valuable Screen Space
Once you have a Google company page, if anyone with a Google account "Googles" your company"s name, an overview of your page will appear to the right of their search results. This prime spot of search page real estate gives you the opportunity to convey your brand message with compelling visuals and content.
Take a look at the example below. Note that the logo links directly to Starbucks" Google company page and recent Google posts are highlighted. This is valuable because it builds awareness of both your content and page, increasing the chances of gaining new followers and users discovering new content. It"s the wonderful "circle" of Google life!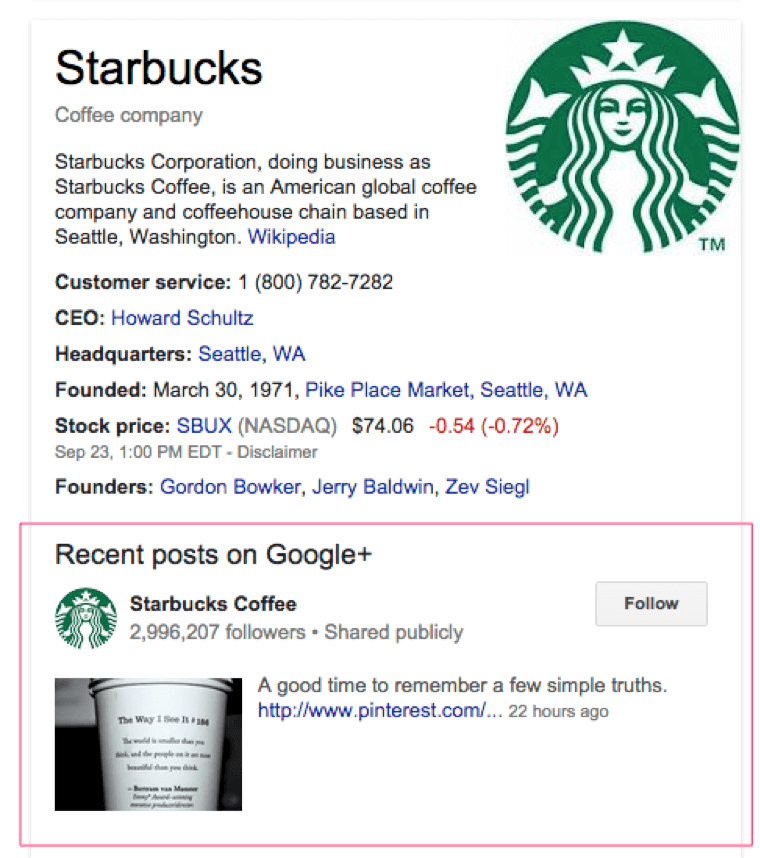 Reason #4: Social Proof
As you move from organic results to paid search, Google will display the number of " 1″s" next to your paid ad.  Adding "social proof" is purported to increase click-through-rates. Is social proof actually valuable? Well, according to H&M, it acquired a 22% increase online casino in CTR due to social proof. Fortunately, having your social shares appear next to paid ads is fairly simple — just follow this guide by Google.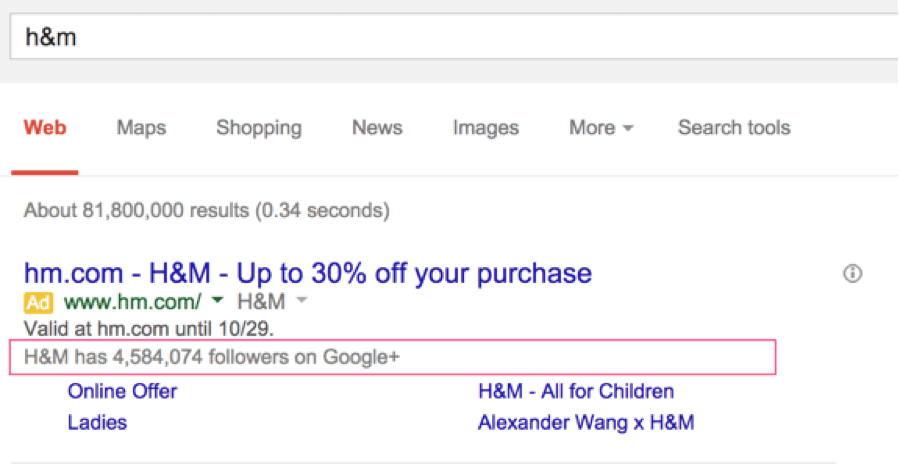 Reason #5: Google Treats Google Profiles Like Web Sites
Another factor in showing up well in organic search is page or domain authority.  This comes when other people link to your web site.  The more inbound links from high value people or pages, the higher your rank, influencing your domain authority. As stated in this post by Mark Traphagen on Maximize Social Business, "Google treats a Google company page and profile just like "regular" web sites when it comes to search. That only really hits home when you understand that Google profiles and pages have PageRank."
Granted, a domain may have several ways of gaining external links, not just to Google+, but there is a clear direct correlation between engagement on Google posts and number of external links. Take a look at this custom Rival IQ chart for the Auto industry. Here, you can see a direct correlation between the number of Moz Links (sum of internal and external links) and Moz Domain Authority.  Thanks to our friends at Moz for access to lots of cool and valuable SEO related data!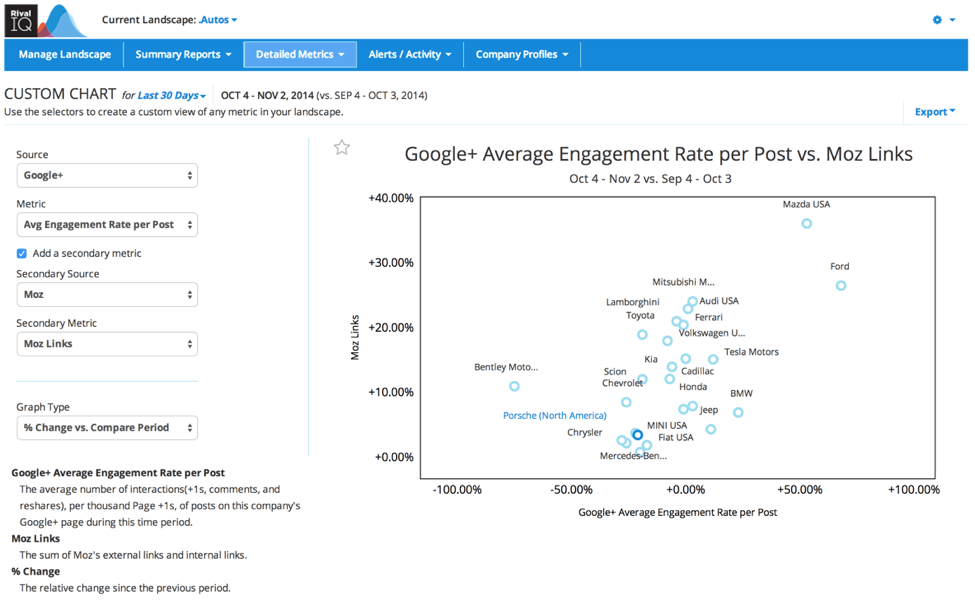 So how does it all relate? Let me break it down for you: An increase in inbound links is directly correlated to better domain authority, which leads to higher placement in search results. Higher search result placement means more people will see your content, bringing in more organic traffic.
Google Continues to Spark Curiosity and Deliver Results
There may be even more benefits of a strong Google company page that involve influencers, communities and sharing of key content, so I am going to keep digging around on this topic.  And, it is highly likely that Google will continue to favor companies that invest time in creating good content and/or strong communities on Google+.  Makes sense, right?
Feel free to play with any of these Landscapes (Autos, Fashion and Airlines) and our powerful custom report builder to draw your own conclusions about the correlation between Google activity and other metrics. I now understand why some companies are motivated to invest time into Google+.
Finally, I should add that it"s important you set up your Google company page correctly. Many businesses make the mistake of creating a personal profile instead of a company page, and a profile does not include all the benefits I list above.