At Rival IQ, we've built our organization and our products on the idea that marketing doesn't exist in a vacuum. Product teams keep an eye on competitors' products and services, and content marketers should be up-to-date on competitors' marketing strategies.
A comprehensive competitive analysis completed two to four times a year is one of a content marketer's greatest marketing assets. It can give solid benchmarks, an understanding of what messaging strategies work within an overall landscape, and ideas for new marketing opportunities that might have otherwise been missed.
Our client success team hears this question all the time: "What's the best way to analyze our competitors' content?" We've written a few blog posts on different aspects of a competitive analysis, and now we've put together a full white paper designed to guide content marketers through the entire process.

First, we walk through the process of building a competitive landscape with or without Rival IQ. Many marketers already have a strong understanding of their closest competitors, but we offer a fast and easy exercise using Google that could expand that landscape.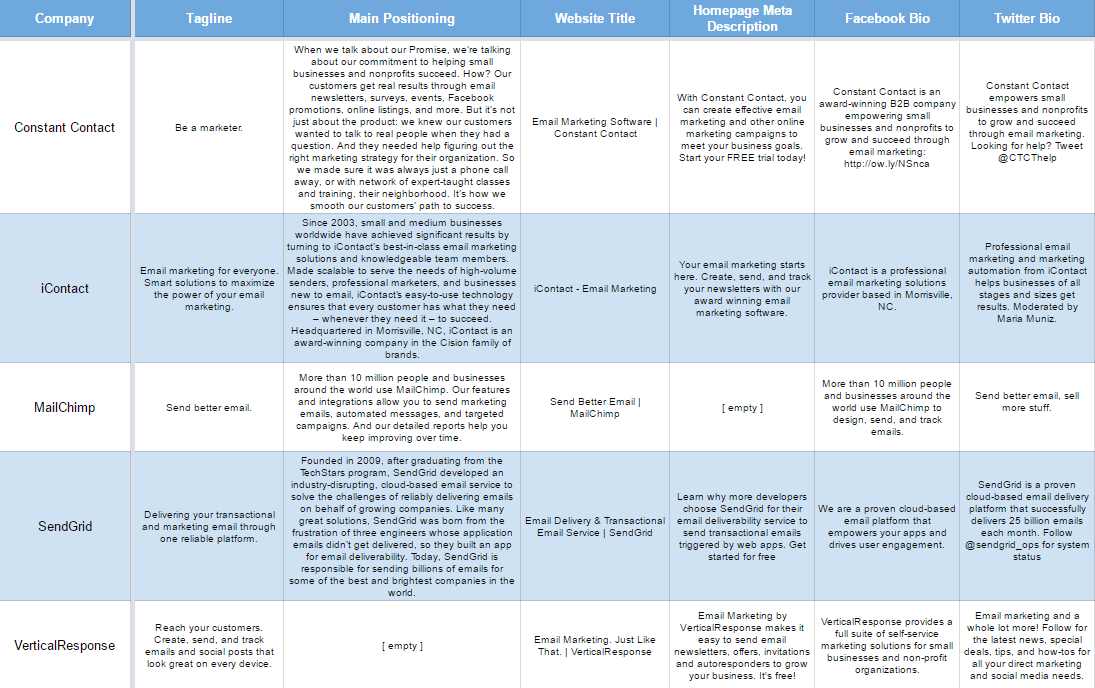 Next, we provide a template for a competitive communication audit. This step compiles and compares the following across competitors:
Social bios and "about" sections

Social handles, URLs, and usernames

Website taglines

Brand messaging
Like with building a competitive landscape, content marketers don't need Rival IQ to complete this step. However, our exports provide the fastest way of comparing social and website positioning.
Once the competitive communication audit is complete, we guide content marketers through the process of taking inventory of their competitors' content. We focus on the most common types of content marketing that are the easiest to publicly analyze. This includes blog posts, websites, social posts, videos, and meta descriptions.
After a list of competitors' content has been compiled, it can be analyzed. Content marketers are judged on three main success metrics:
Social engagement

: If content resonates with fans and customers, those posts will feature more likes, comments, and shares.

Keyword ranking

: Great content is built with SEO in mind and should improve search ranking for targeted keywords.

Backlinks

: External links increase content visibility and boost search rankings.
Rival IQ helps gauge the performance of social posts, keyword performance, and more. Other tools, like Ahrefs.com or Open Site Explorer can discover backlinks to specific pages or entire websites.
After those steps are complete, content marketers will apply what works and end efforts that are under-performing, which will improve their marketing efforts. Additionally, marketers can build informed benchmarks by which to measure their own marketing performance. Download your free guide on how to perform a competitive content audit: