How do multi-billion dollar companies perform on Facebook? This is the first question that popped into my head when I learned that over 200 billion dollars is spent worldwide on cosmetics each year. Being a social media enthusiast and a cosmetics junkie, I wanted to compare how makeup brands competed on social media. Since this is a business-to-consumer market, a Facebook edition of this competitive analysis seemed the best place to start!
Considering the enormous amount of money being spent on cosmetics, I'm curious to see if more people are fans of high-end makeup brands or of the more affordable drugstore options. In order to figure this out, I've chosen 5 popular drugstore brands and 5 popular high-end brands to compare.
High-End or Low-End: Who's More Liked on Facebook?
To guarantee a fair and accurate comparison of cost, I've chosen to compare the average price of a lipstick for each brand. Let's see if more people have expensive taste like me, or if they are bargain shoppers, unlike me.
Considering the number one and two spot for most-liked makeup brands on Facebook goes to high-end brands, I think it's safe to say that plenty of people are in agreement that there is no price too high when it comes to looking good.
Another interesting observation is that Lancome and Maybelline, who both rank high on the list of most likes, are both owned by L'oreal. Considering that both of these brands are manufactured in the same factories and have similar formulations for their products (I've compared the two), more people still "like" the more pricey product.
Do makeup lovers engage with brands on Facebook?
While being "liked" on Facebook is certainly flattering, I believe the real measure of social media success is a high engagement rate.
Let's see if the most liked companies are also the most engaged.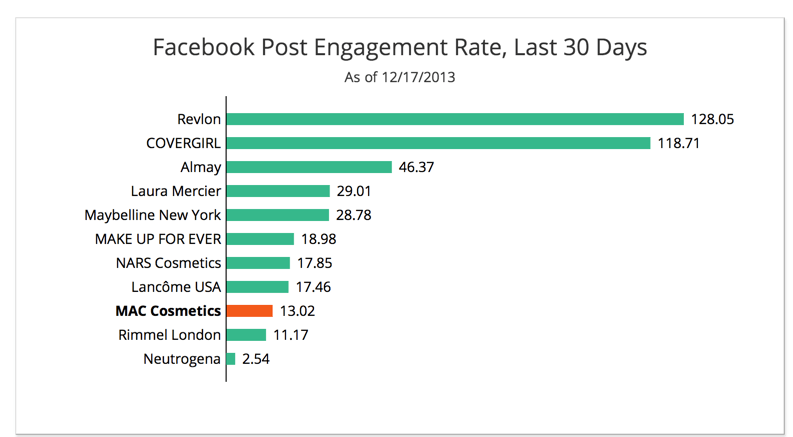 Well that certainly changes things!
A lot of the most liked, high-end companies are really slacking in engaging their followers. On the flip side, three of the drugstore brands take the top spots for engagement.
If I were to pick a winner for the most social makeup brand, I'd have to say Covergirl is the clear choice. Not only are they one of the most liked companies, they are also extremely engaged with with their followers.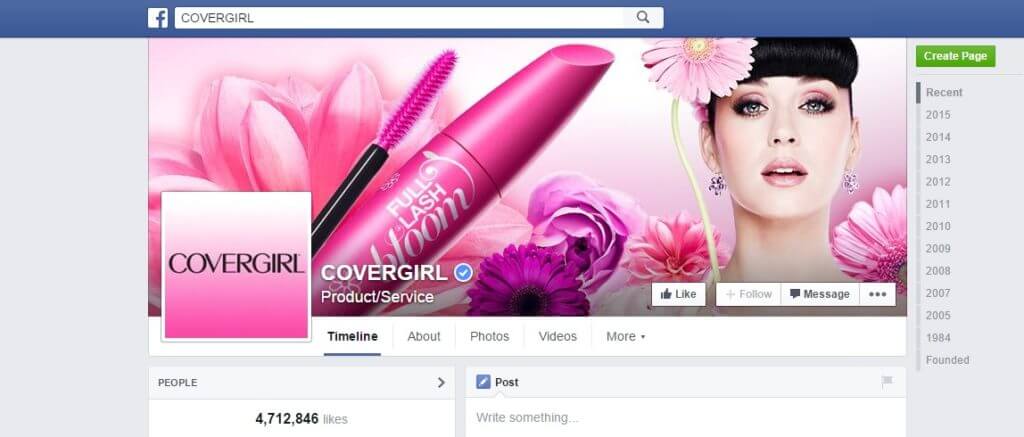 Two Key Learnings
So what can we take away from this little analysis?
1. Marketing Matters:
The high-end brands with huge followings show that great marketing is the key to selling a pricey product with lower cost competition.
If the marketing is great, the packaging is pretty, and the product is good, shoppers will practically be begging for you to take their money.
2. Engagement Gets Your Brand Noticed
It's also important to note that engaging with your followers is what's going to get your brand noticed and keep your followers up to speed on what's new with your company (new products, new features, new services, etc).
I follow Covergirl on Facebook, and I'm always kept up to speed on when their new makeup collections come out. If it's a collection that interests me, I'm sure to make a trip to my local drugstore to purchase.
While MAC has an enormous following, there's a good chance their followers are spending their time on the more engaging Covergirl's Facebook page (and buying their products, like me).
Getting people to follow you is the first step, getting people to keep coming back and interact with your brand is where the magic happens.
Who do you follow on Facebook?
Are there certain makeup brands that you especially like on Facebook? Who are they and why do they gain your engagement?