Automated observations so you can let the robots do the heavy lifting for you? Our most powerful suite of competitive benchmarks yet? Get in here already!
We're excited to roll out tons of new automated insights to tell you exactly how you're doing on social and where you should be focusing your energy to really make a difference. We've jam-packed every inch of Rival IQ to include more competitive benchmarks than ever, giving the context you need to truly understand your success. Plus, we've freshened up our reporting dashboards so everyone on your team can understand what's happening on social at a glance.
The tl;dr:
Automatically generated insights about your posts and metrics to make you smarter about what's driving your performance and how it's changing over time.
Expanded competitive benchmarks to ensure you can always answer the critical questions: "How do we compare?" and "where are we ahead and behind?"
Reporting dashboards that simply yet clearly communicate your performance, trends, and competitive context. Now, everyone on your team (including your boss) will understand how you're doing on social.
Automatically generated insights about your posts and metrics
We all wish for a social media fairy godmother who can analyze all our data and just tell us what to do instead of having to pore over spreadsheets and graphs and figure it out for ourselves. It can be overwhelming to face down a wall of data and not know conclusively what to do with it, which is why we're rolling out automated observations to tell you exactly where you stand compared to your competition without lifting a finger.

Look for these new automated insights in our brand-new Overview dashboard to help you answer critical questions like:
Were you at the top of your landscape?
Did you do better/worse than your top posts from the previous period?
How much better did you perform compared to your other posts?
Are you trying a post type you don't normally use?
Is there a common hashtag contributing to your success?
And tons more!
These insights are easily scannable so you can arm yourself with a few key facts before heading into a meeting with your boss. As you can see in the screenshot above, they're accompanied by hoverable charts and lots of metrics you can click into when you're ready to sit down to fully unpack your social performance. We've grouped these automated insights by audience, activity, and engagement to help balance both depth and breadth.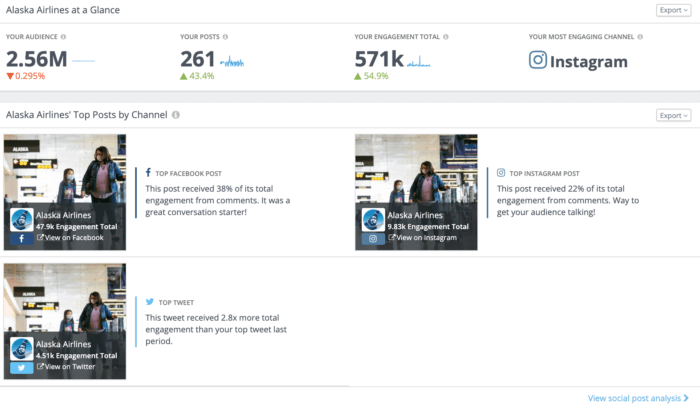 We've also included a tasty overview of automated insights in our brand-new Overview dashboard to help you understand what's so great about your top-performing post on your top channels in your selected date range. Did you try a new post type that led to more engagement? Did a post or a tweet go viral? Did you snag a lot of shares on a post? We'll call that out for you so you have the information at a quick glance so you know exactly what's working best on every channel.
We'll serve up the most relevant insights for whatever landscape, companies, and date range you're analyzing, so expect a dynamic set of insights to help you take full charge of your social performance. We hope these automated insights make it easy for anyone on your team, from your social media intern to your CMO, to really understand what's happening with your social media strategy and how your hard work is paying off.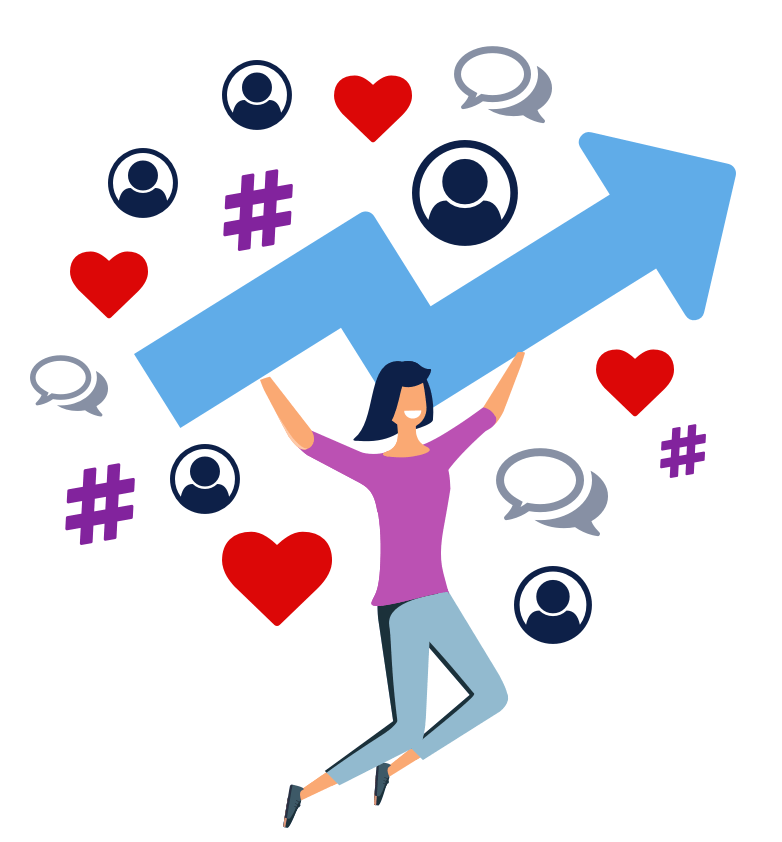 Expanded competitive benchmarking
We're rolling out tons of new and expanded competitive benchmarking all over Rival IQ to bring context to your social media success. Now, almost every competitive metric, especially in the Overview and Leaderboard dashboards, comes with a healthy dose of competitive context so you can understand your social media success as compared to your main competitors. These benchmarks are all dynamically computed based on the time period you select to give you complete control over your metrics.
"I like how simple the new Rival IQ is and how easy it is to check in with benchmarking," says Grace Morrison of Notre Dame Alumni Association.
We're going to save our overview of, well, the Overview dashboard for the next section, but let's dive into how jam-packed the Leaderboard dashboard is with competitive benchmarks.
Seasoned Rival IQ customers might recognize this dashboard as a cousin of our former Metrics dashboard, but the brand-new Leaderboard features new charts and new organization to make it easier to see how you rank and stack up against your competition. We've organized this dashboard by audience, activity, and engagement to keep things scannable.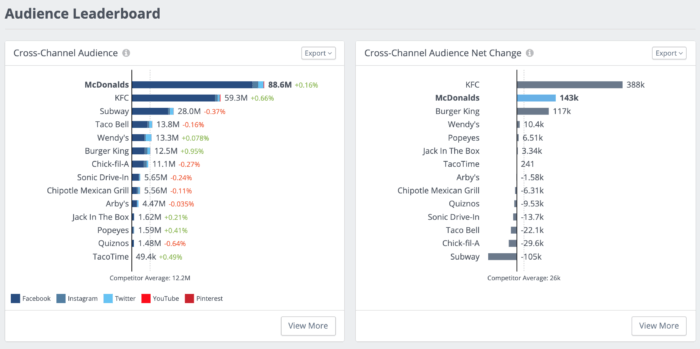 You can see our expanded Audience Leaderboard at work here with a brand-new chart: Cross-Channel Audience Net Change. If you've ever wondered how your follower adds and removes have shaken out in a given time period, this chart is for you. This Audience Net Change chart is available in our single channel view as well so you can break down your net change anywhere you need to. And as you can see in the example above, these charts rank your competitors' audiences from top to bottom to help you understand exactly how you stack up.
Savvy readers will note one of our favorite new competitive benchmarking features: the new dotted reference line to help you always keep your competition's average performance at top of mind. In the Cross-Channel Audience chart above, you can see this dotted line runs vertically to denote the competitor average of 12.2 million followers, showing that focus company McDonald's is trending well above the average and that last place TacoTime has a lot of work to do to catch up.
We've made it easy to switch this reference line between your competitor average (which doesn't include your focus company) and your landscape average (which does include your focus company). Here's a quick visualization of what we mean by that: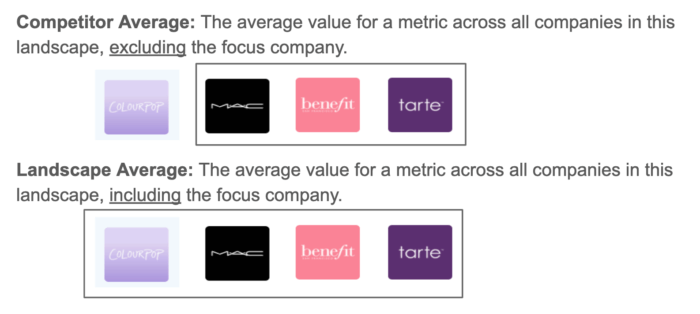 When might you toggle between the two? Let's say your brand's social metrics blow your competitors' metrics out of the water. In this case, you might want to stick to comparing your performance to the competitor average so your numbers don't skew your competitors' numbers higher than they otherwise would be. On the other hand, a landscape average can be especially helpful if you're looking for a wider understanding of what social media success looks like in your industry. Don't be afraid to toggle between both to see how the numbers change. The competitor and landscape averages are available in both the Leaderboard and Custom Dashboards for full control over your metrics and tons of competitive benchmarking and insights all across Rival IQ.
Next up in our Leaderboard is Activity to help you understand posting frequency across all your channels and competitors. (Bonus: We even rolled out a new blog post about how often to post on social media with new data-backed best practices for you.) Many of you will recognize the chart on the left, which ranks your competitors from most prolific to least. We're looking at a cross-channel view here, so you can see that the bar graph is broken down by channel, but this chart is available in a single channel view as well.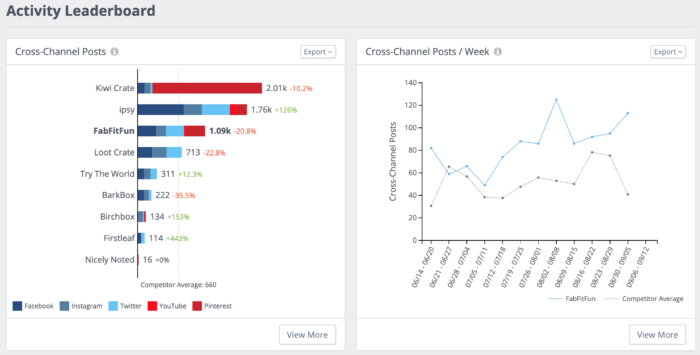 The Posts / [Day, Week, Month] chart is another new addition to the competitive benchmarking family. This chart helps visualize your posting activity over time against your competitors so you can understand if you're posting way more or less often or at about the same frequency. In the chart above, it's easy to see that focus company FabFitFun is definitely posting more frequently than the competitor average (about twice as frequently if you check it against the Cross-Channel Posts chart), so they'll want to dig into their engagement totals and rates to make sure no tweaks are needed. This new chart will automatically group by day, week, or month depending on your selected date range to keep things easy to understand, and is available in both Cross-Channel and single channel analysis. Bonus: if you love this way of visualizing your data, it's also available in custom dashboards.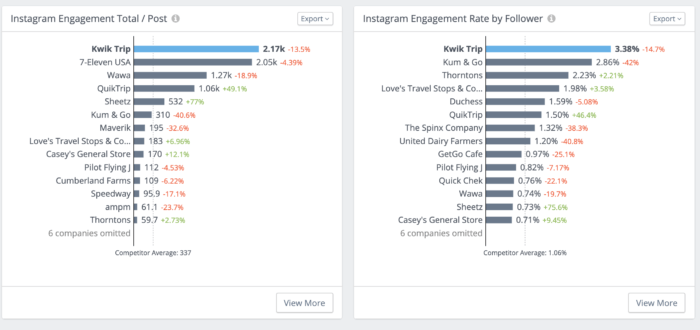 Engagement rounds out our Leaderboard, and we've added a look at Engagement Total / Post in addition to our other Engagement metrics like Engagement Rate by Follower, Engagement Total / Week, and Engagement Total. We've heard from many of you about how valuable Engagement Total / Post can be for evaluating the oomph of your social. In response, we've made this chart available competitively for both Cross-Channel and single channel views, and stack-ranked everything so you can see what your competitors are up to as well. In the charts above, it's easy to see at a glance that Kwik Trip is dominating the convenience store social media scene with first place finishes for both Engagement Total and Engagement Rate by Follower.
Our Overview dashboard is also jam-packed with competitive benchmarking and insights, but since it takes the best of the automated insights and expanded custom benchmarking we've already covered, we're going to let the next section speak for itself.
Crystal-clear reporting dashboards that communicate your performance, trends, and competitive context 
Now that the Leaderboard is one of your new best friends, we'd like to introduce you to your other new pal: the Overview dashboard. This new home screen surfaces the most relevant and interesting components of your social success (and your competitors'!) and changes dynamically based on your selected time period. We focused this dashboard on your success and have both Cross-Channel and single channel versions. If you make a habit of logging into Rival IQ to check one thing, make sure it's your Overview.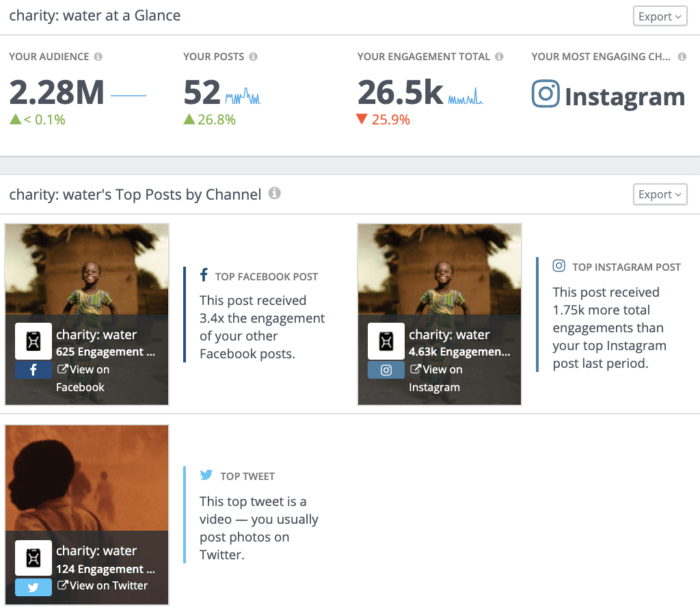 We designed this dashboard to be your home base for all your social reporting. The Overview dashboard unites all of your must-haves like audience and engagement totals, top posts by channel, and automated insights to explain what you're seeing on social.

As we saw in the automated insights breakdown above, the Overview section now offers tons of new and dynamic observations about your social media performance that reflect your date range and competitor set. We've grouped these by audience, activity, and engagement for scanability.
These breakdowns are available in both Cross-Channel and single channel views for a complete look at your social performance. Be sure to hover over these bar charts, especially when studying your Cross-Channel efforts: we break things down by channel, percent change, and even the percentage of the total bar chart so you don't miss a beat. The insights and bar charts in this section are geared towards telling you how you're doing against your main competition at a glance.
Everything on this page is clickable and discoverable, so if you see something you're curious about, it's easy to hop down the rabbit hole to learn more about the trend or pattern you're seeing.
Other fun stuff
Time zones
We're rolling out a change that lets you adjust your time zone throughout your competitive dashboards in Rival IQ. This change means your competitive data like Social Posts can be set to your local time zone instead of brain-bending UTC, hopefully making it easier to optimize your social posting and figure out exactly when your fans and followers are engaging with you online.
Simplified navigation
We simplified navigation all over our app to make Rival IQ easier and more intuitive for anyone to use, from first-time users to our most experienced customers. Here are the big changes to look out for.
Side navigation changes. We renamed "Landscape" to "Companies" to make it easier to know where to add or remove competitors in Rival IQ, and popped that to the top of the sidenav.
We also placed Landscape Settings at the bottom of the sidenav, since we know how important it is for our customers to be able to customize their landscape settings like time zones, channels to show and hide, and more.
Simplified Social Analytics navigation. We've heard from so many of you that you spend most of your time in Social Analytics comparing your performance to your competitors or digging into your private social analytics, so we took a fresh look at our nav in this section. We reworked it to answer three main questions:
How am I doing? (Overview)
Where do I stand? (Leaderboard)
What am I doing right/wrong? (Social Posts)

By now, you've read through what makes the two new dashboards, Overview and Leaderboard, so effective at answering these questions, and we can bet you were already a fan of Social Posts. We hope that simplifying your journey through this critical section of Rival IQ will lessen the time it takes for you to access the answers you need to benchmark your social performance against your competition or prove that your new strategy is really working to your boss.
Of course, we were sure to keep Post Tags and Posted URLs in the nav as well for easy access.
More Rival IQ, faster
Have you ever thought to yourself, "Rival IQ is great, but I wish it were faster?" We get it, and we're here for you. We made a bunch of performance improvements to bring you a Rival IQ that's snappier than ever.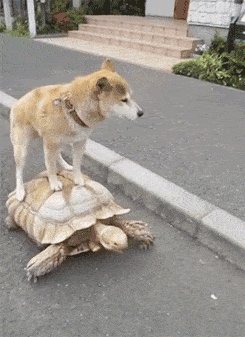 Our ElasticSearch is stretchier and bendier than ever, our public data retrieval fetches better than a well-trained golden retriever, we slimmed down our database, and we now support even more data history for customers heavy on the retrospective.
Wrapping It Up
We hope you're as excited as we are about these new changes in Rival IQ. Everything you just read about is now live in all customer accounts. If you aren't a Rival IQ customer, don't forget to sign up for a free Rival IQ trial to start accessing these awesome new features immediately.
If you want to hear even more about what's new in Rival IQ, check out this on-demand training webinar walking through all these exciting new changes.
Want to let us know your favorite new feature? Reach out to us on Twitter!