If you aren't using video in your social media marketing, you are missing out on a huge opportunity.
People are watching videos online at an unprecedented rate.
On YouTube alone, 6 billion hours are spent every month watching videos while Snapchat users watch 8 billion videos every single day. That's tremendous opportunity.
The good news is that you don't need a large budget or professional videographers to start using video.
In this article, I'll show you ten ways you can incorporate video into your social channels.
1. Audience segmentation and remarketing
Remarketing is a tactic where you track prospects across the web and show them relevant ads.
This tactic works wonderfully well with video. Instead of showing customers a static ad or social post, you can follow them across the web and show them related Facebook videos. Since Facebook videos autoplay, a natural and fun video (something that a friend or family may have posted) will immediately grab attention and drive engagement.
An example from Zenreach:
The Zenreach video shows their product in action in a manner that doesn't make the audience feel like they're being sold to, but as though they're genuinely being helped.
That's not all – Facebook's custom audience feature helps you segment your audience based on how they've interacted with your video. You can choose to only target people who have watched a fixed percentage of your video.
Step 1: Create a new Facebook custom audience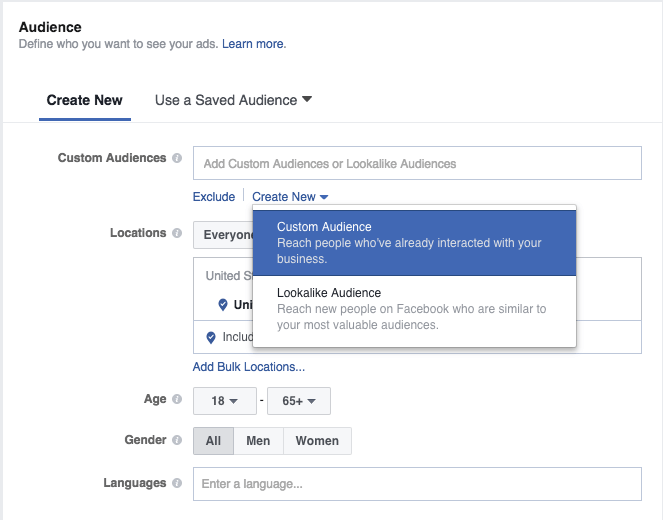 Step 2: Create this audience based on prior engagement on Facebook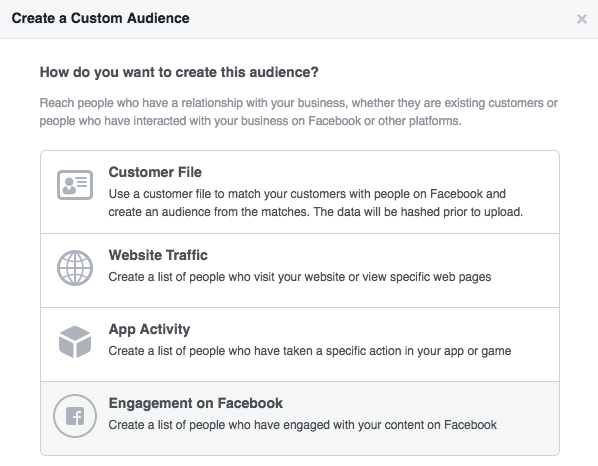 Step 3: Create you custom audience based on how much time they've spent watching your Facebook video content.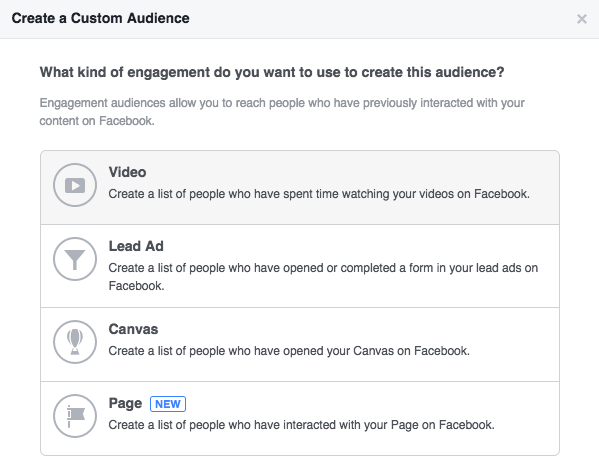 Facebooks custom audience helps you segment your audience into and separate the highly engaged from the disinterested.
2. Broadcast live video
Live video is arguably the biggest social trend of 2017.
Since its introduction in 2016, Facebook Live has experienced 400% growth. The astronomical growth even prompted Facebook to sign deals worth $50M with 140 content creators to create content for the live video platform.
Besides Facebook, other big names in the industry have created native live video solutions – Twitter has Periscope and Snapchat has Live Stories.
Unlike recorded video, live video is social engagement in real time making it more authentic and engaging. You don't have to resort to scripts and polished editing. Instead, you can engage and respond to audience comments, questions, and requests in real time.
For example, around Valentine's day last year Dunkin Donuts gave its viewers a behind-the-scenes tour of how its products are made. This video had 41,000 views!
A video like this is remarkably easy to create and share. You don't need expensive cameras, editing tools, or recording equipment. You can simply whip out your phone and start broadcasting away – a powerful tool for marketers on a budget.
3. Use it for customer support
Though overlooked, customer support is critical in driving retention and brand loyalty.
And videos provide an innovative and personalized format to deliver stellar customer experience, especially if users have concerns before purchase.
For example, let's say you are selling AC units.
It will be significantly easier for your audience to watch an FAQ that addresses common questions and concerns than having to dig through comments or wait for your response.
Check out Warby Parker's YouTube help page. Besides the usual product promo videos, they have a dedicated section named 'FAQs' to address common customer FUDs: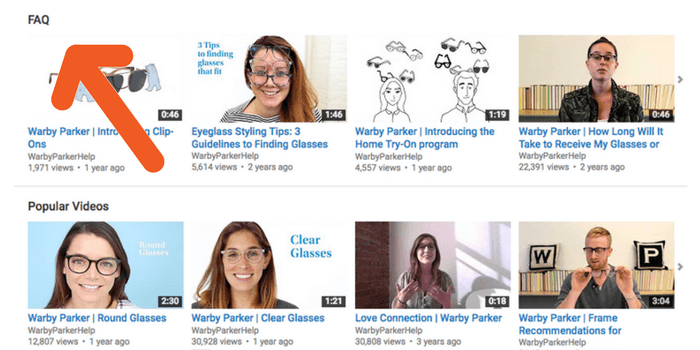 4. How-to-videos
The "how-to" is an old marketing staple that translates wonderfully to the video form. By creating how-to videos that show your product in action or educate your audience about a concept, process or idea, you can build a real connection with them.
How-to videos are also great branding vehicles. Your audience will start associating your brand with the personality of the presenter and the quality of the video.
For example, Knorr has a whole bunch of videos with celebrity chef Marco Pierre White using Knorr's products to teach people how to cook.
How-to videos aren't limited to B2C brands either. Wishpond, for instance, regularly creates how-to videos to explain different marketing tactics. Check out this video on Instagram marketing that has over 130,000 views.
5. Use it for SEO
YouTube processes more than 3 billion searches every month.
This data makes YouTube it the second largest search engine regarding website traffic. Its presence is felt on the biggest search engine (Google) since nearly 24% of search results include video results.
Creating optimized videos means that you will get traffic from two sources:
From people finding your videos in Google search results.
From people searching for your keyword on Google.
For maximum SEO benefits, make sure to write keyword optimized titles and include 200+ word video descriptions for all your videos. Since Google can't "read" video, it will rely on your description and title to rank your videos.
Check out this example from Hostgator: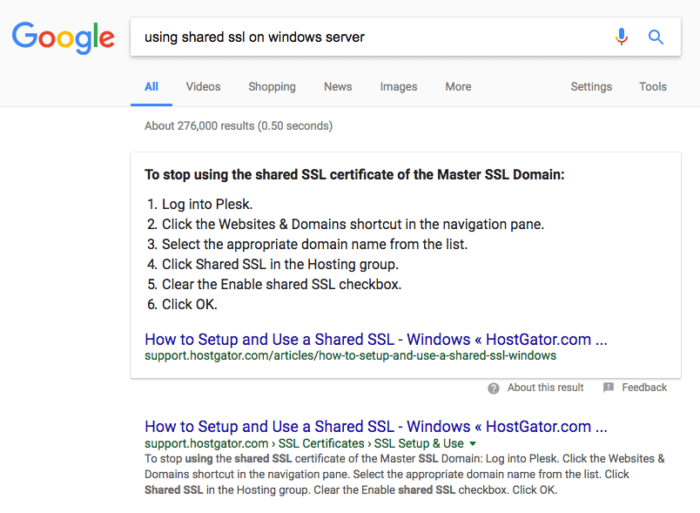 They create video content for specific keywords that interest users in their niche. In their case, their well-executed SEO helped them score both the 1st and 2nd place spots on Google's search engine results page (SERP). Including commonly asked questions in your copy will help your chances of securing a primary snippet position in Google results, so keep this in mind when creating content.
6. Crowdsourced content
Crowdsourcing involves having your customers provide you with content (instead of the other way around). Such "user generated content" is more persuasive than any content you create yourself.
In fact, one study found that UGC-based ads get 4x higher clicks while 93% of consumers use UGC in their decision-making process.
The key to using video UGC is to make the requirements for crowdsourcing content easy. You can also create incentives for users to submit content such as a free product giveaway for the best entry.
Once you have enough content, share these videos across your social channels to drive engagement and encourage social sharing. Make sure to tag the original content creators where appropriate.
GoPro is a great example of a brand that uses crowdsourced content heavily to promote a particular image and lifestyle.
7. Test different video lengths to understand customers
People have short attention spans.
It's the reason why social platforms limit the length and recommend short video length.
For example, Instagram limits video length to 60 seconds. However, this doesn't mean you should create videos according to limits imposed by social networks.
Instead, test out what works in your niche. Create multiple videos of different lengths to see what is your audience's "tolerance" when it comes to content depth/length. Use the number of shares and comments as an indication of engagement.
Testing video length and using engagement metrics will help you create more compelling content campaigns and also give you better insight into your customers.
Check out this example from Rival IQ:
Video metrics pulled from Facebook Insights and reported in Rival IQ:


As you can see from Rival IQ's video metrics, the longer the video plays, the retention rate decreases. Your best bet is to make your main point early in your social videos in an effort to capture your audience's attention, deliver value, and increase their tolerance for lengthy videos from your brand. (If you're interested, you can download the Industry Benchmark Report here).
If videos in your niche need to be longer than the limit imposed by a social channel, simply create a teaser and include a full link to the video on YouTube or your website.
8. Create product videos if you're selling a tangible product
Product videos are a consumer's best friend.
On product pages with videos, visitors spend 88% more time than on product pages that feature only images and text.
If you're selling a tangible product, create videos to help bridge the gap between products and the virtual online shopping experience.
Check out this example from Ikea:
This video is compelling because it doesn't just show the product. Instead, it places it in context and helps viewers understand its benefits.
In the process, Ikea also displays its personality as a brand.
9. Create customer video testimonials
Testimonials present a powerful message to help users build trust in your brand.
Video testimonials are even more effective than conventional testimonials as they place a real customer in front of your audience leaving a strong impression about your brand (especially if they praise it).
Check out this example from Fiverr:
10. Use 360-degree videos to give people a complete product experience
360-degree videos provide a panoramic view of the environment.
In other words, viewers can scroll left, right, up and down to see the surroundings. 360-degree video adds a powerful dimension to videos giving viewers the feel of actually being there.
Check out this example from Rolls Royce:
They used a 360-degree video to give a 'showroom' experience for the launch of their new 103EX model.
If you don't have a tangible product, consider uploading 360-degree videos that highlight your company culture or humanizes your brand.
For example, team-building exercises and conferences are great choices.
Video is the next big thing (some might argue it already is).
Video taps into the power of storytelling which moves us and influences our decision making. Just think about the number of times you have shared a video for that reason.
With video flooding social channels, use the formats above to start incorporating video into your marketing strategy.