As social media and instant news cast a shadow on media, news stations across the US seek innovative ways to engage their audience and capture their attention first. For stations like WUSA, a CBS-affiliate station in Washington DC, it means that they rely more heavily on on-air talent. Their on-air talent bridges the conversation with their audience, taking news from the newsroom to social media. Social engagement is critical for WUSA's growth–they needed a tool to help.
Their initial priority was to find software to help with recruiting and evaluating new on-air talent. WUSA needed to know if they were hiring the right people to keep their competitive advantage. The team looked to Rival IQ. "Rival IQ has the best approach for comparison," said Matthew Morris, consumer insights director, "the multiple dashboards, schedulable reports and clean graphics made it easy to see the value."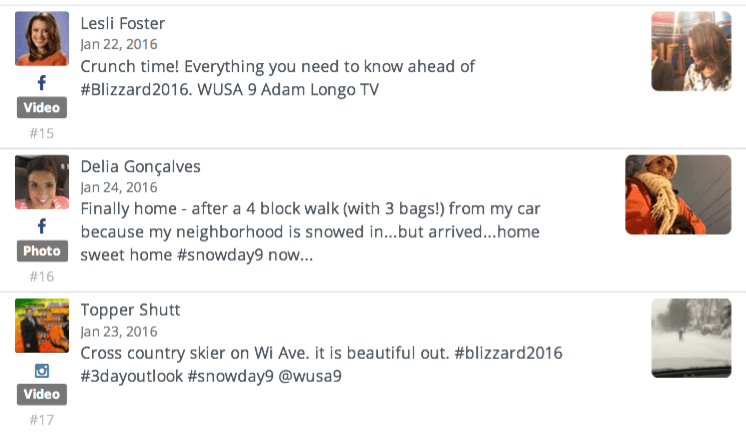 After adopting Rival IQ, multiple teams found ways to leverage the software to solve problems. The Consumer Insight and Online News teams both utilize Rival IQ to improve their respective programs. The station-owned channels and individual on-air talent collaborate internally for planned content, which helps them grow in a multitude of ways including social audience and engagement. Their social growth has to lead to increasing revenue generating more for advertising, sponsorships and branded posts.
Grow and win against competition
The two teams work together to create sponsored and branded posts related to paid segments of their morning lifestyle show, Great Day Washington. Finding new ways to create revenue is essential to ensuring they continue to bring quality programming to their audience.
Reports from Rival IQ now touch nearly every internal department from the General Manager to research and marketing. These regular reports continue to show the value that their social investment brings the station.
Media companies face even greater challenges – as more and more news is consumed online and through social channels, sustained engagement is critical. If WUSA can win audience engagement, they will win growth and revenue. Rival IQ enables them to see how they stack up and identify how to shift that engagement to their channels, beating the competition.
For example, WUSA can know when their competitors post the same or related news story and determine why their posts did better or worse. In a competitive industry like the local news, this insight is critical to success, enabling WUSA to learn and take action.
Additionally, Boosted Post detection has been key to understanding audience reaction to news stories. Rival IQ's Boosted Post-Detection feature uses machine learning to understand when competitors are spending money to boost posts. An in-depth understanding of audience reaction and their competitors arms WUSA with insights to strengthen their strategy.
Grow on-air staff social performance
WUSA uses Rival IQ in many ways – each department uses it to fit their specific needs. The talent at WUSA has been able to reap the benefits of Rival IQ through regular reporting. They're able to identify what tactics they should be using and the content and channels that work best for them. Over the last year, WUSA has been able to help their talent pool improve social engagement.
With Rival IQ, WUSA can see how they stack up both internally and within the DC market. They're armed with insight on what content is working, which types of media to post, and how to grow their audience. The internal team can then act as a resource to support them as they maneuver through the intricacies of social media.
Like most social media professionals, the team at WUSA is up for trying new tactics and trends but recognizes the need for balance. The news doesn't stop – they need to keep up with stories and ensure the stories get traction. To maintain balance the team must determine where to invest time and which trends serve their goals. Rival IQ enables them to learn from their competitors and make better decisions about where to spend their limited time.
Curious to see how Rival IQ can transform your social strategy? Start your free trial today (no credit card required).