Recently, Rival IQ added Youtube and Instagram to the growing list of channels we track. In celebration of this exciting product rollout, last week's post featured the top 5 best branded Youtube channels. In that post, I promised a top 5 Instagram post – and now I'm delivering on that promise! Instagram provides an amazing platform for companies to express their creativity. The best part? It fuses video and images, which makes the possibilities endless. So, without further ado, here are my top 5 picks for the best branded Instagram accounts.
Illamasqua
I'm sure a bunch of you are wondering who the heck Illamasqua is. Illamasqua is a cosmetics brand that aims to inspire creativity, color, and artistry. On their Instagram, you'll find tons of inspiring and creative makeup looks, nail designs, and new products put to action. There are two main factors that make Illamasqua a standout on Instagram:
They encourage their customers to share their works of art with the hashtag #Illamasqua. Customer makeup looks contribute to at least 30 percent of their pictures. Hello engagement!!
Their budget is essentially nothing. Between uploading pictures of Illamasqua artists and their customers, they have found a way to be creative and successful on Instagram with very little money spent.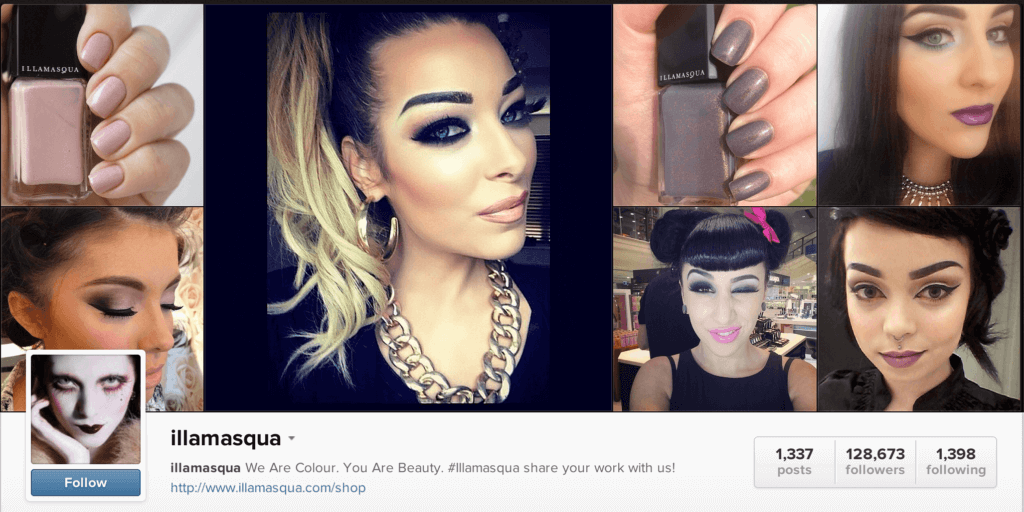 Kayla_Itsines
Ok, so I admit, this one isn't technically a company – BUT, I think it's an amazing testament to how being active on Instagram, combined with posting great pictures/videos can result in massive success. Kayla is an Australian personal trainer who took to Instagram to post short videos of her workouts as well as progress pictures of her clients. These pictures and videos attracted a lot of followers (over half a million!), which resulted in tons of questions about her detailed diet and workout regimen. So what did this smart girl do? She created the Bikini Body Ebook, containing a nutrition plan and a 12 week training guide. Since then she's created another Ebook, The Healthy Eating & Lifestyle Plan.
Key Takeaway: Even if you are a small company with a tight budget, or a single person offering a service (wedding planning, personal training, etc), Instagram is an amazing place to get the word out.
Sharpie
I've talked about Sharpie before, and I'm going to talk about them again. This company kills it on social media, and Instagram is no exception. Where Sharpie shines is in their amazing use of color and creativity. They light up your newsfeed with bright and exciting drawings, all which showcase their incredible variety of products. They've managed to advertise their product in a way that is enjoyable and actually gets people interested in following them. That's a win win in my book.
Unfortunately, Sharpie has been MIA on Instagram since the end of December. I really miss seeing their bright and fun pictures show up in my home feed – which leads me to the #1 lesson on Instagram success: Be consistent. 
Starbucks
With over 2.3 million followers, Starbucks is crushing it by numbers alone. But what exactly caused them to be so popular on Instagram? They are pros at getting their followers to share content (#Starbucks), which they later repost to the Starbuck's Instagram feed. Their followers' pictures are creative, artistic, and a welcomed addition to my home feed. Can we say "hello free advertisement?". Additionally, they showcase their product with some pretty impressive coffee art (this alone is worth checking them out!).
Annie's Homegrown
I'm already a huge fan of Annie's Homegrown, so their awesome Instagram presence just makes me love them even more. For those of you that are unfamiliar with Annie's, they are a food company that adds an organic, all-natural spin on American favorites (mac & cheese, graham crackers, pizza, gummies, etc.). Annie's continues to target their demographic with recipes, healthy lunchbox ideas, and adorable pictures of their food. After visiting Annie's Instagram page, you'll quickly recognize the importance of creatively marketing your product in a way that doesn't come across as too "selly".
 Success on Instagram
As you've probably already figured out, there are a few common characteristics that make a company successful on Instagram.
Be consistent: Post frequently, and don't go MIA for extended periods of times. It's really disappointing and a little unfair to your fans.
Creativity is key: Incorporating fun and unique pictures/videos into your feed will get people following and interacting with you on this channel.
"Selly" is so uncool: Finding ways to market your product in a way that doesn't come across as too "selly" is hard. Fortunately, if you're creative, Instagram is a great platform to set yourself up as both genuine and fun.
Use hashtags: Instagram is all about the hashtag. Encourage your followers to use hashtags, and share their pictures on your own Instagram page.
Be colorful: You want to stand out in a home feed – having colorful and attracting images can help you accomplish this goal.
The last, and arguably most important component of being successful on Instagram is to continuously track your efforts. Rival IQ's new Instagram metrics makes this a painless and simple process. Easily see your follower growth, top engaging content, and so much more. The more you measure your efforts, the more you can tailor your Instagram strategy for increased success.
What is your favorite company to follow on Instagram? I'd love to know!