It's that time of year again and Super Bowl season is officially underway.
With the big game right around the corner, I decided to do my own pre-game analysis of the two teams. What better way than breaking apart their social media strategy, am I right? Given I am a huge Niners fan and a social media geek, this was a great way for me to get to know both teams before Super Bowl Sunday in my hometown. In the end, I was left with 5 key social media learnings we can all benefit from when thinking about our marketing strategy!
5 Social Media Learnings from Super Bowl 50 Teams
#1. Your Audience is Broader Than You Think
The Panthers are working hard to capture their audience across all demographics. They are focusing on a variety of social platforms — from the more traditional choices (Facebook, Twitter and Instagram) to ones that we would less expect such as YouTube, Pinterest and Google+. In contrast, the Broncos are focusing primarily on Facebook, Twitter and Instagram.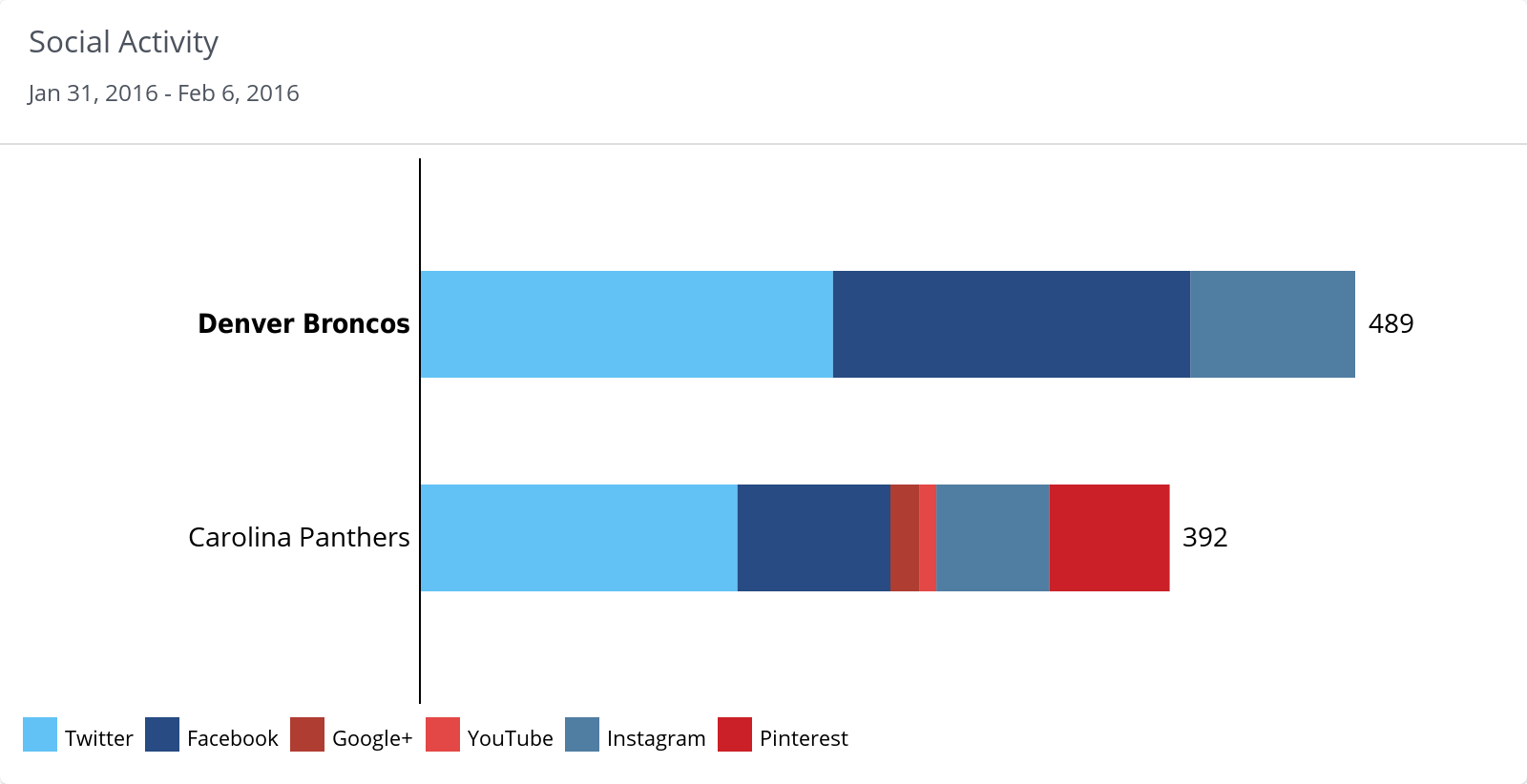 The platform that surprised me the most was Pinterest. Despite having barely 5,000 followers on Pinterest compared to their almost 1M followers on Instagram, the Panthers are investing more time in posting to Pinterest (65 pins) than Instagram (48 posts). While their pins are targeted towards the type of content known to work on Pinterest, food and fashion, the engagement rate is nowhere near their performance on Facebook and Instagram.
This leads me to wonder: Why Pinterest? Is it to engage a new type of fan? Or simply the fans that are often forgotten? Pinterest is known to attract young women, brides-to-be, stay at home moms, creative women, women who like to explore new recipes, fashionistas, etc. So, it comes to no surprise that the Panthers' top performing Pinterest post features a woman and a recipe.

The Panthers' Pinterest activity got me thinking: If I was the social media manager for an NFL team, would I invest in Pinterest? I decided to put the question out on Twitter as a poll and this is what I found: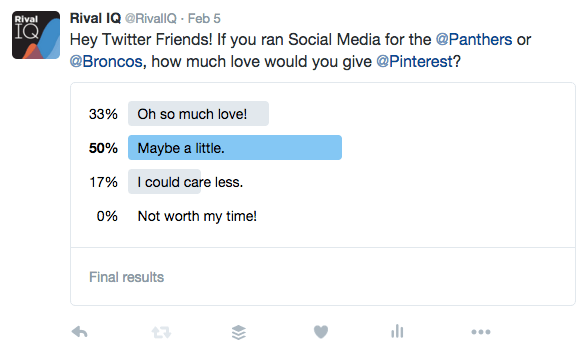 I then decided to go digging around to see which NFL teams are investing in Pinterest and interestingly enough, the Panthers surpass all the other teams in the league in regards to activity by a factor of 2!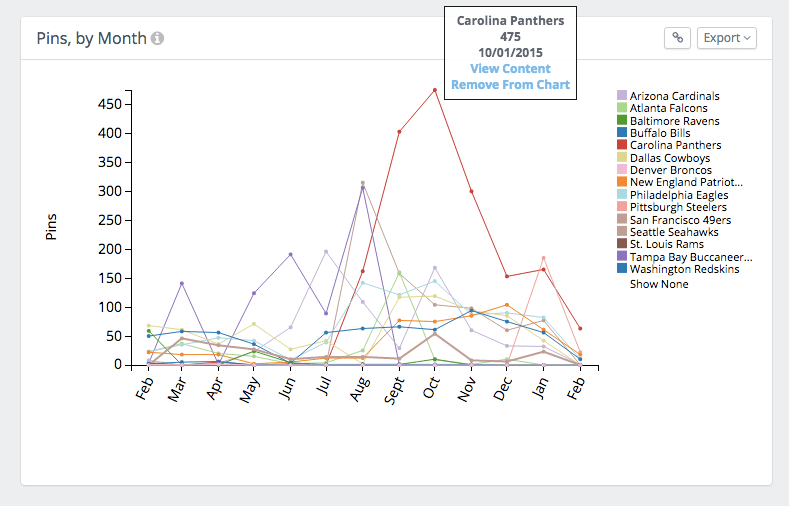 At the end of the day, we need to realize our audience is broader than we think. We often forget about the audience that isn't as obvious or loud — leaving them as an untapped market.
#2. Having a Huge Audience is Great, But Engagement Matters More
Way too often companies invest in growing their Twitter following or Facebook likes — not realizing that high quality fans are better than a lot of fans who could care less about the content you share. It's like sales: would you rather have a bunch of leads who may or may not care to hear from you or fewer leads but higher quality with a high probability to close?
When diving deeper into the audience size and engagement across all social platforms for the Broncos and Panthers, I realized that a larger audience doesn't always mean a higher average engagement rate. Despite focusing heavily on just three social platforms, the Broncos have a larger cumulative social audience. This holds in regards to audience size on Facebook, Twitter and Instagram individually — with the Broncos truly leading the fan war on social.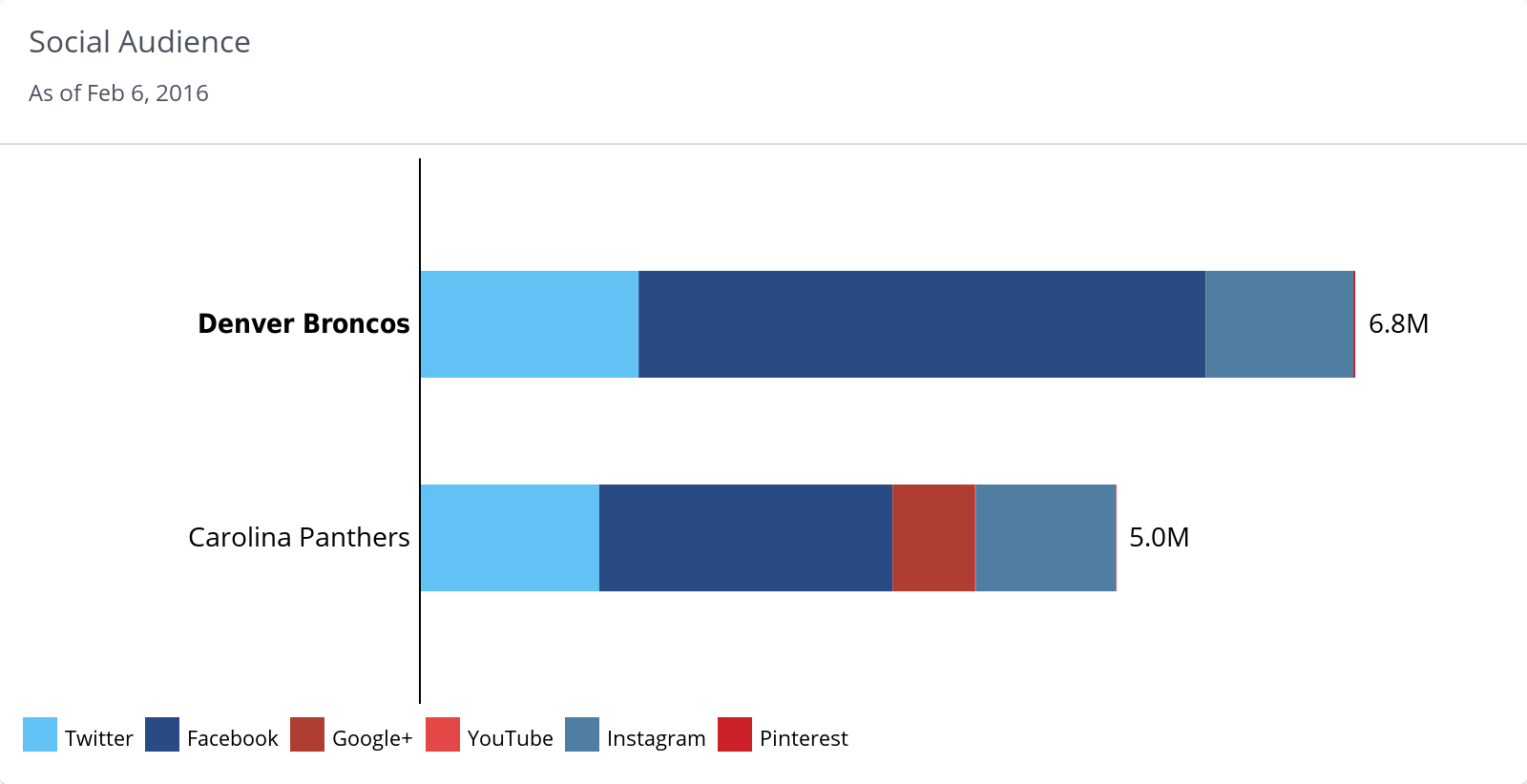 So, do those fans mean higher total engagement? Well, For each of the three key platforms, I dug into the data further and look at the average engagement rate per post. The results were completely opposite. Across every platform, the Panthers secured a higher average engagement rate than the Broncos — almost an average of 40% percent higher across all social platforms! Even though the Broncos post more content and have a larger fan base, the fewer posts to a smaller fan base foster a larger impact for the Panthers.
Does this mean that the Broncos' fans aren't as loyal as Panthers' fans? No, not at all! But, there is something to be said about not only focusing on audience size. Look at the type of engagement rate you are fostering because that tells you if you are truly engaging your fans on social with the type of content you are sharing.
#3. 2016 is All About Video
By now you have probably heard someone say: 2016 is all about video. Well, they aren't wrong! With the rise of new video sharing platforms like Periscope, and the integration of video into apps such as Snapchat and Instagram, video is becoming an important part of many organizations' social media strategy. Video allows fans to experience the life of brands they admire — may that brand be a celebrity, a sports team or a super cool startup.
With the Broncos and Panthers being very visual brands with a lot of personality thanks to their players (you have to Google Cam Newton fashion), both would benefit a lot from the integration of video into their social strategy. While the Panthers post very often on YouTube (almost two times per day) and post videos every now and then on Instagram and Facebook, the Broncos have posted twice in the last three months on YouTube and not many videos on other social channels.
This leads me to recommend a very important piece of info for both teams: add video to your social and share a variation of those videos across all appropriate social channels! I am sure an abbreviated version of the YouTube content published by the Panthers would make for great content on Instagram or Facebook.
#4. Images Speak Louder than Words
Social media is all about visual content. Nonetheless, images ensure high engagement across all social channels. Both the Broncos and Panthers so an amazing job of posting powerful shots of their players getting ready for the Super Bowl, with some humor mixed in between. The images are high quality and do an excellent job of firing fans up and getting them excited for the big game. I highly recommend looking up images shared by both teams — the quality of the images is amazing and the images are often taken mid-action which helps fans feel like they are getting an inside look on everything that is going on behind the scenes.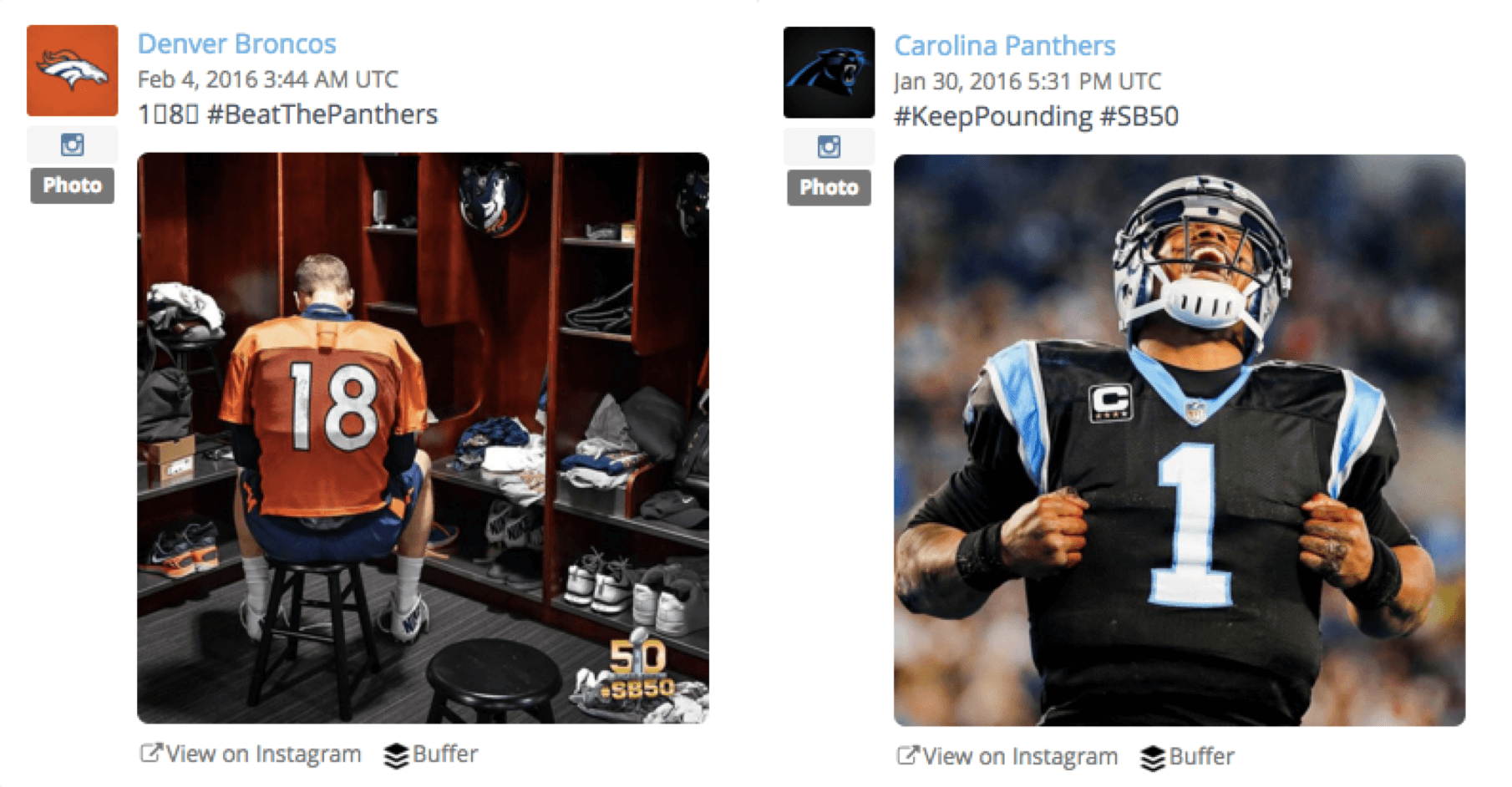 As marketers, we need to realize the best marketing pulls our customers into the brand and helps them experience it. Glimpses inside your organization make loyalists feel more a part of it.
#5. Different People Interpret Hashtags Differently
When looking through the top content posted by both teams over the last seven days, I noticed something interesting. Each team had chosen a hashtag they own. In the case of the Broncos it is #BeatThePanthers (pretty straight forward) and the Panthers are coining #KeepPounding. The Broncos are evoking a sense of competition vs the Panthers putting the focus on their own performance. So, what other hashtags have the teams been using? Well, obviously I had to find out.
So, I dug a little deeper to see what other hashtags the teams have been using. #VictoryMonday and #SB50 seemed like obvious choices, but what about hashtags you wouldn't expect. I noticed that during the past 3 months, both teams decided to jump on the #NationalHugDay and #NationalHatDay bandwagon. The Panthers turned #NationalHatDay into a win a hat campaign, while the Broncos enjoyed showcasing Division Champions hats. Both put their own spin on the hashtag.
The most interesting hashtag, #FootballIsFamily, made me realize something that many of us marketers forget: people interpret things differently. For the Panthers, every post that contained #FootballIsFamily was about the team. Whereas for the Broncos, it was all about the players and their individual families. It comes to show you, no matter how simple a hashtag may be, you will get a variety of content.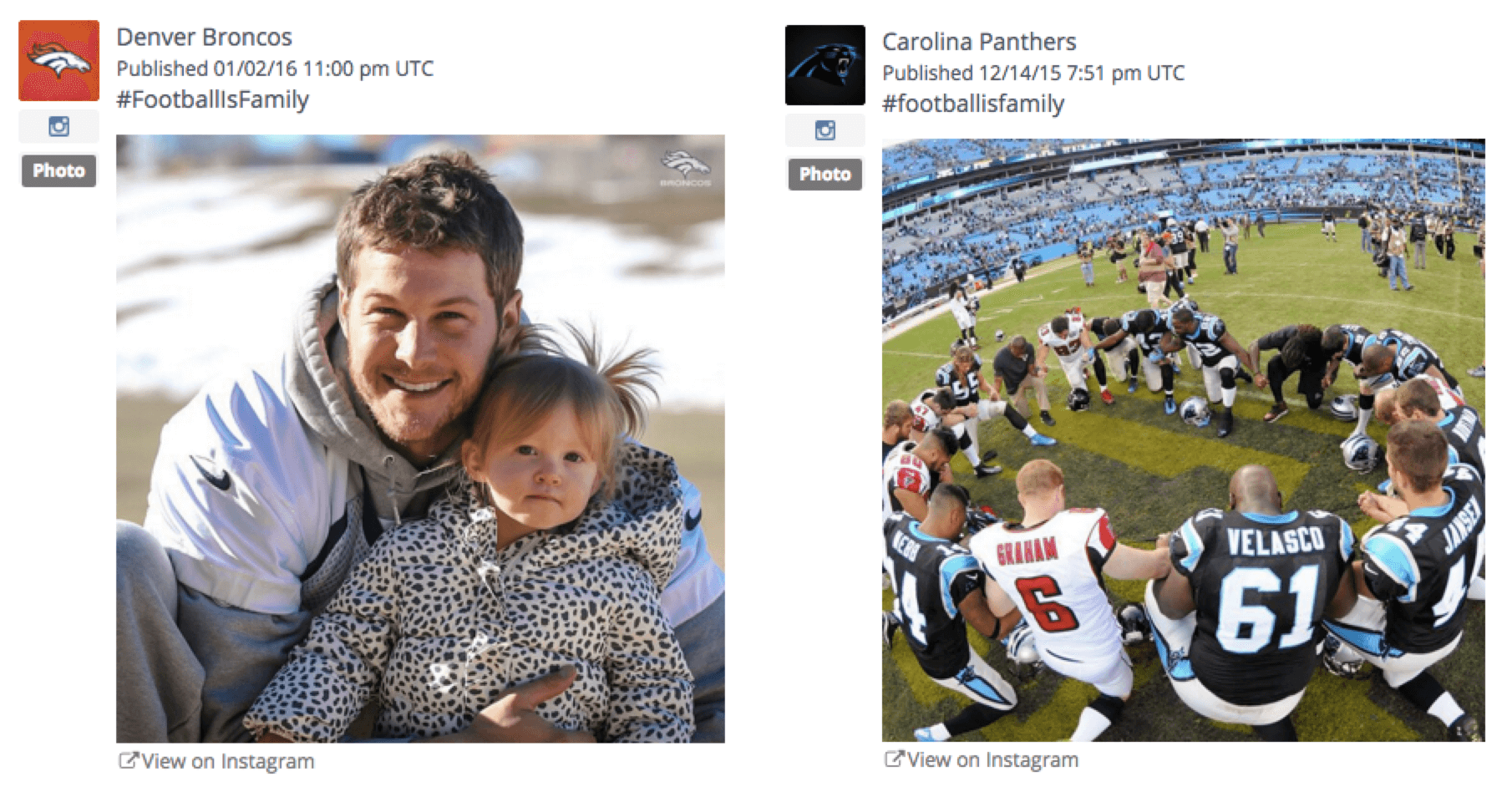 Take conferences for example. Some people may only post pictures of the speakers while others may only post pictures of themselves with people they meet at the conference. People interpret things differently — as marketers, we try to drive the action of our customers the way we desire, but it's ok to have some variation!
#BeatThePanthers vs #KeepPounding: Who will it be?
We will find out! As far as social is concerned, social media marketing is constantly evolving and becoming tougher. But, at least now you have some social media learnings up your sleeves thanks to these two teams! #GoNiners