The RRI is a scoring system and analysis of a market on social media designed to provide a competitive and data-driven view across key social media measurements.
Today, we released our inaugural Rival Results Index (RRI) social media rankings report. The RRI is a scoring system for any select market on social media. It is designed to provide a competitive and data-driven view across key social media measurements, including presence, audience, engagement and content. For this report, we collaborated with a Swedish digital news media and consulting firm, Eljester, to analyze 15 Swedish news media outlets.
The just-released RRI for Swedish National Press analyzes and scores 15 of Sweden's national media outlets for their performance on social media over the fourth quarter of 2014 (October 1 through December 31). Nyheter 24, one of Sweden's top national digital publishers, scored the highest Social IQ. The four social networks emphasized in this analysis based on the Swedish market are: Twitter, Facebook, YouTube, and Instagram, with extra points given for additional presence and following on LinkedIn and Google+.
The RRI Social IQ Score
Participants in the RRI fall into one of five social media rankings, aligned with a Social IQ Score:
Superior Social IQ
High Average Social IQ
Average Social IQ
Below Average Social IQ
Extremely Low Social IQ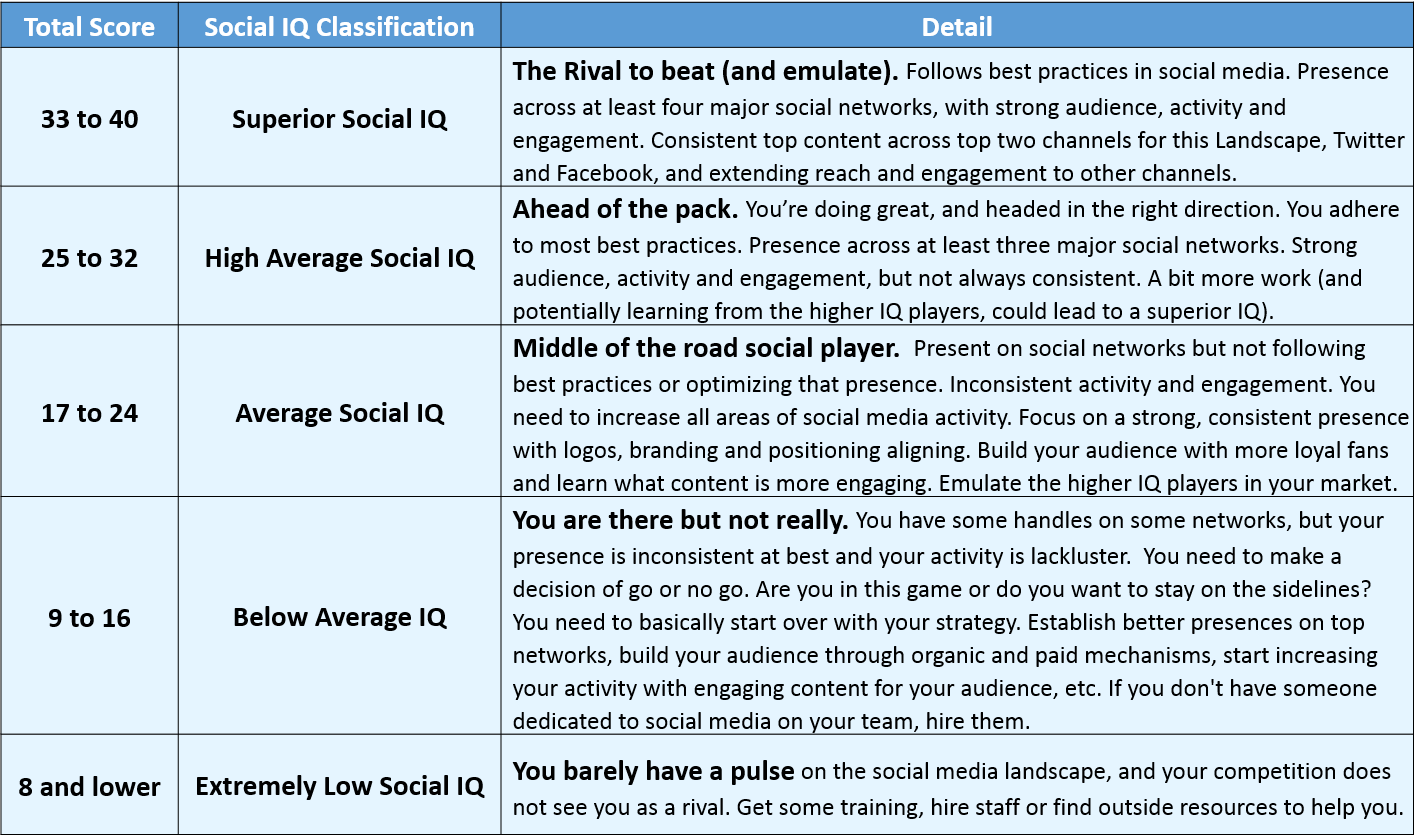 Nyheter 24 scored 32 out of a maximum potential of 40, landing the firm as the only media evaluated in this RRI to receive a Superior Social IQ. Dagens Nyheter, TV4 Nyhetsmorgon and Expressen followed and also received High Average Social IQ ranking. Majority of the publishers fell into the Average Social IQ ranking category, with four scoring Below Average.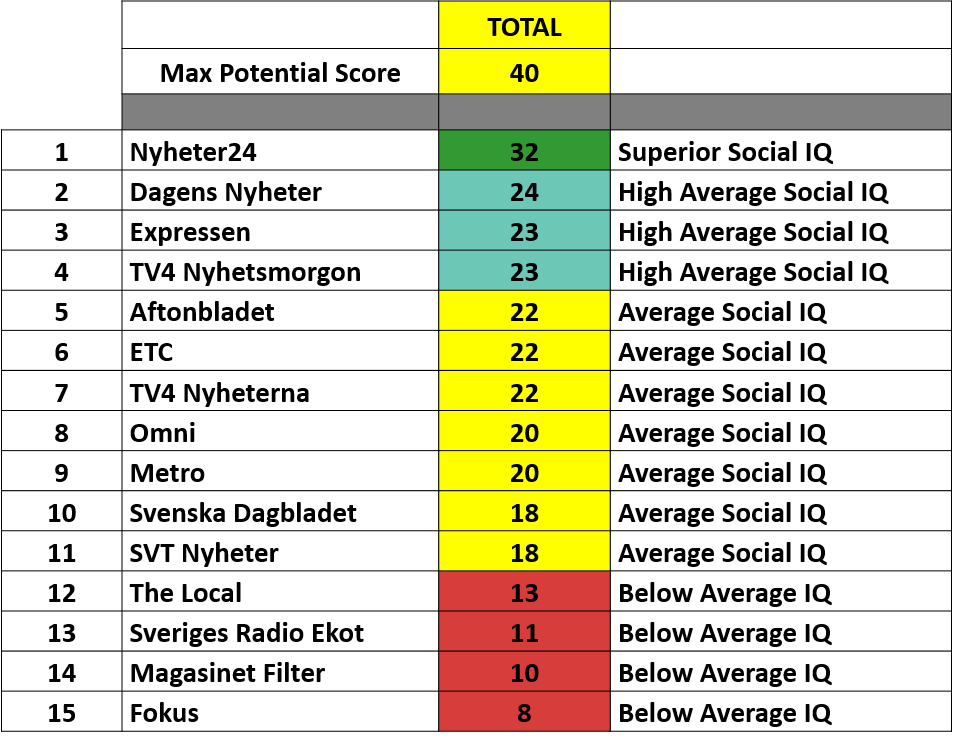 "It's clear that Nyheter24 truly has digital DNA in the way it moves between the four channels we analyzed, while the more traditional media have noticeable difficulties in succeeding outside of Facebook," said Markus Pettersson, Founder & Chief Digital Advisor of Eljester, which partnered with Rival IQ on the creation of the RRI methodology and this report.
The RRI Scores 8 Social Media Categories
The RRI evaluates across eight key categories:
Social Presence
Social Audience
Social Total Engagement
Average Engagement Rate on Twitter
Average Engagement Rate on Facebook
Average Engagement Rate on YouTube
Average Engagement Rate on Instagram
Top Social Content across Twitter, Facebook, YouTube and Instagram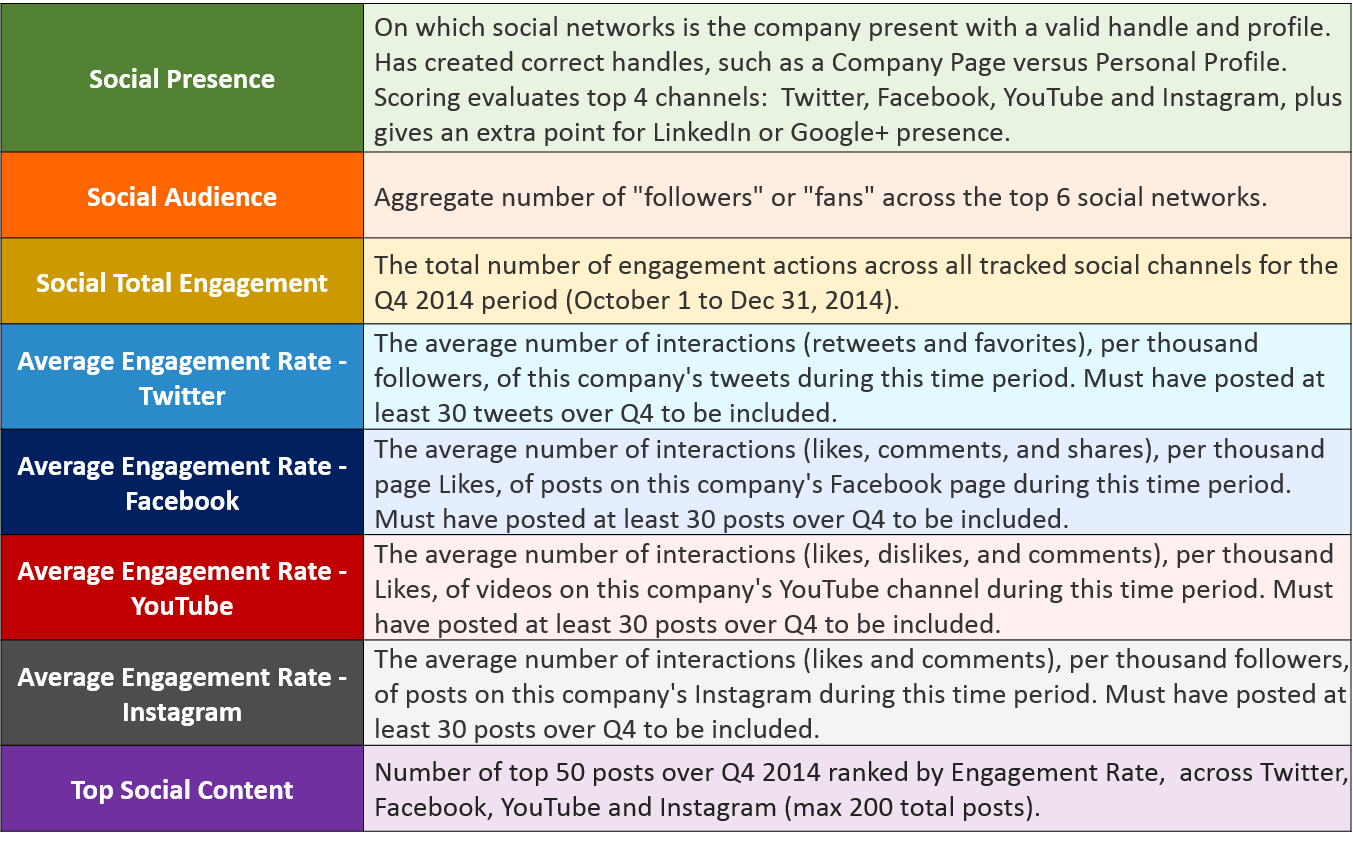 Swedish Media Rock Facebook & Instagram Engagement
This RRI revealed that Swedish National Media is increasingly social, and several media outlets are using multiple social networks to reach their audience and extend their journalistic reach. However, Twitter and Facebook are the only two networks used by all the media in this analysis, with Facebook the most important from a community engagement perspective. Instagram showed promise as a key channel for engaging with Swedish consumers, but is rarely used by the outlets analyzed.
One of the biggest surprises from this analysis was the high level of engagement by Swedish national media on Facebook and Instagram, which far exceeds the global average. Engagement rate is defined as a post's average number of interactions per thousand followers on an organization's social page during a specific time period.
SVT Nyheter scored an outstanding 22.72 engagement rate on Facebook, followed by ETC with 12.07. Even the lowest engagement of 1.89 by Fokus, is on par or higher than average engagement rate's achieved by many leading consumer brands. For example, Starbucks' Facebook engagement rate during the designated period was 1.91.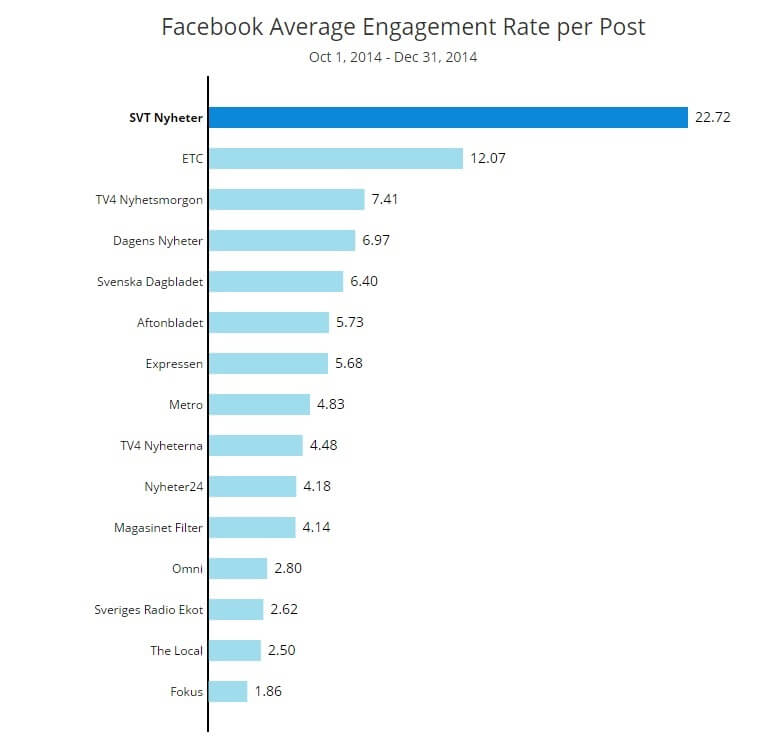 Instagram is also proving to be a successful channel for Swedish press. The engagement rate for this market ranged from as low as 10 to a record high of 125. For example, Omni scored well over 100 on Instagram engagement rate, far above the industry average of approximately 20.
 Twitter and YouTube Need More Focus
In contrast, Swedish media performed below average on Twitter, with not one news outlet reaching a successful industry average of 1.0 in engagement rate, and most scoring well below 0.50. In spite of Twitter being the most active social channel by all of the media evaluated, the engagement rate fell far behind that of Facebook. It appears in the case of Twitter that the media outlets are focusing purely on content dissemination and not engagement. YouTube also is not being fully leveraged, even by television stations.
There was one disqualification in the report, given to Aftonbladet, which received a zero score for its Twitter top content and engagement rate. During September and October, Aftonbladet ran a promotion on Twitter, where it asked a quiz of the day, asking followers to answer "yes" by retweeting, and "no" by clicking "Favorite". The RRI judges felt this was an invalid method that created false twitter engagement, and therefore removed Aftonbladet from the engagement and top content Twitter scoring criteria.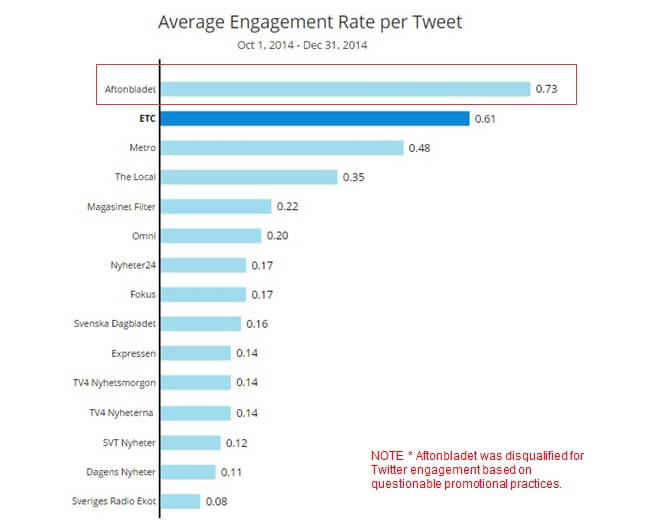 The RRI Social Media Rankings Process
The RRI program, related processes and scoring is managed by us – Rival IQ – a digital marketing analytics firm based in the United States. All data for the RRI is based on the Rival IQ digital marketing analytics software. Eljester (part of Resultatfabriken group), a Sweden-based digital news media and consulting firm, managed this Swedish National Media RRI, selecting the participating media and auditing the scoring process. Eljester's Markus Pettersson is a renowned expert in publishing, working with many national and international media, such as the World Association of Newspapers and News Publishers (WAN-IFRA) to accelerate the pace of innovation for the world's newspapers.
Look for More Social IQ Reports
This is the first of an ongoing series of Rival Results Index report to be published by Rival IQ.
You can download the complete RRI for National Swedish Media Report here.