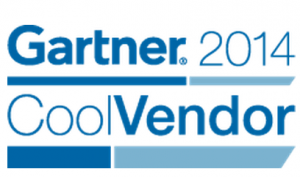 The Rival IQ team received some pretty exciting news this week – we were chosen as Gartner's Cool Vendor for Social Marketing! This excerpt from the full report covers why Rival IQ is useful and who would benefit from a subscription. If what you read sparks your interest, we have a 14-day free trial!
Download the full report here  Gartner 2014 Cool Vendors in Social Marketing
Excerpt republished from full report by Jennifer Polk, Gartner Analyst
Brands in the social space can win only by playing their own game well, but they can find "greenfield" opportunities or distinguish themselves by knowing what grounds competitors occupy. Rival IQ is a software-as-a-service company that provides competitive marketing intelligence, including social analytics, and offers organizations a quick, cost-effective way to generate insights that can help them stay up to speed on their opponents.

Why Cool: Rival IQ offers easy-to-obtain, cost-effective data on key competitors' activities across the Web, search and social media channels. Within Rival IQ, marketers can select a set of competitors, monitor competitors' posts, track changes in messaging, view a dashboard or receive notifications of breakout campaigns and content published by their rivals. This data can enable marketers to generate insights that can help justify spend based on competitors' performance, benchmark their programs against those of other brands and learn about the programs other companies are executing across channels. What makes Rival IQ cool is it is always adding new companies to its competitor landscapes and conducting ongoing monitoring, to provide its clients with readily available and up-to-date competitive intelligence. Getting this intelligence through Rival IQ offers a more consistent and cost- effective approach than engaging agencies for periodic creative and message tracking, or tying up internal business or marketing analysts to manually track what the competition is doing and what's working. Ease of setup and ongoing access to the data mean insights can be quickly generated, updated and incorporated into social marketing strategy.

Who Should Care: Companies that are interested in gaining competitive marketing intelligence or a view of how their digital marketing efforts compare with those of competitors, as well as agencies that use junior talent to manually audit competitors and compile and analyze similar data, should examine how Rival IQ can support more-efficient and cost-effective analysis for business development and idea generation. Marketers relying on agencies for this type of intelligence should consider Rival IQ to enable competitive monitoring in-house, to maintain a perspective on how others are using the Web, search and social media channels.

— by Jennifer Polk (Gartner Analyst), May 2014

Gartner does not endorse any vendor, product or service depicted in its research publications,and does not advise technology users to select only those vendors with the highest ratings. Gartner research publications consist of the opinions of Gartner's research organization and should not be construed as statements of fact. Gartner disclaims all warranties, expressed or implied, with respect to this research, including any warranties of merchantability or fitness for a particular purpose.