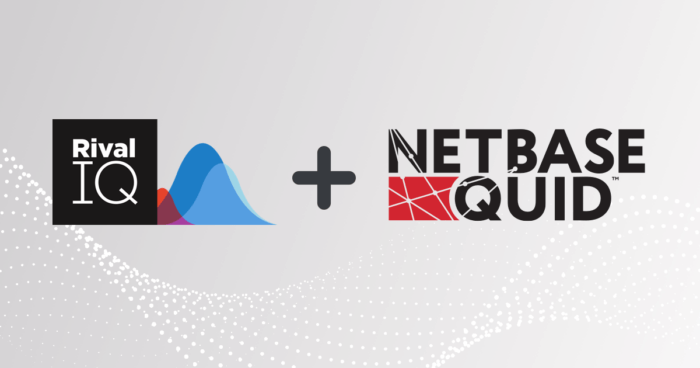 We're thrilled to announce that Rival IQ is joining NetBase Quid!
NetBase Quid is a global leader in consumer and market intelligence as well as social listening, all of which are an ideal match for our social analytics and benchmarking capabilities. Together, our companies will strengthen our owned and earned analytics to deliver a comprehensive view of brand perception on social media and beyond.
And don't worry! Everything you love about Rival IQ—our app, team, and in-depth benchmarking reports—is here to stay. Plus, in the coming months and years, we hope our customers will achieve even more as we gain access to rich new data sources and invest further in our product development.
The start of something beautiful
Every social media marketer knows NetBase Quid has been a leader in social analytics and listening for more than a decade and further increased their solutions for digital marketers with the 2020 acquisition of Quid, a leader in AI-driven text analytics.
As founders, we believe the team at NetBase Quid is the perfect partner for Rival IQ's next act because of their extensive experience in social media analytics and the care and regard they demonstrate for customers and team members worldwide.
"With social media's continued evolution and the increasing amount of time consumers spend online, brands need the best insights possible on their customers and their market. Joining NetBase Quid enables us to equip marketing and consumer insights teams with better intelligence than ever before," said John Clark, Founder, and CEO of Rival IQ.
One significant factor in our decision to join NetBase Quid was evaluating how well our teams would work together. Our culture at Rival IQ is a central focus for us, and it was exciting to learn that our values align well with NetBase Quid's, including data-driven decision making, prioritizing our team members, and a passionate commitment to our customers.
"We are excited to have this stellar team and strong product and service offering as part of our growing family," said NetBase Quid Chairman and CEO, Peter Caswell. "Social listening is our cornerstone, and as we expand our leadership into the consumer marketing intelligence space, this investment helps us continue to deliver market-leading offerings to additional market segments."
What this means for Rival IQ customers
We'll say it as plainly as we know how: we're going to continue to deliver and support our Rival IQ offering with the high level of customer service and partnership you've come to expect. Our existing team will remain in place, and we'll continue to provide helpful and accurate competitive social media analytics while staying true to the values that have steered our company for nearly a decade.
"NetBase Quid and Rival IQ are crucial parts of how the Ayzenberg Group's Marketing Science team derives deep consumer and market insights," said Jocelyn Harjes, VP of Insight and Analytics at Ayzenberg. "We are very excited for the announcement and looking forward to the additional benefits that the combination will deliver in product innovation and value."
We'll continue to operate independently for the foreseeable future, with an eye towards integrating NetBase Quid's considerable listening capabilities and AI-powered analytics to better support Rival IQ customers in our app. Our core team remains in Seattle, with members of our team supporting brands and agencies worldwide.
In the months and years ahead, our customers will leverage additional insights about consumer perceptions of their brand and their competition with the addition of NetBase Quid's suite of products.
We're excited about the next phase of Rival IQ and hope you'll join us in raising a glass. To our loyal customers and supporters, thank you for putting your trust in us to help you better understand your social analytics and market landscapes. Since our founding in 2012, your feedback and encouragement have fueled our journey and our business.
We're committed to a smooth transition for our customers and our team and want to hear from you with any questions or concerns you might have.
For more details on the acquisition, check out the press release.
We look forward to serving you in the years ahead with the same customer focus and transparency that have guided us over the last decade.
To the future!
John Clark, Seth Pollack, Seth 'Doc' Bridges, and T.A. McCann
Rival IQ co-founders
BC, Blair, Cat, Claire, Denna, Jacob, Keith, Lisa, Maria, Mark, and Vijay
Rival IQ Team