Is interactive content marketing the next wave? The answer is yes, according to Scott Brinker, co-founder of ion interactive. In a recent article in VentureBeat, Brinker explained why interactivity is the next phase of content marketing. And for those marketers who try it now, it could be a competitive edge.
As more companies invest in content marketing as a means to educate and engage their clients and potential customers, the result is both a lot more content and more noise. Just being heard in a crowded content market is becoming difficult.
3 Reasons Interactivity + Content = Attention
Reason 1: It's New
Standard content formats such as case studies, white papers, web copy, blog posts and webinars are so ubiquitous, it may not enable you to stand out. Interactive content not only offers creative marketers with new and interesting formats to convey and display their messages, it also offers the audience a novel content format in which to consume it.
Reason 2: It's Interactive (Duh?)
The more engaging a content experience is, the more likely it is to be sticky. Nuff said.
Reason 3: It's Longer Lasting
Interactive content has a greater chance of being an evergreen asset, because it's less likely to have a publication date stamped on it. As long as it remains relevant and useful to prospective clients, it never has to be retired.
Beyond being more engaging and, therefore, more likely to get noticed, interactive content provides another big benefit for marketers – more data.
For example, an assessment that walks a prospect through a series of questions before offering them a white paper or other piece of content gives the salesperson not only a name and email address (assuming the content is requested), but a deeper look into the circumstances and needs of the prospect in question.
This type of information gathering isn't limited to questions and surveys. Any interactive piece of content can be used to record customer behavior and interests.
Types of Interactive Content Marketing
Calculators:
Math may not excite many of you (come on, you're supposed to be data-driven!), but calculators can offer big benefits in terms of user engagement when they solve a customer need.
For example, with student load debt in the United States estimated at over 1 trillion dollars, you can bet that the repayment calculator at the Federal Student Aid website gets a LOT of use.
You input the amount you owe, your tax filing status, and your adjusted gross income, and the calculator returns estimated payments per month across 6 different repayment plans. It's simple to use and is extremely helpful for those trying to understand their repayment options.
Games:
Gamification – the use of game design techniques for non-game activities – has been a buzzword for awhile, but certainly has room for expansion in the digital marketing world. Magnum made a huge splash a few years ago with its Pleasure Hunt game, where you travel through the Internet gathering chocolate buttons. It proved so popular that it spawned three sequels.
I started this blog posted thinking I wanted someone to create a "choose your own adventure" style commercial, but it looks like Perrier already did it. Last year, they launched a hunt of their own – Perrier's Secret Place – where players can interact with over an hour of video by taking the perspective of a guest at a party. If they mingle and gather enough clues to locate the secret bottle of Perrier, they are entered into a sweepstakes to win various goodies.
Assessment Tools:
When Hubspot launched in 2007, its first free tool was a website grader that scored a user's website by analyzing inbound links, SEO, social media and traffic, among other variables. It also provided feedback to users on how to improve their site. To date, the tool has scored over two million websites and certainly contributed to Hubspot's success as a marketing leader.
Free tools like Hubspot's website grader, or any assessment that helps your customers gain insight into their lives or businesses, or how they are performing in relation to their peers, is a great way to engage and earn trust.
Apps:
This is a broad category, but I'll narrow it down here by focusing on visualization apps.
One industry that has made use of this interactive approach to shopping is the home improvement space. Many of the major brands have visualizers that allow customers to arrange a virtual room with different types of paint, flooring or cabinets. A tool from Provia allows you to upload a photo of your own home and then swap out materials to see what your renovation might look like.
Another industry where visualization apps are being developed is fashion. Want to know how an outfit you are viewing online will fit you? Just pop it onto your 3D avatar and have a look. These types of apps answer customer questions and remove obstacles to purchase.
Quizzes:
Quizzes are simple ways to add interactivity to your web content. Brinker mentions Buzzfeed as having garnered over 40 million views for some of its quizzes. Topics like "Which Famous Ginger is your Soulmate?" may seem inane, but sometimes fun and easy is the path to engagement (you know you can't resist those quizzes!).
Heck, I just learned from a quiz on The Oatmeal that I could defeat a swarm of 22 Justin Biebers. The quiz was hilarious, and if I didn't already enjoy The Oatmeal, it would have warmed me right up to its style of humor, and convinced me to come back for more content.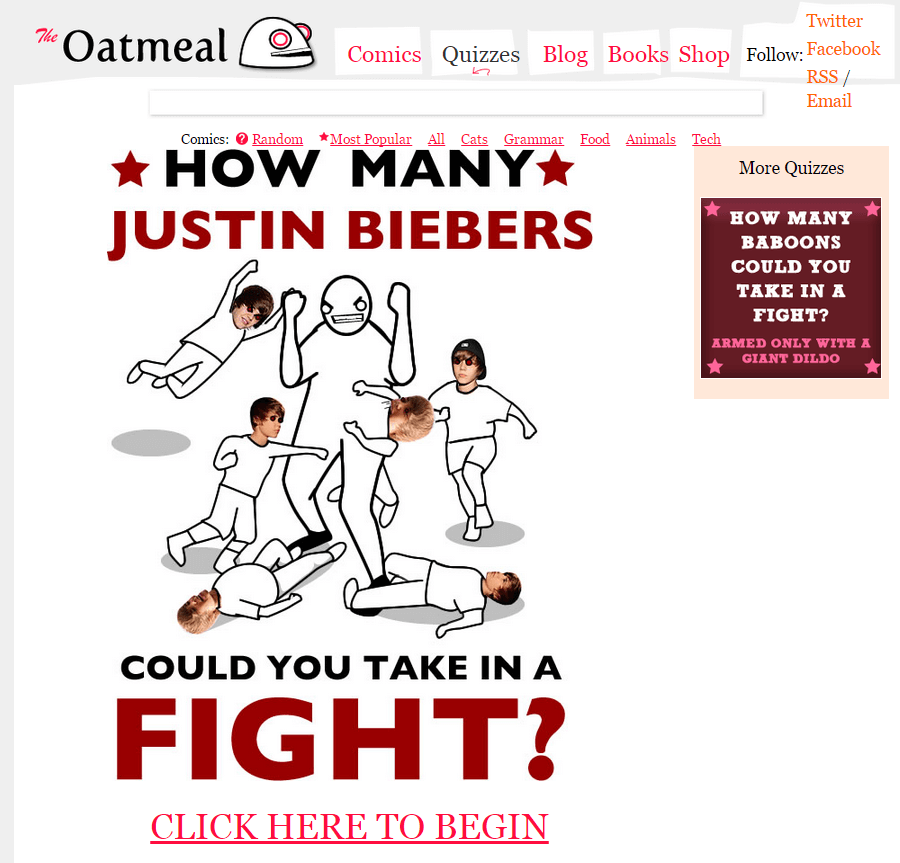 Of course, quizzes don't have to be funny, just engaging.
Other Ways to Get Interactive
These are a few of the types of interactive content marketing you can try. Interactivity can also be added to eBooks, videos, maps, charts or infographics, and more.
Ultimately, you are only limited by your imagination. Be as creative as you can be, make it useful for your customer, and reap the rewards of increased engagement.
And share your interactive content ideas and experiences!