Have you heard?
Facebook changed the news feed algorithm, again. Now if you want lots of fans to see your Facebook content, you must post images that people will Like, comment on and share.
It's not easy. Especially if you're not a content expert who spends 21 hours a day on Facebook — like some marketers. But sadly, these passionate folks are who you're up against as more businesses compete for eyeballs in a news feed that gets more noisy every day.
How do you post photos on Facebook that stand out?
How do you make sure that fans see and engage with your content? You steal ideas from the best, of course.
A new tool from Post Planner makes it easy to find the most viral photos on any Facebook page… it's called the Viral Photos finder. Enter the URL for any Facebook page, and the tool quickly provides the most shared photos on the page.
I've found photos for real estate pages, airlines, national parks and fitness gurus.
But today I focus on an industry that's near and dear to many at Rival IQ… cruise lines.
I used Post Planner's new Viral Photo finder to locate the most shared photos from the pages of the world's most popular cruise lines.
This beautiful collection of images includes photos of:
Landscapes
Wildlife
Cruise ships
People
Enjoy the pics! But make sure to stick around until the end where I explain how you can find the most viral photos on any Facebook page.
15 Cruise Lines Show How to Post Photos on Facebook that Will Get Shared
1. Royal Caribbean International
2. Norwegian Cruise Line

3. Oceania Cruises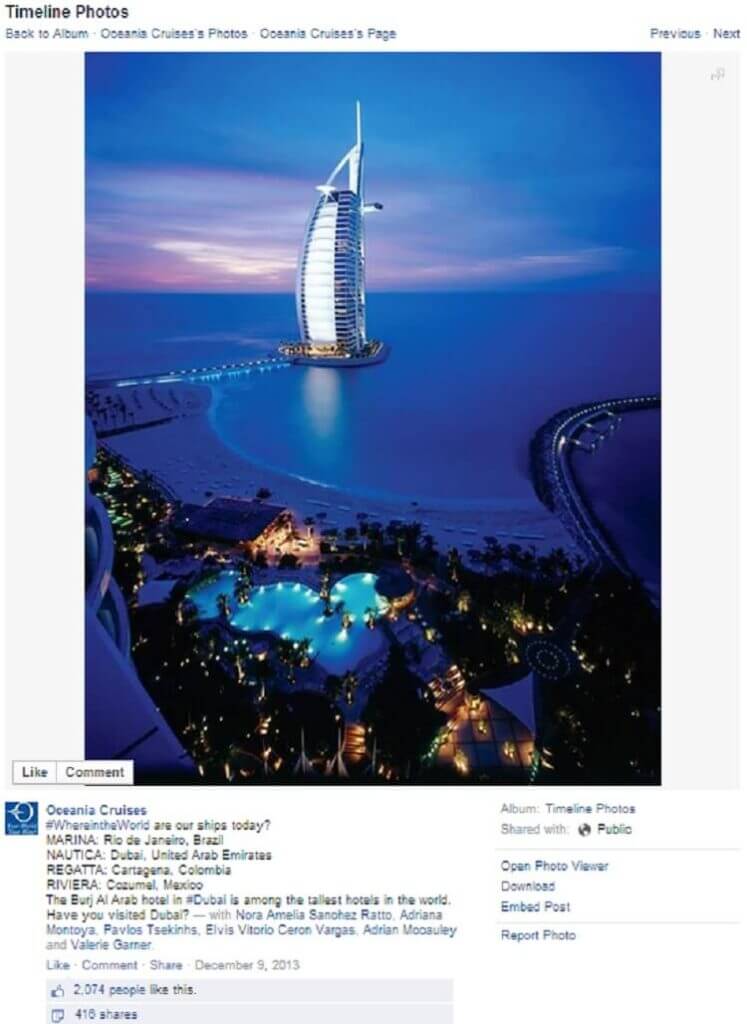 4. SeaDream Yacht Club

5. Celebrity Cruises

6. Windstar Cruises

7. P&O Cruises

8. Paul Gauguin Cruises

9. Seabourne

10. Disney Cruise Line

11. Princess Cruises

12. Siversea Cruises

13. Crystal Cruises

14. Azamara Club Cruises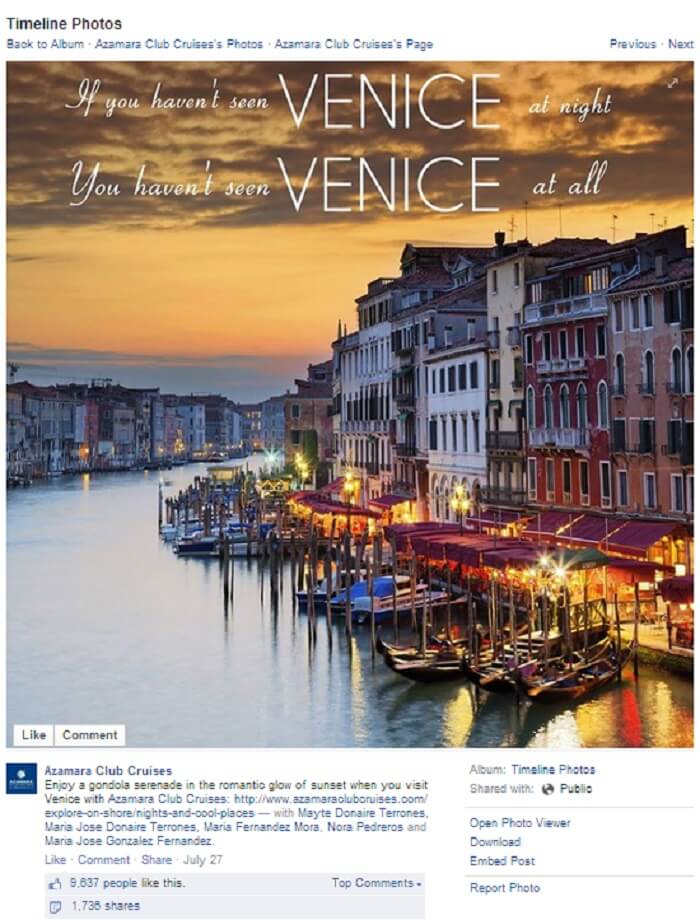 15. Carnival Cruise Lines

Find the Most Viral Photos on Facebook
Quite the collection of eye candy, eh?! And look at those Likes, comments and shares. Compiling a gallery of viral photos like this one probably took hours, right?
Nope, more like just a few minutes.
Here's how it's done:
1. Use the Viral Photos finder inside the Post Planner app
2. Enter any Facebook page URL
3. Select "Most Viral" and "All"
4. Enjoy the most shared photos from the page
I can then use Post Planner to publish this viral image directly to my page or share it from the original source.
Key Takeaway
If you're looking to steal from the best, Post Planner's Viral Photos tool is the only way to go.
Maybe you just need some ideas for content that might go viral on your page. Use the Viral Photos finder to scan your competitors or monitor pages from the bigwigs in your industry.
You'll find posts that are scientifically-proven to bring more Likes, comments and shares to your Facebook page.
Which page will you examine first?