For those of you who didn't know, July is National Hot Dog Month! At Rival IQ, we take holidays very seriously. So, in celebration of this festive occasion, we thought it would be fun to track the 7 most popular hot dog brands and report on their Facebook performance. This seems especially apropos as Americans celebrate 4th of July, which is often accompanied by hot dogs and other summer goodies. (and don't worry, we have a blog coming up on all the July Independence Day celebrations worldwide!)
Just like Americans declare their Independence in the month of July, we will be declaring a hot dog winner today.  Because, let's face it, not all hot dogs are created equal.
Why did we focus on Facebook?  Because when it comes to consumer brands, Facebook is a MUST have social network.  As you can see from the social matrix below, Facebook is also the ONLY social network where all hot dog brands have a presence, so we also wanted an apples-to-apples (or in this case a dogs-to-dogs) comparison!
Facebook Top Dog
Based on followers alone, Applegate is crushing the competition with 879K fans. Nathan's comes in a not-so-close second with 280K fans.
However, being the biggest dog does not automatically translate into being the best. As proof of that – despite Applegate's large following and high number of Facebook posts, they really fall short when it comes to engagement. Like I've said before, a primary goal of social media is, as the name clearly suggests, to be social, which means interacting and amplifying your content and messages. When brands aren't interacting regularly with their fans, high post frequency and high follower count is wasted.
Unlike Applegate, Hebrew National is doing a hot doggity good job on Facebook, with each post receiving an average engagement rate of 12.4.  Throw in a healthy number of followers (115K), and you've got yourself a large and lively hot dog loving community!
Conclusion: Hebrew National takes 1st place for best hot dog brand on Facebook. Congratulations!
The Taste Test
Now for the fun part, the taste test! As a data-driven company, we don't mess around when it comes to quantitative measurements of success. For this reason, we not only had a hot dog taste contest, but we also developed a clear set of guidelines to aid in the selection of the most delicious hot dog. I must note that there will be two separate competitions: meat and veggie. Due to the number of Seattlites on the Rival IQ team, it's expected that we have a disproportionately large representation of vegetarians.
The Guidelines:
Appoint a "Meatiator" to hide the true identity of each hot dog to avoid expectation bias – DJ was ours!
Cut each variety of hot dog into equal size pieces
Present the congruent chunks of dogs to each team member – by the Meatiator
Each team member ranks the hot dogs
The Meatiator determines (using math) the winner and runner up for each category (meat and veggie)
The Process: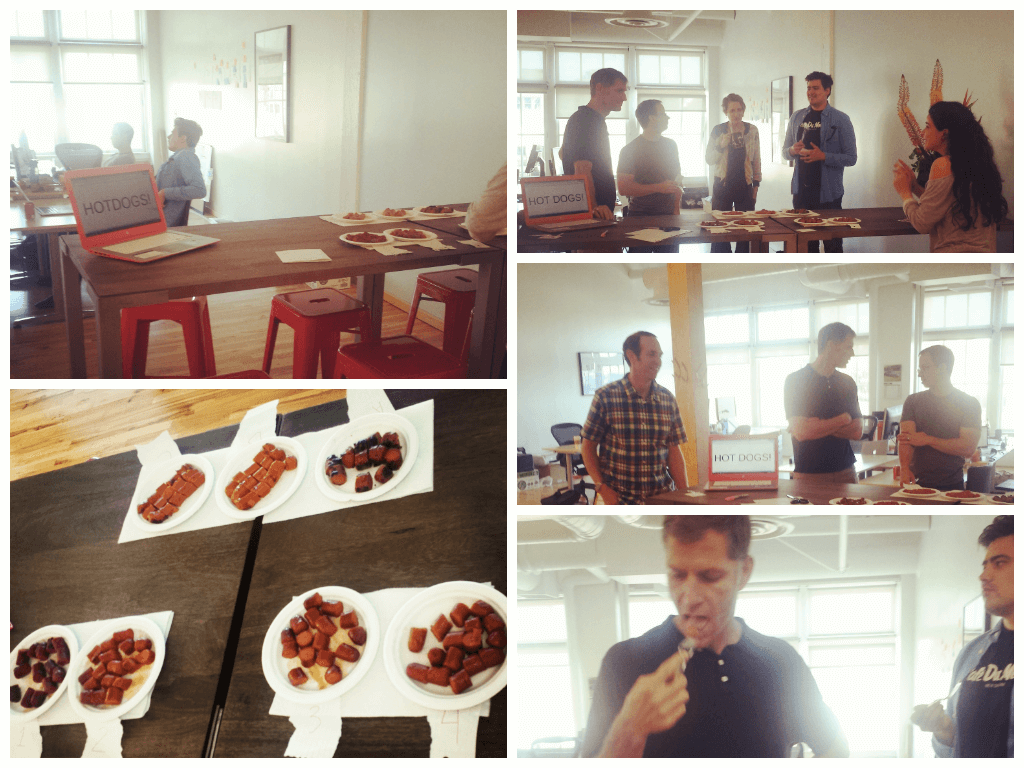 And the Winner is . . .
Congratulations to Nathan's and Tofurky for having the best tasting hot dogs (according to Rival IQ, of course).  I should note that there were a couple people due to dietary restrictions or just plain old pickiness that did not taste either the meat dogs or the veggie dogs.
The Results:

***Questionable results: We used the 97% fat free variety, no bueno.