With over 500 million users and growing, Instagram is a wildly popular visual storytelling platform. Individuals and brands provide glimpses into their worlds, sharing sneak peeks behind the scenes, real-time moments and carefully designed graphics and photos. Done well, this social network is used as a means for prospective fans and customers to discover a brand. Here are tips to help your target audience organically find your Instagram, leading to a boost in followers, deeper engagement and increased sales.
Use Hashtags
Technopedia defines discoverability as a style of marketing that helps potential customers find a product or service on their own, as opposed to encountering invasive online advertising. Instagram's search functionality makes it an excellent social platform for people to easily explore and discover new accounts.
A Personal Case Study
I frequently search Instagram hashtags to find a product or service provider. As an example, I helped my sister identify and select a wedding photographer. I skipped Google entirely and searched Instagram instead. I thought about common ways photographers identify and categorize their work, blending geographic location and descriptive words to create pairings. For example, I searched #dallasweddingphotographer and #dfwweddingphotography. Immediately, I had endless pages of visual results in the palm of my hand. As I scrolled, when an image caught my eye I clicked into the account to get a better sense of the photographer's abilities and style. Pretty soon, I had created a short list of my top five favorites. I began following each and using the "Contact" feature to email them directly for a quote.
Think Like a Customer
Any brand can increase the likelihood that new users will stumble upon their feed. The key is to create and use hashtags that consumers would use to describe your industry, product or service. Stay away from complicated industry terms and stick to simple descriptors that will make sense to your core customer.
#Avoid #Captions #Like #This
If the thought of stamping the pound sign all over your caption gives you anxiety, never fear, there is a way around this. Instead of listing them all in your caption, you can include up to 30 hashtags in a comment under your image. Whether found in the caption or the comments section, assigning relevant hashtags to your images increases the chances that your brand features in the "Picked For You" and "You Might Like" search results for users who already follow and like similar accounts.
A Photo A Day
Of course, once you've earned someone's attention, the key is to keep it by maintaining a fresh, interesting stream of content. Plan to upload quality photos up to once or twice a day to keep your brand relevant and frequently in people's photo feeds.
Instagram's simple user interface makes it easy for friends and strangers alike to connect and cultivate healthy relationships. With a robust social media strategy, brands have a unique opportunity to build content geared toward attracting specific audiences to create an army of loyal brand enthusiasts and earn new business leads.
Take Cues From Your Fans
Follow accounts that fit the profile of your target customer and analyze their behavior. How do they talk about your industry at large or your brand specifically? How do they feature products/services in their images? By studying these behaviors closely, brands can create content in similar ways, which will ultimately resonate better with consumers.
Monitor, Listen, Imitate
In addition to studying behaviors, Chobani is proof that a robust monitoring and analytics practice can transform your content creation strategy for the better. The brand was disciplined about tracking product mentions across the web, and over time discovered a huge collection of photos by their Instagram users. The photos revealed consumers were creatively photographing their at-home yogurt concoctions, which drove the brand's decision to create similar, seasonal content on their own Instagram account. By imitating the most enthusiastic customers, Chobani was able to speak their customer's language, provide a bigger spotlight on this movement, and see a surge in organic engagement with fans across the world.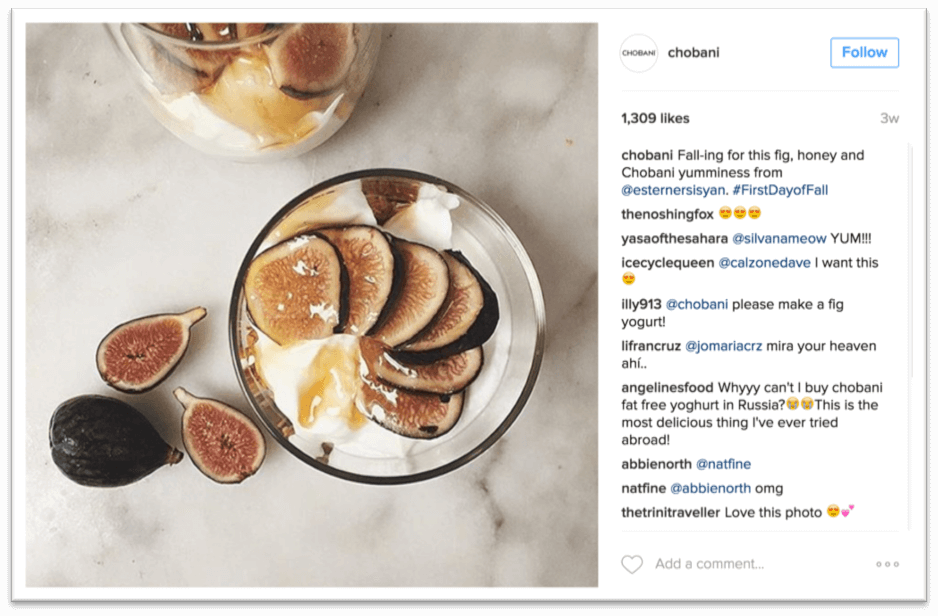 Paint an Aspirational Picture
Starbucks is another wonderful example of a brand that creates effective Instagram content. The coffee giant has created an aspirational approach that puts you in the mood for your daily coffee fix. By creating visual scenes that happen to feature their products instead of just focusing on them, the images radiate a feeling or lifestyle #goals that people want. Subconsciously, this leads many to believe that having Starbucks in hand gets them that much closer to the happiness composed in the shot.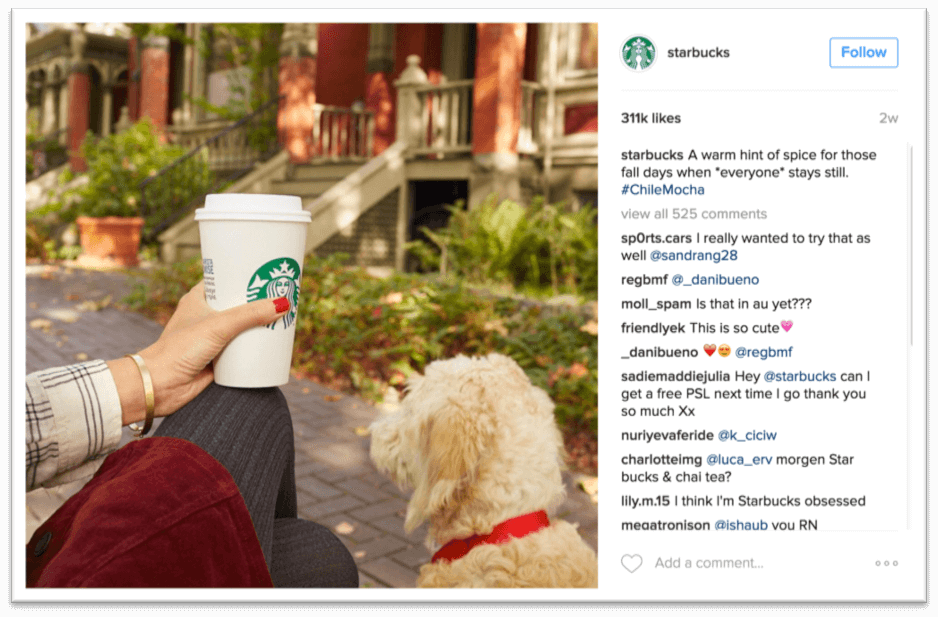 Engage to receive engagement
Like the old adage says, "scratch my back, and I'll scratch yours," Instagram users want engagement on their content before complimenting or following another.
If you comment, like and follow first, people are likely to return the favor and you may earn a new follow. Track specific mentions through hashtags to find the right users to engage. If someone is talking about fall fashion, and you are promoting a new line, like their photo and leave a comment to grab their attention.
Take care to strike the right balance of engagement: too much attention from a brand will be off-putting to a user, and may even smell of desperation. One-time efforts may go unnoticed. Find the right balance for your and your target customer by using your instincts. If someone mentions you or your product in a positive post, feel free to like and comment without hesitation. If they do not directly mention your brand, limit likes and comments to no more than a few times a month. Reevaluate each month, taking the temperature of their response to your outreach.   
By implementing these best practices and tracking your social media and SEO analytics, you're on your way to being discovered on Instagram.