You asked for Facebook Insights. We delivered.
At Rival IQ, our goal is to make you and your team smart, efficient marketers — and that means bringing the data you care about into Rival IQ. Many of you requested integration with Facebook's Page Insights data to gain a clearer perspective of your Facebook activity and consolidate reporting. We're not ones to ignore our customers, so after working hard with many of you to get things dialed in, we're ready to give back the love.
Facebook Insights is Facebook's analytics system for your Facebook Pages. It provides data around page audience, visitors, post engagement, and more. Facebook captures details of how users interact with your page and posts, then summarizes the data into useful information about user demographics and behavior.
It's not about the competition. It's about you.
To date, every feature we've included in Rival IQ has used publicly available data to give you competitive insights. Our newest Facebook Insights feature is different. The data is all about you! Only Facebook page admins will be granted access within the Rival IQ system to view these new metrics. Don't worry, we won't share your data with anyone else!
To get access to your Insights data in Rival IQ, you will need to connect your Facebook account to our system, and we will ingest the complete history of Facebook Insights data for every company for which you have admin or analyst rights. Once the data loads, you'll have access to the new Facebook Insights Dashboard.
Enough about how to get going! Let's talk about what you'll be able to dig into once you get hooked up.
One Tool With All Your Facebook Data
Your Facebook Insights Dashboard
The Facebook Insights Dashboard gives you a snapshot of your audience, reach, and engagement during any period of time. When you need to dig into any of these areas, the Dashboard provides further context right on screen.
A breakdown of the Dashboard panels:
At a Glance: Displays your current overall performance and trending data to give you context and provide you with additional details.

Likes: Shows how many page fans you've earned during the period, with a clear visualization of how you've grown over time and whether paid or organic activity is the driver for those fans. Additionally, the demographics section of the Likes panel illustrates the home countries of your page fans.
Reach: Breaks down your page and post impressions during the selected period, showing you whether your impressions were driven by organic Facebook views, paid content, or viral reach resulting from content engagement. Also, the reach panel displays the age range and gender of the Facebook users you reached.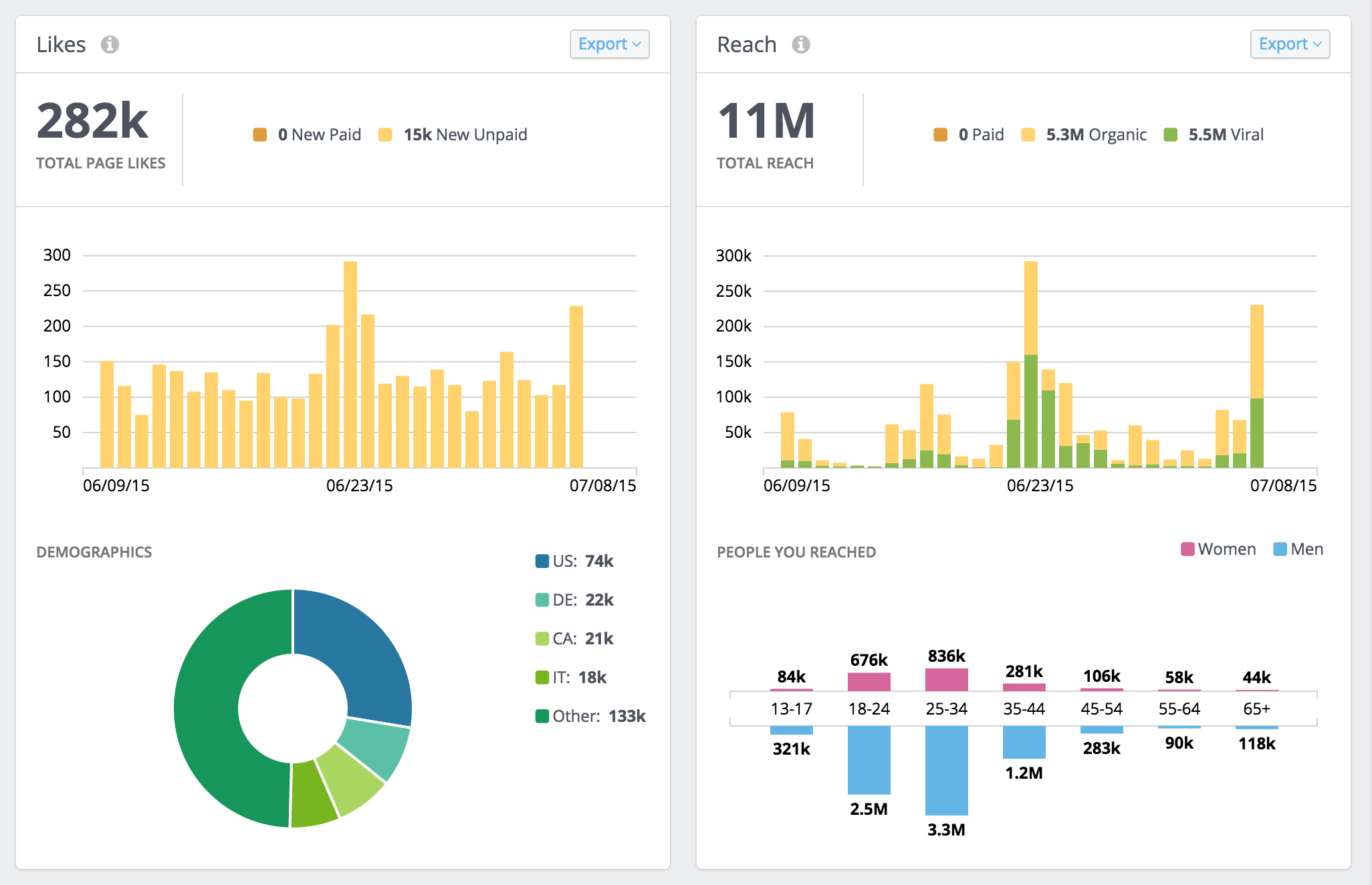 Consumptions: Covers how many consumptions (clicks) your posts have garnered and breaks them down type, including link clicks, photo views, video plays, and other clicks.
Consumption Rate: Gives you an idea about what percentage of Facebook users that see your content click on it in some way. This allows you to see what works and analyze what content you publish, when you publish it, and how you promote it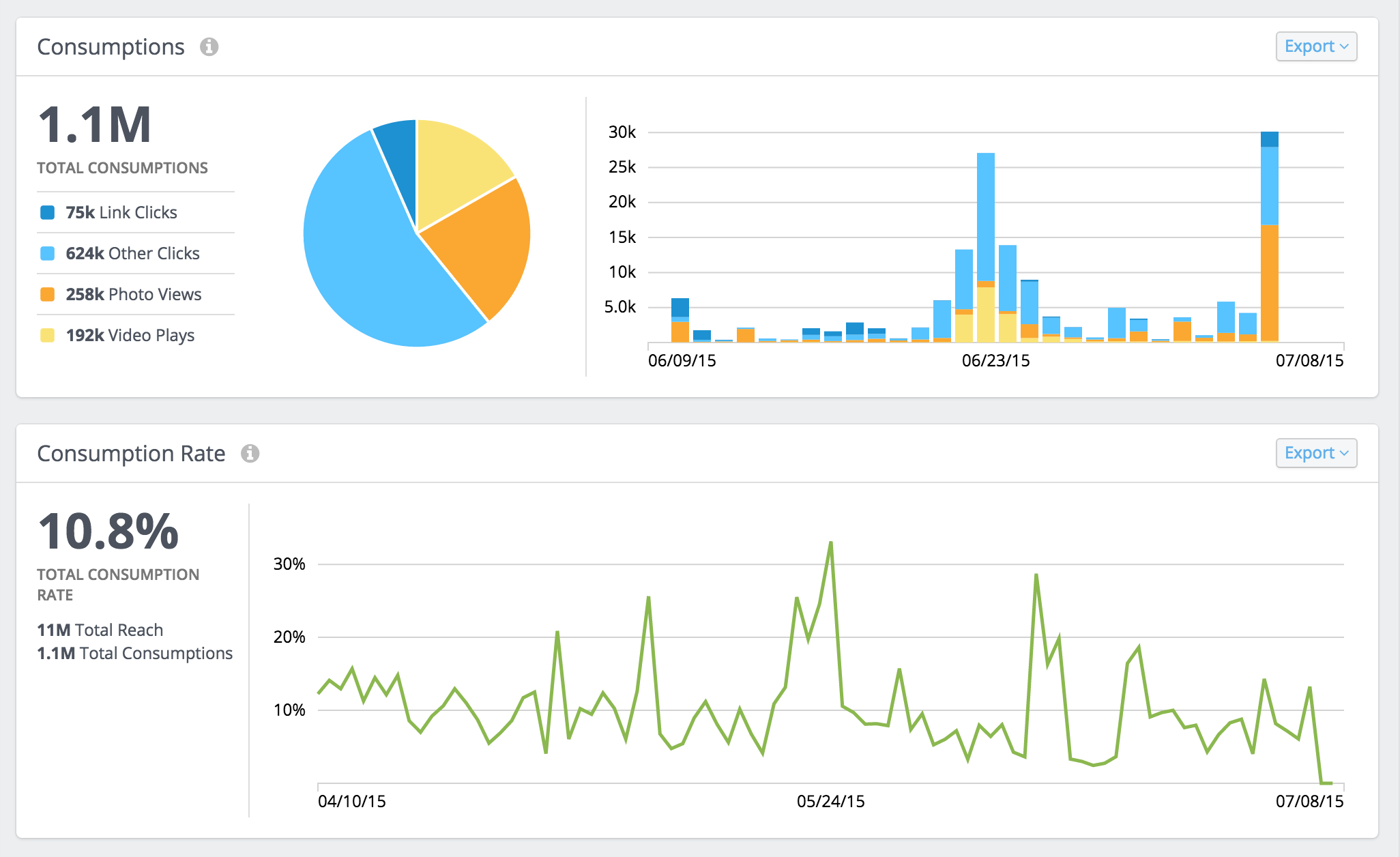 Facebook Insights Post Viewer
For every post you publish on your Facebook page, there are a wealth of metrics available to you — metrics that can shine a light on which types of content get shared most, how successful your paid targeting was for a particular post, or which of your videos has the best viewer engagement. Having access to all of these metrics and answering these types of key questions is challenging in the Facebook native Insights page.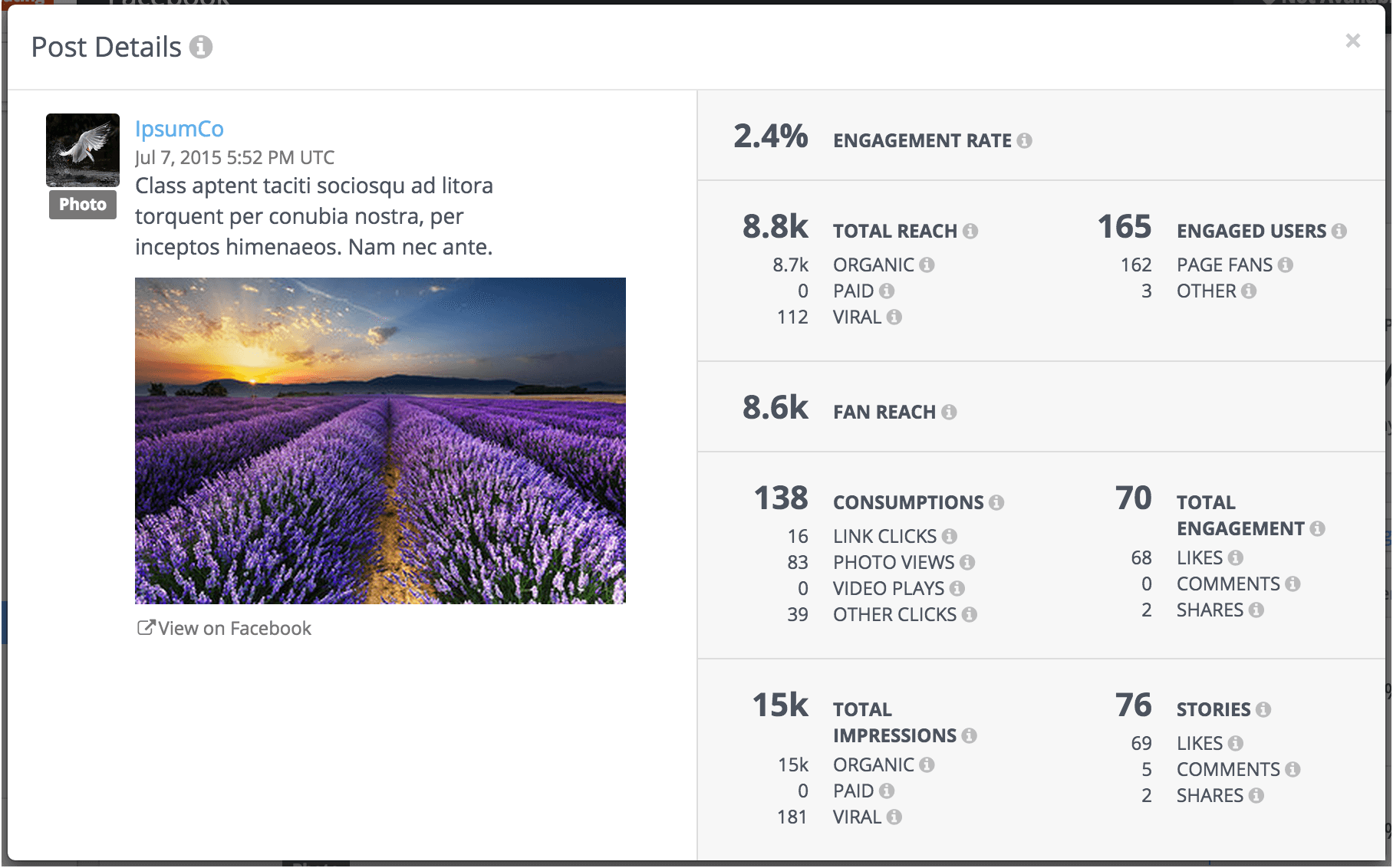 Another key part of your Facebook Insights Dashboard in Rival IQ is a complete Posts panel that enables you to answer these questions in three ways.
Filter posts by type, only considering posts that you are trying to analyze (e.g. video).
Use our Manage Columns functionality to choose only the metrics that are meaningful to you from the sea of metrics in Facebook. If you are someone who has spent a lot of time with exported spreadsheets from Facebook Insights in the past, you are going to love this feature.
Click on any post in our system to get the full set of metrics for this post, including video engagement.

Measure and Report
Just like any other metric in Rival IQ, you can customize, Favorite and export any Facebook Insights chart with the Rival IQ system. So now you can consolidate your Facebook reporting to one place right within your favorite analytics tool!
Up Your Facebook Marketing Game Today
With this new feature, we how to enable our users to be more informed marketers so they can make more data-driven decisions when crafting a Facebook marketing strategy. We hope our Facebook Insights integration helps you not only get a holistic understanding of your Facebook performance, but helps consolidate your reporting.
Happy Facebooking!