Using data to shape your marketing plan isn't just a passing trend. Data-driven marketing is simply how our lives as marketers will work from now on.
This fact was front and center at the recent National Retail Federation Big Show in New York. During the show, Guyatri Patel, eBay's Director of Global Data Infrastructure, said eBay is now preparing, not for Big Data, but for "Gargantuan Data." Patel said companies should be thinking about "real-time data streaming, real-time analysis and continuous updates of predictive models."
Because of this, we can no longer afford to have a marketing team that isn't well-versed in how to collect, measure and analyze data and then apply the results. For example, we need to prove that we're gathering leads and converting them!
But wrangling all of that data, and then properly analyzing it, can be quite the headache if you don't have the right folks on your team.
Here are 7 tips to help you create a fantastic, focused and fun data-driven marketing team.
Tip #1: Have Clear Goals
Without clear goals, a marketing team can quickly become overwhelmed by data. They may even become unfocused and fearful. And that isn't fun or productive!
If this is true for your team right now, you're certainly not alone. A recent study from consulting firm Capgemini showed these surprising results:
8 out of 10 organizations have big data projects underway
but only 27% describe their efforts as "successful"
and a mere 8% said those projects are "very successful"
So does this mean data-driven marketing is a failing proposition? Of course not!
Companies like eBay, Amazon and Facebook have all proven that data is the key to mega-success. The problems most companies face include not knowing what data to capture, how to analyze the results and how to make good decisions based on those results.
Tip #2: Use Tools and Experts to Help
One of the best ways to have clear goals is to find the right tool or tools for measuring the data you're collecting. There are many awesome marketing analytics tools you can use to help you measure and analyze areas of your marketing to help you both improve and show your business impact.
For example, Rival IQ is great at showing you your competitive landscape, and helping to shape benchmarks for success.
If you were on the marketing team at KOMO News in Seattle (which I used to be), you would see from this Rival IQ Organic Traffic chart that the Seattle Times newspaper has done a better job at driving organic search traffic.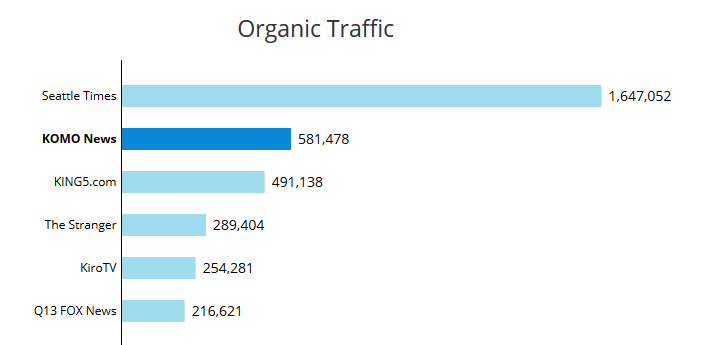 These clear numbers would have helped me shape a plan and goals for the next month and year, and my marketing team would also have had an accurate assessment of our progress on a weekly basis. (I wish I would have had this tool when I was there!) I would have made sure to communicate clear goals to my entire team and let them know when we needed to hit them.
Beyond tools, if you don't have the core competency on your team, then either hire the right people (see Tip #6 below) or bring in experts to help you. While big data consulting projects can be expensive, if you control the scope and metrics around the project, you can be successful.
Tip #3: Act on Information, not Opinion
This may seem like an obvious tip, but since you're spending all of this time gathering data, you need to be careful you don't suddenly throw all of that valuable information out the door once someone has a different "opinion." Marketing is changing quickly, and someone might think they really know how something works, even if the data suggests otherwise.
We sometimes called this phenomenon the HIPPO (Highest Paid Person's Opinion.) Because bosses have large voices, whether in reality or just metaphorically, people tend to want to make decisions based on their opinions. However, you should make sure that person also knows the data before any major decisions are made or an entire data-driven marketing plan is thrown out the window.
Data is powerful, and it can also help educate the team and the powers to be in a way that does not challenge authority.
Tip #4: Manage Up and Down
While we're talking about bosses, let's go back to that surprising Capgemini report for a minute. In addition to having challenges with big data overall, organizations in this study also reported a lack of organizational structure or processes for data management. The report states:
"Seventy-nine percent of organizations have not fully integrated their data sources across the organization. This means decision-makers lack a unified view of data, which prevents them from taking accurate and timely decisions."
What does this mean for you? If you're in a company that has data silos, you may need to talk to your boss about changing that for greater success. Use data from the report to illustrate how organizations with a dedicated analytics business unit have 2.5 times the success rate as those with isolated teams.
While managing up, you also want to create a data-driven culture and hold your marketing team accountable for the goals you have set. This isn't about instilling fear but rather make sure everyone understands the importance of data and the key metrics you are using as key performance indicators (KPIs).
Tip #5: Leverage A/B Testing
A great way to get marketers excited is to show them how one of their ideas is working versus another. A/B testing allows you to experiment with how different variables affect things like clickthrough rates on ad campaigns and conversion rates. Because there's basically no shortage of variables you can test, this is a fun and extremely effective way of using data to harness results and let your team know that what they're working on really matters.
Tip #6: Hire the Right People
Okay, this may also seem painfully obvious, but hiring the right people is one of the hardest parts of creating a great marketing team! But how can you make sure you're doing a great job at recruiting?
Write a great job description. If you want fun, creative people, you shouldn't write a job description that's boring and tedious. While you want to make sure you're getting knowledgeable folks, that doesn't mean you have to lace the entire job description with just a laundry list of current digital marketing terms. Tell applicants the kind of person you want, the type of thinking you're looking for, experience needs, and the kind of work environment you're offering. If they use the types of marketing terms you're looking for on their own, they're going to be a better fit.
Advertise widely. Different types of applicants look at different websites. If you're only posting in one spot, you may get a very similar type of person.
Put applicants to the test. Just because someone can talk the talk, doesn't mean they can walk the walk. Ask them to provide you with examples of past campaigns or creative work. Have them send you an example of how'd they'd organize analytics for a client. Make them DO something that shows you the quality of their work, as well as how their mind works. Also, many companies are now doing "auditions" instead of long interviews or hiring right away. While this is mostly a process used with developers, companies are doing this with marketers as well!
Tip #7: Embrace Ongoing Training
Once you hire great people, the learning doesn't stop there! Our digital marketing world is constantly changing and shifting. Create a culture where your staff knows that it's okay to ask questions and constantly refresh their technology skills.
Here are some ways you can foster a culture of learning:
Allow time off for conferences, training, webinars or college courses.
Have learning sessions at work. (For example: The social media marketing team could spend an hour teaching the rest of the staff about the most recent changes to the Facebook algorithm)
Show your staff that even you ask questions when you don't understand something. Most true experts will admit they're always learning!
Those are some of my tips for creating your Data-Driven Dream Team. What's been working for you?