Get to know the crew behind the product in our series of Rival IQ staff profiles. Next up: Cassandra Schwartz, our senior product marketing manager.
Who are you?
I'm Cassandra Schwartz. I've been at Rival IQ for about a year and a half, and I lead our product marketing. I describe product marketing as the connective tissue between understanding our customers or potential customers and translating that to internal teams.
I'm also a single mom with an incredibly intelligent almost 9-year-old (almost a pre-teen!). He's a firecracker and keeps me on my toes with the stereotypical 9-year-old things like Minecraft and Pokemon.
I just graduated from the Communication Leadership graduate program at the University of Washington. I'm excited to have some free time to invest in other things I like doing. For example, consulting work with small or early-stage start-ups about how to build their brand, set goals, and create community.
I'm also really passionate about storytelling. I've worked on various storytelling projects, like SheHasDrive , and believe in creating ways for everyone to have the opportunity to share their story, whether they're a business or an individual.
What do you do at Rival IQ?
Because I need to understand our customers, I spend a lot of time stalking our customer support and sales teams, and also setting up 1:1 calls with customers to not only understand how they're using our product but also their overall marketing strategy and how they're thinking about social. I also write content, plan for new amazing awesome (editor's note: her words!) features, and explore what's going on in general with social media so we know what questions we need to be thinking about from a product perspective. After all, you never know when something like Instagram might blow up!
Why are you excited to work here?
I like to joke that marketing to marketers is the hardest type of marketing, and if you can do that, you can market to anyone. Marketers make it extra-hard to track them (no cookies, using incognito mode, etc.)–they know all the tricks of the trade. This means we have to get really good at our craft, and understand our customers deeply, and not rely on hacks. I love a good challenge.
Plus, the people we work with are pretty bad ass. When you work with cool people on a cool product marketing to cool people, it's real cool. The cool factor! ?
When you're in charge of Wednesday lunch at Rival IQ, what are you most likely to order for the office?
Barbecue or comfort food. I like Traditional American fare, like French fries and cheeseburgers. I never order those for our lunches though, because they don't do well at a buffet. If I could figure out how to get fresh Dick's cheeseburgers for the office, I would totally do it. And no, Postmates and Prime won't work–they're not fresh enough!
How do you use data in your day-to-day?
It's everywhere! We love to look at how our customers are utilizing our product. What are the features that people spend the most time with?
We see it when we look at how people read our emails. Are they opening our emails? How many click our links? Are they getting the right emails at the right time for their workday? We want to make sure people can get more from the product and also get done the things that they need to.
We also use data in product launches to pay attention to product usage to make sure our customers know about new features.
What's your favorite Rival IQ feature? 
Hmmm…I'd have to say post times. This feature solves the constant question for social media managers: when's the best time to post? Being able to see when you get the most engagement is super compelling for me (and our customers). Being able to compare your post times and performance against your competitors or other brands that are talking to your audience can have a huge impact on your social performance.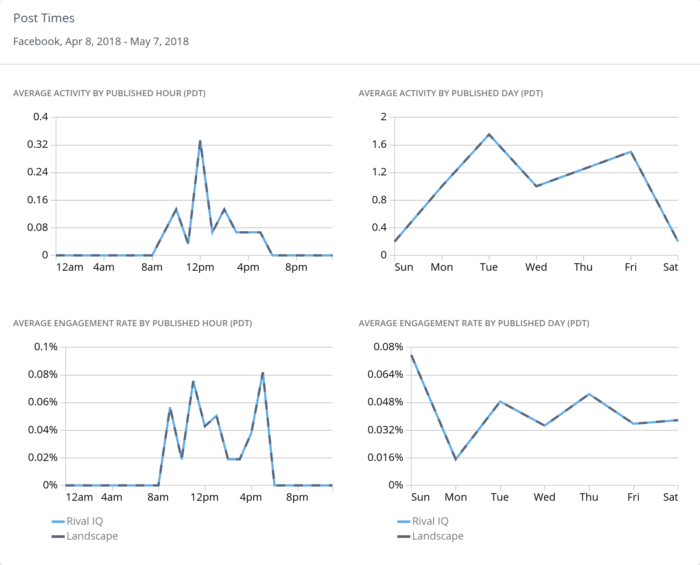 If you always post at 5am and no one likes anything, quit doing that! There's no right answer for everyone across the board, so using our tool to harness your data helps you answer that.
How do you use social media, and where can people find you? 
People can find me at @cssdrlnn on Twitter, Instagram, and Facebook. (that's Cassandra Leanne with no vowels!).
I approach all social channels with a consideration of my values, what's important to me, and what I want to share with my broader community, which shifts based on the channel.
For example, on Instagram I share when I enjoy like spending time with my son, hiking, out and about, weird things I find adorable (like little gnomes), and my personal style. I don't talk about social media or work directly there (except in Stories occasionally), it's more about sharing my personality and a peek into my little world. On Twitter, I share topics that interest me, mostly from a strategic/work perspective. I'll certainly share anecdotes from different things that happen in my world, but I also share a lot of marketing strategy there. I also focus my Twitter on community-building opportunities, connecting with our customers, and issues that are important to me. With Facebook, I stick to just career-focused posts. I share the work I'm doing here at Rival IQ, speaking engagements, or workshops I'm teaching. I'm definitely the most active on Twitter.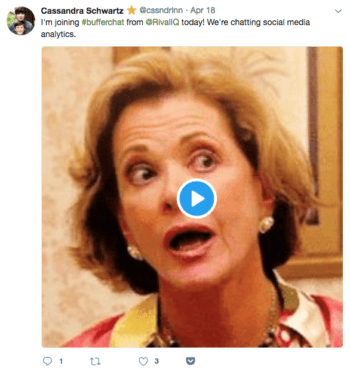 Anything else to share?
People are always surprised at how small Rival IQ is, based on how much we do. We consistently hear great feedback on the quality of our customer service (both sales and support), the amount of content we put out about social media education and trends, and the webinars we put on to train people on our product. I find that really affirming that we appear bigger, but I also want people to know that it's a small tight group here that's working really hard to do all those things. When we do things for our customers and we hear from them, it's an incredible affirmation that we're doing things right. So I guess the thing I want people to know is that we want to hear from them if there's more we can do, or if there are things we're doing that are really helpful. When we sign off our blogs "please connect with us!" we really mean it.
You heard it here first, folks: if you enjoyed this profile, want to connect with Cassandra, or want to share your thoughts about Rival IQ, please drop us a line via Facebook or Twitter!