Earlier this month we missed a moo-mentous holiday: Cow Appreciation Day. So, we thought we'd (better late than never) take a moment to have a little moomba in honor of the cow!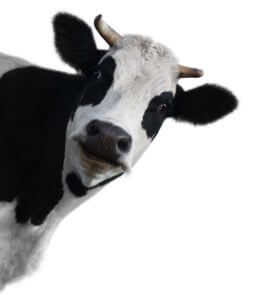 Originally, I thought comparing the social media performance of popular steakhouses would be a great way to honor the cow. However, with my incredible self-awareness I quickly realized how insensitive that would be. And while I do love a good burger (or milkshake!), cows should be celebrated, not eaten on Cow Appreciation Day; therefore, we will be comparing how different non-dairy milk brands compare (because even cows need a break from the daily stresses of being a woman!).
Who's moo-ving the engagement needle?
In an attempt to avoid sounding like a broken record, I'm only going to briefly mention that engagement is the best measurement of success on social media. With this in mind, we're going to determine which of these non-dairy milk brands are doing the best job of creating engaging content and environments for their fans.
As you can see in the Social Matrix below, all five of these brands are active on Facebook. For this reason, we will only be focusing on Facebook engagement and content today.

"Udderly" Great Facebook Content by Almond Breeze & So Delicious
By quickly glancing at the report below, it's clear that Almond Breeze and So Delicious are the Facebook leaders in their space. With 36 combined posts in the top 50, their content is clearly resonating with their readers. Pacific Foods and Silk would certainly benefit by taking down a few notes of how to build great content.
Winning Facebook Posts include Images (of cows?)
An obvious observation (and one the data proves again and again) is that images are highly engaging. A whopping 98% of the top 50 posts include an image!  When you are creating content for social media, pay attention to what types of posts work best on the different channels.  Images are critical on Facebook and Instagram, for example.
Facebook Content & Images the Ring the (Cow)Bell
Now let's take a peek into what content does the best in this dairy-free space.
It's interesting to note that out of the top 7 most engaging posts, four include a recipe (using the non-dairy milk as an ingredient), and three include a promotion. Providing value, in this case in the form of a recipe, is a great way to promote your product without coming across as too "selly". This principle can be adapted to fit any field.
Facebook Users Love Milking Promotions!
Facebook and consumer promotions go together like milk and cookies. People really like free stuff! In all seriousness, consider running promotions that get your community involved. Avoid a simple, "Like this status for a chance to win this awesome prize!", and replace it with something that promotes creativity and participation amongst your followers. People on the Internet are hilarious, so including fill in the blanks (like So Delicious did) guarantees great entertainment.
It's your turn!
Facebook is an awesome platform to post visual and fun content. If you're ever stuck in a Facebook rut, borrowing content ideas from brands like So Delicious and Almond Breeze is a great way to get inspired (and get moooving)!  Okay, cow jokes are done.