We've got baseball on the brain here at Rival IQ: it's been a big week in baseball for our Seattle Mariners with pitcher James Paxton's no-hitter (affectionately referred to by superstitious baseball announcers as a "no-no," which makes this blog author laugh every single time).
Since Mariners celebrations can, er, occasionally be few and far between, I was inspired to take a look at how baseball teams around the country fare on social: what's working and what isn't, and how can teams tell?
I also wanted to see how Infield Chatter, MLB's answer to social communities on Facebook, Twitter, and Instagram, measured up: should teams be running from conventional channels to instead focus on connecting with fans in this new-ish app?
Infield What-er?
We pride ourselves on keeping our ears to the social media ground here at Rival IQ, but we hadn't heard of this player-themed app created in 2017, and 100% of the rabid baseball fans who live in my house hadn't either.
MLB says they created this app "at the request of players looking for a more meaningful way to directly connect with their fans." The app allows you to interact with specific players and teams as well as other fans. Players, teams, and the app's content team post about games, practices, and locker room shenanigans, and fans can play along by following, commenting, or fist-bumping (the app's version of likes–yes, really). Is this where baseball fans are connecting? Should we be developing support for Infield Chatter in our app? (Spoiler: no-no.)
Since James Paxton knocked Justin Trudeau out of the running for our favorite Canadian this week, we took a look at his profile in Infield Chatter.
No posts in almost a year and very little fan interaction. Hmmm. Since his latest post on Instagram was just a few days ago and garnered over 7,800 likes, we can't say he's inactive on social. Strike one for Infield Chatter: even the players with the most to say aren't spending their social energy here.
I joined the Seattle Mariners group on Infield Chatter to see if that's where the conversation was happening. With 36 members and one post (ever!) standing in stark opposition to the Seattle Mariners Facebook fan group with 15,000+ members and 10+ posts a day, I don't think I'll be getting my baseball fix inside the MLB app. Strike two: fans aren't congregating and connecting here.
Post engagement is one of the first things we use to measure success on any social channel. This week's post about Paxton's historic Mariners event garnered two comments and 26 fist bumps in Infield Chatter. Just check out the thousands of likes, comments, and shares it had on Facebook:
Yowch. Infield Chatter, that's three strikes and you're out of the old ball game.
Now that we've established that more, well, established social media channels are the place to be for MLB teams, players, and fans, what works well, and how can you tell?
Channel MVP
If Infield Chatter isn't the answer to engaging baseball fans, is there one channel that rises above the rest? Where can baseball fans turn for the freshest and most engaging content, and what can teams and players do for the highest engagement with their content?
To find out, I built an MLB landscape in Rival IQ so I could take a look at each team's social performance comprehensively (actually, our resident baseball fanatic and engineer extraordinaire Colin already had one built, so I cloned his. Did you know you can clone all sorts of landscapes between users?).
We define engagement as measurable interaction on social media posts, including likes, comments, favorites, retweets, shares, and reactions. Engagement rate is calculated based on all these interactions divided by total follower count.
To identify the channel champ, I reviewed average engagement totals on Facebook, Twitter, and Instagram in Rival IQ.
This view of cross-channel engagement makes it easy to see that Instagram (grey blue in this graphic) dominates engagement for almost every MLB team (and that the Dodgers are kicking the Mariners' butts on social).
Instagram's dominance isn't too surprising–as we covered in our 2018 Social Media Industry Benchmark Report, Instagram is leading the pack for nearly every industry. Sports teams average 2.28% engagement rate per post on Instagram, with just 0.19% on Facebook and 0.038% on Twitter.
If Instagram is the channel to be on, what kind of posts are teams relying on to connect with their fans?
Content home runs
Sports teams are leaders in post frequency across Facebook, Instagram, and Twitter. But as we learned in Moneyball, teams with the most hits aren't always the ones who win. Even though these teams are betting on frequency to boost engagement among fans and followers, are there other pieces of their content strategy that are helping them connect with their audiences?
Post types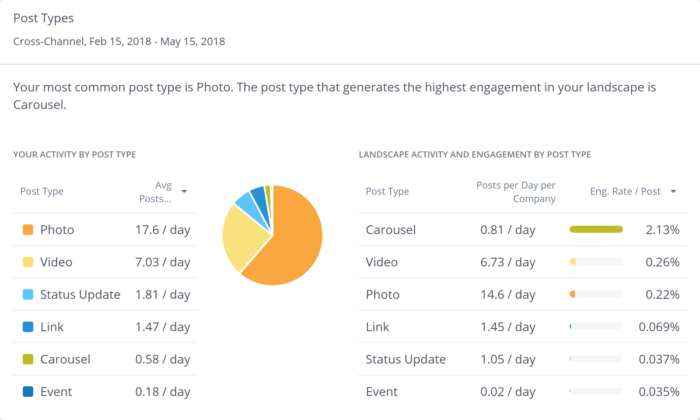 Any baseball player knows it's way better to hit a triple than a single. So why are teams spending so much time posting photos, which garner less engagement than their grand slam cousin photo carousels?
We took a look at post types across all channels in the last 90 days to see how photos, videos, carousels, and more stack up against one another. Baseball is clearly a visual game, with text-based updates like links, status updates, and events lagging way behind visual posts. Teams could make the minor pivot from photos to carousels and see a huge engagement boost (sadly, this is only available on Instagram, but since that channel's engagement is miles ahead of Facebook and Twitter, this change could be huge for teams). This small change is one of the reasons we love looking at analytics–seeing what your fans react to instead of what you think they'll react to is the difference between weak and strong social media games.
Post times
Breaking news: baseball fans like to be awake when engaging with your team on social media, engaging best with content between the hours of 8am-8pm. (Maybe they learned their lesson about falling asleep at baseball games.) It's always a good indicator that companies are paying attention to the behavior of their followers when the top graphs (average activity) map closely to the bottom graphs (average engagement). You want to have them in line–don't post if no one is paying attention, and try to concentrate your posts when you have the highest chance of engagement.
These trends aren't necessarily true of more international industries, but definitely hold when you're looking at a North America-based set of data.
Oh, and you know that with Instagram Insights in Rival IQ you can actually see when your followers are online on Instagram for even more post time tailoring, right?
Cutest content
Quick break from statistics to nominate my favorite content from teams (and my favorite night to be at a baseball game): Bark at the Park. Dog owners can pay a little extra to bring their pups to the game and run the bases with hundreds of other dogs after the game. So maybe this content's average engagement rate doesn't quite stack up to MLB's average engagement rate (0.24%), and maybe hardcore baseball fans would argue that dogs shouldn't be anywhere near the pristine outfield. But if the New York Times is writing articles about how to tell if your dog is ready for Instagram, we can all benefit from posts that include dogs, and MLB teams would be hip to remember that.
How do teams know how they're doing on social?
Teams should consider keeping one other key player in their dugout: benchmarking. Social media, much like sports, can't have a winner without an eye on the competition. Teams should take a look at the social behavior of rival teams and fans to see how they stack up. Sure, the average number of posts per day on Instagram last year was 0.69, but our Seattle Mariners post 3.07 times per day on average. Without context for what other sports teams are up to, this frequency might feel out of whack. Thanks to benchmarking, we know that sports teams post most often of any industry on Instagram with 1.7 posts per day–much more in line with the Mariners' social behavior.
Want to see what else sports teams are up to on social? Check out our 2018 Social Media Industry Benchmark Report.
So how do you win the social media World Series?
Our team had trouble coming up with an analog for a no-hitter on social media (top engagement across every channel against other teams? Hashtag dominance on Twitter and Instagram?).
As we've seen above, teams need to go where their fans are (sorry, Infield Chatter) and give followers the types of content they're most likely to engage with (like carousels on Instagram and photos everywhere else). With social activity on the rise and lots of different places to focus your social energy, these tried-and-true tenets may seem like no-brainers. But teams only have so much muscle to put behind their social strategy and execution, so finding what works best and sticking with it is key to success.
If you're a baseball fan, what's your favorite way to engage with your team on social? Drop us a line on Facebook or Twitter to join our baseball fever!