Social Media Examiner's Social Media Marketing World just concluded last night and I can't express how glad I am that I attended. The conference was packed with workshops to pick from — leaving me wanting to clone myself so I could attend all of them!
Here are my top 10 takeaways from #SMMW16.
1. Videos are powerful.
According to a study conducted by Social Media Examiner, 73% of marketers are planning on increasing the use of video marketing in 2016 — 21% claim it's the most important form of content marketing.
2. Live video is about conversation, not the broadcast itself.
People want to know the real you, so don't hesitate to put yourself out there. The beauty of live video is you can engage fans and build a relationship with them.
3. A good story brings people together.
Thinking about how storytelling can help your brand become more relatable? Stories of failure are powerful and are a great starting point. Want to mix in some humor? Irony is an easy place to start!
4. Influencers found by your team are more powerful.
Your team knows your brand and understands your brand's voice better than anyone else. Therefore, the influencers found internally will have more reach and impact. Think about engaging with folks who are going to advocate for you. 185 influencers/advocates have the same reach as 1 million fans!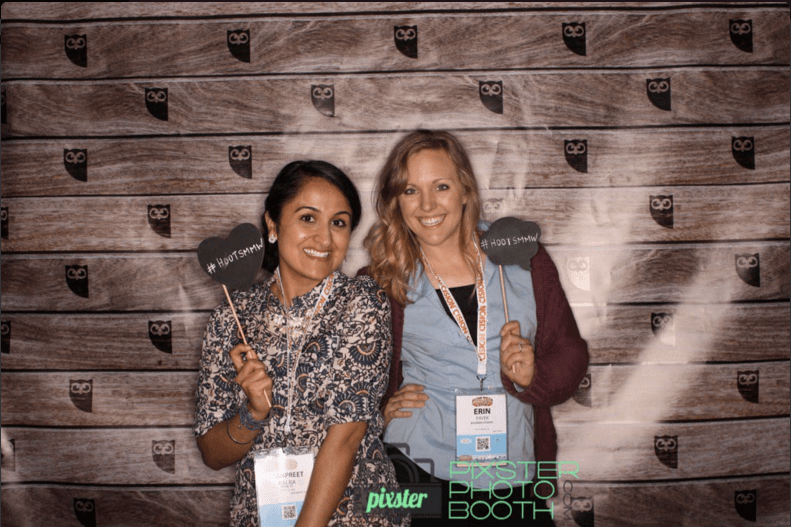 5. Pinterest success is visual.
If you are thinking about adding Pinterest to your social media marketing strategy, know that images will drive your success. The images you pin should speak to what the product does and allow the viewer to imagine the product in their life. A good rule of thumb is: Images with 30% text gets the most engagement on Pinterest.
6. Facebook organic is not dead.
Article after article talks about how Facebook organic is dead. Holly Homer disagrees. Every post you put on your Facebook page is an advertisement of what your fans can expect from you. Open up your insights and give you fans more of what they want, not what the don't! It's time to think about engagement a new way: a share is worth twice as much as a like.
7. There isn't a time machine for SEO.
Understanding the impact of your social media performance using Google Analytics is key to understanding your customer. You can use analytics to learn visitor value. Just make sure to tag everything! Once you start tracking, you can attribute your social interactions and identify their impact as micro conversions. Micro conversions are simply events that lead to your main conversion.
8. User generated content is powerful.
User generated content is the best way to sell. The holy grail is when fans create and share content for you and about you! With minimal investment on your part, you are able to harness the power of your fans attracting more fans.
9. Email marketing in collaboration with social media is powerful.
Email marketing works 40 times better at converting then Facebook and Twitter. Turn your social engagement into a mailing list so you can start converting likes into conversions.
10. There are 6 personas of advocates and sharers.
Everyone is an influencer on something. At the end of the day, individuals are more powerful than any brand. The people who advocate or share your product fall into six distinct personas: altruists, careerists, hipsters, boomerangs, connectors, selectives. Understanding this will help you cater your content differently depending on your target audience.